What is a Sock Subscription?
My washer malfunctioned this week and all my socks are trapped inside (I'm not making this up). The door is locked and the water is still surfacing, soaking my socks that were already stretched and nearly worn out.
I was just about to pick up a new stock, until someone told me about sock club subscriptions. Here's the rundown: you get engaging, custom-made socks and can choose between different subscription plans. Whether you want to pay as you go, or sign up for an annual subscription, you basically never have to worry about running out of socks again.
While a sock subscription might encourage over-buying, I was happy to hear that they help people in need. It turns out that socks are often the most request items from homeless shelters. There are companies giving away pairs of socks to the homeless with every new purchase made.
With the number of sock subscriptions available, it can be difficult knowing where to begin. One thing that is clear, though, is that the business is booming. Before we get into the best sock subscriptions, let's talk about why they're so popular these days.
Why People Love Sock Subscriptions
People want sock subscriptions because of the variety of plans offered. Whether it's shopping for men, women, or children, different brands have their own promotions to meet individual needs.
Here are a few more reasons why people love sock subscriptions:
Tired of giving boring gifts
Empowers you to design your own socks
Never worry about having to re-stock
Surprise pair of socks every month (or multiple pairs)
If you're looking to design your own socks or have a niche interest like superheroes, famous cities, or Harry Potter, companies tailor your interests to give you a custom design.
This can make for very creative gift-giving.
Whether you sign up for a monthly or yearly plan, subscribers can rest assured sure that the steady stream of socks coming their way are made for them personally.
We hunted around for the best online sock subscriptions, take a look.
Soxy
Founded by two brothers in 2014, Soxy is said to have the largest collection of novelty socks out there. They're confident that they have a funky pair for everyone. To receive a bundle of socks every month, their subscription plan starts at $60/month, currently on sale for $50.
Once you sign up, you're sent five pairs of newly released socks. Soxy guarantees that you'll never receive the same socks twice. And if you don't like the socks they send you, they'll replace the socks by sending you a free pair.
If you travel, check out their "globetrotter collection," featuring sock designs of cities around the world—from Montreal and Toronto, to France and Hong Kong.
Made from ultrasoft combed cotton, Soxy socks are double-stitched at the toes and heels to prevent holes and feature stay up technology. The design team says they create designs that can't be found anywhere else.
They like to send "surprise socks," so if you don't want to be surprised, be sure to indicate this when you make your order. What Soxy calls their "100% Happiness Guarantee," the team will do whatever it takes to ensure your satisfaction, whether that means refunding, canceling, or replacing your order.
Soxy offers bold and colorful pairs in these categories:
New Bold Stripes
Globetrotter Collection
Everyday Athletic Collection
Fun and Crazy socks
Winter socks
Holiday socks
Casual crew socks
Once you subscribe, you'll also be notified of special offers, deals, and free giveaways.
Pros
Reasonable pricing
Free shipping on orders over $50
First dibs on specials and new designs
Cancel or adjust your subscription whenever you want
Great customer support service centers
Mostly positive customer reviews on the web
Cons
Unclear value
Strict returns policy
Might encourage over-buying
Needs more cost comparisons to local retailers
Check out our full review of Soxy.
MeUndies
MeUndies sells matching socks and underwear. To receive a pair of socks every month, their monthly subscription starts at $8.
MeUndies prides themselves on the softness of their materials, which are sustainably-sourced. Unlike other companies, you can use the "MatchMe" option, which helps you match pairs of socks and underwear for yourself and others.
MeUndies gives you the opportunity to pick different designs that suit your personality. Eventually, you'll be able to build your own collection.
Members benefit from unlocked access to MeUndies' most popular products, discounted pricing and control over their shipments. This means you're not required to make purchases every month and can skip months if you aren't in need of socks. Like other sock subscription brands, MeUndies has their own collections, such as the new Valentine's Day collection.
The MeUndies "Build-a-Pack" function helps you create a unique collection of your own. Be sure to check their website frequently for discount codes, which are offered intermittently.
A fair-trade company, MeUndies believes in fair working conditions for all people and frequently audits their partner factories in Sri Lanka, China, Guatemala, and Turkey.
Pros
Sells matching socks and underwear (MatchMe feature)
Material is naturally soft, derived from beechwood trees
Members save up to 30%
Registration gives you 15% off
Can skip or cancel orders anytime
Money-back Guarantee
Corporate social responsibility and fair trade practices
Cons
Unclear value
Not as many sock designs to choose from compared to other subscriptions
Might encourage over-buying
Needs more cost comparisons to local retailers
Check out our full review of MeUndies.
Sock Fancy
Based in Atlanta, GA, Sock Fancy's sock subscription service picks random socks from their stock to keep you constantly guessing. Asking you to "feed your addiction with a sock subscription," the company promises that its high-quality cotton blends will not shrink or wear through after a few washes.
Monthly subscriptions start $12/month.
These socks are built with no-slip cuffs, 70% combined cotton, a reinforced heel and toe, and a 200-needle machine. This technique has produced some of the most colorful, sturdy, subtle patterns. If you're looking for bizarre socks, they have them too.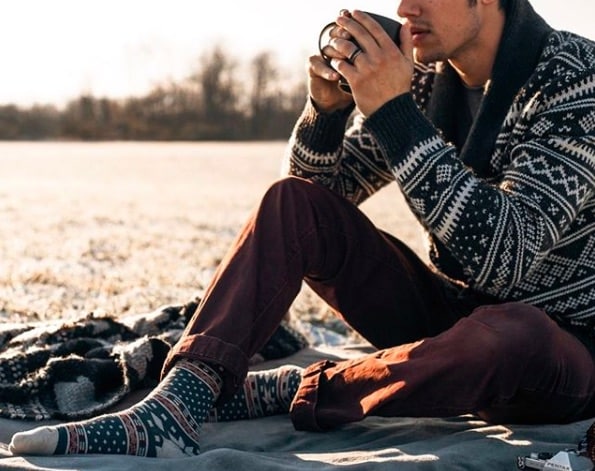 If you enter your email into SockFancy.com, you'll get your first pair of free socks. You'll then be asked to choose a subscription plan and customize your collection. 
The company offers a minimum 30-day turnaround for your free custom sock mockup where you will work directly with their graphic design team to define the style you want. Sock Fancy does not have a strict returns policy and reviews cases individually. They do ask that you make your return within 30 days of receiving your socks. View their terms of service here.
Pros
Membership savings (depends on the package you order)
Offers one coupon code per subscription
Can skip or cancel orders anytime
Free worldwide shipping
Offers gift subscription options
Socks are guaranteed never to fade or run
Cons
Unclear value
You can't choose the socks you get with random gifting
Some negative reviews on the web regarding shipping and customer support
Made in China (not clear on whether they audit factories)
Not clear if they have a sock donation campaign
Seven years ago, the two lifelong friends who started this company started ordering socks from their ping pong table. Since then, they have sold hundreds of thousands of socks around the world. Sock Fancy has sold over a million pairs of socks to date.
Check out our full review of Sock Fancy.
Sock Panda
If you want to make fashion statements, Sock Panda might be worth exploring. Made from 85% Peruvian cotton, this company offers fun socks with different designs every month for men, women, and children. Monthly subscriptions start at $13/ month. 
Sock Panda allows you to choose between two pairs of socks every month. Whether you're looking for subtle patterns or more bizarre prints, there is always something more to keep you guessing.
The Sock Panda team is dedicated to spreading happiness and making the world a better place by donating socks to those in need with every purchase made.
Called the "subscription that gives back," by 2017, the company donated roughly 100,000 pairs of socks to homeless shelters, children's hospitals and low-income communities.
With socks designed in Venice, CA, the company outsources manufacturing to a family-owned business in Lima, Peru, called Indutexa S.A. Sock Panda assures customers that Indutexa S.A treats its workers fairly.
There's an easy three-step process to getting started with their sock subscriptions. You can call or email for a custom quote and someone will get back to you within a day. How much you pay will depend on the quantity you order and how complex the designs are. Minimum purchases are set at 150 pairs of socks, making this ideal for businesses and planning for large events, such as weddings or reunions.
Pros
You can design your own socks (10% off with your registration)
Risk-free (cancel anytime)
Easy purchasing process
Socks ship within five business days
Corporate social responsibility (your purchases help people who need socks)
Cons
Might encourage over-buying
Needs more cost comparisons to local retailers
Must make a minimum order of 150 pairs
Needs more information on the manufacturing process
Foot Cardigan
If you want to challenge traditional conventions and stand out, Foot Cardigan will help you meet this goal with their unique prints and engaging, colorful sock collection. 
Monthly subscriptions start at $11.
Designed in the US and made in China and Turkey, signing up for the Foot Cardigan sock subscription is like playing the lottery, where you always win. The company also has free giveaways where you can win things like world map socks. You can choose between month-to-month, 3 month, 6 month, and 12 month subscriptions.
Foot Cardigan's enthusiasm led to the creation of their "Feetville Fan Club," in which your favorite movies and television shows can be made into new custom sock collections.
There are several collections ready-to-order. Many of their established collections sell out quickly so check their website periodically. For multiple pairs of themed-socks, here are a few options:
Spongebob Squarepants 4 Month Sock Subscription
Dragon Ball Z 6 Month Sock Subscription
Golden Girls 4 Pair Sock Set
Avengers 6 Month Sock Subscription
Harry Potter 6 Month Knee-High Subscription
Harry Potter 6 Month Sock Subscription
Nintendo Super 6 Month Sock Subscription
Superhero 6 Month Sock Subscription
Like other sock subscription companies, there are also gift sets available. This is particularly interesting if you want to custom design a joke gift for a loved one.
Pros
You can design your own socks
Unique themed-sock collections
Bulk orders
Affiliates program
Sock set giveaways
Free shipping with orders over $40
Cons
Unclear value
Might encourage over-buying
Needs more cost comparisons to local retailers
Unclear corporate social responsibility model
Check out our full review of Foot Cardigan.
Sock Club
Sock Club is not dependent on sourcing materials from factories overseas to turn a profit. This brand is leading the way on the front of American-made apparel with socks available in a wide variety of styles. Monthly subscriptions start at $12 with a pay as you go plan. Other options include a 6 month and 12 month plan.
There are always new designs, and like other sock subscription companies, they often connect to different themes. For instance, "the Tartan" is taken from Scottish patterns which were designed to protect wearers from cold winter months and identify different Scottish clans throughout the region.
Sock Club started its subscription sock company in 2012, and over time, evolved into a top custom sock business providing socks to individuals and Fortune 500 companies. 
All socks are made by their partner mills and printers in Alabama and North Carolina. They also work with organizations that assess where people need socks the most, so every purchase made on Sock Club will also provide free socks to under-serviced communities.
The Sock Club Design Lab is an interesting place to explore if you want to put a smile on someone's face. Here are some examples of their sock collections:
Love Socks for Valentine's Day
Socks For The Holidays
Custom Socks (i.e. face & dog socks)
Custom Logo Socks
Although this sock subscription may cost more, you know that you're money is not going to more factories overseas, and you're clothing the homeless at the same time. No other sock subscription on this list does this.
Pros
Pay as you go option
You can design your own socks
Save 20% on your first order
Made in the US (does not rely on overseas outsourcing)
Corporate social responsibility with sock donations made with every purchase
Cons
Might encourage over-buying
All prices are in USD
No guarantee that they can change your order once it's placed
No discounts are currently on their website
Some prices are higher than average
Check out our full review of Sock Club.
Sock it to Me
Founded in 2004, SockItToMe.com has taken interactivity to the next level. This year's Golden Globe attendees found this out for themselves when they were given pairs of socks from Sock It to Me.
Whether you want to be a superhero or your favorite villain, the Sock it to Me blog takes you behind the scenes.
From knee-high socks sporting either Ninjas, unicorns or monkeys, to regular length socks with monsters, mustaches and beer, there are over 200 designs to choose from.
Monthly subscriptions start at $22 for two pairs of socks.
If you have a vision of your own and want to see it through, you not only can design your own sock but enter Sock it to Me's Design-a-Sock contest to win up to $2,000 and 15 pairs of socks.
The contest is open to international participants, however, there is a list of countries that are not eligible to participate, such as the Democratic Republic of Congo, Iran, and Russia.
Sock it to Me manufacturers are located in South Korea. The team at Sock it to Me says they have a close relationship with the manufacturers and have visited the factories several times.
Pros
Design your own socks
Save an extra 5% off sale items once you register
Free shipping in the US
Contests, cash prizes and loyalty program
Tons of content on their website and blogs
Recently started a campaign for donations to shelters in Portage County
Audits its manufactures using third-party regulators
Cons
Unable to accept credit cards for international orders
Only accepts PayPal for international orders
Customers are responsible for payment of all duties for customs clearance
Subscriptions may encourage over-buying
International orders can take up to eight business days to process and up to a month to arrive at your door
Your order can't be canceled once it's shipped
Their "League of Heroes and Super Powers" loyalty program opens special deals. Basically, loyalty points are superpowers and you collect more superpowers with every purchase.
Check out our full review of Sock it to Me.
Sock Subscription Cost Comparisons
The following table is a quick breakdown of monthly member subscriptions in US prices. Please go to the company website for more details.
Company
Monthly plan
Other subscription
Discounts
Shipping
Soxy
$50-$60
(multiple pairs)
Unclear

Free socks on orders over $50
Free in US & Canada on orders over
$50
MeUndies
$8
Unclear
15% for first order
Free in the US
Sock Fancy
$12
$54 per quarter
N/A
Free
shipping
Sock Panda
$13
6-month
12-month
N/A
$3 more for international orders
Foot Cardigan
$11
3-month
6-month
12-month
N/A
Free on
orders over
$40
Sock Club
$12
3-month
6-month
12-month
N/A
Extra $1 for international orders
Sock it to Me
$22
for 2 pairs
6-month 12-month
N/A
International orders cost more
Corporate Social Responsibility (CSR) Comparisons
Company
Manufacturing
Donations policy
Soxy
Made in
South Korea
Unclear


MeUndies
Sustainably-sourced,
fair trade with companies overseas
(audits factories)
Unclear


Sock Fancy
Made in China
Unclear
Sock Panda
Made in Peru
Donates socks
to those in need
Foot Cardigan
Made in China and Turkey
Unclear
Sock Club
Made in the US
Donates socks to those in need
Sock it to Me
Made in South Korea
(audits companies)
Donates socks
to shelters in Portage County