Kuru vs Orthofeet Review
Wearing improper footwear can lead to foot pain and future foot deformities. In a study published in Gerontology, researchers evaluated the impact of footwear and heel elevation in the development of pain and foot problems. After assessing 176 individuals (between 62 and 96 years old) with foot pain and deformities, the authors concluded that most participants wore shoes that were too narrow for their feet. 
Women were more likely to wear narrow and short shoes than men. Improper fitting footwear was linked to corns in the toes, hallux valgus (bunions), and pain. The use of high heels in women (more than 25mm) was associated with hallux valgus and plantar calluses. 
Fortunately, Kuru and Orthofeet provide a variety of shoes designed for a proper fit, relieving pain and preventing foot damage.
About Kuru
Kuru is on a mission to give you your life back and do it in style. Unlike clunky orthotic shoes, its attractive, modern collection is sleek and uses patented technology to support and cushion your entire foot. Bret Rasmussen is the businessman behind the brand, which he founded after winning a business plan competition in university.
Kuru officially launched in 2008 in Salt Lake City, Utah. Hitting the ground running, Rasmussen claims his men's and women's shoes use a mix of nature and science to provide a custom fit for each user.
The company's shoes are made in Asia and then shipped around the world to those looking for an alternative to orthotic inserts.
About Orthofeet
Clunky orthotics? Orthofeet knows nothing of the sort because its trendy-looking shoes are designed to blend effortlessly into your everyday life. Founded in 1984 by brothers Ron and Michael Bar, the brand manufactures its shoes in China.
The creation of this New Jersey-based brand was a no-brainer for podiatrist Ron who lost his leg in the Kippur war in Israel. After noticing the hassle of taking a foot mold for every patient seeking orthotics, he dreamed up a way to let the orthotic mold to the foot of the user, thus reengineering the traditional process.
Using revolutionary technology and therapeutic details to bring you a more supportive, flexible, and streamlined orthotic shoe, Orthofeet footwear was and still is a breakthrough in the inflexible world of orthotics.
What's coming up in this Kuru vs Orthofeet review? A comprehensive look at each of these smart, ground-breaking brands to find out what makes them unique. We'll compare them toe to toe to suss out their differences, in the end, helping you choose which may offer a better fit.
What to Consider
Product range
Choosing a brand with more to offer can be a major draw…if you're into that sort of thing. Not everyone loves variety, and sometimes, it's just easier to pick from a small selection of styles that get the job done.
As the older brand, Orthofeet has a wider range of styles that include sneakers, boots, slippers, sandals, and even office shoes. Kuru's selection is still substantial, but it is slightly more streamlined.
Target audience
A brand's selection and style help a customer determine its target audience, and with just one look, usually, you can determine whether or not it's the right fit. Picking a brand that's style and features match yours is incredibly important. After all, why shop somewhere that doesn't have exactly what you're looking for?
Kuru is the sportier and more modern choice between these two brands. Its selection is a little fresher, with styles for those with a more active life. Orthofeet is the more traditional company. It has a slightly more mature feel to its shoes, and its broader collection includes more work shoes, sandals, and slippers.
We all know how important it is for people with diabetes to take care of their feet to prevent ulcers. However, a study conducted by S.J. Harrison and colleagues found that only 20% of diabetic patients wore shoes with a proper length and width for their feet!
The use of proper footwear can prevent falls in the elderly. A literature review published in the Journal of Rehabilitation Research and Development concluded that older people should wear low heel and slip-resistant soles indoors and outdoors to prevent falls.
Design and durability
The way a shoe looks is important to some, to others, they just care about how it feels. If you're particular about your shoe's design, then we don't need to tell you that finding a style that aligns with yours is a determining factor in your decision of which brand to buy from. Similarly, durability is something you'll want to pay attention to.
Kuru's designs are more modern and performance-driven. They're designed for those with foot issues, but unlike Orthofeet, they don't work for people with swollen or very wide feet. Orthofeet's selection has the typical orthotic look with inserts, whereas Kuru eliminates the inserts. Both brands create durable, quality shoes made to last.
Sustainability
Opting for a brand that aligns with your values can be critical in the decision-making process. Why choose to give your money to a company with a mission that doesn't sit well with you? Kuru is dedicated to creating a more sustainable future, giving customers the option to choose what cause the brand gives back to.
When you buy from Kuru, you can register your purchase online and select education, economic development, health, or environmental impact as your chosen cause to support. In contrast, we didn't come across any ways that Orthofeet gives back, nor have we found any details on eco-friendly production methods.
Accessibility
If a brand doesn't ship to your country and you can't find it in your local shops, then it doesn't make much sense to fall in love with its products. Thankfully, both Kuru and Orthofeet ship internationally.
In terms of finding them in stores outside of their websites, Orthofeet shoes are available from a wider range of stores as well as Amazon. Both companies offer similar prices, but Kuru's are slightly more costly.
Now that you've got an idea of what features matter most to you, this Kuru vs Orthofeet review will dive into the good stuff—the products. Below, we've put three similar designs head-to-head in a friendly competition, comparing their innovative features, designs, value, and more.
Kuru Atom vs Orthofeet Coral No-Tie Lace Black Review:
The right shoes can make all the difference. Whether you're cruising the mall or taking on a 10k, your shoes should support what you're doing, not make you want to stop. This Kuru vs Orthofeet review will check out each of the brands' top-selling sneakers for women: Atom and Coral.
Kuru Atom combines this company's signature features, KURUCLOUD and KURUSOLE which provide a cloud-like feel that hugs and supports your heels while helping propel you forward. As the brand's highest performance sneaker to date, it uses a flared midsole and toe box for a balanced stride.
Designed for superior athletic performance, the forefoot is slightly slimmer than orthotic shoes. They look great too, made from a mix of materials for a modern look, with mesh for breathability and non-marking rubber on the outside for added grip.
Offered in medium (B+) and wide (C+) widths, you'll get a boost of height thanks to the added cushioning along with a padded heel collar and modded mesh outer lining that keeps your foot secure. No-tie laces mean you can slip them on and get moving.
Grab a pair in sizes 5-12 for $145.
Kuru Atom:
Two width options
Designed for athletic performance
No-tie laces
Breathable
Attractive design
The Orthofeet Coral No-Tie Lace Black sneakers come in three inclusive widths: medium (B), wide (D), and Extra Wide (2E). Fitted with the Ortho-Cushion System, they're made with removable orthotic insoles with anatomical arch support for a custom fit. Being able to add orthotic insoles is a plus. As described in a review article published in the Journal of the AAOS, the use of custom orthoses plays an important role in the treatment of foot and ankle pathologies. Moreover, a systematic review by J. Paton and colleagues concluded that insoles appear to reduce the incidence of ulcers in patients with neuropathic diabetic foot.
The wide toe box grants you more room and a comfortable strobe, while soft interior fabric reduces rubbing as you move. Made from a four-way stretch knitted fabric, Coral contours your foot perfectly with a rocker sole for a little bounce. A grippy bottom helps you tackle uneven surfaces meaning you can take your shoes anywhere.
A good choice for anyone with arthritis, diabetes, and swollen or just plain ol' sore feet, Coral is super easy to put on thanks to its no-tie lace design. Get a pair in sizes 5-12 for $113 (normally $135).
Orthofeet Coral No-Tie Lace Black:
Three width options
Removable orthotic insert
Four-way stretch fabric
Contours & conforms to your feet
On sale
Though both shoes are attractive, Kuru Atom has a more trendy, modern look. Both shoes are matched in support and provide a bouncy ride, but the biggest difference lies in Orthofeet's inclusion of an orthotic insert.
Does an insert mean more support? Well, both shoes are designed to totally support a range of foot shapes and sizes, but we found that Orthofeet may be a better choice for those with wider or swollen feet.
Kuru Quantum vs Orthofeet Edgewear Stretch Knit Review:
Looking for a sneaker that's truly supportive? Buy from a brand that engineers them to be. Regular running shoes, surprisingly, aren't all that supportive for those with foot or toe issues, but since you're reading this Kuru vs Orthofeet review, we suppose you know that fact too well.
The Kuru Quantum and Orthofeet Edgewear Stretch Knit are both men's sneakers. They both have a more substantial look to them than the brands' women's versions we just checked out, but other than that, their design is very similar. Let's take a closer look.
Kuru Quantum is an athletic sneaker. Its purpose? To help you crush your fitness goals. Helping you go further and faster than you thought possible with regular sneakers, it molds to the shape of your foot for a custom ride.
Made to support your arch, absorb shock, and help you move pain-free, Quantum puts your body in perfect alignment to prevent stress-related injuries. It's lightweight and breathable thanks to moisture-wicking mesh, with a wider toe box for extra wiggling room.
A narrative review published in the Journal of Foot and Ankle Research found that less than one third of the population wear correct sized shoes. The authors highlight that there is a proven association between the use of improper footwear and foot conditions.
Designed to help you move through a variety of workouts with a grippy sole, Quantum is ideal for those with plantar fasciitis, fallen arches, and heel pain. Get a pair in medium (D) or wide (2E) width in sizes 6.5-14 for $155.
Kuru Quantum:
Non-orthotic
Molds to the shape of your foot for custom support
Breathable & moisture-wicking
Wide toe box
Two width options
4.6/5-star average from 1,225 ratings
The Orthofeet Edgewear Stretch Knit sneakers are all about space and movement. Available in four different widths, medium (D), wide (2E), extra wide (4E), and extra extra wide (6E), they're made of a stretchy, knitted fabric that contours your feet for a personal fit.
Guarding your pressure points, Edgewear is made with the Ortho-Cushion™ System, an orthotic, removable insole that provides ergonomic cushioning to lessen impacts and adds a light bounce to your step. Take on hikes, backyard games, and other activities with ease with the advanced grip and padded interior.
Great for anyone with foot pain and plantar fasciitis, bunions, and hammertoes, grab a pair in sizes 7-15 for $113 (normally $135).
Orthofeet Edgewear Stretch Knit:
Removable orthotic inserts
Conforms to your foot
Sturdy grip
Lots of wiggle room
5/5-star average from 975 ratings
Four width options
On sale
Both sneakers are actually pretty similar in terms of look and design with some subtle differences. The main one is that Orthofeet Edgewear is made with a removable orthotic insert, whereas the Kuru Quantum skips the orthotics altogether.
Both shoes provide a custom fit thanks to the way they mold to your foot, and both have a wide toe box for added comfort. If you have wide feet, you'll have more options with Orthofeet, but if not, you may enjoy the totally supportive feel of Kuru.
Kuru SPARC vs Orthofeet Extra Roomy Sock Review:
Just like shoes, socks aren't a one-fits-all kind of item. Both of our featured brands make socks as smart as their shoes, providing support and extra room where you need it most. This part of our Kuru vs Orthofeet review will compare socks from each to help identify what their strengths are.
The Kuru SPARC socks were made to enhance the effect of the brand's patented KURUSOLE technology in its shoes. With graduated compression zones to hug your arches and ankles, they help to increase your stability when on the go.
Made from a blend of nylon, polyester, and Lycra, SPARC socks are breathable and moisture-wicking. Available in sizes XS-XL for men and women, one pair is $15.
Kuru SPARC:
Moisture-wicking & breathable
Supportive compression zones
Enhances experience of Kuru shoes
4.4/5-star average from 39 reviews
Unisex
The Orthofeet Extra Roomy Sock is ideal for those who wear extra roomy shoes. Since the brand makes its shoes in widths up to extra extra wide, it makes sense to have a sock that does the same thing.
With a DryPlex Moisture Wicking System, your feet will stay cool and dry, while the cushioned interior adds comfort. Seam-free, the socks are designed for both men and women with circulatory issues like diabetes and edema and are made with bamboo and cotton to help combat odors and prevent blisters.
Get a pack of three pairs in S-XL for $24 (on sale from $27).
Orthofeet Extra Roomy Sock:
Made with some renewable materials
Seamless & non-restrictive
Padded for extra comfort
Extra wide
4.9/5-star average from 342 reviews
Three pairs
On sale
Orthofeet Extra Roomy Socks are for a very specific kind of foot: extra wide. Though you don't technically have to have an extra wide foot to pull one on, they most likely won't fit inside regular shoes.
This contrasts with the Kuru SPARC socks which may not be suitable for wider feet. With compression, they'll have a tighter feel than their competitor, which is designed for loose, seam-free comfort. Both are excellent in their own categories, so your choice will come down to what kind of feet you have, and which brand's shoes you opt for.
Kuru vs Orthofeet: Quality
If there's one thing I've learned about buying anything online, it's that what you see on the screen isn't always what you get. Sometimes it's worse, sometimes it's better. We always hope for the latter, but alas, that's not always the case.
This Kuru vs Orthofeet review exists to help you find out what's what. You've seen the differences between each of the brands' shoes and socks, but how about what they're made of? Quality is a big part of a product's value, and though I'll take a closer look at value in the next section, in this one, I'll check out quality.
Kuru's whole clicker is to change your life. If its shoes weren't truly quality, it definitely couldn't do that, so let's take a look at what they're made from. Its shoes use a mix of synthetic materials for its uppers and linings, a KuraCloud midsole, and non-marking rubber for the outsole.
Designed and developed in the USA, Kuru shoes are produced by the brand's partners in Asia under strict manufacturing practices. Each shoe has two main features that make it unique:
The first is KURUSOLE, a patented, flexible cushion that conforms to your foot and cups your heel to lighten the impact. Goodbye, orthotics! Thanks to space-age foam, these shoes provide triple the support for the full length of your foot (heel, arch, and ankle), helping to perfectly align your body.
The other is KURUCLOUD, a cushioned insole that increases the cupping support of the KURUSOLE. The result is a bouncy, energetic stride.
Unlike Kuru, Orthofeet uses orthotic insoles to provide supreme support and comfort. Made of PolyU foam and DryPlex anti-odor fabric, the orthotic inserts are removable and replaceable. There's a lot that goes into the construction of these shoes, including a stretchy, knitted fabric upper, a cushioned sole, and a rubber outsole.
The shoes themselves come in four different widths up to extra extra wide with a smooth, padded interior for all-day comfort. Orthofeet shoes are made in China.
With minimal information about the materials that each of these brands uses, I didn't get a ton of insight into the unique materials, quality, but I did get an idea about the quality of the design. At their base, each of these brands has designed a thoughtful shoe ideal for those with a range of foot issues.
The biggest difference between the two is that Kuru doesn't use orthotic inserts. Orthofeet does.
Kuru vs Orthofeet: Price & Value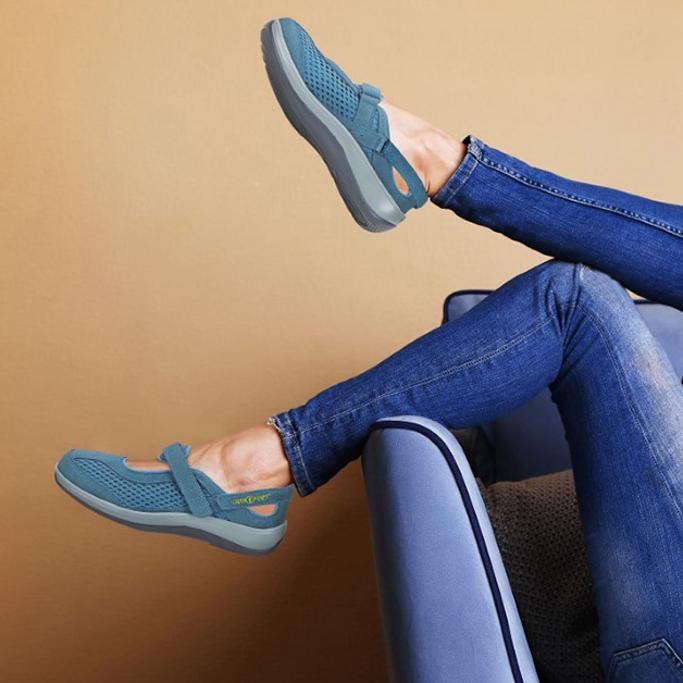 Value is often in the hands of the beholder. That means that depending on your unique wants and needs, you may find that one product is more appealing than another simply because it has "x" instead of "z."
This section of our Kuru vs Orthofeet review will look at the prices of a selection of each of the brands' products as well as what you get along with your purchase (things like warranty, quality, benefits, etc.) Let's start with Kuru's prices for its top-selling shoes and socks.
Quantum $155
Atom $135
Sparc $15 (one pair)
Turning to reviews, the majority of customers say that the quality is amazing and they love how each shoe provides a custom fit. Considering that no two feet are completely alike (size, shape, arch, heel shape, toe length, etc.) and that there are so many variable factors when it comes to feet, making a customizable shoe has great value.
Made with special technology, each shoe provides triple the support (when compared to more traditional options) and a bouncy stride, making it easier and less painful to walk and run. Of course, benefits like these have value too, considering these shoes may be the difference in you having an active life.
Kuru's free shipping and returns, along with its 6-month warranty are the cherries on top of a quality product, melding together to make a product that's extremely attractive.
Orthofeet offers the same free shipping and returns, as well as a 6-month warranty. Here are a few prices for its sneakers and socks:
Edgewater Stretch Knit $135 (on sale for $113)
Coral No Tie Lace Black $135 (on sale for $113)
Extra Roomy Sock $27, on sale for $25 (three pairs)
From this list, we can learn that Orthofeet most likely offers annual sales. Since it's the end of the winter season, the fact that it has sale prices up means that you'll most likely see another sale come the end of spring. If you're someone who prioritizes saving a few bucks (who doesn't though?), you may find this detail very valuable.
So what do you get along with great prices? A ton of orthotic technology and the confidence that comes from buying from a doctor-recommended brand.
Kuru is the more expensive brand and I didn't see a sale in sight. That's ok if its shoes have high value (which they do), as customers are more than willing to pay the price for something that truly makes a difference—something that they also do.
Orthofeet offers sales on its products and is doctor recommended, meaning that they come with a certain sense of security. It's true that its shoes are less expensive than its competitor, but not by much.
Kuru vs Orthofeet: What Do Customers Think?
Feedback is the lifeblood of any company. Its scores across the web are what customers count on to make their purchasing decisions, so as you can imagine, it's also an important part of this Kuru vs Orthofeet review.
Ahead, let's take a look at comments and ratings for each of the brands gathered from a few different websites. This will help us to get an overall idea of what its shoes and customer service are like. Let's start with ratings for Kuru.
Quantum on Kuru.com: 4.6/5 stars from 1,225 reviews
Facebook: 4.5/5 stars from 1,125 reviews
BBB: A- score
With a good pool of reviews to look through, Kuru footwear received high ratings across the board. The average rating on its website is about 4.5/5 stars for all of its products, a score that's calculated from thousands of reviews by customers. While reading through the comments, a few points stood out:
Its shoes are of amazing quality
Customers love the personalized fit of the shoes
It makes very supportive footwear
From the BBB rating, I learn that Kuru is on top of customer issues, and considering that there's only one complaint made to the Better Business Bureau, it's safe to surmise that their customer service team handles issues promptly or doesn't let them escalate.
As for Orthofeet, this brand looks to be a tad more popular, but it's also been around longer. There were definitely more sites that wrote reviews about its shoes, and the fact that they're sold on Amazon doesn't hurt for exposure either. Here's what I found in terms of ratings:
Edgewater Stretch Knit on Orthofeet.com: 4.9/5 stars from 975 reviews
Proven on Amazon: 4.2/5 stars from 5,614 ratings
Trustpilot: 3.5/5 stars from 1,173 reviews
Though the Trustpilot score seems pretty average, 71% of customers gave it an "Excellent" rating which is huge. In regards to feedback, there were definitely some common threads among reviews. There were the most prevalent comments:
Provides consistently good service
Shoes are truly life-changing
Footwear is very supportive & comfortable
Though I did find that both brands have a few reports of questionable quality, the majority of buyers are over the moon for their shoes which they say they wear daily. That certainly sounds like quality to us. If quality were an issue and things like ripping and sole separation occur within a few uses, both brands offer a warranty that covers those issues.
The warranty alone is enough to make us feel secure in any product's quality, but the majority of feedback supports this claim as well. In comparison, these brands are relatively similar. They each have comparable ratings and feedback, although there are some slight differences in why people choose one over the other.
Kuru vs Orthofeet: Promotions & Discounts
Buying directly from a brand helps them out. If you like what you buy, the likelihood of you choosing it again is stronger than if you purchased its products from a marketplace. Plus, if you opt in to receive its newsletter, it increases its chances again.
To give you a little incentive to choose one particular brand over another, and to shop directly instead of at a marketplace, companies offer promotions and discounts to sweeten the deal. These deals are often to show you they appreciate your business or returning business.
During this Kuru vs Orthofeet review, I discovered a few for both that are exclusive to consumers who shop their sites. Let's unpack what I found below:
Kuru
Cash Rewards: every time you buy you earn points
Refer a friend: Give $10, get $10
Free shipping and returns
Orthofeet
Sale section offers up to 25% off
Free shipping and returns
In general, I found that Kuru is the more modern brand. It's a little younger than its competitor and that's reflected in its shoe styles as well as its discounts. Modern brands may know a thing or two more about the benefits of shoppers buying directly from them, so it's not too surprising it has more deals in place.
Orthofeet still covers the basics though, its deals are more traditional but equally as thrilling. I mean, who doesn't love a good sale section?
Another point worth mentioning is that this brand's deals are unconditional, meaning you can access them the very first time you shop them. In comparison, the majority of Kuru's specials are to benefit returning customers.
Kuru vs Orthofeet: Shipping & Returns
Shipping isn't always as black and white as it seems. Before you can get excited about your new shoes you're sure are going to change your life, you need to make sure that they're actually going to show up at your door.
This part of our Kuru vs Orthofeet review exists to fuss about the details so you don't have to. You'll find all of the critical information about each company's shipping policies below. Here are the stats on Kuru.
Free standard shipping
Reports of fast delivery
Ships internationally
Sparse reviews of missing orders
And how about returns? Minds change, sizes vary. At some point or another, you're bound to need to return or exchange an item you buy online. That's one of the risks of online shopping, but also a reason why reading the returns policy is an important part of making your final decision.
Kuru extends a no-hassle 30-day return policy to all customers, with free returns and exchanges to US patrons. All of its shoes come with a 6-month warranty which guarantees repair or replacements of any shoe that fails due to defects of workmanship. It does not cover color fading or daily wear and tear.
On the flip side, Orthofeet also offers a 6-month warranty with its shoes, though it's limited to one pair of shoes per order. As for returns, you'll have 60 days to strut and stride around to decide if they're the right fit. If they're not, you can return them for a full refund.
Returns are free for all states aside from Hawaii, Puerto Rico, and Alaska. Here's a basic rundown on what to expect with shipping:
Shipping is free for the continental US
All orders are sent out from the brand's New Jersey warehouse
Ships internationally
Few reports of late shipments
In general, Orthofeet has more feedback about late or missing shipments. It is the larger and better-known company though, so that's kind of to be expected. From what I found in this part of my Kuru vs Orthofeet review, these companies are seemingly matched in how they handle shipping and returns.
Who Will You Shop With?
If there's one thing I've learned throughout this Kuru vs Orthofeet review, it's that two brands can look very alike but be designed for different people. Overall, Kuru has a sportier vibe that's more performance-driven.
Orthofeet is the older brand, and though its designs are definitely updated, it has a more traditional, orthotic appeal. With a greater range of width options and the inclusion of removable orthotic insoles, this brand can help with a greater variety of foot issues that require added space.
Both brands design their shoes to give you a custom fit, it's just that Kuru's do it without the need for an insert. Using similar materials for breathability and moisture-wicking, your decision may come down to one of what you need from your shoe: support for athletic activities or width and everyday comfort.
---
Check out similar brands you might like:
Get Access to Exclusive Deals
Subscribe for free to get exclusive deals in your inbox. 100% privacy