Blu Dot Review
About Blu Dot
You can learn a lot of information about someone based on the furniture they have in their house. It's how you can tell the college frat boys apart from the folks who aspire to make a living by streaming on Twitch. The furniture you collect impacts your energy in the world, and nobody wants to radiate mattress-directly-on-the-floor energy.
The question is, how do you cultivate the right energy? You start by shopping with the right furniture supplier. Sure, Amazon and Ikea will always be there, but why not go for something a dash more unique, a speckle more intentional, or a hint more refined?
Allow me to present you with Blu Dot, a Minneapolis-based furniture company that designs and manufactures each of its pieces by hand. There's personality in each of their items, whether it's their occasionally avant-garde designs or their sublime detailing.
One look at their Instagram feed and you'll see why more than 130k people follow them. So if you're hunting for modern furniture, read through my Blu Dot review to see if what the company offers is for you. You'll learn about the brand's history, what sets its products apart, what customers have to say about them, and the answers to a few frequently asked questions.
Why You Should Trust Us
Our mission is to help you make better, more informed purchase decisions. Our team spends hours researching, consulting with medical experts, gathering insight from expert professionals, reviewing customer feedback, and analyzing products to provide you with the information you need.
Explore your options with our list of 10 Best Furniture Brands.
Overview of Blu Dot
Blu Dot came about when three college friends in 1997 wanted to create their own furniture to save money and resources. Their vision had modest beginnings, but those roots continued to guide them nearly three decades later.
The process behind Blu Dot is filled with creativity and testing. The brand blueprints and sketches many of its pieces multiple times over until they get it right. This not only ensures that their products are exactly how they intend for them to be but so that they can save on resources.
Their sustainability practices start at the very onset of designing a furniture piece and carry all the way through to the supply chain. They maintain control over the entire process by making every single item that they sell by hand. All of Blu Dot's pieces are the products of hard and caring work.
That's why you won't find furniture companies with designs like Blu Dot. But this isn't a story about lore and inspirations, it's a Blu Dot review about the brand's products. So I'll continue forward with that after telling you some of the company's highlights.
Highlights
Unique and stylish modern furniture
All pieces are designed and made by hand
Free color swatches are available
Products available in Canada and the United States
Creative visual designs
Outlet with good savings on many items
Blu Dot offers a lot, a fact that may be surprising given the nature of how they produce furniture. You'd typically expect a furniture company to have only a few items if they make everything by hand, but Blu Dot is not your typical furniture company.
That being said, you can find items for your bedroom, living room, washroom, kitchen, dining room, and patios in Blu Dot's library.
Blu Dot Coffee Table Review
Some may see the coffee table as a lesser sibling to the dinner table. Those who see it that way have clearly never looked at one of the Blu Dot coffee tables I've included in my review.
Blu Dot Flume Round Coffee Table Review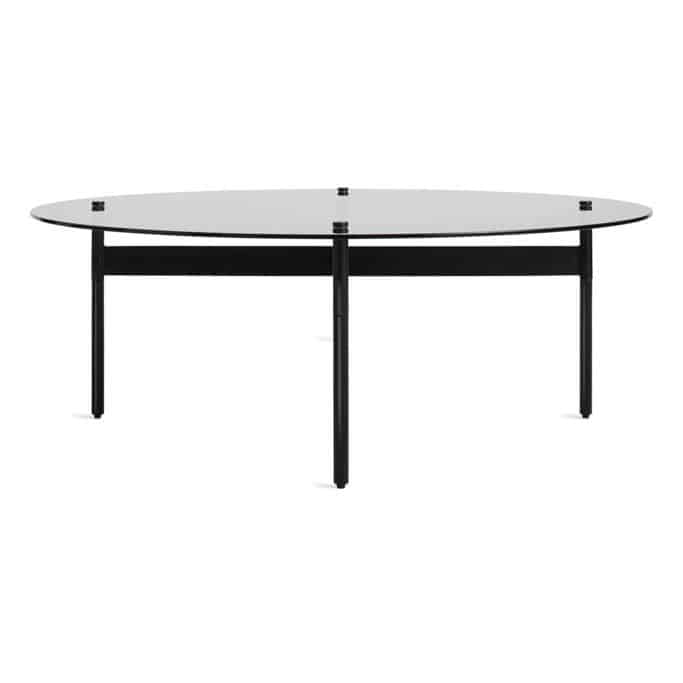 There are two schools of thought when it comes to furniture: either they should draw everyone's attention or they should blend into the room. The Blu Dot Flume Round Coffee Table selects the second option. It has a glass top to showcase what lies beneath it, whether that's a freshly cleaned floor or a delicate rug.
This table is sturdy and stable thanks to the steel legs and level feet. It is a sleek addition to any living room.
You can pick up the Blu Dot Flume Round Coffee Table for $495.
Blu Dot Coco Coffee Table Review
Made from Acacia wood, the next coffee table in my Blu Dot review can adapt to your atmosphere over time. Acacia wood is prone to reacting to changes in temperature and humidity so you can expect a few cracks, swells, and bumps to crop up.
Fortunately, they're purely cosmetic. They won't affect the table's sturdiness and will make the Blu Dot Coco Coffee Table entirely your own.
Its stout appearance looks more like a tree trunk than a coffee table, another facet that distinguishes it from other similar products. Combining that with its naturalistic cracks means that this table can impart a naturalistic vibe to your interior.
One buyer wrote: "Love this table! I struggled to find a small round table that would fit our space and this one is perfect. It's heavy and feels durable and scratch-resistant."
The Blu Dot Coco Coffee Table can be yours for $850.
Blu Dot Desk Review
Productivity is directly related to your working environment, so it's important to have a setup that makes you want to work. These Blu Dot desks are sure to help you feel motivated in a way that supports your work-life balance.
Blu Dot Open Plan Large Desk Review
Simplicity is king, and the Blu Dot Open Plan Large Desk sits atop that throne. Its wooden frame is as plain as can be, preventing any distractions from cropping up while you work. It comes in either white oak or walnut so you can choose between a lighter or an earthier tone.
The desk's drawers are just as inconspicuous too. They're there, but you wouldn't know unless you did some investigating.
One happy customer wrote: "Perfect desk. It shipped quicker than through the retailer direct which was great because we needed it ASAP. It's super lightweight, [and] easy to assemble on its own. It is more of a smooth/matte Euro finish."
You can pick up the Blu Dot Open Plan Large Desk for $1,295.
Blu Dot Stash Desk Review
Continuing with the decluttered and simple theme, the Blu Dot Stash Desk gives you everything that you need to work with and none of the distractions. It's a flat, safe, and skinny desk that's perfect for tight apartments or bedrooms for people who work from home.
None of that is to say that it's bad looking, because this desk definitely has some personality. It's a little shy, but it's there.
One Blu Dot review writer said: "Stunning! Was tricky to assemble at first but once you get the hang of the locks, the rest is a breeze. Very high quality. Minimalist Scandinavian design I've come to expect and LOVE from Blu Dot."
The Blu Dot Stash Desk can be yours in one of 8 colors for $650.
Blu Dot Furniture Review
The last two items I'll look at in my Blu Dot furniture review display how the company's expertise carries through to all its products.
Blu Dot Bonnie and Clyde Sectional Sofa Review
Named after the inseparable crime duo, the Blu Dot Bonnie and Clyde Sectional Sofa is cozy enough to keep you and your company together. 'Till death do you part. Okay, maybe it's not that extreme, but it is cozy. It comes in three different materials:
Fabric
Velvet
Leather
One buyer wrote: "Love the classic look and design of the Bonnie and Clyde sofa. Great quality for the price and nothing less than what I was expecting. I've always had a fantastic experience shopping your site and you'll definitely be one of the first places I look to for home furnishings in the future."
Regardless of which you select, know that they all have a firm hardwood frame to support you. The Blu Dot Bonnie and Clyde Sectional Sofa costs $4,290.
Blu Dot Field Lounge Chair Review
Last but not least is the Blu Dot Field Lounge Chair, which has to be one of the comfiest chairs I've ever seen. It's practically daring you to sit down in it and not just stay there for the rest of your life.
That comes down to its combination of inviting curves, lumbar-supporting pillow, and slightly reclined back. The steel base has a powder coating that boosts the chair's aesthetics.
You can pick up the Blu Dot Field Lounge Chair in a variety of materials and colors for $1,995.
Who Is Blu Dot For?
The items I highlighted in my Blu Dot review show that the brand is for people who want intentionally designed and interesting furniture. If you want some high-quality furniture that you know is made with care, this is the brand for you.
Blu Dot Reviews: What Do Customers Think?
While there weren't any Blu Dot reviews on the Blu Dot website, there were plenty of them on Wayfair. As such, I looked at the ratings customers gave to the products I highlighted. Here's what I found:
Flume Coffee Table: 5/5 stars after 5 reviews
Open Plan Large Desk: 5/5 stars from1 review
Coco Coffee Table: 4.9/5 stars after 15 reviews
Stash Desk: 4.8/5 stars from over 100 reviews
Bonnie and Clyde Sectional Sofa: 4.7/5 stars after 20 reviews
I also wanted to get a better sense of what customers thought about Blu Dot overall, so I looked at some of their aggregate scores elsewhere:
Wayfair: 4.6/5 stars after hundreds of reviews
Knoji: 4.2/5 stars from over 70 reviews
Trustpilot: 3.1/5 stars after 10 reviews
Many of the Blu Dot reviews that focused on the brand's products were positive. Not that that was surprising given the high scores the items held on Wayfair.
Thankfully, Blu Dot's practices were as popular as their products. People complimented Blu Dot on their shipping and delivery. They felt that the company was treating them right, which, if you've read reviews of other furniture companies, is a bit of a rarity. One buyer wrote:
"They had timely order fulfillment and the overall product quality was great! I felt everything was well worth the price. So often these nouveau online brands have good marketing and design but, then you get some piece of furniture that had zero quality control and you feel like you got scammed."
They concluded: "Rest assured Blu Dot can be trusted, they will leave you with a great fully functional piece of furniture."
Blu Dot's service was so admirable that many people remained customers for years. This wasn't because their products kept breaking, but because they liked Blu Dot's service and customer care so much that they went to them before any other company. Here's a great Blu Dot review that summed up what people love about this brand:
"Bought lots of stuff from Blue Dot and everything is good quality and nice looking. Recently I had to contact customer service over an inaccurate tracking number and Nate was wonderful… He was super sweet. And he got back to me as promised in an email, then promptly resolved the issue. Customer support is important."
Overall, the majority of customers were happy with Blu Dot for the quality of the pieces, their longevity, and their customer support.
Is Blu Dot Legit?
I couldn't find anything that made me doubt Blu Dot's authenticity while I was researching for this review.
Is Blu Dot Worth It?
The designs of the products in my Blu Dot review are good enough for me to recommend that you check the brand out. However, the fact that they make all their products in the United States and try to keep their practices as sustainable as possible excites me.
Are there less expensive furniture brands out there? Of course, and if you want to save money then you should probably shop with them. However, I think if you really want to cultivate a unique living space then Blu Dot is worth investing in.
Blu Dot Promotions & Discounts
The Blu Dot outlet page on their website holds items that you can grab for much less than their regular asking price. These products are being sold at a discount to make room for new designs in the brand's inventory.
Where to Buy Blu Dot
You can buy their items through their website, www.bludot.com, or at one of their retail locations.
FAQ
Who owns Blu Dot?
The brand's founders Maurice Blanks, John Christakos, and Charlie Lazor own Blu Dot.
Does Blu Dot ship internationally?
They ship to Canada and the United States.
What is Blu Dot's Shipping Policy?
They offer free standard delivery on all smaller orders under $200. Orders over $1,000 cost $65 to ship while all large item orders cost at least $139 for local shipping.
What is Blu Dot's Return Policy?
You can return items up to 30 days after you receive them and get a refund minus a 10% fee.
How to Contact Blu Dot
If you have any questions, you can call Blu Dot at 844-425-8368 or fill out a customer service form on their website.
---
Check out some recently published articles you might like:
10 Best Modular Outdoor Furniture Sets
National Business Furniture Review
Get Access to Exclusive Deals
Subscribe for free to get exclusive deals in your inbox. 100% privacy