Albany Park Furniture Review
About Albany Park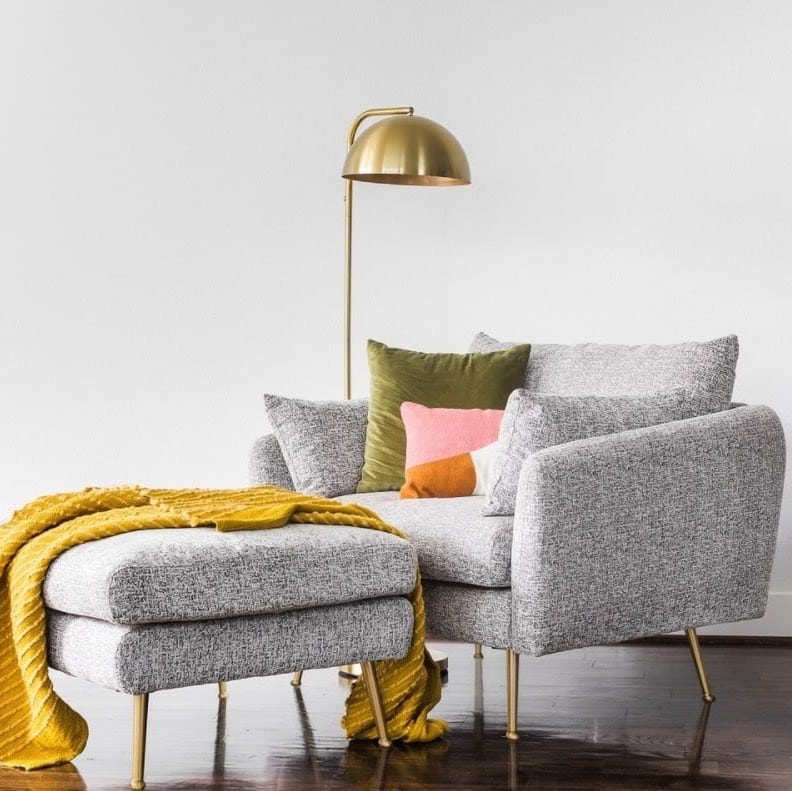 Albany Park makes premium handmade, easy-to-assemble sofas. With 3 sophisticated core designs, its selection ranges from classy mid-century to cozy contemporary, offering sectionals, loveseats, armchairs, ottomans, and more.
When creating their brand in 2019, Darryl and Jessica Sharpton didn't want customers to be overwhelmed with hundreds of options.
And so, they developed three standard models that satisfied the needs of everyone and could be delivered within 3-5 business days. Here's a snippet from the brand:
"Albany Park furniture comes packaged in apartment-friendly, space-conscious boxes that can easily be maneuvered in stairwells, tight hallways and throughout any home. Albany Park is radically changing the way people shop for sofas."
Looking for a furniture upgrade? This brand may just be for you. Keep reading this Albany furniture review as I take you through their pros and cons, collection, customer ratings, promotions, and more to help you decide if the company's pieces are worth adding to your home.
Why You Should Trust Us
Our mission is to help you make better, more informed purchase decisions.
Our team spends hours researching, consulting with medical experts, gathering insight from expert professionals, reviewing customer feedback, and analyzing products to provide you with the information you need.
Pros and Cons
Just so you have the full picture of the brand, here are some advantages and drawbacks of shopping at Albany Park.
Pros
Customizable: Albany Park Furniture offers customizable, modular pieces that can be configured to fit a variety of living spaces.
Sustainable: The company is committed to sustainability and uses environmentally friendly materials in its products.
Easy to assemble: The furniture is designed to be easy to assemble, with no tools required.
Versatile: The modular design of the furniture makes it adaptable to different lifestyles and needs.
Stylish: The modern, minimalist aesthetic of the furniture is both stylish and functional.
Affordable: Albany Park Furniture is relatively affordable compared to other furniture brands, making it a good option for those on a budget.
Cons
Limited selection: Albany Park Furniture has a relatively small selection of furniture pieces compared to other furniture brands.
Limited availability: The company primarily sells its products online, which can limit the availability of the furniture for those who prefer to see and touch furniture in person before buying.
Durability: Some customers have reported issues with the durability of the furniture over time.
Limited customization options: While the furniture is customizable to a certain extent, there are limitations to the customization options available.
Limited warranty: The furniture comes with a one-year limited warranty, which may not be sufficient for some customers.
Materials
Albany Park Furniture uses a variety of high-quality and sustainable materials in their furniture products. Here are some of the materials they commonly use:
Solid wood frames: The furniture frames are made of solid wood, such as kiln-dried birch, which provides durability and strength.
Recycled steel hardware: Steel hardware, such as bolts and screws, is used in the construction of the furniture. Albany Park Furniture uses recycled steel in its hardware to reduce its environmental impact.
High-density foam cushions: The cushions in the furniture pieces are made of high-density foam, which provides comfort and support.
Polyester fabrics: The upholstery fabrics used by Albany Park Furniture are made of 100% polyester, which is durable, easy to clean, and resistant to wear and tear.
Environmentally friendly materials: The company is committed to sustainability and uses environmentally friendly materials in its products. For example, they use recycled materials for packaging, and work with suppliers who share their commitment to sustainability.
Water-based adhesives: Water-based adhesives are used in the construction of the furniture, which is a more environmentally friendly option than traditional solvent-based adhesives.
Overall, Albany Park Furniture uses high-quality materials that are designed to be both durable and sustainable.
Features
Curious about some of the notable features of Albany Park furniture? Let me compile a quick list/
Modular design: Albany Park Furniture offers modular furniture pieces that can be customized to fit any living space. The pieces can be rearranged and configured in different ways, making them perfect for small apartments or homes with limited space.
Quality materials: The company uses high-quality materials in its furniture pieces, including solid wood frames, 100% polyester fabrics, and high-density foam cushions.
Sustainability: Albany Park Furniture is committed to sustainability and uses environmentally friendly materials in its products. The company also works with suppliers who share its commitment to sustainability.
Easy assembly: The furniture pieces are designed to be easy to assemble, with no tools required. This makes it easy for customers to set up their new furniture without the hassle of complicated instructions.
Customer service: Albany Park Furniture offers excellent customer service, with a dedicated support team available to answer any questions or concerns. The company also offers a 30-day return policy, so customers can try out their furniture and return it if they're not completely satisfied.
Versatility: The modular design of Albany Park Furniture makes it versatile and adaptable to different lifestyles. The pieces can be arranged in different configurations to fit different needs, from entertaining guests to relaxing at home.
Style: The furniture pieces are designed with a modern, minimalist aesthetic that is both stylish and functional. The clean lines and simple designs make the furniture pieces easy to integrate into any home décor style.
While furniture shopping isn't exactly a walk in the park, it doesn't have to be a headache, either. Albany Park ensures that their service is easy to use by providing only a limited selection.
After a quick scan of their their inventory, I discovered a range of sofas, sectionals, loveseats, armchairs, and ottomans, which all embody a minimalistic but sophisticated touch.
For those newly acquainted with this brand, let this Albany Park furniture review be your guide. I'll feature a selection of bestsellers to help you get started.
6 Albany Park Bestsellers
Up ahead, I'll give you the details on Albany Park's most popular pieces. You might be inspired to redecoate your space after all.
Albany Kova Sofa 84" Review
There's nothing wrong with going back to the basics. In fact, I'm kind of partial to them. The Kova Sofa 84" from Albany Park features one of the more traditional sofa designs on the market and has that classic comfy look I long for in a couch.
Built with 100% feather blend cushions held together with a sturdy, kiln-dried hardwood frame, this Albany couch will hopefully last you a lifetime of cloud-like coziness.
The back cushions are reversible, removable, and fully upholstered. It's supported by solid wood tapered block legs to help keep things in place.
Coming in either light gray or charcoal black, you can add some color to this sofa by styling it with throw pillows for a pop of vibrance.
For a staple in any living room, this Kova Sofa 84" is all yours for $1585, marked down from $1790.
What customers are saying: "Love the versatility! We got two armless and two corners and arrange them several ways. Love that we can add to this later if we get a bigger space too :)."
Albany Ẹkáàbọ̀ Albany Sofa Review
I found that the Ẹkáàbọ̀ Albany Sofa has an interesting backstory to it. Darryl Sharpton recently discovered his West African heritage through a DNA test and wanted to pay homage to his ancestral past.
Eager to showcase the vibrant shades of West African culture, Darryl created this piece, marking the beginning of an entire furniture collection that's now available at Albany Park.
"Each piece of this lively, dynamic, and colorful collection is upholstered in incredibly soft velvet and brings Afro-politan life seamlessly into your cozy living room." I love this!
The Albany sofa features a mesmerizing blue, orange, and brown pattern that's decorated with a soft velvet material.
The Ẹkáàbọ̀ Albany Sofa also comes in an alternative West African pattern of Akwaaba velvet, which showcases a fun mix of teals, oranges, and black accents.
You can also choose what leg style you would prefer, with a range of finishes from walnut to gold metal. For a sofa that's sure to bring some spice into your living space, the Ẹkáàbọ̀ Albany Sofa was originally priced at $1119, but you can get it now for $995.
What customers are saying: "No regrets whatsoever. I am absolutely in love with my olive green couch and I wouldn't change it for the world. Thank you so much Albany Park for making my vision come to life!"
Albany Kova L-Shape + Ottoman Review
This looks like the ideal sofa for having your friends and family over to watch the game. I think the Kova L-Shape + Ottoman provides the perfect amount of space to seat your guests. I love that the couch has two more sections than a plain old sofa, making it more spacious and luxurious for lounging and entertaining.
Though with its 100% feather blend seat cushions, your guests may stay longer than you planned. This Albany L-shaped Ottoman has a built-in kiln-dried frame and removable, reversible seat cushions supported by tapered block legs.
Available in light grey or dark grey, you can add some cream-colored throw blankets to make things even cozier for that big night in. The Kova L-Shape + Ottomon is priced at $2575, amounting to $1500 in savings (originally price: $4075).
What customers are saying: "I've had my Kova sofa for about 5 months now and am really happy with it. It shipped quickly and was easy to put together, even for one person. I love that I can rearrange it into different configurations."
Albany Park Sofa Review
I've often dreamed of a living room with a sophisticated and timeless aesthetic. If you have too, the Park Sofa definitely fits the bill as a stylish addition to your home decor.
Showcasing a vintage-inspired design, this couch has built-in high resiliency foam wrapped in cruelty-free synthetic feathers.
This classy mid-century modern design comes in four shades of materials including blue and olive green velvet along with grey fabric and vegan leather. You can also choose the steel leg style to support your sofa, including a brushed gold finish and matte black polish.
To really up the class of this couch, I recommend pairing it with some tassel pillows and a Persian rug underneath. Go for the more extravagant option with the Park Sofa for $995, marked down from $1399.
What customers are saying: "This couch is perfect and exactly what we were looking for. It is very comfortable for two people to lay on, and it looks way more expensive than it is."
Albany Sectional Sofa Review
The Park Sectional Sofa is a slight upgrade from the Park Sofa. With an elongated seat compartment joined onto the rest of the couch, I think it ultimately offers more room for your guests to have an exquisite tea party.
Available in a soft, velvety material, this Albany sectional sofa features a chic and stylish velvet exterior that'll elevate your living space from a 7 to a 10. I appreciate that you can choose the side that contains its sectional component (left or right).
This Albany furniture sectional can be supported by legs with a gorgeous gold polish or a black matte finish. You can purchase class and elegance for a reasonable price at $1895 for the Park Sectional Sofa, marked down from $2495.
What customers are saying: "We love our new sectional. Its comfortable and was easy to put together. Color was exactly what I expected it to be. It's a little smaller than I anticipated but now we have room for a chair… which I don't mind."
Albany Park Armchair Review
I'm a personal believer in armchairs with personality. Simple, comfy couch? Add elegance and flair to your living room with the Park Armchair.
Designed for those who aren't a fan of sharp angles, you can opt for this soft-looking chair instead. This design showcases a more rounded style due to its accompanying armrests, pillows, and backboard.
Its mid-century form matches the Park Sectional Sofa seamlessly if you prefer your seating to match. Choose between this Albany armchair in blue, gray, green, and orange.
The steel legs are available in muted gold or matte black. Made out of comfortable, high resiliency foam wrapped in synthetic fibers, you can get this $797 Park Armchair for a bargain at $595.
What customers are saying: "I stalked this chair for months before I finally ordered it. When I finally, got it, I was over the moon. It ties my space together perfectly."
Who Is Albany Park For?
Albany Park is a furniture company that offers modern, versatile, and affordable furniture designed for urban dwellers and small-space living.
The company's furniture is ideal for anyone looking for stylish and functional pieces that are comfortable and easy to move. Albany Park's furniture is also designed to be modular, allowing customers to customize their furniture to fit their specific needs and space requirements.
Albany Park's furniture is targeted towards young professionals, students, and anyone living in a small apartment or urban environment. The company's focus on affordability and versatility makes its furniture accessible to a wide range of customers who are looking for high-quality furniture that won't break the bank.
Albany Park Furniture Reviews: What Do Customers Think?
It's hard not to love this brand's chic-looking furniture, but I have to keep in mind that sofas are more than looks.
When it comes to getting your furniture, delivery and customer service is equally as important as the shopping experience. So in this part of my Albany furniture review, I set out in search of feedback.
After a quick roam around the web, I found a generally positive customer response.
However, I should note that there are only a limited number of outsider sources that hold reviews for this brand. I'll show you what I mean after checking out AlbanyPark.com.
On their website, there are over 500 reviews for all products with a general rating of 4.5/5 stars. Most Albany sofa reviews detail that their furniture was simple to assemble and that they were impressed by its high quality.
"My Albany sofa arrived in the promised delivery window, and looked beautiful upon arrival. Setup was easy (with two people). The vegan leather option is very pretty, the color is unmatched, and it will no doubt wear well. Looks great, expensive, and is very comfortable. Great purchase," one customer posted in the Albany Park Kova reviews section.
There are a few Albany Park pieces on Amazon, but only the Park Sofa has reviews. Customers rate the couch as 4.4/5 stars out of 40 reviews.
Buyers left comments stating that the design was gorgeous and comfortable.
I found a few Albany Park Furniture Reddit threads with positive comments as well, such as this one: "I have the Park sofa and ottoman and love them. The quality is great for the price and it's very comfortable. It was quite firm when we first got it but it's sort of broken in now and softer."
Not all reviews are as glowing though, as there were a few reports of long shipping times. While I definitely take those into consideration, there are far more positives than negatives here. See my final verdict below.
Is Albany Park Furniture Worth It?
Shopping for home decor is no cakewalk, which is why after considering everything in this Albany furniture review, I recommend this brand to anyone frustrated with the traditional process.
I love that their basic collection is easy to navigate and simple—unlike retailers with 100s of brands to choose from.
Despite having just 3 core styles, Albany furniture is surprisingly versatile.
All of their styles are modern, chic, and trendy but each style offers a different look.
The quick delivery times (and free shipping) are seriously convenient, as is the easy assembly process. If you live in a small city apartment, the compact packaging is a bonus as well.
Alternatives
If Albany Park isn't for you, there are plenty of furniture brands on the market. Explore some of these options:
Apt2B: Apt2B presents as a solid middle ground between inexpensive, low quality furniture and overly pricey luxury brands. Plus, the option to order up to 10 free fabric swatches offers extra peace of mind before committing to specific colors.
Frontgate: Using artisanal materials like wicker and Egyptiancotton, Frontgate's furniture is made with craftsmanship and quality in mind. The Ohio-based company has been operating since 1991, specializing in certain types of furniture. However, its actual catalog is surprisingly deep.
Bobby Berk Furniture: You might know Bobby Berk as the interior decorator on the hit Netflix series Queer Eye. Bobby Berk also has his own furniture collection that features a range of stylish and functional furniture pieces for any home.
Albany Park Furniture Promotions & Discounts
While writing this Albany Park furniture review, I found that most products are available at a discounted price. You can also save $100 if you sign up for their newsletter. Shipping is always free.
Where To Buy Albany Park Furniture
You can shop sofas, sectionals, armchairs, and ottomans by visiting AlbanyPark.com. You can also find their collections at third-party stores including Amazon, Wayfair, Walmart, and Edloe Finch.
Alternatives To Albany Park
There are many furniture companies that offer similar products and styles to Albany Park. Some of these alternatives include:
Article – Article offers modern, mid-century, and Scandinavian-style furniture with a focus on quality and affordability.
Joybird – Joybird specializes in customizable, mid-century modern furniture made with high-quality materials.
West Elm – West Elm offers contemporary and modern furniture, home decor, and accessories.
CB2 – CB2 offers modern and contemporary furniture, decor, and accessories with a focus on clean lines and unique designs.
Interior Define – Interior Define offers custom-made sofas and chairs with a range of customizable options, including fabric, size, and configuration.
Floyd – Floyd offers modern, minimalist furniture that is designed to be easy to assemble and disassemble, making it ideal for frequent moves.
Maiden Home – Maiden Home offers handcrafted, custom-made furniture that is made in North Carolina using sustainable materials.
Room & Board – Room & Board offers contemporary furniture and home decor, with a focus on quality craftsmanship and timeless design.
These are just a few of the many alternatives to Albany Park. It's a good idea to compare prices, styles, and quality before making a purchase to ensure that you find the best furniture for your needs and budget.
How To Choose The Best Sofa
Choosing the best sofa can be a daunting task, but here are some key factors to consider to help you make the right decision:
Size: The first thing to consider when choosing a sofa is the size of the room and the space where the sofa will be placed. You'll want to measure the space carefully to ensure that the sofa you choose fits properly and doesn't overcrowd the room.
Style: The style of the sofa should match the overall aesthetic of the room. You may want to consider the shape, color, and fabric of the sofa to ensure that it complements the existing decor.
Comfort: Comfort is a crucial factor to consider when choosing a sofa. You'll want to sit on the sofa and test it out to make sure it's comfortable and supportive.
Durability: A sofa is a significant investment, so you'll want to choose one that is durable and built to last. Look for a sofa with a sturdy frame, high-quality materials, and a warranty.
Maintenance: Consider the maintenance requirements of the sofa, including cleaning and upkeep. If you have kids or pets, you may want to choose a sofa with a durable and stain-resistant fabric.
Budget: Set a budget for your sofa purchase and stick to it. While it may be tempting to splurge on a high-end designer sofa, there are plenty of affordable options available that offer both style and comfort.
By considering these factors, you can choose a sofa that meets your needs and preferences and provides a comfortable and stylish place to relax and unwind.
FAQ
What materials does Albany Park use?
Albany Park uses a combination of materials to create their furniture, including:
Kiln-dried hardwood frames – Albany Park uses high-quality hardwood frames that are kiln-dried to prevent warping and cracking.
High-density foam – The company's cushions are made of high-density foam that is designed to retain its shape and provide comfort and support.
Polyester fabric – Albany Park's furniture is upholstered in durable and easy-to-clean polyester fabric that is available in a variety of colors.
Solid wood legs – The furniture's legs are made of solid wood and are available in different finishes to match the style of the furniture.
Steel connectors – Albany Park uses steel connectors to reinforce the frames and ensure the furniture is sturdy and durable.
The combination of these materials results in furniture that is durable, comfortable, and stylish. Albany Park's use of high-quality materials also ensures that its furniture will last for years to come, making it a worthwhile investment for customers.
What is Albany Park's Shipping Policy?
Albany Park only ships within the continental US. The company offers free shipping on all orders.
Orders typically take 3 to 5 business days using their main courier, UPS Ground delivery. When you order ships, you'll receive a tracking number to help monitor your at-home furniture Albany packages.
What is Albany Park's Return Policy?
Not pumped about your new sofa? You can return your order within 30 days of receiving it. Buyers are charged a return shipping fee that is equal to 10% of the amount paid.
If you don't have the original packaging intact, you'll be charged 20% of the paid value. To start the return process, reach out to their customer service team.
During this review, I discovered an Albany furniture warranty on all products. If your product is defective within 10 years of ownership, the company will replace it at no cost.
How To Contact Albany Park
For any questions I didn't answer in this Albany furniture review, you can reach out to the company through the following methods of contact:
Email:

[email protected]

Fill out the Message Form on their website
Use the Chat Function on their website
Mailing Address: 6711 Stella Link Rd, Suite 365, Houston, TX 77005
---
Looking for more home decor? Check out our reviews of other stylish furniture brands:
Get Access to Exclusive Deals
Subscribe for free to get exclusive deals in your inbox. 100% privacy