Cuts Clothing Review
About Cuts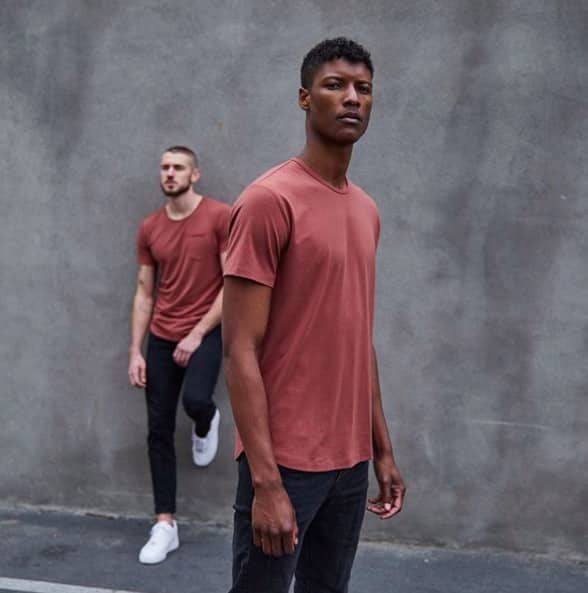 I'm no stylist, but I've noticed there's a fine line between looking homeless and put together. The determining factor? Your t-shirt.
Cuts is an e-commerce brand offering minimalist[1] and premium t-shirts for the modern man. Their "workleisure" tees come in three trendy cuts, designed to be worn for office, travel, and date night.
The company has recently expanded into women's wear as well, but I'm keeping the focus on guys in this Cuts clothing review.
Cuts has a notable Instagram fan base of over 397K followers, but are their premium tees really that good? I'm here to find that out.
Here, I'll tell you all there is to know about the brand, promotions, customer ratings, and more, so you can judge for yourself whether it's worth the buy. 
Why You Should Trust Us
Our mission is to help you make better, more informed purchase decisions.
Our team spends hours researching, consulting with medical experts, gathering insight from expert professionals, reviewing customer feedback, and analyzing products to provide you with the information you need.
Overview Of Cuts
Cuts is Los Angeles based, founded in 2016 by Steven Borrelli. Steven always struggled to find high-quality t-shirts, ones that he could wear professionally and on a night out. Rather than compromise with low quality, he went the entrepreneurial route to design shirts he could actually be proud of.
It makes sense that Borrelli turned to custom production for his ambitions. In his own words, it took countless hours of research and way too much coffee (I feel that).
In 2017 prior to their launch, Cuts raised money via Kickstarter to engineer a durable, breathable fabric that goes by the name Pyca™. I looked up that word out of curiosity and it appears that they made it up. Neat.
This is a premium high-stretch fabric containing a tri-blend of materials. This combination amounts to wrinkle-free tech and color retention.
Pyca™ supposedly offers long-term comfort and feels buttery soft in your hands. Has anyone reading this ever put their hand in butter? Me neither, but I get the sentiment.
Cuts showcases its styles unlike most brands out there, creating a Shop by Cut experience featuring six options. The brand wants to be as authentic as possible—versatile and sophisticated in a low-key way.
If you'd rather catch the highlights of this Cuts clothing review, I offer the highlights:
Highlights
Shirts contain high, quality custom-engineered Pyca™ fabric
Classic & versatile designs
Design collaborations with notable creatives
Allows you to pay in full or in 4 installments
Free return shipping on US & Canadian orders
Ships within the US, Canada & internationally 
Features
Cuts is a fashion brand that specializes in producing high-quality shirts for men. Here are some of the features of Cuts shirts:
Premium fabrics: Cuts uses high-quality materials such as Supima cotton, Pima cotton, and bamboo fabric to produce their shirts. These materials are soft, durable, and comfortable to wear.
Innovative designs: Cuts shirts are designed with a modern, minimalist aesthetic that is both stylish and functional. The brand uses innovative design features such as elongated hemlines, split hems, and wrinkle-resistant fabrics.
Versatility: Cuts shirts are versatile and can be worn for a variety of occasions, from casual to formal. The shirts are designed to fit well and be comfortable, making them ideal for everyday wear.
Customizable fits: Cuts offers a range of fits, including classic, slim, and tall, to ensure that customers can find a shirt that fits well and flatters their body type.
Durability: Cuts shirts are made to last. The brand uses high-quality materials and construction techniques to ensure that their shirts are durable and long-lasting.
Easy care: Cuts shirts are designed to be easy to care for. Many of their shirts are machine washable and wrinkle-resistant, making them ideal for busy men who want to look good without spending a lot of time on maintenance.
Materials
Cuts Clothing offers a range of different shirts, each made from different materials. However, the most popular and recognizable Cuts shirt is the "Cuts Supima" shirt. This shirt is made from 100% Supima cotton, which is a premium cotton variety known for its softness, durability, and resistance to pilling.
Cuts also offers other shirts made from different materials, such as the "Cuts Tech Tee," which is made from a blend of polyester and spandex for stretch and moisture-wicking properties, and the "Cuts Merino Tee," which is made from a blend of merino wool and synthetic fibers for moisture management and temperature regulation.
6 Best-Selling Cuts Shirts
Cuts has a limited selection of v-neck, crew, and henley tees with three hem options (curve, split, elongated). The entire collection is defined by flexible basics: the kind of tees you can wear on a day-to-day basis, and in business casual settings (pro tip: know your office dress code[2] before attempting new outfits).
You can shop by categories like cut, bestseller, new release, and collaborations. Cuts collaborated with film director Matt Komo, photographer and creative director Alen Palander, and Insta-famous photographer TheOneBlondKid to design some pretty trendy tees. I'll run you through their classic styles below.
V-Neck Shirts
The V-Neck Curve-Hem is an elevated classic falling smoothly at the waist, so no awkward bunching. The standard V cut contributes to its versatility⁠—it's easy to imagine a casual vibe with jeans or a blazer on a date, so you look suave but not like you're trying too hard.
I like that it's long, but not too long. Overall, it's a pretty solid shirt I don't think you can go wrong with.
The V-Neck Curve-Hem comes in six muted shades: black, white, heather green, navy, reddish maroon, and grey. This tee is priced at $48, which is on the lower end for Cuts shirts.
Inspiration for the V-Neck Split-Hem ⁠is courtesy of Alen Palander, with a side-split hem and a more fitted chest compared to the V-Neck Curve Hem. I think this one is great for more active days or nights, giving you the flexibility to move around.
Cuts tees can establish a completely minimalist vibe or balance out bolder accessories like a sick pair of shoes, a stand-out belt, or chains.
The V-Neck Split-Hem comes in black, white, and slate grey, offering a neutral, distinctive look. This tee currently costs $44, marked down from $48.
Crew Shirts
The Komo Crew Elongated was conceived by Cuts and, you guessed it, Matt Komo. It's got cuffed sleeves and a red-stitch breast pocket detail⁠. This crew has a slightly longer bottom hem, which has a more casual vibe, and the tailored fit is meant to accentuate your waist (rather than a belt).
For those who prefer their shirts colored, the Komo Crew doesn't come through for that. It's only offered in black, but at least it's a color that's easy to match (and could rationalize the $66 price tag). I think every guy should have at least a few good-quality black shirts in their closet, they add a hit of polish to casual looks.
If you're not a fan of black, rest assured, there are a handful of other crew options with color.
This is the long sleeve version of Cuts' bestselling Crew Curve-Hem, which I think is also worth checking out. The L/S Crew Curve-Hem is a tailored fit overall, but less tight approaching the waist. You can see in the picture that it's not tight at the wrists, a feature that can make some long sleeves uncomfortable.
This $58 crew offers a classic style in brighter colors: shades of pink, black, pale purple, reddish brown, cream, navy, and honeycomb. The color options for the L/S Crew Curve-Hem would look good in the summer, and its light and breathable qualities make it wearable all year.
The Crew Elongated is a go-to style with an urban feel. This tee takes the classic crew style and adds a longer hem. I think it would look good on its own, under a leather jacket, or with a casual blazer.
Remember the Pyca™ fabric all Cuts shirts are made of? The breathable tri-blend makes it wearable throughout the day, especially in warm weather. The Crew Elongated is available in black, heather grey, light brown, oatmeal, slate, and reddish maroon, priced at $48.
Henley Shirts
If you're not a fashion expert and are only vaguely familiar with Henley tees, this is the cut that has three top buttons. The Henley Split-Hem is another Cuts basic that is better suited for casual settings, like chilling with friends or on a night out.
The three buttons of the Henley Split-Hem are accentuated by the split hem, so I'd say this shirt would definitely look best on its own. This Henley comes in subtle neutrals: light brown, black, cashew, iron, and light forest green for $68. This is as pricey as Cuts shirts get, don't stress.
The Henley Elongated is one of my favorite designs. The buttons and longer hem give it an edge over basic and boring tees. This is one of the more casual tees featured in this Cuts clothing review. I've seen a lot of guys wear this kind of style to the bar, actually.
This Henley only comes in one color—luckily, black pairs well with basically everything. Maybe not orange, unless it's Halloween. The Henley Elongated is priced at $58.
Who Is Cuts Clothing For?
Cuts shirts are designed for men who are looking for high-quality, versatile, and stylish shirts. They are designed to fit well, feel comfortable, and be durable.
Cuts offers a variety of styles, including t-shirts, polos, and sweatshirts, that can be worn for casual or dressy occasions. The brand has become popular among professionals, creatives, and athletes who appreciate the brand's minimalist aesthetic and attention to detail.
Cuts Clothing Reviews: What Do Customers Think?
I saw that customers can leave a Cuts clothing review on the website, and most ratings for shirts range from 4.5 to 5/5 stars. Check out some customer feedback from verified buyers as of April 2023: 
"These shirts are SO comfy and look great too! Highly recommend."
"Best fitting shirt I've ever worn, no joke! Definitely going to buy more in the near future."
"Great!!! Soft and perfect fit."
I didn't stop there for this Cuts clothing review. It's important to get the full picture by consulting the World Wide Web. The guys on the duuude blog raved about Cuts shirts, rating them 9/10 for construction, 9/10 for material quality, and 10/10 for feel/wearability.
YouTuber Josh Welchert described Cuts as "the only shirt worth wearing," and the Youtuber that goes by the name Fashionable Father said something along the same lines in his Cuts clothing review.
I found a few complaints filed through the Better Business Bureau. One customer complained that Cuts sent him the wrong shirt size because the one he ordered was out of stock. Another customer received his package late and was sent the wrong size, then had trouble contacting customer service.
Though it's important to keep these complaints in mind, the good far outweighs the bad here. All things considered, it's looking pretty good for Cuts.
Is Cuts Clothing Worth It? 
It's not difficult for me to give these shirts approval after everything I've discovered throughout this Cuts clothing review. I only found a few negative ratings, and what's more promising than that? According to customers, the Pyca™ tri-blend is comfortable, just like the brand claims.
They're more expensive than the average shirt, but I'm a firm believer that you have to pay for quality when it comes to certain products. This is especially true for shirts, since cheap ones always fade in the wash and get holey real quick.
So it all comes down to if Cuts is in your budget, and if you think of premium shirts as an investment. These tees are the kind that never go out of style, are comfortable, and last long⁠—they check all the boxes for me.
Cuts Promotions & Discounts
New customers get 15% off their first order when they register their email and create a Cuts account. Cuts also has a Refer a Friend program: give friends $20 off their first order, and you'll get $20.
Where To Buy Cuts Clothing
Cuts shirts can be purchased through their online store. Cuts is flexible and lets you buy in full or in 4 installments.
Cuts Sizing
Cuts shirts are available in sizes S-2XL. Every style has a size and fit recommendation on its product page, explaining exactly how the shirt fits and whether you should move up or down a size. I appreciate the guidance.
Alternatives
Searching for the perfect shirt? Here are a few more options to consider:
Untuckit: Similar to Cuts, Untuckit offers a variety of shirts designed to be worn untucked. Their shirts are made with high-quality materials and come in a variety of styles and fits.
Mizzen+Main: Mizzen+Main offers dress shirts and other clothing made from moisture-wicking, stretchy fabrics that are designed to be comfortable and breathable. Their shirts come in a variety of styles and colors.
Bonobos: Bonobos is a men's clothing brand that offers a variety of shirts, including dress shirts, casual shirts, and polo shirts. Their shirts come in a variety of fits and sizes, and they offer free shipping and returns.
Ministry of Supply: Ministry of Supply offers a variety of dress shirts and other clothing made from high-tech materials that are designed to be comfortable and functional. Their shirts come in a variety of fits and sizes, and they offer free shipping and returns.
Everlane: Everlane offers a variety of men's shirts, including dress shirts, casual shirts, and t-shirts. Their shirts are made from high-quality materials and come in a variety of styles and colors.
FAQ
Shipping Policy
All Cuts orders are processed and shipped from Los Angeles. Free US shipping is offered on all orders over $150, and free international shipping is offered on orders over $200. You can track your order online by inputting your order number, email address, and zip code (logging in is not necessary). 
Orders ship within 24 hours of purchase, with standard shipments arriving in 5-7 business days, and expedited shipments arriving in 2-3 business days. Orders placed after 1 pm on Friday may not ship until Monday morning.
Return Policy
Returns and exchanges are accepted for all unworn items within 20 days of purchase for a full refund with free return shipping for US and Canadian orders.
Refunds are initiated immediately for in-person returns, no receipt or return labels necessary.
In-person returns can be processed at one of multiple Happy Return Bars (check Store Locator on the Cuts website). In-person exchanges ship out within 24 hours if processed within business hours.
Returns and exchanges can also be done online by visiting the Returns Page. You can print a shipping label and drop it off at the carriers listed on the label (USPS or FedEx). You'll receive an email when the return is received and your refund has been processed. Refunds will be processed by your bank within 10-14 business days.
How To Contact Cuts 
If you have questions that weren't addressed in this Cuts clothing review, you can contact their team via:
---
You've got other options when it comes to premium tees. Check out our in-depth reviews for other popular brands:
Get Access to Exclusive Deals
Subscribe for free to get exclusive deals in your inbox. 100% privacy