BlueChew Review
About BlueChew
Men who ask for help[1] in bed need not feel ashamed or emasculated. This was the driving force behind BlueChew, an all-American medication subscription service 'erected' by a group of passionate entrepreneurs. The team has taken the stress and embarrassment of a doctor's visit and consultation out of the equation and replaced it with a unique, personal, and private experience online: male customers talk with a medical team trained in diagnosing and treating patients with custom treatments for improved sexual confidence.
Erectile dysfunction is common amongst nearly 30 million men in the United States alone. More often than not, erectile dysfunction is comorbid with other medical conditions and cardiovascular diseases. Using psychometric evaluation and other methods of data collection, this study[2] explains the importance of using a broad approach to treatment in unison with clinical decisions.
BlueChew has been featured in podcasts such as ESPN Radio and the Adam Carolla Show, where the team behind the brand speaks about how the US healthcare system needs to be re-imagined with the patient in mind.
This BlueChew review covers all the important aspects of the brand, its services, and products, and tries to help readers make an informed decision while choosing the product.
What is BlueChew?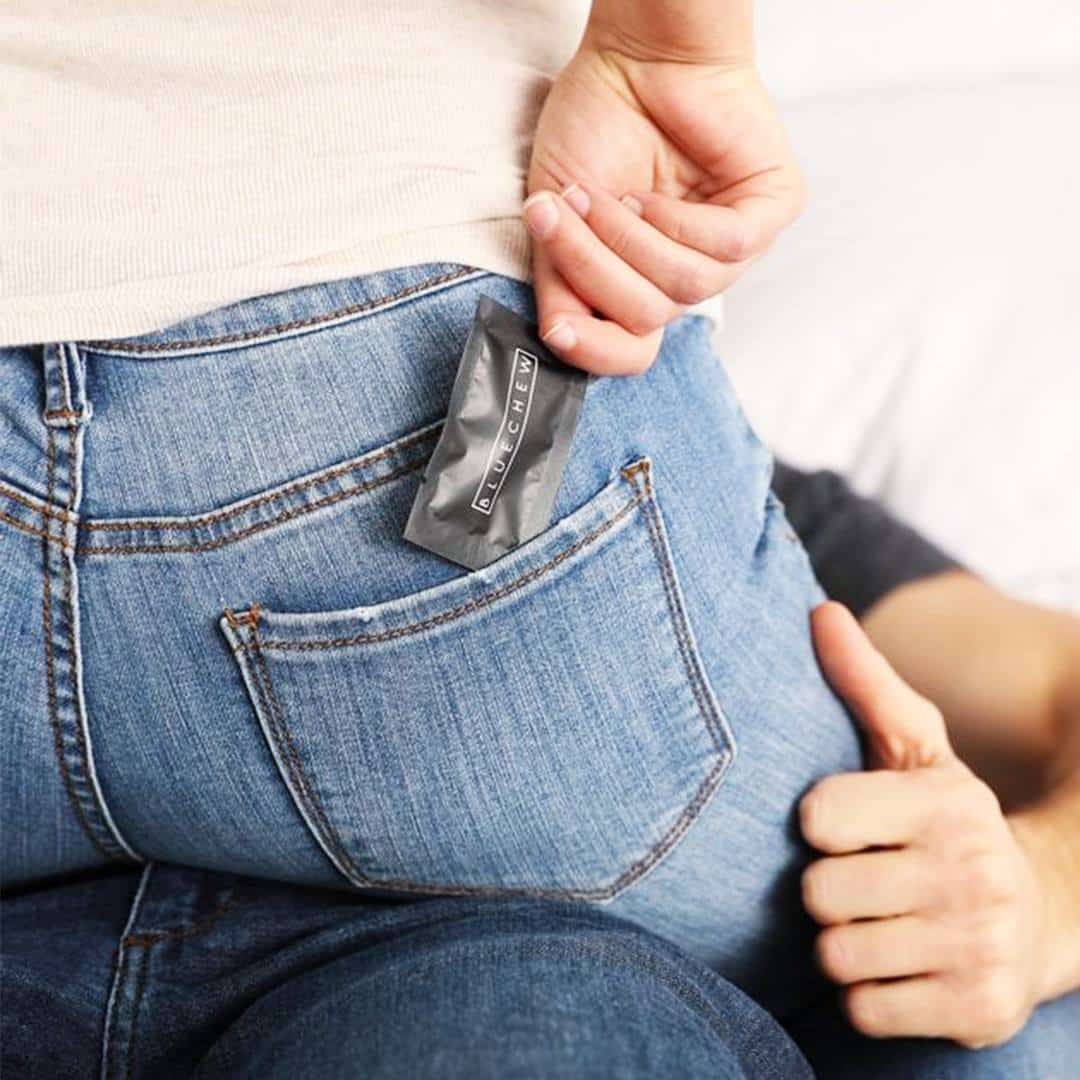 As the brand name indicates, BlueChew is a unique telemedicine service prescribing chewable tablets that help men fight the blues (erectile dysfunction) in bed.. The tablets are prescribed by a team of licensed medical providers at BlueChew.com, a service dedicated to bringing custom prescription treatment for men who can't tolerate commercially available pills, want to save the trip to the doctor's office, and wish to boost their confidence and help get their juices flowing.
Is BlueChew the same as Viagra? Not exactly. BlueChew has two versions of which one would be prescribed to you based on the diagnosis. BlueChew offers Sildenafil tablets, which is the same active ingredient as Viagra, as well as Tadalafil, the active ingredient in Cialis. This BlueChew review will go through the difference between the two versions in more depth later on.
BlueChew Online Consultation
BlueChew does not see itself as an online pharmacy or a medical practice. It is a technology platform that enables registered users to connect with licensed healthcare providers and physicians. The online-only service, founded in 2015, offers patients a personal online consultation from licensed providers on issues men face with regards to sexual performance.
Telemedicine is an accessible form of e-health in which patients are able to use telecommunications in health care delivery. In this study[3], it is explained that the ability for individuals to access these services at times best for them and the option to have more privacy encourages people to lean towards these appointments, especially with the rise of these services with the pandemic.
Once a diagnosis is given and prescription issued, patients are then sent their treatments in plain and discreet packaging. The service is subscription-based and has several plans that cater to your daily, weekly and monthly sexual performance requirements.
Is BlueChew FDA Approved?
BlueChew's tablets are not FDA approved, however, users should be mindful of the fact that these tablets are from compounding pharmacies, and compounded treatments are not FDA approved. The active ingredients used in BlueChew's tablets (Sildenafil & Tadalafil) are the same ingredients used in Viagra and Cialis, which are FDA approved. Compounded treatments use a proprietary, or in the case of BlueChew, personalized blend of ingredients to suit a user's specific needs.
This BlueChew review highlights the pros and cons of the brand and its subscription service:
Highlights
With help at the click of a button, you no longer have to wait at a clinic to find out more info, speak with a provider, and get a diagnosis and prescription.
No awkward moments and your prescription arrives at your address in a discreet package
It's not a bitter pill to swallow: often dubbed as chewable Viagra, BlueChew is a bonus for those who don't like swallowing big, bitter tablets
The BlueChew.com website offers a better value than other name-brand medications
30-day return policy
With round-the-clock assistance, the platform offers 24/7 customer care service
Is BlueChew safe? Yes, however, there are possibilities that some men might experience side effects, which usually come with taking pills like BlueChew, Cialis, and Viagra.
These include:
Headaches
Nausea
Flushing
Back pain
Muscle pain
An upset stomach.
Doctors caution people against taking BlueChew if they're allergic to Sildenafil. Even 20mg of the active ingredient could cause a reaction.
Often, these medications cause these side effects due to the blood vessels dilating as the effects of these tablets are not localized to the genitals. The increase in blood flow directly affects the body which leads to the above-mentioned side effects, which are further explained in this study[4]. It is very important to remember that these alternatives are a treatment and not a cure.
BlueChew Sildenafil vs Tadalafil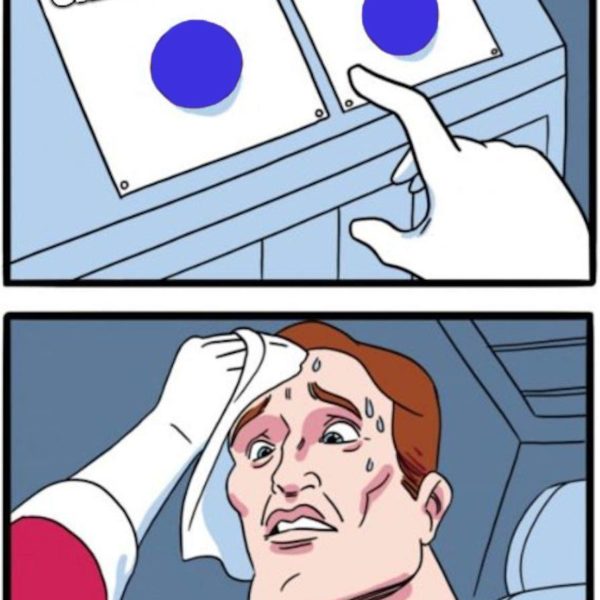 As promised earlier in this BlueChew review, we'll now look at two versions of BlueChew: Sildenafil and Tadalafil. The difference between them can be compared to pitching a tent pole for the night and hoisting a flagpole for the season.
Sildenafil works as a phosphodiesterase inhibitor, which essentially means that it is a class of medications that promote blood vessel dilation which increases the flow into the smooth muscle of the genitals. In this review[5], sildenafil tablets are tested for efficacy by gathering information from multiple studies and reviewing the effect of the tablet under varying conditions in the body. Sildenafil has a timeframe of 4-6 hours[6] during which you can make the most of its 'hardening' effects. It's just what the doctor ordered for that one special occasion.
On the other hand, Tadalafil remains in your system for as long as 36 hours[7], giving you an extended ascension. Tadalafil is another phosphodiesterase inhibitor that also increases sexual stimulation and helps with erectile dysfunction by promoting blood vessel dilation. While both sildenafil and tadalafil work in the same way, research shows that tadalafil does last longer within the body which allows for spontaneity according to this study[8]. This is the option for you if you're looking to move at your own pace and style.
BlueChew Prescription Plans
How much does BlueChew cost? Following its promise of a personalized service, this BlueChew review will cover the four main plans and their individual options offered by the company to its patients.
BlueChew Active
You can consider this plan as the rocket starter pack. At $20 or $30 a month, you get six tablets at 30mg or 45mg of Sildenafil respectively. At $20 or $30 a month, you get four tablets at 6mg or 9mg of Tadalafil respectively.
BlueChew Busy
This plan, like its title, is for the busy man who has his hands full. At $30 or $40 a month, you get 10 tablets at 30mg or 45mg of Sildenafil respectively. At $30 or $40 a month, you get seven tablets of Tadalafil at 6mg or 9mg respectively.
BlueChew Popular
The popular plan for the popular man. At $50 or $65 a month, you can get 17 tablets at 30mg or 45mg respectively of Sildenafil. At $50 or 65$ a month, you get 14 tablets at 6mg or 9mg of Tadalafil respectively.
BlueChew Pro
This option feels like it was just put out there as a tease. 34 tablets at 30mg for $90 or 45mg for $120 of Sildenafil. With 28 Tadalafil pills going for the same prices at 6mg and 9mg. These prescription tablets are strongly advised to be consumed not more than once a day.
BlueChew Competitors
When it comes to male E.D. treatment, there's no lack of alternatives. It's a competitive market out there, with plenty of scams and misinformation. While this BlueChew review will not be looking into a thorough comparison of BlueChew against competitors, the main alternatives to BlueChew pills include Roman and Hims.
BlueChew vs Roman
Roman offers a wider selection of treatments for more problems faced by men in bed while BlueChew is focused purely on diagnosing and treating erectile dysfunction. While Roman offers a subscription based service, they only offer individual pill prices. This keeps customers from being able to get only exactly what they want and forces them to have to sign up to a package deal instead. A win for BlueChew!
BlueChew vs Hims
Like Roman, Hims too offers treatments ranging from hair and skin to vitamins and covers a broad spectrum of issues facing men. This isn't the case with BlueChew that carves its own niche in the market. While hims offers several products for men, they do not have a clear and comparable price chart of their ED pills. You can only find out the price once you have completed a questionnaire. This might keep customers at bay but hey, that's why we're reviewing BlueChew pills right?
Read our full review of For Hims here.
BlueChew Reviews: What Do Customers Think?
The general consensus on BlueChew Reddit reviews is that it does exactly what it says[9] and most of them commended the brand for making the entire process, from diagnosis to delivery, hassle-free while maintaining patient privacy.
Several online reviews, especially on Reddit, praised the brand for giving them reassurance and confidence when they need it the most. Side effects according to reviewers and Bluechew.com seem to consist of mild headaches, which is a common side effect of these drugs.
This customer feedback should answer the biggest question, is BlueChew legit? Given the global pandemic and social distancing, a lot more men are opting for stay-at-home options such as BlueChew. That coupled with increased stress levels and the resulting impact on their performance in bed makes such treatments see a 'rapid rise' since we're all working "hard" from home.
Ok, I need to stop because these puns might begin to bone you. That was the last one.
Is BlueChew Worth It?
This BlueChew review concludes that the service is definitely worth a try. Some reviewers have mentioned getting a BlueChew free trial, but as of writing this review, there are no mentions of free trials on BlueChew.com. You've got a lot to gain and little to lose. The monthly subscriptions are cheap and can be cancelled at any time.
Viagra, a product of Pfizer costs significantly more than these pills. BlueChews only uses the active ingredient, Sildenafil, and this keeps its price much lower than its Pfizer competitors. The same is true with Cialis and its active ingredient, Tadalafil.
BlueChew Promotions and Discounts
This BlueChew review does not know of any discount codes or promotional offers running at the moment. As previously mentioned, a few reviewers have referred to a BlueChew free trial but we cannot confirm this. There are also no BlueChew promo codes or BlueChew coupon codes that we know of either.
Where to Buy BlueChew
BlueChew is available exclusively online. You'll need to set up a BlueChew login and account to sign up for a plan on BlueChew.com.
FAQ
How long does it take for BlueChew to work?
From personal experience, I can say that the tablet takes anywhere between 30 minutes to an hour to go from horizontal to vertical. However, BlueChew.com states that the time could vary based on the person's age, health, and severity of erectile dysfunction.
When should I take a BlueChew tablet?
That depends entirely on which of the two options you choose. Sildenafil-based pills should be taken approximately 40 minutes to an hour before initiating your mating sequence, while Tadalafil-based pills should be taken 1-2 hours prior.
BlueChew Shipping Policy
Unfortunately, BlueChew is only available in the United States, although the company claims it is endeavoring to make international shipping available in the near future. Within the United States, BlueChew can be shipped to every state with the exception of Alabama, Idaho, North Dakota, Minnesota, and South Carolina.
Once you have subscribed to the service and your tablet are on its way to you, you are sent a UPS tracking number which will allow you to plan your action accordingly. If the order is lost in the mail, BlueChew will re-ship it to the same address on a one-time basis. Given that BlueChew tablets are compounded according to your individual needs, returns or refunds are not entertained.
BlueChew Return Policy
You shouldn't take down a flag at full mast and likewise, returns are not an option. You do however, have the option to cancel your subscription at any time. If unsatisfied with the product, this Bluechew review can confirm that BlueChew offers a full refund (minus shipping costs) if requested within 30 days of the shipping date.
Contact BlueChew
For more information or general inquiries, BlueChew offers 24/7 online customer support at BlueChew.com and you can reach out over the phone (970-GET-BLUE or 970-438-2583) or email ([email protected]). We've also added their fan mail for those Pro Subscribers: [email protected].
---
Learn all about Wisp telehealth primary care.
Get Access to Exclusive Deals
Subscribe for free to get exclusive deals in your inbox. 100% privacy