Dyper Diapers Review
About Dyper
Dyper is a direct-to-consumer sustainable diaper and brief brand that offers compostable bamboo diapers that are better for your baby, the planet, and your wallet.
Their diapers do not contain chlorine, latex, alcohol, lotions, or any of the nasty and surprising components found in regular diapers. Dyper's subscription plan delivers diapers to your door monthly to help make being a parent just a little bit easier.
Alongside the high praise from parents, Dyper has over 78k followers on Instagram and has been featured on GreenBiz, Fast Company, The New York Post, and The Verge.
This Dyper diapers review will take a good look at the brand, its products, customer reviews, promotions, and more, to help you decide if Dyper products are worth the buy.
Overview of Dyper
Dyper was founded in 2014 by Sergio Radovcic as a solution to problems he faced as a father using regular drugstore diapers. His vision was to create a diaper company to alleviate the stress of running out of diapers, all while keeping sustainability in mind. No waste, no diaper rash, and less stress for parents.
Dyper pledges to be a transparent company by disclosing every element involved in making their diapers. All of the information is available to parents on Dyper.com, where customers can be educated on every detailed spec on Dyper ingredients, absorptions, fit, and how the diapers are constructed.
Dypers are free from chlorine, latex, alcohol, lotions, TBT, and Phthalates. They are also Standard 100 certified by OEKO TEX. Dyper products are unscented, soft, durable, and absorbent.
Made with viscose fibers from responsibly sourced bamboo, their diapers can be returned through the Dyper ReDyper service. The company is so committed to providing an eco-friendly service that they even purchase carbon-offsets with each delivery made.
This Dyper diapers review will now highlight some key pros and cons of the brand.
Pros
Plant-based, made from bamboo and viscose fibers
Free of chlorine, latex, alcohol, lotions, TBT, or Phthalates
Standard 100 certified by OKEO TEX
Compostable through the ReDyer service
Subscription plan that eliminates the stress of running short on diapers
Subscribers can precisely manage deliveries
Option to cancel the subscription any time
Offers 4-hour SOS emergency delivery service
Free from chemicals and harmful toxins like chlorine, and artificial fragrances
Free shipping for Monthly Box
Cons
ReDyper service costs $39 which may deter customers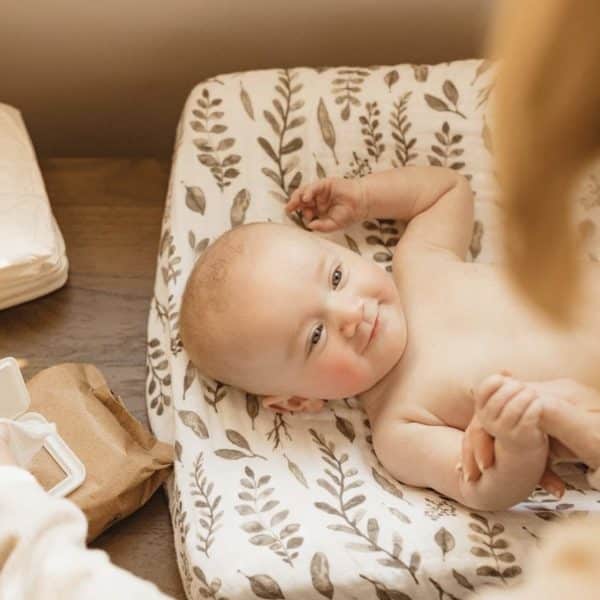 Dyper's subscription service delivers eco-friendly diapers straight to your door, along with all of the supplies you need to keep your baby care-free and happy.
Through a variety of plans for their Dyper, Dyper X, and Briefs, your plan grows with your little one to see them all the way through to underwear. This Dyper diapers review will now break down their subscription service and the products offered.
How Does Dyper Work?
Dyper offers three subscription plans for parents. The options for delivery frequency and the number of diapers or briefs are the same for each plan. Parents can choose from three different products: Diaper, Diaper X, or Briefs.
This Dyper diapers review notes that the brand was designed to be a subscription plan to make things easier on parents, however, you can also make individual purchases. But when you subscribe, you have the opportunity to save 15%.
You can buy your Dyper products in quantities of:
4 sleeves (224 diapers) This is their most popular plan and comes with free shipping
3 sleeves (168 diapers)
2 sleeves (112 diapers)
1 sleeve (56 diapers)
The sizes for each product vary and this Dyper diapers review will cover that in the next section. The brand recommends that if you do not know your baby's size, it's important to select a size up. You will have the option to add Dyper wipes, diaper cream, and the ReDyper Service to your subscription order.
When it comes to choosing the frequency of your subscription, you have the option for your diapers to be delivered every 2, 3, 4, 8, or 12 weeks. Start your plan today or order your products to be delivered at a future date.
As a bonus, you can cancel your subscription anytime without any penalty fee.
One of the perks when opting for a subscription plan is that you'll know exactly how much your diapers are going to cost for that particular month. If you place an order and find you actually need less, you can tailor your next month's order for a smaller quantity of diapers.
Your Dyper subscription changes as your baby grows, featuring Artificial Intelligence to estimate the exact size and quantity of diapers you'll need based on your child's age. If your order is incorrect, Dyper will send you a replacement order in four hours.
How to use Dyper:
You'll find your Dyper Welcome Kit with diapers that are neatly packed and pre-folded. Do not open the bag until you're ready to use them as humidity in the air can start the degrading process early.
Upon opening, inspect the diaper for any imperfections.
Smooth out the crease of the diaper using your fingers. Massage any creases or lumps of the SAP absorption layer. This can sometimes become bunched during shipping.
When you put the diaper on your baby, run your finger along the leg opening to activate the leg guard. This protects against unexpected leaks down the legs.
Check the wetness indicator throughout the day located on the outside of the diaper.
This Dyper diapers review will now break down subscription plans for the Diaper, Diaper X, and Briefs.
Dyper Diaper Subscription Review
This is the most popular subscription plan offered by Dyper. These diapers will leave your little one comfortable, happy, and dry throughout the day.
The Diaper Subscription offers Newborn, Small, Medium, Large, and XL sizes. Your plan will evolve as your baby grows so you will conveniently always have the right size diaper on-hand.
Below, we've outlined the size and quantity of diapers included in the Diapers Subscription plan. This is based on the weight of your child.
Newborn (<10 lbs): 264 diapers
Small (6-16 lbs): 224 diapers
Medium (13-22 lbs):184 diapers
Large (20-31 lbs): 140 diapers
Extra Large (28+ lb): 120 diapers
Dyper diapers are made from bamboo, bioplastics, elastane, and have a soft, snugly feel to them. Elemental chlorine-free wood pulp is added to the inside for natural absorption.
These products would be a great option to bring to a Dyper drive, as they offer a variation from stand diapers for parents in need.
Dyper Diaper X Subscription Review
Diaper X gives parents confidence in knowing that their little ones will be free from leaks. These diapers are built with the same materials as the Diaper but are extra wide for maximum absorption and leak protection.
These nappies are 23% wider, offering extended coverage around the sides. The Diaper X comes in Medium, Large, or XL sizes, and works well for overnight use, travel, or if your child simply needs the extra coverage.
Sizes and quantities for Diaper X are recommended for the following weight classes:
Medium (13-22 lbs): 184 diapers
Large (20-29 lbs): 144 diapers
Extra Large (26-35 lbs): 120 diapers
Dyper Briefs Subscription Review
These pull-on Briefs are described as feeling more like "yoga pants." This type of comfort is what this Dyper diapers review thinks all moms can attest to. They set your baby up for all of the beginner-yoga moves they often find themselves in, namely child's pose, and stay snug during all activities.
Made from the same sensitive-skin caring materials as their regular Diapers, the Briefs are perfect for potty training and active little ones.
They are available in Medium, Large, XL, and XXL, and each bag contains 25 briefs. Dyper recommends the following sizes for the weight of your child:
M: 13-24 lbs
L: 21-31 lbs
XL: 28-38 lbs
XXL: 38+ lbs
How Much are Dyper Diapers?
Dyper prices vary based on the subscription plan and the quantity of your order. When you choose a subscription plan of any quantity, at any frequency, you will save 15% on the regular price of a one-time purchase of the same quantity. Let's break down the pricing:
Diaper Subscription Plan
4 sleeves $68
3 sleeves $51
2 sleeves $34
1 sleeve $17
Diaper X Subscription Plan
4 sleeves $78
3 sleeves $65
2 sleeves $45
1 sleeve $25
Briefs Subscription Plan
4 sleeves $68
3 sleeves $58
2 sleeves $40
1 sleeve $22
Dyper Diapers Reviews: What Do Customers Think?
This Dyper diapers review will now provide some customer reviews found on the brand's website, Reddit, and Three Thrifty Guys, that outline their experience with Dyper products.
Reviews on Dyper.com are overwhelmingly positive, with 6,461 customers rating the brand at an average of 4.8/5 stars. Dyper reviews on the website rave about the brand's customer service and quality.
This 5-star review reads, "The diapers are amazing. I think they're better than honest diapers…what I love the most about this company is their customer service and how much they care."
On the other hand, a customer who does not recommend Dyper claims that the diapers leak. According to this mom: "I've had more leaks with these diapers than I have had with pampers or huggies…we can't even go 5 hours into the night without a leak."
Dyper reviews Reddit users speak of loving the brand for their ReDyper service and eco-friendly nature. "They are disposable but more earth friendly…They reason I use them…is because they offer an extra service called ReDyper."
A negative review on Reddit spoke of low absorption and the work it takes to compost the diapers. "They…didn't absorb as much as we needed. We liked that they were compostable, but learned…that you have to do quite a bit of prep."
A mother on Three Thrifty Guys tried Dyper diapers on her daughter and enjoyed that the products were odor-blocking and prevented leaks. She said that there were "no smells…my girl has not gotten any diaper rashes," and had only "three blowouts" (this Dyper diapers review takes that to mean a serious leak).
Are Dyper Diapers Worth It?
This Dyper diapers review will state here that there are not many Dyper reviews online. The brand's website has multiple positive reviews and a high rating.
Reviews found beyond the website express admiration for Dyper's eco-friendly mission and soft feel, though some parents dislike that the diapers feel wet when they are full (which the official website does state).
Dyper claims that their products feel wet on the outside due to the fabric wicking moisture away from the inside in hopes of making your baby feel more comfortable.
They also feature a wetness indicator strip so you'll be able to know exactly when your baby needs to be changed. Dyper states that their products provide a high level of leak protection, which is, of course, very important. However, some reviews state the opposite in comparison to traditional diaper brands.
What this Dyper diapers review takes into consideration is that traditional brands are not eco-friendly or as safe for your baby. Although there may be limited technical issues with Dyper diapers, changing to an eco-friendly product requires an open mind to find what works best for your baby.
This Dyper diapers review believes that their products are worth the buy. If you're skeptical, try the Dyper trial where you can return any unopened products at any time.
Dyper Promotions & Discounts
Dyper has been kind enough to give you, our amazing readers, a free bag when you sign up.
As a special thanks for being part of our community, Dyper has taken an extra step and is giving this limited edition bag for free when you sign up today.
They won't be doing this forever so if you're interested in trying Dyper be sure to take advantage now to also get this bag with your first order!
Sign up for Dyper
To sign up purchase products individually, head to Dyper.com and following these steps:
Click 'Experience' in the top right-hand corner of the webpage
Choose your Style, Size, Quantity, Delivery Frequency, and Date
Choose any add ons that you'd like
Enter your email and password
Enter shipping and billing information
FAQ
Where are Dyper diapers made?
This Dyper diapers review cannot find any information on where their products are made, however, they are made from 100% sustainably-sourced bamboo.
Are Dyper diapers biodegradable?
Dyper diapers are oxo-degradable, meaning that their products degrade under UV light and heat. The brand offers a ReDyper Service that allows you to send used diapers to be composted. There is an additional charge of $39 for this service.
How many diapers do you get with Dyper?
This all depends on the amount and type (Diaper, Diaper X, Brief) that you wish to purchase. One sleeve of the Diaper contains 56 diapers, one sleeve of the Diaper X contains 36 diapers, and one sleeve of the Briefs contains 25 pairs.
The monthly subscription plan for the Diapers is the most popular option and with this selection, you will receive 224 diapers. For the Diaper XL, you will receive 144 diapers, and for the Briefs, you will get 100 pairs.
How do you compost Dyper at home?
The diapers are not meant to be composted at home. The brand will provide you with bags, boxes, and prepaid shipping labels, to ship your used diapers to a TerraCycle location that will deliver them to a composting facility.
How do I cancel my Dyper subscription?
To cancel your Dyper subscription, complete your Dyper login on Dyper.com/profile. You can cancel your subscription at any time.
What is Dyper's Shipping Policy?
Dyper orders ship within 2-3 business days after placing your order. The brand recommends placing your order on Monday to Thursday to avoid delays over weekends. This is because their warehouse does not ship on weekends. Dyper gift orders have the same shipping times but you can also schedule them to be delivered at a later date.
Dyper's shipping for their monthly box is free. For orders of three sleeves, shipping is $7. Shipping for two sleeves is $6, and one sleeve will cost you $5.
Dyper Canada customers are unfortunately out of luck, as the brand only ships within the US, and does not ship internationally.
What is Dyper's Return Policy?
Dyper offers a convenient return policy that states you can return your diaper products at any time for a full refund. You'll be able to return your order if it is unopened and in the original packaging. If you send your order back and the company finds that it is in an unsaleable condition, they may refuse your refund.
When you start your return, Dyper will either send you a prepaid return label or a scannable QR code. When you receive your return and it is in acceptable condition, your refund will be credited back to your original form of payment. This process can take approximately 3-5 business days.
How to Contact Dyper
If you require any other information that this Dyper diapers review did not provide, you can contact the company via email at [email protected] or call the Dyper phone number at 1-844-397-3722.
---
Explore learning and play kits for babies, toddlers, and kids with Lovevery.
Too busy to prepare nutritious meals for your little ones? Check out Nurture Life meal plans.
Get Access to Exclusive Deals
Subscribe for free to get exclusive deals in your inbox. 100% privacy