Pawp Pet Insurance Review
About Pawp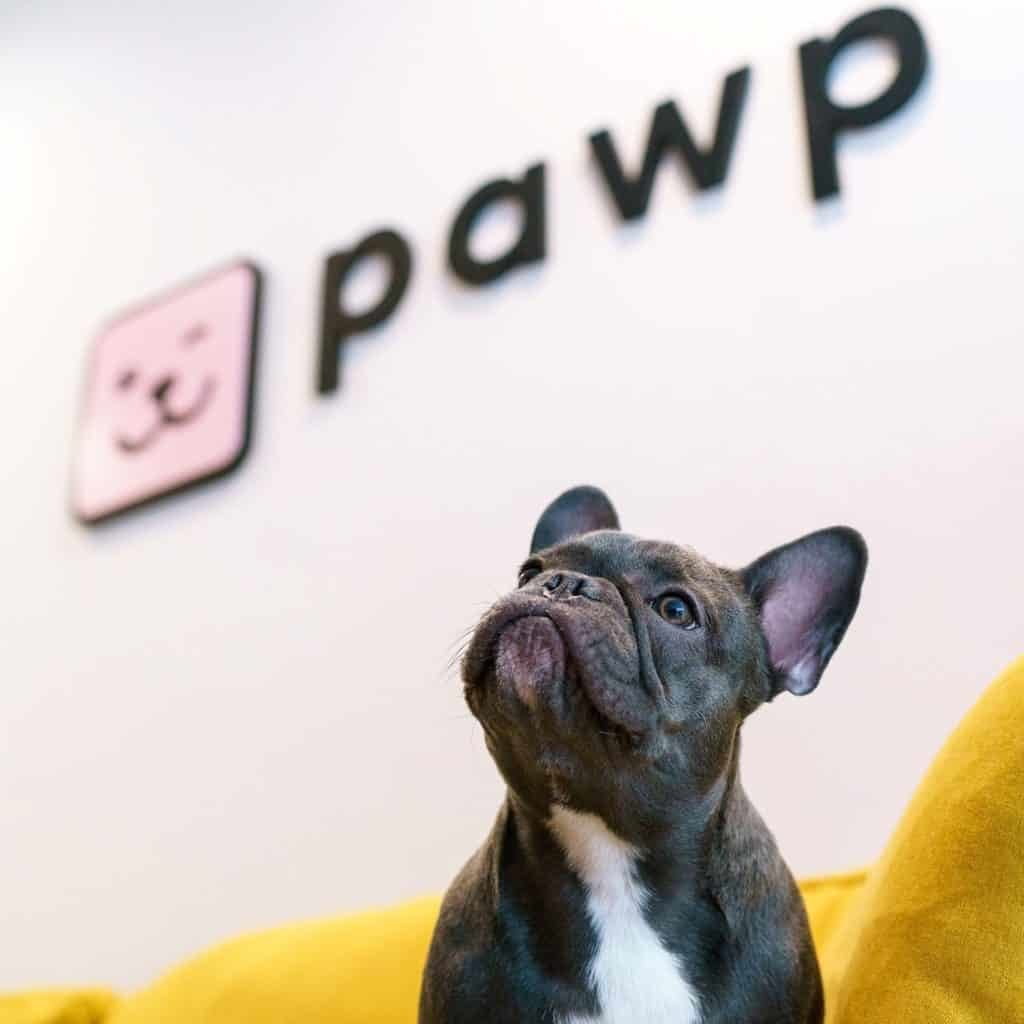 You only want what's best for your furry friend, whether it's their food, toys, or, of course, their healthcare. Pawp is a membership service that provides 24/7 online vet care. Cat and dog owners pay a monthly fee to have access to licensed vets through chat and video calls.
Its digital approach to pet care has garnered an impressive 27k followers on Instagram and 5k on Facebook for this young brand. Pawp's innovative service has also been featured by the likes of Forbes, Yahoo Finance, VentureBeat, WSJ Pro, WIRED, and other notable outlets.
Can this service help you take care of your four-legged friends? Stay tuned as this Pawp pet insurance review breaks down the monthly subscription plan, pros and cons, customer testimonials, and more so that you can make that crucial decision.
Overview of Pawp
Health services for humans have been popping up online for years, but our pets haven't gotten the same attention. Owning two dogs himself, Marc Atiyeh struggled to find reputable information online when problems arose concerning the health and wellbeing of his fur babies.
Marc's experience sparked an idea: what if he could fill the need for convenient, online, and immediate help for pet owners? This idea grew into a full-fledged online platform called Pawp, which he launched in 2019.
Headquartered in New York City, NY, Pawp brands itself as "The Digital Health Clinic For Your Pet." Its mission is to provide pet parents a trusted source to receive the most reputable, science-backed health information from licensed veterinarians themselves.
Simultaneously, Pawp's mission is to provide a 24/7 resource that is accessed remotely for convenience and urgency's sake. Whether your dog ate something he shouldn't have and you aren't sure if it's an emergency, or you just adopted a new kitten and aren't sure what she needs, the brand's experts can help.
Speaking of urgency, time's a-wastin'! Let's get into the pros and cons of this Pawp pet insurance review:
Pros
Digital appointments with vets are available 24/7 with no appointment necessary
Usually only a two-minute wait before you are matched with an expert
Membership provides a $3,000 Emergency Fund for unexpected, life-saving vet care
Pawp's veterinarians have at least five years of experience, but most have over 10 years
Hundreds of customers attest to kind, patient, and informative veterinarians
Provides scientific articles, resources, and expert advice
Founded by a millennial who understands the needs of pet parents today
One membership covers up to six pets
Cons
Only for dogs and cats
Some customers report that the brand is too selective about what it constitutes an emergency
Emergency Fund only applies to the most serious, life-threatening emergencies and can only be used once a year
What Is Pawp Pet Insurance?
An integral part of the service that Pawp offers is the pet insurance that's included. It's not exactly a full pet insurance plan but is instead insurance for emergency and life-threatening vet care paid for by the company for up to $3,000.
The Emergency Fund can be used only once a year. This means that you still would only get one emergency visit paid for if you had multiple pets under the same plan.
Regular pet insurance can cost you a lot—in fact, according to Global Market Insights, Inc., the pet insurance industry is expected to grow to $10 billion in the next four years. Instead of opting for the route, some pet owners might choose to join the Pawp monthly service for an easy, straight-up $19 per month deal.
But, pet owners can only receive coverage from the $3,000 fund for emergencies. Qualified emergencies are diagnosed by Pawp vets prior to the owner admitting their pet.
How Does Pawp Work?
Online vet services are a pretty new idea, so you're probably wondering how Pawp works. Information on the brand's website is a bit scattered, but you won't have to worry about doing the digging yourself—we've compiled all the most important information for you down below.
The main selling point of Pawp is the 24/7 online vet visits. When you need to talk to a professional, you'll be happy to find that there are short waiting times of usually no more than two minutes, and you can contact them by chat, photos, or video call—day or night.
You pay your $19 fee each month in order to access this live and remote service. It'll cover up to six cats and/or dogs that all live together. Plus, this fee ensures that, after 14 days of membership, you have the reassurance of a $3,000 Emergency Fund for unexpected injuries or illnesses.
There is only one membership plan offered by the company. We'll cover the details in the next section of this Pawp pet insurance review.
Pawp 24/7 Vet Care Review
The brand's 24 hours a day, 7 days a week vet care is the basis of its monthly membership. You can access the Pawp vet team easily and quickly through the online platform, where you will indicate the reason for your visit and whether you would like to chat or video call.
These answers will match you with a vet that can take care of the problem in real-time, the way you prefer to speak to them! Your digital health pet clinic via Pawp gives you unlimited access to consultations with licensed vets. Your consultation can also be done by sending photos and/or videos of your pet's condition instead of a live video call.
Pawp $3000 Emergency Fund Review
The brand refers to this fund as a "safety net for life-threatening vet emergencies." It gives you up to $3,000 a year to use on one pet's emergency vet bill. The Emergency Fund comes free with your membership, applies to any pet in your plan (including those with pre-existing conditions), and doesn't ask you for any additional costs when it is used—you do not pay anything back.
As to be expected from such a good deal, conditions apply: first off, you need to have been a member of Pawp for at least 14 days in order to use the Emergency Fund. After 14 days, it is unlocked, and you will then be prepped for any unexpected emergencies your pet (hopefully doesn't) have.
The most important condition is that a Pawp veterinarian needs to approve your pet's emergency before you get it treated. You send a video or video call to the vet and they will determine if the situation qualifies.
Next, you must visit your in-person vet within the next 4 hours. You don't have to visit an emergency vet clinic—it can be your regular go-to clinic. After your pet's emergency is treated, you are responsible for getting the clinic to call Pawp's hotline. It will then pay up to $3,000 of the emergency treatment.
Pawp says its fund covers the following emergencies: toxic ingestion, choking and difficulty breathing, severe blockages, severe internal and external injuries, and other problems that require immediate attention to save the animal's life.
Your cat or dog is evaluated on a case-by-case basis to determine the severity of your pet's health concern. Health problems not covered include scheduled surgeries, check-ups, vaccinations, and pregnancy issues.
Pawp Resources and Recommendations Review
Pawp vets are also there for you to recommend products and science-backed resources. This service is part of the company's mission to give pet parents a place to easily attain reputable information that will help them care for their good boy or girl.
Members can ask vets for anything. If you've just adopted a new kitten and aren't sure how much he needs to eat, one of the brand's experts will help you decide. Or, if your cat just gave birth, they'll help you with Pawp nursing advice, too.
On the other hand, if something has suddenly changed in your furry friend's behavior, Pawp's vets can assess the situation. They'll let you know if your pet's behavior is normal, or if you should take it to a clinic ASAP.
The brand also offers an informative blog for its customers. It covers a wide range of topics, such as Pawp cat bed recommendations and how to teach your puppo tricks.
Up next, this Pawp pet insurance review will cover how much these services cost.
How Much Is Pawp?
Pawp memberships are paid for on a monthly basis and cost $19 per month for up to six pets. Everything the brand offers is included in this charge, so you don't need to worry about any hidden fees.
Pawp Reviews: What Do Customers Think?
Though the company's services look like they can add some convenience to pet parents' lives, we wanted to see what customers were really thinking. So, this Pawp pet insurance review turned to online testimonials from the brand's website, Trustpilot, and Facebook.
Overall, reviews are mixed. Some customers absolutely rave about the brand, referring to it as an essential life-saver and money-saver. Meanwhile, other customers have had negative experiences, with some calling the Emergency Fund a scam. Let's take a closer look.
Unsurprisingly, the reviews on Pawp's website are positive. Many comments state that its service "spared so much anxiety" for them because its team is available 24/7. Others compliment the "patient and kind" and "informative" vets that go "above and beyond" with their care. Take this glowing example:
"I was paired with an absolute amazing veterinarian! He put me at ease almost immediately. I left the video chat feeling comfortable and confident my dog was going to be back to normal. I'll be recommending it to all my friends and family, thank you!"
But, this Pawp pet insurance review thinks it's important to note that the company hand-selects which testimonials it features. So, we turned to other sources to get a more complete picture.
On Trustpilot, the brand is rated 3.8/5 stars from 33 reviews. The breakdown shows that 64% of raters gave the service a perfect score, while 24% gave just one star.
Starting with the positives, customers report that Pawp offers a fantastic solution for pets that don't like going to the vet. Plus, one woman noted how helpful the vet's expertise was when her dog suddenly began limping:
"My dog HATES going to the vet… Using PAWP was perfect! I met the vet on a video call then sent her a video to watch my dogs limp…. She gave us great advice noticing it is actually her shoulder not her leg. She told us about some at home treatments and even sent a link for a rehabilitation center in our area… I feel so much better being able to help my dog without the anxiety that bringing her to the vet in person always brings."
But, the critical reviews complain mostly about the Emergency Fund not covering a pet's urgent condition or a lack of vet availability. Take this unsavory example:
"My experience was a combination of 2 interactions. The first was excellent. The vet came on the video chat immediately, diagnosed the problem and instructed me what to do. However, a couple of hours later when the symptoms worsened and I wanted to activate the emergency fund I was told there was no vets available. I just had to go to the vet without it."
For an emergency situation, this is not the service we expected from Pawp. The Emergency Fund is one of the main perks of the membership, so it's disappointing to see how difficult it is for some members to access that help when they need it.
But, other customers report that they received their money without problem: "The total bill was over $6000 and Pawp paid $3000 which is a life saver! Thank you for having our backs. We are forever grateful and thankful we enrolled in PAWP. Best thing we ever did."
On Facebook, testimonials are similarly mixed. Some users are happy with the service, and love sharing pictures of their happy furry friends in the community after successful online appointments.
Others post poor experiences with the Emergency Fund. In one case, a dog's serious injury was not approved for funding because his condition was deemed "critical" instead of "life-threatening."
Overall, Most Pawp pet insurance reviewers are happy with the convenient online appointments that the brand offers, as well as the helpful, patient, and kind veterinarians. But, many users have problems with the Emergency Fund, which does not appear to be a service that users can rely on in the case of all emergencies.
Is Pawp Worth It?
Based on our research, we conclude that Pawp might be worth it, depending on your case. If you are a super caring, doting pet parent who is always concerned with the wellbeing of your pet, we recommend the service—you'll have easy access to a vet 24/7, so you can chat with a licensed professional anytime, unlimited.
Some animals who don't need to see their vet very often probably don't need to have this membership. But for older pets, or those with health conditions, having access to a professional who can access them or provide you with recommendations on-call is extremely helpful. So, this Pawp pet insurance review thinks the $19 per month service is well worth it.
Of course, the Emergency Fund is a big selling point. Sadly, even perfectly healthy pets can find themselves in life-threatening situations. And, you might not have the funds readily available. In that case, Pawp might be the most affordable and accessible insurance option.
But remember: the Emergency Fund covers only severe emergencies as determined by the vet in real-time.
Pawp Promotions & Discounts
Unfortunately, we couldn't find any active Pawp promo codes or sales at the time of writing this article, but we recommend watching out for them via the brand's social media accounts.
Sign Up For Pawp
If you're wondering how to sign up for Pawp, you'll be delighted to know that it's actually really easy! Just follow these steps:
Head to Pawp.com and click on "Get Started"
Fill out the Pet Info form (name, sex, breed, age, and weight)
Fill out the information about yourself (name, email, and zip code)
Provide payment information to pay your first monthly fee of $19
Meet with a licensed vet for an initial consultation. The vet will ask you more questions about your pet to build their understanding of your furry sweetheart. They need to understand your pet's health history, if they have any pre-existing conditions, and their current wellness situation.
You're good to go!
FAQ
How do I cancel my Pawp subscription?
This Pawp pet insurance review learned that subscribers can cancel their plan at any time. When you cancel, you'll still have access to most services, and you will not be refunded for any part of your current month. To do so, you have two options:
Email

[email protected]

Click "Manage your Account" in your Pawp Services
Importantly, you will no longer have access to the Emergency Fund if you cancel, even if there are still days left in your current, already-paid-for period.
What is Pawp's Shipping Policy?
Pawp is an online service. So, there is no shipping required! Simply log on to its website and select the service you currently need.
What is Pawp's Return Policy?
Pawp's membership fees are non-refundable, as outlined in its Terms and Conditions.
How to Contact Pawp
If you have any questions after reading this Pawp pet insurance review, you can reach out to the brand via:
Phone: 1 (646) 822-1294
Email:

[email protected]

Direct message: on the brand's social media pages
---
Do you have a prescription for your furry friend? Get it filled by 1800PetMEeds a convenient online pharmacy for animal medications..
Get Access to Exclusive Deals
Subscribe for free to get exclusive deals in your inbox. 100% privacy