Wall Pops Review
About Wall Pops
When you want to decorate but you rent and it can get expensive painting and repainting walls, what else is there? Thankfully, there are brands like Wall Pops, an innovative and fun home design company, who can help you create new environments with affordable peel and stick decorations.
This company is climbing the interior design ladder and fast. Now carried in most home-oriented box stores, they've got 98k followers on instagram and have been featured in Hunker.
But what do they offer, what policies do they have, and where can you find them? That's what this Wall Pops review is all about — stay tuned for a revealing look below! 
Overview of Wall Pops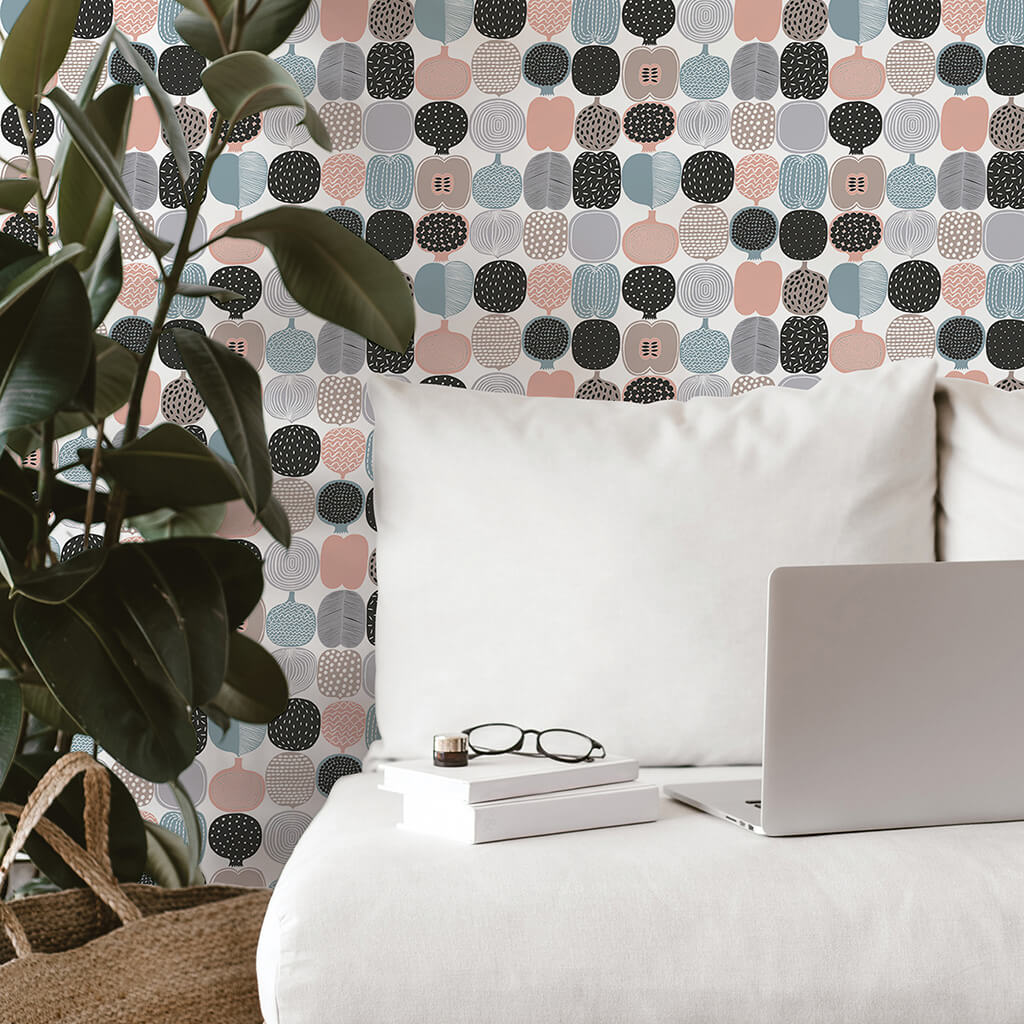 A part of Brewster Home Fashions, which has been in business since 1954, their headquarters is in Randall, MA where they make all of their products. The brand's collections are appealing, made with an easy on/off application for all those DIY home fashionistas out there.
After growing rapidly in the last few years, this fun and approachable décor brand has blown up and become super popular. Why? Well that's what I'm here to find out!
Let's start with a quick list of highlights to give you an idea of where their notoriety has stemmed from:
Highlights
Wide selection of products
45-day return window
Free returns
Ships to Canada & the US
Easy application and removal
DIY friendly with minimal tools
Lots of sales
If you want something to liven up your space without committing to paint, then Wall Pops can help you out. Imagine all the fun decorations you can play with and not worry about buying a ton of paint then changing your mind. 
Next up in this Wall Pops review, I'll look over the different types of wallpaper designs they offer. Though I'm only featuring wallpaper in this review, I encourage you to check out their site for their full offerings.
Wall Pops Review
These adorable and classy decorations have become super popular, which is why I want to narrow down this Wall Pops review to only talk about their best sellers! Below is a collection of what this company does best, and what their customers are raving about.
Wall Pops Shiplap Peel And Stick Wallpaper Review
The Wall Pops Shiplap Peel and Stick Wallpaper is an easy decorative adhesive paper that allows you to spruce up any smooth surface without too much commitment. Giving off a cottage chic vibe, this shiplap wallpaper adds character to any room with ease.
Coming in a 20.5 in x 18 ft roll, this peel and stick paper retails for $50.
Wall Pops Newport Reclaimed Brick Peel And Stick Wallpaper Review
If your style is vintage or industrial chic, you'll want to pay attention to this next paper. The Wall Pops Newport Reclaimed Brick Peel and Stick Wallpaper is the perfect asset to any space that needs a bare brick accent. 
The exposed brick wallpaper adds an industrial feel to any room, and can be applied and removed easily without a fuss. Perfect for long or short term application! This brick is at your disposal, coming in a 20.5 in x 18 ft roll, and retails for $50.
Wall Pops Yellow Mirei Peel & Stick Wallpaper Review
The Wall Pops Yellow Mirei Peel & Stick Wallpaper acts as an ally in any room that needs a bit of love. Perfect for any DIY project, this subtle Japanese cherry blossom pattern gives off calming vibes that can brighten any space, and with ease.
This gorgeous and delicate design comes in a 20.5 in x 18 ft roll. Bonus! This peel and stick paper regularly retails for $50, but is currently on sale for $35.
Wall Pops Maui Peel & Stick Wallpaper Review
Sometimes you just want to transport your room to the tropics. Instead of dealing with airports and rude people on the airplanes, this is your next best thing.
The Wall Pops Maui Peel & Stick Wallpaper brings the tropics to any space without you having to lug your suitcase out. Featuring banana and palm leaves on a calm sand-colored background, this fun yet relaxing design adds a chilled out element to any room it's added to.
With the same peel and stick ease as its counterparts, this design comes in a 20.5 in x 18 ft roll and retails for $50.
Who Is Wall Pops For?
Wall Pops is for anyone who wants to brighten a room with ease (and minimal commitment). This company's products are for those with a DIY mentality, who want to bring a next-level design to their space without having to break the bank or do any kind of major renovations. 
So what I'm saying is, this brand's products have been designed for folks who like easy application, affordable products, and forgivable mistakes (if need be). And honestly, by the sounds of all the Wall Pops reviews, this company is really for everyone.
How Do Wall Pops Work?
Applying Wall Pops is super easy! It's pretty much a peel & stick situation for most of the company's products. Between their back splash products, floor tiles, window film, and wallpaper, the first and most important instruction is peel then stick!
Wall Pops Reviews: What Do Customers Think?
It's time to steer this Wall Pops review into feedback territory and find out what customers are saying about them, starting with the ratings from their website on some of their best-selling items:
Shiplap Peel and Stick Wallpaper: 4/5 stars, 9 customer reviews
Newport Reclaimed Brick Peel and Stick Wallpaper: 4/5 stars, 11 customer reviews
Yellow Mirei Peel & Stick Wallpaper: 5/5 stars, 6 customer reviews
On Wayfair, where Wall Pops reviews are plentiful, they've secured a 4/5 star average from 79 reviews on one of their popular products, including this from a happy customer: "It is turning out spectacular. Perfect item to add a bit of contemporary look to an old home. It will take some attention to detail to make the edges lay flat. Easy to cut and work with."
Then, on Amazon, Wall Pops products are flying off the proverbial shelves. One of the company's applique products has a 4.7/5 star average from 1,010 ratings, including this review from a satisfied DIY specialist:
"We bought them to cover up holes left in the wall. The back is countertop so it could not be filled and painted. I was able to use these to cover the holes and they have been up for months with steam and heat and splash and they have not peeled. Easy to clean and move as needed to cover the holes. And they make the back of the stove look a little less drab."
And here's another great example of positive Wall Pops reviews. On Google, this brand has managed to secure a 4.5/5 star average out of 16 reviews on one of their decal items: "Very good vinyl. Easily removable if necessary to adjust."
Wall Pops reviews are, for the most part, great. And yes, if you're wondering whether I came across any negative feedback in the process, I sure did. But in the end, what I found was that most customers love this company's product.
Is Wall Pops Worth It?
Wall Pops is a solid competitor in their field — they offer great customer service, low prices, and quality wallpaper (and gorgeous designs), and still maintain an approachable and friendly presence. That, and Wall Pops reviews are generally positive from customers.
Are they worth it? It's hard to say otherwise!
Wall Pops Promotions & Discounts
A great bonus I discovered while writing this Wall Pops review is they have a stacked up sales page for customers to peruse online! That, and they occasionally offer promotions, discounts, and Wall Pops coupons for further reduced prices on already affordable decor.
Where to Buy Wall Pops
Although the best selection of Wall Pops can be found on their website, the following is a list of third-party retailers who also carry this company's awesome wallpaper:
Amazon
Wayfair
Home Depot
Zulily
Canadian Tire
Rona
Lowes
Best Buy
Clement
Walmart
FAQ
Who owns Wall Pops?
Brewster Home Fashions owns Wall Pops. 
Does Wall Pops ship internationally?
Unfortunately, Wall Pops only ships within Canada and the US at this time.
What is Wall Pops' Shipping Policy?
Since Wall Pops ship to both the US and Canada, each has its own set of expectations. A compiled list of information can be found below:
The US:
Ground: $4 (2-3 business days)
Two-day: $30 (2 business days)
Next day: $50 (following business day)
Hawaii, Alaska, & Puerto Rico are an additional $25
Canada:
Ground: $10 (5-10 business days)
Standard international: $40 (3-7 business days)
Worldwide express: $50 (2-4 business days)
What is Wall Pops' Return Policy?
Wall Pops gives a 45-day window from your order date to return your item(s). For the items you're returning, it has to be in its original packaging and you'll be charged a 25% restocking fee.
To start a return, just follow these steps:
Reach out to Wall Pops either by phone (800-366-1700) or email (

[email protected]

).
Make sure to have your order number handy.
When Wall Pops accepts your return request, you'll be issued a return authorization number. You'll also have a choice of using their prepaid return shipping label or your own shipping method.
How to Contact Wall Pops
If you've still got questions after going through this Wall Pops review, then you can reach out to them in the following ways:
---
Check out similar brands you might like:
Impressions Vanity Mirror Review
Get Access to Exclusive Deals
Subscribe for free to get exclusive deals in your inbox. 100% privacy