11 Best Air Purifiers for Pets 
Searching For The Best Air Purifiers for Pets
Oh, the things we put up with for our pets. We deal with them running around our houses at all hours of the night and we tolerate their ambivalence towards us even though all we want is a little affection. They make up for these by being cute and providing us with companionship, which is sweet, but wouldn't it be nicer if that came without all the hair and dander?
After a while, pet owners tend to go nose-blind to their pet's odors. Normally, this is fine, but it can affect their sinuses and sleep quality, and heaven forbid if they have a guest who suffers from pet allergies. You can't just toss the furry little creatures out onto the streets in those instances. Instead, it's better to invest in an air purifier.
The thing is, how are you supposed to know what the best air purifiers for pets are, and which ones amount to little more than an overzealous ceiling fan? In this article, you'll learn about ten of the finest purifiers on the market as well as some insights into how you can decide which one is best for you and the answers to a few frequently asked questions.
11 Best Air Purifiers for Pets
1. Air Doctor 2000
My first pick for one of the best air purifiers for pets is formulated for tighter spaces. The Air Doctor 2000 can cover 610 square feet twice per hour or 305 square feet four times an hour. With that coverage, you'd want to install it in home offices, bedrooms, bathrooms, or kitchens. Essentially, anywhere that pet dander and hair tend to gather and resist conventional cleaning practices.
The Air Doctor 2000 also boasts four different fan speeds and three filters, each of which plays a crucial role in air purification. The device handles the hard work for you as it automatically detects how dirty your air is and assesses which filtration system works best. Beyond that, the four fan speeds allow it to operate quietly when needed. It does all this without you needing to lift a finger.
These three filters include:
A cleanable pre-filter
A carbon/gas/VOC trapping filter
A HEPA filter
The Air Doctor 2000's HEPA filter is your grandpa's HEPA; it's an Ultra model, meaning it can trap particles as small as 0.3 microns and remove them for good. It's can also get rid of formaldehyde, toxic gas, and odors. Reportedly, the Air Doctor 2000 has been seen removing over 99% of COVID-19 particles from the air in a test facility.
There's no guesswork involved when it comes to the Air Doctor 2000, and that includes its filters. Instead of relying on intuition to know when to change them, the Air Doctor 2000 will inform you when they're ready to be changed via an indicator light.
Due to its square shape, lightweight, and small stature, the Air Doctor 2000 can fit into corners and pockets of rooms other air purifiers cannot. This means you can install it under your desk or beneath a bedside table to keep small rooms feelings spacious.
It's the least expensive item in Air Doctor's library, costing only $389.
Customers say: "I bought this AirDoctor very suitable for my office. It's very easy to move around. Before this, I purchased two bigger-size AirDoctors for my home and also got one for each of my two adult children. We've noticed that using these AirDoctors improve the air quality in our house. The UltraHEPA filter used for capturing particles down to 100 times smaller than the HEPA standard is very impressive."
Highlights
Only weighs 10 pounds
Great for small spaces and rooms
Removes particles as small as 0.3 microns
2. Dyson TP7A Air Purifier & Fan with Auto-React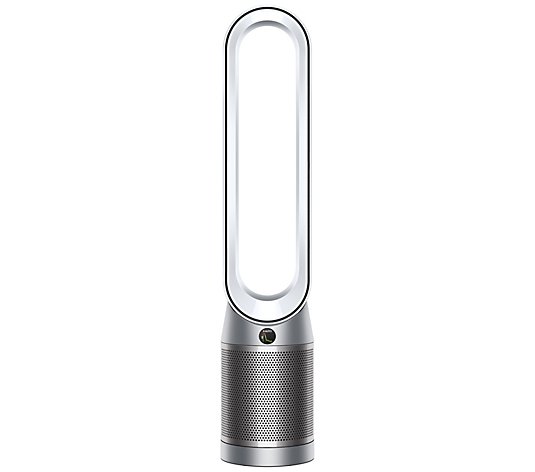 The Dyson TP7A Air Purifier & Fan with Auto-React offers a suite of customization options so that you have total control over your air. You can use it like a regular oscillating fan to cool down your room, or to cycle air around the room without dropping the temperature.
Furthermore, this air purifier detects, captures, and eliminates unwanted particles automatically. Its HEPA filter traps over 99% of all particles as small as 0.3 microns. During the night, it employs lower lighting and quieter settings so you can sleep peacefully.
You can pick up the Dyson TP7A Air Purifier & Fan with Auto-React for $547.
Customers say: "I was skeptical at first, but they really work well. I ordered 2 of them and set one up in one room and waited a week before setting the second one up to see if I could tell a difference….and sure enough did. I'm sleeping better, sneeze almost never now. I'd say it's money well spent."
Highlights
Works as an air purifier and a fan
Night mode dims lights and reduces noise
Has a programmable schedule
3. Molekule Air Pro
The Molekule Air Pro measures the air quality in your room so that you don't have to rely on intuition if you ask yourself, "just how dirty is my air?" You shouldn't have to guess whether your allergies are reacting to the changing of the seasons or pet dander; the Molekule Air Pro can tell you what's up. It can check your air quality every five minutes and compare it to four weeks of history so you can see if the quality has improved or not.
Additionally, this air purifier can serve rooms up to 1,000 square feet. It draws in air from all around it using its 360-degree air-capture technology. From there, the Molekule Air Pro traps large particles and destroys them using a PECO process before releasing cleaned particles back into the room.
The Molekule Air Pro has two different modes of operation that automatically adapt to air quality. There's Auto Protect Standard, which creates more sound since it uses higher fan speeds, and Auto Protect Quiet, which uses slower fans so that you can use it at a lower volume.
You can pick up the Molekule Air Pro for $815.
Customers say: "What really solidified my belief in this air filter system was when my dog got sprayed by a skunk while I was away on a trip. The air pro really helped to remove the smell in the air, there was a noticeable difference. I knew it worked at that point."
Highlights
Automatically assesses air quality every five minutes
Provides air quality readings and history straight to your mobile device
Quiet and standard-volume settings
4. Purivortex V3
My next pick for one of the best air purifiers for pets is the Purivortex V3 because of the freedom it offers. You can let it do its thing by setting it to auto mode, or you can take matters into your own hands by setting the speed at one of three levels. Since this air purifier gives you live readings of your air quality, you can adjust the fans to the proper levels.
The Purivortex V3's filtration system is quite robust. It's a four-stage system that can catch particles as small as 0.3 micrometers, meaning pet dander, pollen, and smoke should be afraid. The reason why this filter is great for pet owners is that its carbon and cold catalyst filters absorb and disintegrate pet odors along with other unsightly household smells.
Finally, the Purivortex V3 has a quiet mode that's perfect at night since it only creates 23dB of noise, which is slightly more than a whisper. Add that to the fact that it saves more energy than other air purifiers, and you can really rest easy at night while the Purivortex V3 cleans your house. You can clean rooms up to 1,076 square feet with this purifier for $100 since it's on sale. Normally, it costs $180.
Highlights
Four-layer HEPA-filtration system
Runs at 23dB in sleep mode
Saves 30% more energy than other HEPA air purifiers
5. Dreo Macro Max S Air Purifier
The best air purifiers for pets can sometimes make us feel like we're not as smart as we thought we were simply because their technology is more advanced than our brains. That's the case with the Dreo Macro Max S Air Purifier, which you can control with your voice (or mobile phone) through Google Home or Alexa.
Furthermore, it uses a three-step HEPA filtration process that adapts when pollutants, excessive dust mites, or aggressive pet dander is present in the air. It can always monitor your air quality too. The Dreo Macro Max S Air Purifier operates 24/7, which may worry some folks because they think it's "loud" or "expensive." Those people, in my honest opinion, are haters.
The Dreo Macro Max S Air Purifier only creates 26dB of noise and adds an extra $4 a month to your electricity bill (based on Dreo's studies). Speaking of cost, this air purifier usually costs $240, but you can pick it up on sale for $220.
Customers say: "Not only does it look nice, but it works very well. I live in an area that gets a ridiculous amount of pollen, and even though I have a high quality filter on my HVAC, the pollen gets in every time I open the doors or let my dogs outside. I noticed a huge difference within a few days. "
Highlights
Compatible with Google Home and Alexa
Covers rooms up to 425 square feet
Extremely quiet and affordable energy costs
6. Jya Fjord Air Purifier
The Jya Fjord Air Purifier is among the best air purifiers for pets and owners with sensitive ears. Its operating volume is less than 19dB, easily the lowest of every model I've mentioned thus far. It's also compatible with home systems like Alexa and Google Home, meaning you don't have to exert any extra effort while it purifies your room in less than 15 minutes.
It's not lacking in the performance department either, as the Jya Fjord Air Purifier uses a three-step process to rid the air of 99.9% of all harmful particles. Here's how that process works:
The pre-filtration phase traps large particles like hair and pet dander
The NanoGuard step traps tiny particles like viruses and bacteria
The activated carbon filter takes care of odors like smoke and other harmful gasses
This sterilization process is great for both you and your pet as it can prevent illnesses if you're prone to them. The Jya Fjord Air Purifier also has an OLED air-quality display that shows humidity, temperature, and gas content. The basic model is available for € 369.
Customers say: "I got this for my son who has allergies. He always wakes up with a runny nose and this has helped a lot. It really quiet and it was super easy to assemble! There not a bunch of pieces and the directions are really clear. It even comes with a little light and some soft music. I highly recommend!"
Highlights
Useful for clearing away viruses and bacteria
Has wheels underneath for easy mobility
Works with Alexa, Google Home, and other home systems
7. Oransi mod HEPA Air Purifier
If you have big rooms in your house, then I'd recommend the Oransi mod HEPA Air Purifier, if only because it can clean up to 1,300 square feet twice per hour. Shaggy dogs and furballs-loving cats should be no problem for this bad boy.
The Oransi mod HEPA Air Purifier can also handle dust, pollen, mold, and other common allergens alongside bacteria and smoke particles. It uses a three-in-one HEPA filter that's controlled with the touch of a button.
Since the Oransi mod HEPA Air Purifier is built for larger rooms, it's more expensive than some of the other best air purifiers for pets. It usually costs $824, but you can grab it on sale for $521.
Customers say: "So far I have been very happy with my mod air purifier and after several weeks of use I ordered another one and glad I did. The area I use them in has 2 cats and several litter boxes so my main concerns was to capture smells, dust and cat hair and dander. Great product! You have simplified air purification with a great all-in-one filter and an easRead more about review stating Happy cat momy to use machine that is well made with easy to replace filters."
Highlights
Huge area coverage
Three-layer HEPA filter
No spaces in the physical design for unfiltered air to sneak out
8. NuWave OxyPure Smart Air Purifier
The NuWave OxyPure Smart Air Purifier is a heavy-duty machine with five filtering layers that claims to remove all airborne allergens in under two hours. Yes, this even includes pet hair and dander. That may sound like it requires a ton of energy, but that's not the case because OxyPure constantly measures your air quality and only powers on when needed. It acts quickly and then retreats to standby mode.
You don't need to worry where you place the NuWave OxyPure Smart Air Purifier because it has 360-degree air coverage, meaning it can absorb air from all around it in 515 square foot areas. If you like what you've read, then pick up the OxyPure for $600.
Customers say: "So amazing how it senses changes in the air and automatically makes adjustments to clean the air of dust and odor. When I take a shower and blow dry my hair in the next room, the unit senses a change from the blow drying and ramps up to a higher level of cleaning. My wife was using fingernail polish in a different room a long distance from our Purifier. It sensed the odor and ramped up the air speed to eliminate the odor."
Highlights
Five-year manufacturer warranty
Wi-fi-enabled controls
Powerful five-step filtration process including HEPA, ozone emission removals, and a stainless steel pre-filter
9. Mila
Mila's marketing brands it as a personable air purifier, evident by its cute design and human touches. It's more than just a pretty face, thankfully. It can filter air in rooms as large as 1,000 square feet and grants you complete control over its filtration speed via the Mila App. the app also displays readings on the following components of air quality:
Airborne particle size
Humidity
Carbon monoxide
Carbon dioxide
Chemicals (also known as VOCs)
The base model costs $439 but you can purchase more powerful filters if you need more cleaning power.
Customers say: "Air quality education + quality product/app + multiple filter options + easy to use = a product I would recommend."
Highlights
Huge power output and coverage for its price
Multiple HEPA filters to choose from
The best-looking air purifier on the market
10. Levoit Core 300 Air Purifier
In just under an hour, the Levoit Core 300 Air Purifier can purify up to 1,000 square feet using a HEPA filter, a pre-filter, and an activated carbon filter. Those aren't the only filtration options either; you can also add a toxin absorber filter, a smoke-removing filter, or (and this one is likely of the highest interest to you) a pet allergy filter. If you need some quiet at night, then set the Levoit Core 300 Air Purifier to quiet mode and you'll barely hear it buzz.
You can grab this air purifier for only $100.
Customers say: "If you or a loved one has allergies, asthma, a newborn, or simply want a cleaner smelling house this is a MUST HAVE. I will never in my life go without one of these things again. Who knew a little air filter could be so life changing? If you are a skeptic like me, from one skeptic to another this product is the real deal."
Highlights
Multiple filters to choose from
One of the most affordable air purifiers for pet owners
Rave customer reviews on Amazon
11. Aroeve True H13 HEPA Air Purifier
My final pick in this list is the Aroeve True H13 HEPA Air Purifier, which is great if you live in a small building without tons of space. Though it can only clean up to 215 square feet, it can do so five times per hour. It can also inject some heavenly fragrances since it allows users to add their own essential oils, circulating them every time it cleans your room.
The Aroeve True H13 HEPA Air Purifier protects against many common air pollutants, including:
Pet dander
Smoke
Pollen
Harmful particles
It can handle tiny microbes as small as 0.3 microns. Sadly, if this seemed like the absolute best of the best air purifiers for pets to you, you'll have to wait a bit before buying since it's currently sold out on Amazon.
Customers say: "During the day, I keep it in the living room and at night, it goes to the bedroom. The noise level isn't an issue for me. I run it on the highest setting nonstop and I personally love the white noise in the background. The pollen has been awful lately and I'd been waking up with a stuffy nose, scratchy throat and itchy eyes. After buying this, I've noticed a huge difference. The air smells cleaner and my breathing is tons better."
Highlights
22dB sleep mode
Spreads essential oil smells around the room
Fast air circulation speed
How To Shop For The Best Air Purifiers for Pets
Now that you know what I consider to be the best air purifiers for pets and their owners, you may think you're ready to shop. However, I'd implore you to look through these variables that can influence which air purifier is best for you.
Accessibility
Certain brands and even products are only available in select countries or regions. Before you fall head over heels in love with an air purifier, check if you can buy it where you live.
Room Size
As I've mentioned numerous times throughout this list, not all of the best air purifiers for pets serve the same rooms. Some can only handle half, or even a quarter, of the area other air purifiers can. As such, having a rough estimate of your room's size is essential.
Noise Level
Many of the best air purifiers for pets activate automatically, which can be a pain if they turn on at night while you're sleeping. Thankfully, some are outfitted with lower dB fans so you can sleep through them.
Filter Type
This is more for health reasons, but HEPA filters are the cream of the crop, and you'll want to pick up an air purifier with at least one. However, it's also worth checking if they have activated charcoal or other filter types.
Price
An air purifier's price is usually a sign that it's of high quality, though there are some that you can grab for reasonable prices.
FAQ
What is the best air purifier on the market now?
I've just listed the 10 best air purifiers for pets, but if I had to pick one, it'd be the Air Doctor 2000 for its size, weight, and functionality.
Is there a downside to air purifiers?
The only two downsides to air purifiers is that they cost money and are potentially noisy. Modern air purifiers negate the second issue, so the only real drawback is that they're not free, which is like most things in life.
Is it best to leave air purifiers on all the time?
Yes, it is, which can be disappointing if you're trying to keep your energy costs as low as possible. Leaving your air purifier on 24/7 means it can always monitor and clean your air, while turning it on and off means your air won't be purified nearly as much.
Do air purifiers remove pet odors?
Most air purifiers can remove pet odors, but those with VOC filters are especially good at removing them.
Final Thoughts
Air purifier technology has evolved quickly over the past few years, and many are safer, quieter, and more energy-efficient than previous generations. There's also tons of variation between them, meaning it shouldn't be hard to find one that directly caters to your needs.
---
Looking for other top brands? Check out these curated lists below:
10 Best Magnetic Rowing Machines
Get Access to Exclusive Deals
Subscribe for free to get exclusive deals in your inbox. 100% privacy