11 Best Boot Brands For Men
How To Choose The Best Boot Brands For Men
So, you've come here to find the best boots for men, haven't you? If you haven't, please step off to the side and go elsewhere because this is all about the top boots for men, and you're sure to be disappointed when you inevitably find nothing else. Anyway, to our boot-seekers, proceed…
Obviously, it's a fact that men need shoes, and sometimes, men even need boots (*gasp*). But there are different types of boots and different brands of different types of boots, making for a whole lot of work to distinguish the good and bad from.
To make it manageable, these are the specific types of boots you'll learn about in this article: work boots, hiking boots, Chelsea boots, brogue boots, and chukka boots. Boots, boots, boots, and—would you look at that?—more boots.
Recently, consumers have taken a liking to companies that care about the environment and sell as sustainably as possible, so some men's boots brands have their CSR departments working overtime to give these eco-conscious buyers more sustainable options and practices.
Still, most brands are not bending to Mother Earth's wishes but giving the majority of consumers who care about quality boots what they want: quality boots, regardless of environmental or otherwise ethical impact. Understandable if you just want to get some boots and get out.
Whatever you're looking for in a brand, the ones in our review below vary in plenty more ways than just sustainability, so make a note of how each fares in things like product selection, materials, ordering process, and brand reputation.
11 Best Boot Brands For Men
Today, whatever day it is that you're scanning this with your eyeballs, we're going to investigate the 11 best boot brands for men to establish the need-to-knows and the factors to consider before marrying one and leaving the rest at the altar, so to speak. Let's-a-go!
1. Timberland
Once upon a time, that time being 1952, founder Nathan Swartz introduced Timberland to the world. 
But first, he bought the Abington Shoe Company, and then in 1973, released the OG iconic Timberland waterproof boot, and subsequently changed the brand name to match the new potential.
Based in mountainous New Hampshire, USA, the boot was inspired to take on a variety of weather conditions, to conquer not only rain but also snow and sunshine.
On their mission "to inspire and equip the world to step outside, work together and make it better," Timberland has grown over the decades from selling waterproof men's boots to everyday clothing, work apparel, accessories, and even kids' stuff, too.
But back to boots, the topic of today's discussion. Timberland can offer you these kinds of boots:
The brand itself is quite an international success, and the basic, OG waterproof Timberland is arguably one of the most recognizable boots on the market and streets worldwide.
But, of course, Timberland offers various styles and fits, including variations like the Men's 6-Inch Premium Waterproof Boots or 8" work boots.
They have insulated pairs for the colder times of the year, ones made from recycled materials for the tree huggers out there, ones with electrical hazard protection built-in for guys who work in electrically hazardous situations (duh), comfort insoles for guys who like comfort, and more.
Also, as an added benefit, you're always guaranteed free returns and free shipping in the US and Canada.
2. Clarks
Clarks is built on a foundation of history… as in 200 years of history. The company is named after their founders, Cyrus and James Clark, who were just two shoemakers in 1825 who ended up launching an internationally successful brand with the introduction of one sheepskin slipper.
Today, the British brand lives by their mission to make shoes that "keep feet healthy and happy" through innovative, comfortable designs that are still stylish.
They are most known for their Desert Boots, a pair of sophisticated, clean-cut slip-ons made from suede, beeswax leather, or even vegan-friendly microfiber. But Clarks makes quite a selection of styles for both men and women.
They do men's footwear in 3 ways: boots, sneakers, and dress shoes. Forgetting about the latter two for the purpose of staying on track with analyzing the best boots for men, which styles do Clarks carry for your purchasing potential?
Chelsea
Chukka
Walking
Ankle
Desert
Wallabee
As you can see, they don't sell work boots. They also don't sell hiking boots or winter boots—not quite anyway, but their walking boots and ankle boots are Clarks' lite versions of these styles.
To elaborate: The walking boots are not quite hiking-level function, but the style is inspired by hiking boots, so you could hike in them, but they might not be the best choice. Same with ankle boots—you may use them in the wintertime, but no one's saying that they're the best option.
For the actual ordering experience, you can rejoice in the fact that Clarks gives you free returns, so you can return a pair that's disappointed you in irreconcilable ways.
3. Dr. Martens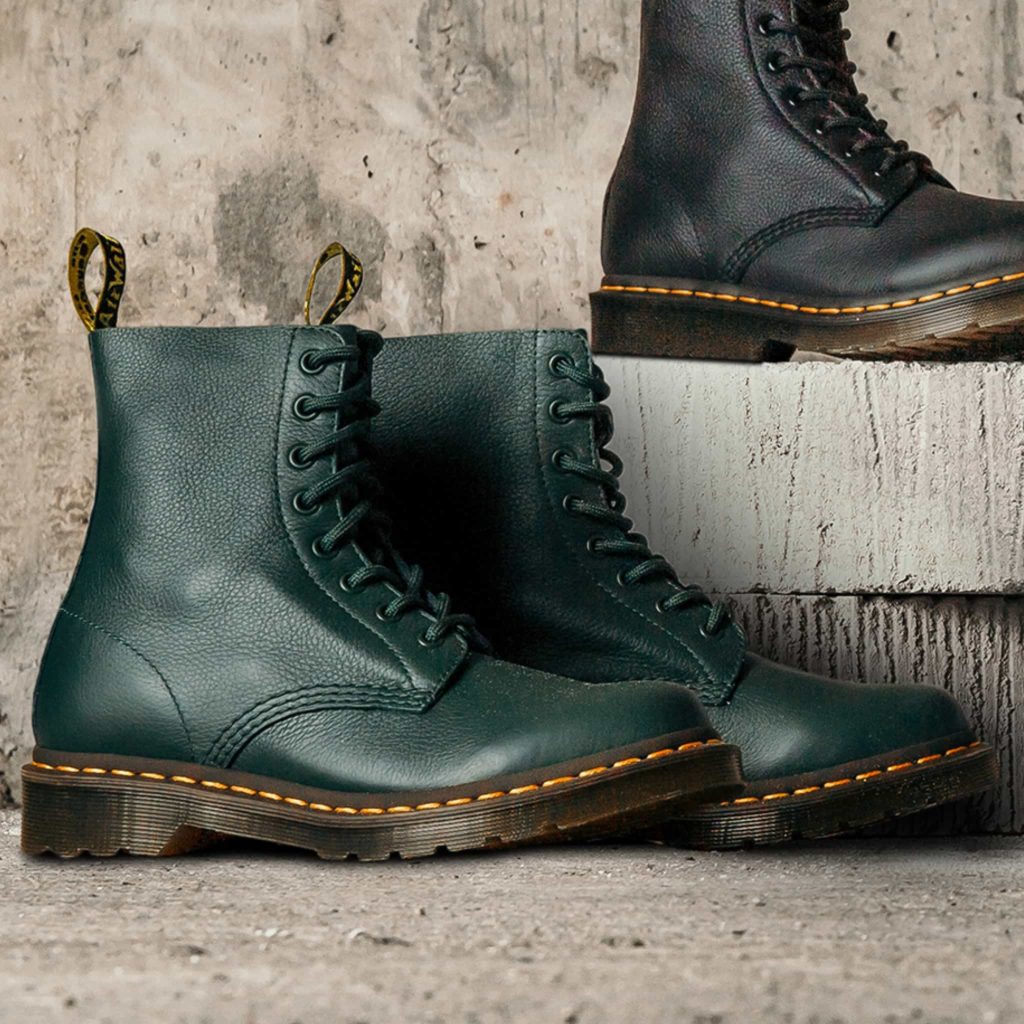 If you haven't heard of Dr. Martens, where have you been? We kid (mostly). But seriously, since they stepped onto streets in 1947, Dr. Martens have become as close to a cultural icon as a pair of boots could be.
The legend was born by Dr. Klaus Maertens, a World War II soldier whose broken foot inspired him to innovate a comfort-first air-cushioned sole. He did this with the help of co-founder and engineer Dr. Herbert Funk.
It wasn't until the 1960s when Dr. Martens boots went from factory wear to streetwear, as they received an updated (now signature) design with a new heel, sole pattern, sole edge, and upper stitch.
Born a flower child, it makes sense that these smooth leather, lace-up Doc Martens have stayed associated with nonconformity, grunge culture, and music festivals. But anyway, all this to say: Dr. Martens are an iconic boots brand, and they offer men's, women's, and kid's styles.
Besides the classic Dr. Martens boots, they also sell accessories, sneakers, sandals, and dress shoes.
Which kinda boots does Dr. Martens sell? Let's see here:
Original Dr. Martens style (leather, lace-up, yellow stitching, AirWair heel loop)
Chelsea
Ankle
Platform
Vegan (more sustainable!)
This brand is not all about hiking or hardcore sports activities but instead your everyday street-strutting. Still, they care about making boots that are durable and versatile, and you can be the judge of that, you boots-seeker, you.
4. Red Wing
Red Wing was started by Charles Beckman back in 1905. The brand started out as a shop for work shoes, with the mission to craft shoes that are not only well-made but also long-lasting and comfortable for the working class to stand, walk, work, and live life in.
The company is headquartered in none other than Red Wing, Minnesota. And here's some patriotic news: the shoes are made in the USA.
Their selection includes men's, women's, and accessories like socks, laces, and footbeds, plus a couple of t-shirts and hats for good measure.
As one of the best boots for men brands, they sell the following styles:
Work
Chelsea
Chukka
Hiking
Oxford
Ranger
This isn't a comprehensive list of all the types, because the brand has more that fall into multiple categories or exist as an entirely separate category.
But the point is that they offer a lot. They've got waterproof, soft toe, CSA, insulation, and as part of their work boots selection, safety toe boots that protect your little toesies from harm while on the clock.
Red Wing's work boots are probably their largest and most impressive collection, including pairs that protect you from electrical hazards and are puncture-resistant.
All of their work boots have multiple protective features, like the King Toe, a waterproof, puncture-resistant, and electrical-hazard-safe boot, and also features a non-metallic toe and metatarsal guard to protect the top of your foot. Red Wing are experts at work protection.
5. Belstaff
Belstaff was founded in 1924 by Eli Belovitch in Staffordshire, UK. They have been an innovative brand since the beginning: after founding, Belstaff quickly became known for making waterproof clothes for motorcyclists, doing so before any other brand.
Their mission was to make durable, functional products that do more than just sit on you. Innovating waterproof apparel is just one aspect that sets this brand apart, as they also stand out in that they make a lot of their clothes and shoes with military needs in mind.
Belstaff sells a variety of stuff for men and women: tops, bottoms, footwear, outerwear, and accessories, and they also have a special collection of products for motorcycle riders.
For men's boots, there isn't too much in the way of variety, but these are the kinds they do have:
Their boots are usually made from leather or suede.
A selling point of Belstaff is their free returns policy. Who doesn't love free returns?
6. Wolverine
Founded back in 1883, it's safe to say that Wolverine has been around for a while.
The man who started it all was G.A. Krause, who, as it turns out, was not the Wolverine from X-Men (we checked).
Krause believed that a good pair of boots can make all the difference, especially in your work life, and especially when you buy a pair of Wolverine work boots for your work life.
By the 1910s, the brand innovated their most iconic boot, the Original 1000 Mile, promising that you could wear them for at least 1000 miles. Pretty cool stuff. So, Wolverine is all about making tough boots that stand the tests of time and active use.
Along with durability, the brand emphasizes comfort and functionality. They have a wide selection that includes waterproof features, steel safety toes, extra cushioning, and shock absorption.
As far as the types of boots go, this is what's on the table:
Work
Chukka
Hiking
Chelsea
Winter
Order-wise, Wolverine offers you a 30 Day Comfort Guarantee to fall back on. This means you can fully wear your boots and give them a good try for 30 days and if you don't like 'em, you can send them back and receive a refund.
Do note that this only applies to boots and jackets covered under the guarantee, not all items on the site. But here's another plus: free US shipping on all orders.
7. UGG
Known by many as that brand that makes those furry, tan boots for young women, UGG was founded by an Australian surfer named Brian Smith in 1978. The company came about after Smith designed the Classic Boot that you think of when you think of UGG.
From there, the mission grew, and soon enough, the brand was expanding far beyond the sheepskin boots that started it all, moving on to selling some very different types of boots as well.
…But they also sell more than just boots. They have men's and kid's styles along with women's and offer a variety of non-boots shoes along with outerwear, other apparel, and even home stuff.
These are the types of best boots for men that UGG sells:
In all of these types, UGG focuses on the heart of their brand: comfort. It's what they're known for, really. The company is great at making comfort functional, offering boots that are water-repellent, equipped for the extreme cold, and extra-cushioned. 
UGG's work boots are typically made from leather and have their signature White Spider Rubber technology (which we had to mention for the name alone) for increased traction, especially on wet and potentially slippery grounds.
For bonus points, you'll get free returns and a 1-year warranty on your boots.
8. Hunter
When Henry Lee Norris began his boot company in 1856, he had no idea how huge Hunter rain boots would become. The brand's signature style made them instantly recognizable, and now they are practically synonymous with rain boots.
Fun fact: in World War I and II, the company produced a mass amount of their now-classic rubber Wellington rain boots to help British soldiers survive the trenches. Hunter's brand is built on a foundation of durability, toughness, functionality, and protection.
Headquartered in Edinburgh, Scotland, Hunter is an incredibly well-respected company in the UK, and not just because of their military help.
The boots gained extra popularity points from royal wear, especially when the one and only Princess Diana wore them.
Hunter even has a Royal Warrant for their supply of quality boots to the royals. How many brands can say that? (Actually, one more brand in this list can say that, but shhhh…)
But anyway, we're here to find the best boots for men, not royals. So these are the types Hunter sells:
Rain (basically their raison d'être)
Chelsea
Winter
All-Weather
If you're not feeling the boots, Hunter also sells outerwear, accessories, socks, and other footwear like sandals and clogs.
They are big on external benefits, too, because they've got: free returns, free shipping, and a 2-year warranty. Awesome, awesome, awesome. Yes please to all of the above.
9. Brunello Cucinelli
Besides the founder's name, which just screams 'designer,' what else should you know about Brunello Cucinelli? Well, firstly, the brand was founded in 1978 by the man himself.
Cucinelli set out to make a brand of women's colored cashmere clothing. At the time, the style was fresh and innovative.
Cashmere was especially special to Cucinelli because he strongly believes in the power of a good-quality piece that stays young while you get old (no offense). Durable materials are quite literally the foundation that the brand stands on today.
They have expanded their reach beyond women's colorful warm knitwear to men's and kids' clothing, too. The apparel inventory now includes way more than just knitwear, offering tops, bottoms, dresses, denim, outerwear, accessories, bags, and, of course, footwear.
Which best boots for men does Brunello Cucinelli carry?
Chelsea
Mountain/Hiking
Winter
Brogue
The company is no-doubt designer—with designer prices to match—and they construct their boots from quality materials like waxed suede, leather, deerskin, and calfskin.
10. Tricker's
Tricker's was started in 1829 by Joseph Tricker. Shoemaking at the time was simple and functional, but Tricker's trail-blazed with their waterproof country boots.
In the modern day, those same country boots have earned the brand a shoemaking Royal Warrant from The Prince of Wales. Ooh la la.
But truly, a huge part of the mission of the brand—and it still holds true today—is innovation. They love designing new shoes and boots with newer styles, comfier fits, and more functionalities for people with different needs.
Tricker's manufactures these fashion-forward products in Northampton, England, UK, where their headquarters are also located.
Their factory makes both men's and women's shoes, including dress shoes, loafers, and even house slippers. They also make other goodies, including bags, belts, shoelaces, keyrings, and wallets.
Now, for men just looking for some darn boots, what does Tricker's have in stock?
As you can see from this sadly short bullet point list, they aren't big on variation when it comes to their boots. Tricker's takes a simplistic approach, using good leather, suede, and deerskin to construct not just plain ol' boots but quality, functional, durable, stylish, classic, timeless boots.
Handmade British craftsmanship is what Tricker's is really known for, and they even offer a separate shoe repairs service in a one-stop-shop kind of way.
11. Grenson
Located in Northamptonshire, England, UK, Grenson has been cooking up shoes since 1866. The founder, William Green, hand-made shoes and boots for practical purposes. Years later, during the World Wars, Grenson served the UK by making footwear for soldiers.
The brand expanded over the decades to produce sneakers, hip but old-fashioned styles like moccasins, and, more recently, sandals.
The real selling point with Grenson is that the boots are Goodyear Welted, which, long story short, is a process that lengthens the wear time of a pair of shoes by strengthening the materials. Suffice to say, the folks at Grenson care about durability.
Speaking of boots, here are the kinds that Grenson makes:
Most boots are leather, but there are also suede boots and even some vegan options, setting Grenson apart from the majority of brands that do not—even most included in this article featuring the best boots for men.
Oh, and the free returns worldwide don't hurt either.
Most Common Boot Materials
Now that we've gone over brands where you can buy the best boots for men, let's talk about materials. Some of the most common materials are leather, suede, rubber, sheepskin, and deerskin, all of which can be found in one or more of the brands we've reviewed.
Leather is the most common by far. Different types exist, but generally, we're talking real cow leather, a durable material that makes your boots an investment. It's flexible and workable for a variety of boots with a variety of functions—for work, weather, hiking, and just everyday walking.
Suede is a stylish, slightly furry-to-the-touch, type of leather, usually made from lamb, deer, or calf. It's not as durable as regular cow leather, but it's softer and more lightweight and sometimes makes for a more comfortable fit.
Rubber is often used for rain boots because the external material does a good job of repelling water, keeping you dry, and creating good traction on the bottom of a boot. A hard rubber sole is durable and resistant to harsh weather conditions.
Sheepskin leather is made from a sheep's hide and is, most notably, very soft and furry. This material is usually used for comfort and warmth, mainly with the fleece warming your feet up on the inside of your boot. It's not as durable as cow leather.
Deerskin leather isn't furry like sheepskin, but it is softer than cow leather. It's more lightweight and still a durable material that you can rely on.
Types Of Boots
Which type of boot tickles your fancy (whatever that means)? We'll give you a brief overview of some common types of boots you are likely to be searching for or may not even know that you need.
Work
To put it simply, yes, work boots are for work. Not for the cubicle, but for jobs that require physical labor and/or for you to be in dangerous environments of some sorts: for example, mechanics, electricians, and factory workers.
Work boots are usually heavier and bulkier with protective features like steel safety toes and shock-resistant soles that protect you from electrical hazards.
To judge a book by its appearance, work boots are typically a simple lace-up style that is most recognizable by its thickness/size. After all, it is intended to protect you when working, so it's not supposed to be a runway look.
Stereotypically, work boots are leather with steel toes. The sole material is rubber because it is durable and good at preventing slips and falls.
Hiking
Boots for hiking are made with good traction on the sole, often rubber, so that you can climb and climb and run and walk and jump how you please on your next hiking or general outdoorsy trip.
Usually, hiking boots are mostly nylon materials that make for a lightweight, active shoe that is resistant to water, mud, and discomfort.
Style-wise, hiking boots are typically as tall as or just a little bit taller than your ankles. They aren't a full-on, high-knee rainboot kind of deal.
Having them at mid-to-low height makes it easier to be active because they're sort of in-between boots and sneakers ( leaning more towards boots, obviously).
Chelsea
The Chelsea boot is an ankle boot with a signature elastic section on the side.
They are usually made from regular cow leather or stylish suede. The sole of the boot is often rubber so that you can keep dry from rain puddles, mud, and other unfriendly natural elements in the outdoor world.
Chelseas are comfy because of the elasticity on the side, and they are intended for normal use, not hardcore activity or work.
They are your everyday walking boots that can be dressed up or down or sideways if that's your thing.
Brogue
Brogue boots are short boots that usually look like they belong on the country side of the style spectrum. Made from durable leather or suede, often with decorative details on the upper portion of the shoe, Brogue pairs are a versatile type.
Some use them for the outdoors (ahem, country boots) while others see them as purely a dress boot. Either way, Brogue boots aren't going to equip you for harsh weather conditions.
They aren't the best for rain or snow, even when the sole of the boot is rubber, because the thing as a whole is typically a lightweight leather shoe for walking—but whether you choose to walk the countryside or cityscape is up to you, partner.
Chukka
Lastly, Chukka boots: they go up to your ankle, have open lacing usually, and are made with a leather or suede upper portion of the shoe.
The sole of the boot is leather or rubber, depending on the intended functionality of the style. Typically, a rubber sole means more protection from the outside world and more comfort when you slip the pair on.
Chukka boots are your everyday boots that are comfortable to walk in and not slacking in the style department, either.
Things To Consider When Buying Men's Boots
We're nearly at the end of our investigation of the best boots for men. The last question we'll answer is: what do you need to consider before you buy men's boots?
Immediately, you need to consider the use. Where will you be strutting these boots? Think: work environments, outdoor activities, the climate of your region, et cetera, et cetera.
If you are buying boots for your dangerous, physical-labor job, head straight to work boots; if you are buying boots for your office job, head straight for the Chelseas, brogues, and chukkas of the world.
Materials are a definite factor. Do you want to invest in a good pair? Then look for good-quality leather, deerskin, or otherwise durable material boots. If you don't care as much about the boots lasting a long time, then you might prioritize…
Price. Usually, the less durable the materials, the less pricey it is. Figure out your budget, then nix the brands that don't fit it. Simple.
Style might be a major factor for you or it might be last on the priorities list, but either way, style is something to consider.
Work boots are typically quite clunky, because they are less about style and more about function, while other types of boots, like Chelseas and chukkas, put more emphasis on style. If you're a particularly fashion-forward man, check out higher-end, designer brands.
Size matters. If you find an awesome pair of boots, research all about it, and get all hyped up only to realize it's not in your size, boy, that's a bummer. Size should be one of the first things you check out because inevitably, some brands will not carry or will be sold out of your size.
Speaking of brands, you might want to consider that, too. Find out more about the brands you're interested in: things like shipping and returns, customer service, and even social responsibility, since many buyers nowadays are big on ethical-as-possible spending.
In summary, you should consider these things the most (probably—we don't know you personally):
Use
Materials
Price
Style
Size
Brand
Go get 'em, tiger!
---
Looking for other top brands? Check out these curated lists below:
Get Access to Exclusive Deals
Subscribe for free to get exclusive deals in your inbox. 100% privacy