11 Best eBike Brands
Searching For The Best eBike Brands
Was it not Ka who said on "Just," that "to get what we need, we did what we must?" While he was applying the bushido code of honor to a hardened lifestyle spent on the street, we can apply the sentiment to the reality that we need to do something to offset our carbon footprints.
Climate change has become a doomsday clock that ticks away in our subconscious. We ask ourselves if we're doing enough to help the planet while grappling with the inability to take the foot off of the gas pedal of modernity and our current economy.
But therein lies the solution; all we have to do is remove our feet from the foot pedal and put it onto those of an electric bike!
It's not enough for us to just tell you to buy an ebike and wipe our hands with pride as if we actually did anything. Therefore, we present you with our list of the best ebike brands.
11 Best eBike Brands
In this article, you'll learn about what makes each brand special, what their products are like, and why they stand head and shoulders above the competition.
1. Schwinn
We'll start our ranking of the best ebike brands with a company that's as American as apple pie. Schwinn has been a staple cycling brand for over 125 years. They've been key innovators in racing cycles, road bikes, and the subject of today's list, ebikes.
Schwinn's ebikes recently blessed the Ellen Degeneres Show with a throttling showcase. Their electric bikes have a battery that can provide up to 45 miles of uninterrupted power.
They can speed up your pedaling by up to 20 mph with their motor. You don't need to use the motor, but it can come in handy when you want to take a break from physical work.
The company's ebikes also recharge in only 4 hours, meaning you can sneak in a viewing of Kenneth Branagh's Hamlet without wasting any time.
Their ebikes come in a few models that each have their ideal purpose based on power output, tire size, frame weight, and more. Here are the four main Schwinn ebike models:
Schwinn Coston DX – $2,100
Schwinn Coston CE – $1,800
Schwinn Marshall – $1,600
Schwinn Mendocino – $1,600
Highlights
One of the oldest American biking brands
Free shipping on all US orders over $49
Earn a 10% discount on your first offer by joining the Schwinn email newsletter
2. Aventon
Aventon has sold over 200k bikes in the past ten years, holds a 4.5/5-star average customer score on their website from more than 13,000 pieces of feedback, and has a huge variety of ebike models.
We're practically swooning over them already, and we haven't even spoken about the details yet.
It's easy to find the perfect ebike on Aventon's website because they divide their models into various categories. You can find bikes under $1,200, models that sit between $1,200 and $1,500, and some boutique items that retail for over $1,500.
They also produce ebikes that can reach speeds of up to 28 mph, but if that's too fast for you then you can stick with one that gets up to 20 mph. Aventon also has step-over and step-through ebikes, and when you combine all those factors then you'll find yourself with a bespoke selection that many companies can't match.
Highlights
Oversees every aspect of product development so all their bikes are designed to their specifications
Wide price ranges
Free shipping on all ebikes
3. Rad Power
Rad Power is one of the best ebike brands judging just by their accolades. They've won over 19 awards on electricbikereview and were deemed one of the Top 100 most influential companies by Time Magazine.
While those superlatives definitely relate to their products, we also assume they have to do with Rad Power's business model too.
This Seattle-based company uses a direct-to-consumer model, which could be worrisome if customers don't know exactly what they're looking for.
Thankfully, Rad Power offers a 14-day free trial period and a test that aligns your needs with your ideal ebike.
Products like the Radrunner 2 Electric Utility Bike ($1,500) demonstrate what makes Rad Power's bikes unique. This item has a more powerful motor than others in similar price ranges. It's also outfitted with a versatile frame that can act as a moped, a cargo bike, or a standard bicycle.
Obviously, not every Rad Power item is exactly like that, but they're all designed to serve various needs and offer a great bang-for-your-buck value.
Highlights
The company is incredibly helpful for customers who want the most information about their bikes as possible
14-day free trial riding period
Free shipping
4. Cannondale
Cannondale's innovation began back with their conception in 1971. When other biking companies zigged by using steel frames, Cannondale zagged and implemented aluminum and carbon fiber. They've carried that experimental spirit into their modern line of ebikes.
Their ingenuity comes at a higher price. The most affordable Cannondale ebike is the Cannondale Treadwell Neo 2, which costs $1,900, while their priciest is the Cannondale Supersix EVO Neo 1 at $10,000. However, all their models are built with performance in mind.
Their frames emphasize mobility and lightness so that you can have a smooth ride regardless of their intention.
Highlights
Higher-end ebikes
Easy to find their bikes in retailers
Delivery and assembly are free
5. Gazelle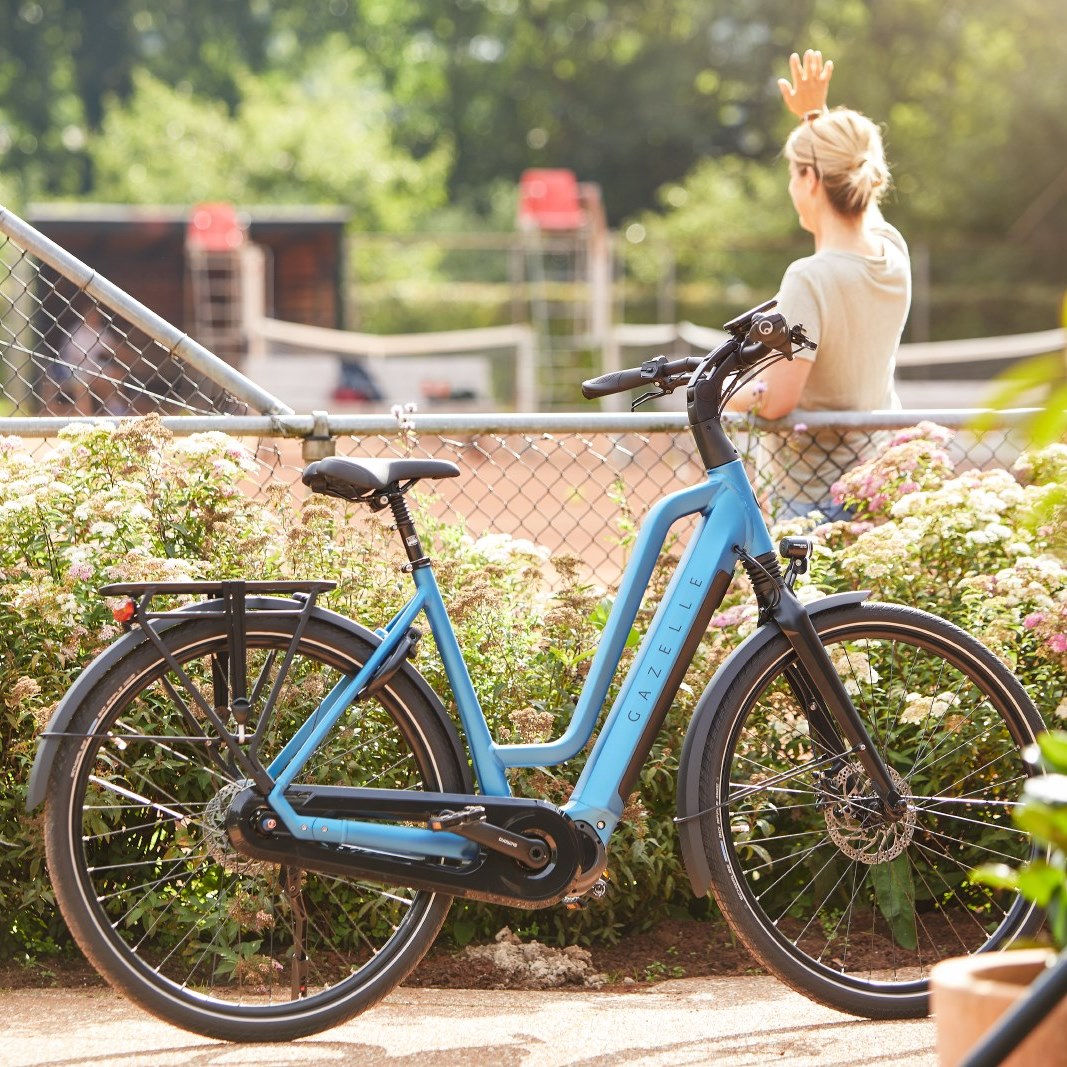 Gazelle produces ebikes in so many different styles that you could call them AJ, it's phenomenal!
This Dutch brand has been making bicycles of all shapes and sizes for more than 125 years, and their long history means they've chiseled out the best manufacturing practices possible.
Their ebikes are outfitted with low step-through frames that are forgiving yet mobile enough to be universally accessible. Furthermore, their motors are built to deliver as much power as necessary to get you where you need to go.
Let's return to their manufacturing practices because those are what make Gazelle one of the best ebike brands. They strive to keep their practices as environmentally friendly as possible.
This mindset doesn't stop at their factories. Gazelle works with third-party distributors that share their renewable mentality.
Highlights
Ebikes are available across the world
Products are designed with the average consumer in mind
10-year warranty on their bike frames
6. Charge City
Charge City wants to reduce customer stress on all fronts, so their ebikes are easy to maneuver, easy to maintain, and should last long enough to get you to and from work.
They're one of the best ebike brands for commuter bikes specifically. Their products don't have the bells and whistles of other high-end bikes, instead favoring a simple and intuitive design philosophy.
Some products like the Charge City City Electric Bike ($1,799) have earned critics' praise. That model was deemed the 2021 Bicycling Magazine Ebike of the Year.
It balances a powerful motor with foldable pedals and a light frame to help you zip around the city at a price point that's easy on the wallet.
Highlights
Certain products have won critic's awards
Products are relatively cheaper than other brands' ebikes
Signing up for the Charge City email newsletter can earn you a $20 discount coupon and free shipping
7. Trek Allant
Trek is a staple in the biking world, and that's no different when it comes to ebikes. People consider them among the best ebike brands for their nearly never-ending product library.
Even looking at just their listed ebikes can send you down a rabbit hole you may never want to crawl out of.
Their bikes are some of the most expensive in the industry but don't let that turn you off from them. They're a great investment if you want an ebike that can accomplish more and tackle larger challenges than a drive to work.
Trek has been improving their environmental practices since 2010 by aligning themselves with eco-friendly suppliers and making their products more sustainable.
Highlights
Recent developments have focused on becoming more environmentally friendly
Their electric bikes are more powerful than other brands
8. Carbo
Carbo may only offer two different products, but the best things in life always come in pairs. Both the Carbo Model X ($2,549) and the Carbo Model S ($2,349) contain the design choices that make Carbo one of the best ebike brands.
The small company makes what they deem the "lightest foldable electric bike on the planet." Both of their ebikes weigh under 32 pounds with a carbon fiber frame that can be adjusted to your specific requirements.
The bikes have a removable 260wh battery, an LCD screen that can connect to your phone, and a portable charging outlet for your mobile device. They want to reinvent the standard ebike and we think they're doing a pretty solid job!
Highlights
Ebikes can be folded in less than 10 seconds
Available in multiple countries
Countless positive customer reviews on their website
9. Avanti
Avanti is the first New Zealand-based company on our list of the best ebike brands. They've been reiterating upon their first releases since their inception in 1985 with the speed of, well, their professional racing team.
However, their developments in the ebike market are what make them so appealing. They have both mountain and urban ebikes that prioritize a smooth experience.
Their bikes can travel up to 125km in eco mode, automatically match the tension you require with their pedal-assist technology, and kick into high gear when you need them to without manually adjusting them.
Highlights
Trusted by world champion cyclists
Ebikes for different purposes and seating positions
Ship to most countries
10. Propella
Propella started in 2015 in Redmond, Washington to answer a common problem that customers faced. People wanted ebikes that felt like real bikes, were lightweight enough to take around town, and didn't break the bank.
Thus, Propella answered their prayers. Their most expensive model is the Propella 9S Pro and it only costs $1,699. Propella's bikes are universally simple but all come with a hub-motor, an aluminum alloy frame, and a removable battery pack that can last up to 2.5 hours.
Highlights
One of the most affordable ebike brands on the market
Replacement parts and services are available at most bike shops
You can add specific accessories to your bike
11. Biktrix
The final company we'll include in this best ebike brands list is this plucky Canadian company that gives customers unmatched personalization options.
Buyers can customize all these traits about their ebike purchase:

Battery
Wheel type
Wheel size
Suspension
Brakes
They have a series of more powerful and versatile models (the Biktrix Juggernaut Series), mountain bikes (the Biktrix Monte Capro Series), comfort cruisers (the Biktrix Stunner Series), and commuter bikes (the Biktrix Swift Series).
All these series can be outfitted with 21ah batteries, which is one of the longest-lasting batteries on the market.
Highlights
A massive number of choices customers can make for their bikes
You can book a live one-on-one demo for any Biktrix product
Free shipping to the continental United States and Canada
How to Shop For The Best eBike
We'll further help you decide which ebike is the best for you by going through a couple of important factors to consider before you make your purchase.
Brand
Each one of the best ebike brands does things a little differently, from their test riding policies to their accessibility to their sustainable practices. Find the one that has the policies that appeal to you the most.
Type
Ebikes aren't just for comfortable commutes to work. You can get ebikes that are designed for mountain biking, cruiser models for an even more relaxed ride, or hybrid models that sit somewhere in-between.
Quality
An ebike's quality is the summation of its motor, its battery life, its frame and materials, and how well those pieces are melded together.
A high-quality bike should have all of these concepts integrated seamlessly.
Size
The size of your ebike is more about how tall you are. Most ebikes can accommodate riders of various sizes, but the best ebikes will come with some flexibility in regards to their sizing.
Speed
Ebikes usually compare speeds based on wheel rotations per minute, so the more times a wheel rotates then the faster a bike can go. This matters greatly if you want a racing ebike or if you want to keep things going at a breezy pace.
Battery
The last thing that you'd want is to be stranded miles away from your home with a dead battery. The beautiful thing about ebikes is that you'll still be able to make it home without a battery, but it'll require more effort on your end.
Look into every bike's maximum range and wattage to see how well the battery performs and how much it can bolster your pedaling.
Additional Features
Some of the best ebikes come with nice trinkets like pedal assist, an LCD screen, and more. These inclusions may be perfunctory for you, or they might be exactly what you're looking for.
They'll affect a bike's final price so you should think about whether you really need them or not.
Budget
Your budget will ultimately determine how large the pool of available ebikes is. The larger the budget, the more options you'll have for some of the more luxurious bikes.
How Do I Get The Most Out Of My e-Bike?
Here are some good strategies that you can implement to prolong your ebike's lifespan:
Charge it regularly
Slow down before you change gears (this will reduce the friction and pressure on the chains)
Pedal more than you use the motor (from time to time)
Give yourself more time to break so that you don't damage them
How Fast Can Electric Bikes Go?
Most ebikes can reach a maximum speed of around 30 mph when you combine their motor's output with how quickly the rider can pedal.
What Should You Not Do With An e-Bike?
Even though your ebike can go faster than you're probably used to, it doesn't mean that it should. It can be tempting to ride your ebike at its maximum speed, but consider how often you drive your car at 200 mph through busy city streets. The same logic applies to ebikes.
What Is The Highest Wattage e-Bike?
In the course of our research, we found that the highest wattage ebike reached around 900 watts.
Is It Safe To Ride an e-Bike?
Ebikes are extremely safe to ride so long as you take the necessary precautions. Obviously, wear a helmet, signal your turns, and give pedestrians the right of way.
Another way that you can ride safely is by attaching reflective materials to your ebike. Many people aren't used to bicycles that can move as quickly as an ebike, so you should make it easier for them to see you coming so that they have more time to react.
Final Thoughts
Ultimately, we can't tell you which company makes the best ebike for you. We've spoken about why each of these brands is worthwhile, but you're the final – and most important – judge. We hope you've learned which brand seems like the ideal one for you.
How We Chose the Best eBike Brands
Before choosing any brand, we scour the web and all the biggest e-tailers to ensure we know all the available options on the market. We look at customer reviews, star ratings, brand ethos, processes, materials, accessibility, and so much more. We weigh the pros and cons, so you don't have to, helping you make informed shopping decisions.
---
Next, check out other curated lists of top brands:
Get Access to Exclusive Deals
Subscribe for free to get exclusive deals in your inbox. 100% privacy