Kin Euphorics Drinks Review
About Kin Euphorics
Kin Euphorics is an alcohol-free and alternative nightlife beverage brand that creates "mood-defining drinks designed to elevate the spirit and relax the body, for a pleasure you won't regret." Kin Euphorics caters to individuals who want non-alcoholic nightlife beverages crafted for conscious connection.
The brand has been featured in notable media outlets such as Forbes, Vogue, and Cosmopolitan, while the Kin Euphorics Instagram boasts nearly 75k followers.
This Kin Euphorics drinks review will take an in-depth look at the brand and its products, explore customer ratings, promotions, and more, to help you decide if their products are worth sipping.
Overview of Kin Euphorics
Kin Euphorics was founded in 2017 by Jen Batchelor. The brand's mission is to "bring bliss to the world by uplifting and elevating the world's oldest social tradition: drinking."
With the brand based in Brooklyn, the motivation was to create a non-alcoholic drink option for social situations. The company set out to develop a beverage that would reduce stress and offer the same warm and fuzzy feeling of favorite intoxicating adult beverages.
All Kin Euphorics products are vegan, health-conscious, cruelty-free, and plant-based. The packaging is also conscious, as it only includes 5% plastic.
Next in this Kin Euphorics drinks review, we'll highlight the pros and cons of the brand.
Pros
Healthy alternative to alcoholic beverages in social settings
Formulated to reduce stress and provide a tipsy feeling
Natural ingredients including adaptogens, nootropics, botanicals
Vegan, plant-based, and cruelty-free
Free shipping and savings through subscription
Cons
No international shipping
Kin Euphorics Review
It's Friday night and you've had a long week at work. Time to unwind, relax, and de-stress with a drink. One drink becomes two, three, four, five. Wake up the next morning, and it feels like someone took a sledgehammer to your head.
What if you could have all the enjoyability of an alcoholic drink without any of the consequences? From spicy hibiscus ginger tonic to chill-out melatonin mix, take a look at the most-loved Kin Euphorics drinks:
Kin Euphorics High Rhode Review
Get ready to let loose and forget the stresses of the day with High Rhode. This Kin drink is a herbaceous euphoria with a tart, floral finish meant to be mixed to please your palette.
The drink will uplift your mood to connect with those around you on a deeper level. The best part? No hangover the next morning. Mix this earthy, citrus, warming spice liquid with juices, sodas, and bitters to make it your own.
High Rhode may be enjoyed any time of the day, but this euphoric was specially designed for happy hour. There are quite a few ways to get your hands on this elixir:
A one-time purchase price of $39
A 2-pack for $69
A 3-pack for $99
Subscribe and pay either $35 for one bottle, $62 for two, or $89 for three
Kin Euphorics Kin Spritz Review
Kin Spritz is a sparkling euphoric crafted with fresh citrus, warm spice, hibiscus, and ginger. Sit back, relax, sip, and enjoy this Kin spritz anytime, anywhere.
This drink will awaken clarity and flow to help you create meaningful conversations. It also offers balance and calm throughout your body and aids in the quest to find your kindred spirit.
Kin Spritz contains one full serving of the original Kin tonic (High Rhode) in every can. The sparkling hibiscus and refreshing citrus, plus a ginger kick, equals one incredibly refreshing drink.
Sip this drink socially, at beaches, parks, festivals, and wake up the next day without regret. Grab the Kin Spritz in a:
4-pack for $27
8-pack for $47 or subscribe and pay $42
16-pack for $72 or subscribe and pay $64
Kin Euphorics Dream Light Review
The night belongs to those who dream. Dream Light is an earthy, smoky, and smoothly spiced euphoric nightcap. Enter serene relaxation and unwind your body while quieting your mind. This drink supports the deep sleep stages throughout the night so you can wake up feeling restored and ready to take on the day.
This sleep celebration features forest botanicals, earthy adaptogens, and serene nootropics. Kin dream light is like a midnight walk through the forest with rich notes of oak, clove, gentian, and passionflower, with warming spices of cinnamon, chili, and ginger.
It's time to drift off into a sublime sleep journey and rise to the morning's possibility. Combine this delightful chai-like liquid with either cold or warm oat milk for a delicious dream-like drink.
Drift to your deepest dreams with stress-reducing B6 and melatonin and rise ready to conquer the day. If this sounds enticing, you can purchase Dream Light a few different ways:
Single bottle for $39 or subscribe and pay $35
2-pack at $69 or subscribe and pay $62
3-pack at $99 or subscribe and pay $89
Kin Euphorics Bliss Bundle Review
Find your inner zen with the Bliss Bundle and say farewell to the overconsumption of alcohol and hangovers. Instead, say hello to meaningful conversations, deep connections, and engaging experiences.
This bundle includes one bottle of High Rhode, one bottle of Dream Light, and a 20-pack of Spritz. Share the experience with friends and give Kin Euphorics its best trial run. Get the Bliss Bundle for $149 and auras of magic, wonder, and creativity.
Kin Euphorics Subscription Review
As we get older, our bodies tend to turn against us. In the past, you could possibly down seven gin and tonics and wake up feeling completely fine. Now, one beer puts you in bed by 9 pm.
Thankfully, Kin Euphorics offers all of the highs without any of the lows of traditional alcohol. As a Kinship Beta member, you'll receive a Flight Pack (a tote, patch, and manual) with your first purchase and receive free shipping on all orders.
Subscribers also get 15% off for add-on euphorics, seasonal gifts, the ability to try new euphorics, and priority member support. Some extra perks include:
Customize how many bottles you want to receive each month
Edit or change subscription at any time
Hassle-free cancellations
Kin Euphorics Drinks Reviews: What Do Customers Think?
This Kin Euphorics drinks review intends to reveal what customers truly think after purchasing from the brand. We'll highlight testimonials for individual items across online platforms. Let's dive in:
Kin Euphorics has a decent A- rating with the Better Business Bureau. There are no complaints through the BBB, which is a great sign. On the company's official Facebook page, customers rate Kin Euphorics 3.7/5 stars.
Overall, users are delighted with the health-conscious ingredients, alcohol-free alternatives, and product efficacy. Take this review on High Rhode:
"As a college student who loves to party but also loves her mornings, Kin provides me with a healthy and comfortable alternative to drinking! I can let loose with a drink in hand while avoiding the hangover and nasty physical effects of alcohol! So grateful for this product!"
Cosmopolitan gave their take on Dream Light. "On the nights I found it difficult to turn my brain off, I would wind down with a shot of Dream Light in warm (or cold) oat milk. This smooth, nighttime version of a chai latte gave me all the chill, sleepy time vibes I needed. Thanks to the .25 mg of melatonin, I was able to melt into my bed and sleep soundly."
The Kin Euphorics products available on Amazon all have mixed reviews:
High Rhode: 3.5/5 stars from 864 ratings
Dream Light: 3.6/5 stars from 679 ratings
Kin Spritz: 3.4/5 stars from 737 ratings
One Amazon reviewer turned to High Rhode as an alternative to alcohol, which takes a toll on her body. This was her verdict: "Super happy! Love the taste…It actually made me feel different, in a really good way. I can unequivocally say it made me feel more relaxed and even "buzzed," but also a bit more focused on conversations I was having with friends."
We looked into testimonials for Kin Spritz, and happy customers had comments like this: "The feeling is not like being drunk, which is great. It's more of a calming sense which I liken to a runners high. A feeling of relaxation, clarity, and oneness. It is subtle, so if you are expecting a deep euphoric experience, this is not for you."
The most prominent complaints amongst negative reviews appear to be efficacy and taste. Some negative reviews claim that consuming Kin Euphorics drinks does not promote feelings as advertised, while others claim the taste is off-putting.
One negative Amazon review for Kin Spritz reflects these sentiments: "It tastes like grass and burnt leaves. The first time I tried it, I felt that warm kind of body buzz you get when you first start to feel drunk. I kind of liked it, but it only lasted about 10 minutes and then I felt kind of disoriented and gross."
Are Kin Euphorics Drinks Worth It?
If you're looking for a healthier, alcohol-free alternative for the classic party buzz, Kin Euphorics is worth looking into. These drinks may just transform your social drinking experience.
The adaptogen-infused beverages reduce stress and replenish nootropics. You can enjoy a night without taking it too far and waking up the next morning regretting liver damage.
This Kin Euphorics drinks review acknowledges the complaints put forth by some customers. Some users did not experience the intended benefits or disliked the taste, but based on our research, most people enjoy the drinks.
Check out Kin Euphorics recipes to find the perfect cocktail mixes. Remember that euphorics affect everyone differently since the ingredients adapt to unique neurochemistry and hormones. Sleep quality and stress levels also factor into the effects of euphorics.
If you're looking to reduce your alcohol intake but still have a good time, our Kin Euphorics drink review recommends this brand.
Kin Euphorics Drinks Promotions & Discounts
At the time of this Kin Euphorics drink review, there is currently a special offer to get Free Shipping on your next order. This is available for a limited time so if you're thinking of trying Kin Euphorics, now would be a great time to save on shipping.
Where to Buy Kin Euphorics Drinks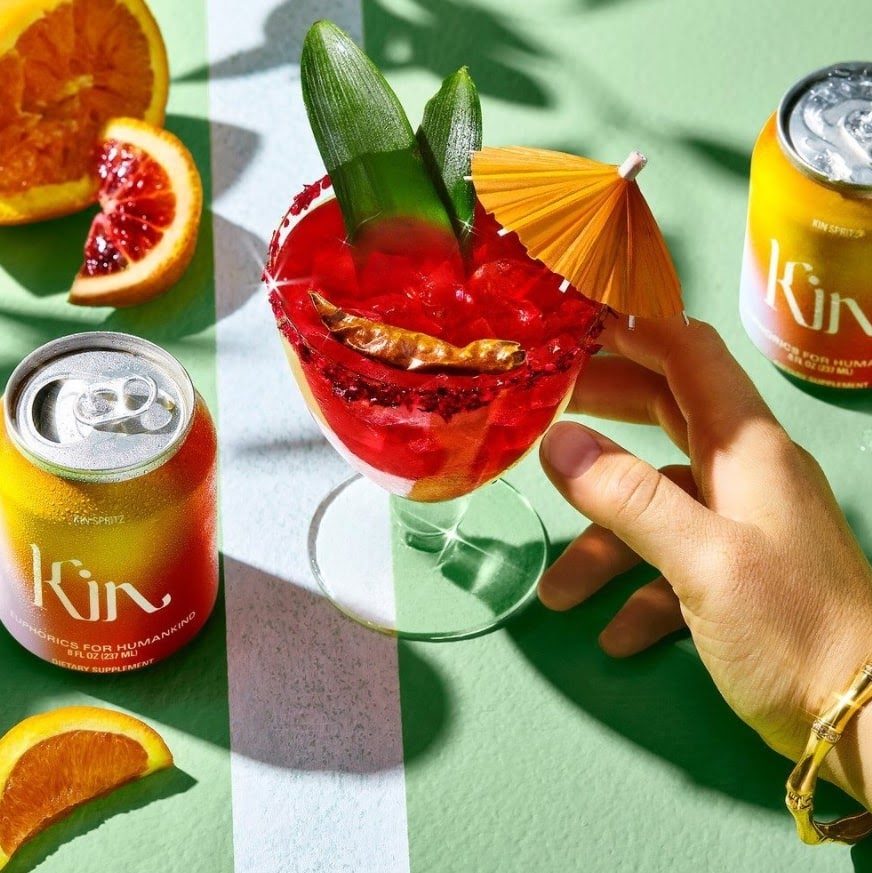 For the full collection of elixirs, visit KinEuphorics.com. You can place a Kin Euphorics Amazon order or search for retail locations using the Stockists page on their website.
FAQ
Where is Kin Euphorics located?
Kin Euphorics is located in Brooklyn, NY.
Is Kin drink safe?
If you've searched "Kin Euphorics liver" in an attempt to find out if the brand's offerings are safe to drink, the beverages are non-alcoholic and safe for your liver.
Do not consume Kin drinks if you are under 18, pregnant, breastfeeding, or taking any medications such as SSRIs. Search "Kin Euphorics drug interactions" for more information.
How does Kin Euphorics work?
Kin Euphorics combines adaptogens, nootropics, and botanicals, to lift the mind and relax the body so you can connect deeply with others.
How does Kin Euphorics make you feel?
Does Kin really work? The curated beverages will affect each individual differently depending on their neurochemistry, hormones, stress-level, and sleep quality. Some people may feel a mind-easing calm, while others may experience uplifting joy.
Does Kin get you drunk?
Kin does not get you drunk as traditional alcohol would. The drinks may create a "buzz" akin to being tipsy.
Does Kin Euphorics have CBD?
The Kin Euphorics ingredients do not include CBD.
How do you drink Kin Euphorics?
You can drink the beverages straight or mix with soda, juice, or bitters to create a cocktail.
Can you drink Kin Euphorics with alcohol?
Drinking Kin Euphorics with alcohol is not recommended.
What is Kin Euphorics' Shipping Policy?
Kin Euphorics only ships within the United States. The brand offers free shipping on orders over $50. It will approximately take between 10-14 business days to ship from the time of order placement.
Expedited shipments deliver within 2 business days from order placement. To track your order, use the tracking information sent in the shipping confirmation email.
What is Kin Euphorics' Return Policy?
Kin Euphorics does not accept returns or exchanges as the products affect everyone differently. If the item arrives damaged, contact [email protected] within 14 days of receiving the package and attach a photo. Damaged orders will be refunded or replaced.
How to Contact Kin Euphorics
To contact Kin Euphorics customer service, you can use one of the following methods:
Email:

[email protected]

Help Button found on website
The brand's Facebook page
---
Not set on Kin Euphorics? Check out more natural ways to relax, minus alcohol, with CBDistillery and Just Live CBD.
Get Access to Exclusive Deals
Subscribe for free to get exclusive deals in your inbox. 100% privacy