About Komuso Design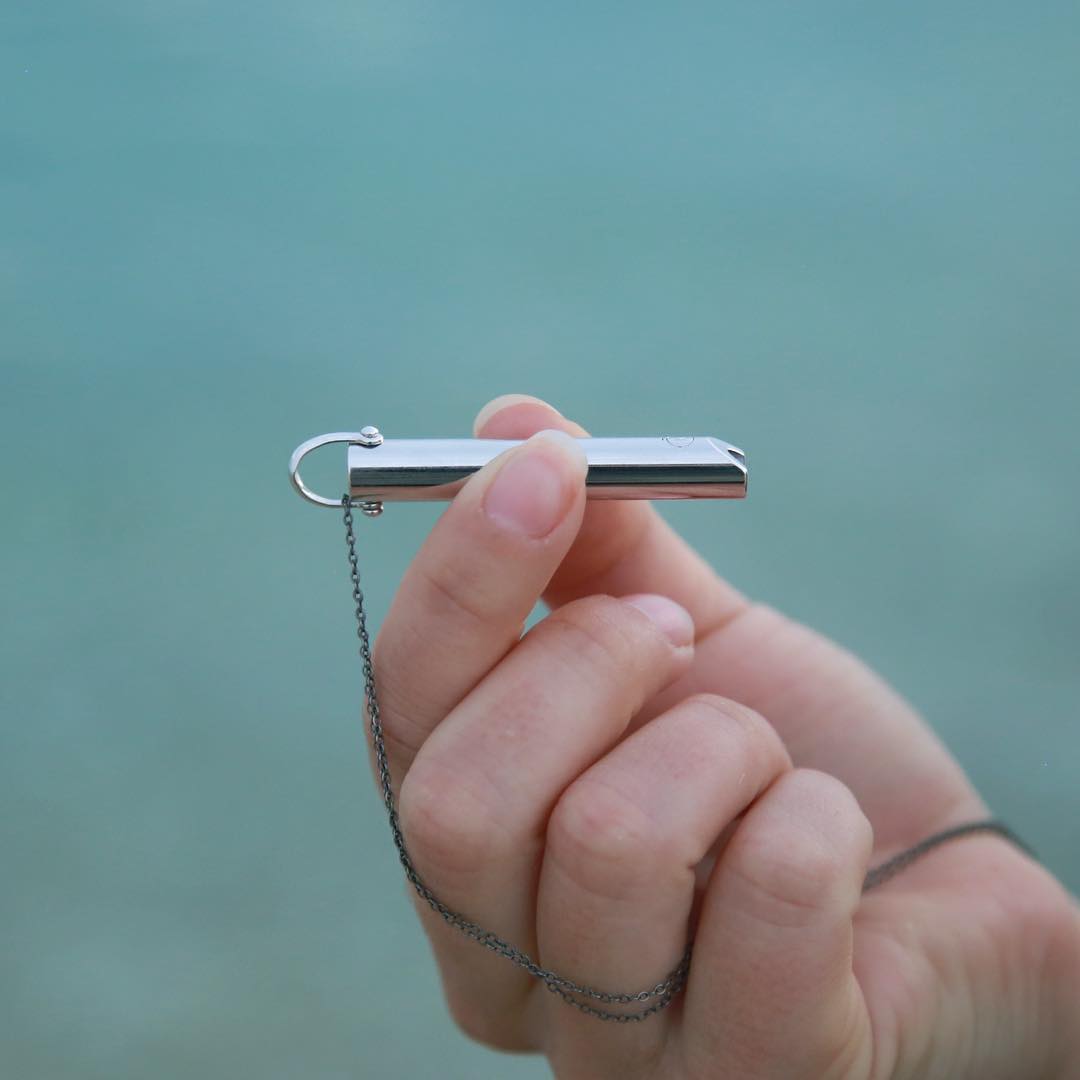 Komuso Design is a wellness company that is best known for the Shift necklace, a small (non-musical) flute that helps calm anxiety through breathing control. The brand's stress-relief products are backed by scientific publications and organizations such as Healthline, the Harvard Medical School, and the University of California Berkeley.
Spotlighted in such outlets as Oxygen, Forbes, and Shape and with an Instagram following of 52.4K, Komuso Design has helped thousands of customers struggling with anxiety and stress.
This Komuso Design review will take an in-depth look at the brand, its products, customer testimonials, and more to help you decide if this wellness solution belongs in your life.
Overview of Komuso Design
Komuso Design was founded in 2017 by the husband-and-wife duo of Todd and Vanessa Steinberg, and was born from their own real-life struggles with high amounts of stress. After meditation, exercise, and diet changes failed to help, they began working with a therapist who suggested that they should try breathing through straws to help slow their breathing. 
This ended up being the most effective method for dealing with their anxiety, and it inspired Vanessa and Todd to start researching the roots of this practice. Their investigations led them to discover the history of Japan's Komuso monks, who practiced breathing control through small bamboo flutes as an aid to meditation.
This centuries-old practice led to the development of the Shift, which the brand claims is a A smaller version of the monks' flutes, the Komuso Design breathing tool is designed to reduce feelings of stress and anxiety by slowing your breathing and relaxing your body. As the brand says, it is called the Shift "because it does just that[:] it shifts your mind to a better place."
Headquartered in Fort Lauderdale, Florida, Komuso Design has slowly broadened its product line beyond its flagship item to include apparel and accessories. We'll take a deeper dive into the brand's collection below, but first, this Komuso Design review will go over some of the most notable pros and cons of the brand. 
Pros
Komuso Design The Shift necklace can help users practice mindfulness during times of anxiety and stress
The Shift resembles an aesthetic jewelry piece, so it won't draw attention if you wear it outside
Small size and portability make the Shift a great on-the-go wellness aid
Financing options available through AfterPay
Free shipping and returns for US orders
International shipping available
30-day return policy
Cons
The Shift is pricey, so it's not as accessible to everyone struggling with anxiety
Not many third-party reviews outside of the main Komuso Design website and assorted blogs
The Komuso Design mindful breathing necklace is designed so that the flute looks like a pendant, which makes it looks like an attractive but essentially inconspicuous jewelry piece. With its easily portable design, you can practice relaxation and stress-reduction anytime and anywhere, from the subway to the office to those long lines at the grocery store.
Keep reading this Komuso Design review to get more details about the women's and men's versions of the Shift.
Komuso Design Review
The bestselling Komuso Design anxiety necklace can help with many everyday health issues, including decreasing stress hormones and reducing blood pressure. If you find yourself struggling to take a breather (literally) during these stressful times and get your mind centered, this product can help you out. 
Komuso Design The Shift – Women Review
Get ready for relaxation with The Shift for women. Not only can it help with stress and decrease blood pressure, but it also helps slow your heartbeat and release tension in your muscles. Plus, the pendant is engraved with Japanese kanji that translates to "be still."
The Shift pendant is engraved with the phrase "be still" in Japanese kanji. Both the pendant and the accompanying chain are made of durable stainless steel, so they can withstand everyday use. The pendant is virtually silent when in use, so you won't bother your co-workers or fellow subway passengers when you're getting your calm on.
While there is essentially no difference between the men's and women's versions of the Shift, the women's version has been designed to look somewhat more delicate, the better to complete its "disguise" as a jewelry piece. The chain for this version is also 28" long, meaning that it hangs lower than the men's, and it is available in four different colors at varying price points:
Slate—$85
Silver—$105 ($125 with Luxe box chain)
Rose gold—$115
Gold—$115
If you want to replace the original chain with the brand's Luxe Box Chain option, add $20 to the price of every version above.
Komuso Design The Shift – Men Review
As this Komuso Design review noted above, the Shift for men isn't much different than the women's version. The only notable distinctions are aesthetic, and subtle ones at that: the chain is shorter (25" vs. 28"), and the ball-chain design (as opposed to the cable chain on the women's version) gives it something of a more functional feel.
The Shift pendant is made of high-grade stainless steel and has been engineered to provide you with 10-second exhales, allowing you to slow your breathing down and center yourself in the moment. The men's version comes in slate ($85) and silver ($105) options, which go up by another $20 if you want to swap in the Luxe Box Chain for the ball chain.
The gold Shift for men is a limited-edition item that comes with the Luxe Box Chain exclusively, and retails for $135.
Does The Komuso Design Necklace Work?
According to reputable scientific sources, the Komuso Design mindful breathing necklace does seem to help reduce stress and anxiety. Though you may think you could get the same effects by just breathing through a straw, the company spent a year working with a psychotherapist and meditation experts to engineer the exact right length and circumference for the perfect exhale.
The measurements of the Shift are designed to provide your breathing with the proper amount of resistance so that you have to slow your exhale, which signals the body to calm down. Here's how to get the most out of your Shift:
When you sense anxiety creeping up, get your Shift ready
Inhale deeply through your nose for about 3 seconds, filling your stomach with air and trying not to raise your shoulders
Pause for a second after inhaling, then exhale naturally through the Shift
Repeat as needed
In addition to the Shift's stress-relieving effects, according to customer reviews it has also helped some users kick cigarettes, as it mimics the oral fixation aspect of the smoking habit.
What Is The Komuso Design Necklace Made Of?
The basic Komuso Design necklace is made of stainless steel. For the gold, rose gold, and silver versions, the different metals are mixed with the stainless steel at the point of manufacture, rather than being plated.
Who Is Komuso Design For?
Komuso Design necklaces are for people who are looking to reduce the effects of anxiety and stress. People who struggle with panic attacks and breath control can benefit from the Shift, as well as anyone who feels themselves being overwhelmed on a regular basis. 
The necklace design makes the Shift highly portable, meaning that you can use it anywhere, anytime without being too conspicuous about it (if that bothers you). Younger people can also benefit from the Shift, and in fact, the company is currently working on a design for youth that will come out later this year.
Comparison: Komuso Design vs. Uncommon Goods
Komuso Design and Uncommon Goods both offer wellness products that are attractively designed and work to reduce everyday stressors. The main difference is that Uncommon Goods is a marketplace for other wellness brands, whereas Komuso Design creates its own products. 
The Shift is in fact available on Uncommon Goods, along with other unrelated items like kitchen and home accessories.
Komuso Design Reviews: What Do Customers Think?
This Komuso Design review searched high and low for customer reviews, and discovered that there really aren't too many of them out there apart from at the brand website. We did track down mentions of the company on a couple of blogs, as well as a Reddit thread that discusses the Shift. But let's kick things off at the brand's home base.
On komusodesign.com, the Shift for both men and women has an average rating of 4.8/5 stars based on over 1,000 reviews. One reviewer says, "The Shift is a simple but extremely effective tool. Looks beautiful and so easy to use, even as a reminder to breathe. Would recommend it to anyone."
A customer who bought the Shift as a gift for their daughter, who struggles with anxiety, attested that "She is amazed at how quickly it works. She wears it every day, and I can see how it makes her days better. Thank you."
One user even claims that the Shift helped them quit smoking: "I've had this for a week. I've been using it with focus and attention for three days and haven't had a cigarette in those three days […] It's such a useful tool for when you're trying to drop into a moment of mindfulness in the middle of a busy day. I fully intend to make continued good use of this necklace."
On the blog of the Healing Crystals Company, one contributor says that the Shift necklace is uncannily effective for such a simple tool. "It feels as though the body has been waiting for this kind of breathwork; like an old friend that you've been waiting to be reintroduced to since you first developed symptoms of angst."
This Komuso Design review also found a Reddit thread in which a commenter said that the Shift does help put them "in a calmer state." So as far as effectiveness goes, the consensus seems to be that the Shift delivers on its promise. 
While the Shift is also sold on Amazon, it has received only four ratings and two written reviews. One praises the product, while the other customer thinks it's not worth the money, so those effectively cancel each other out.
One thing that this Komuso Design review will note is that sorting through the positive and negative reviews on the brand website was a little challenging, as the site doesn't give you the option to sort by rating. Simple functions like this can greatly increase not only website navigability, but also a brand's appearance of transparency.
Is Komuso Design Worth It?
During stressful moments or extended periods of stress (like, say, a worldwide pandemic), it's helpful to have tools like the Shift at your disposal. For those who struggle with anxiety and panic attacks, the Shift can combat your nervous system's "fight or flight" response by quite literally shifting your attention to your own slow, calming breathing.
Beyond being an effective in-the-moment tool for stress relief, the Shift can be a valuable part of a more thoroughgoing mindfulness routine. And as you can physically carry it around with you all day, its very presence around your neck can serve as a comforting reminder of the calm that you now know you can access even as you move through our increasingly hectic world.
That said, this Komuso Design review does need to note that the Shift is rather expensive compared to other tools for stress management. For those who are deterred by the high price point, techniques like breathing through bamboo straws, practicing breathing control, or even aromatherapy may be more affordable alternatives. 
Based on what this Komuso Design review was able to find, we would say that the Shift is worth trying if you have the means, as it does genuinely seem to be helpful for breath control and relaxation. This could make it a useful investment for those who often find themselves in high-stress situations.
Komuso Design Promotions & Discounts
At the time of this Komuso Design review, there are no promotions or discounts available. The brand did recently have a buy one, get one 50% off promotion, though, so keep your eyes peeled for more offers along those lines. A good way to stay informed is to sign up for the brand e-newsletter.
Where to Buy Komuso Design
You can buy Komuso Design necklaces directly from the brand website, through Uncommon Goods, or on Amazon. 
FAQ
Where is Komuso Design located?
Komuso Design's headquarters is in Fort Lauderdale, Florida, the home of the brand's founders.
Who owns Komuso Design?
Todd and Vanessa Steinberg are the founders and owners of Komuso Design. The couple came to their wellness venture from equally different backgrounds: Todd was the owner of a private student travel business, while Vanessa was a senior fashion designer.
Where is Komuso Design made?
Komuso Design necklaces are made in China. The brand also hires workers in the US for various tasks related to the business. 
What is Komuso Design's Shipping Policy?
Orders made before 3pm PST on a business day usually ship out that day, while those received after that time ship the next business day.
The brand offers free standard shipping in the US as well as Priority Mail Shipping (2-3 business day delivery), the cost of which is determined by your location. Unfortunately, this Komuso Design review couldn't find any information about the estimated delivery dates for standard shipping.
International shipping is available, with prices variable depending on location (calculated at checkout). International customers are also responsible for any duties, taxes, or customs fees for their country of residence.
What is Komuso Design's Return Policy?
Komuso Design has a 30-day return policy. Products must be returned in their original packaging, and you may be charged for return shipping fees. 
You will need proof of purchase to return or exchange your item, such as your receipt, invoice number, or any other evidence of your order. You are also required to send the company an email describing what went wrong and/or why you didn't like the product. Komuso Design will then decide whether your order is eligible for return.
If your return is approved, it can take between 3-5 business days to process your refund. The brand also recommends using tracked shipping when returning your item.
How to Contact Komuso Design
We hope you enjoyed reading our Komuso Design review. If you have any questions that we didn't address, you can contact the company via the virtual chat function on the brand website, from which you can be transferred directly to the customer care team.
You can also reach the brand by mail at:
Komuso Design
2761 NE 20th St
Fort Lauderdale, FL
33305
---
Looking for more ways to lower stress and reduce anxiety? Why not try CBD? You can find some of our most trusted brands below:
Get Access to Exclusive Deals
Subscribe for free to get exclusive deals in your inbox. 100% privacy