NativePath Collagen Review
About NativePath Collagen
NativePath is a doctor-designed health and nutrition supplement company that provides products for different purposes.
To address wellness areas from gut health and indigestion to beauty, bone health, immunity, and energy, NativePath equips you with nutritional supplements such as collagen, probiotics, green superfoods, fish oils, turmeric, and educational resources to achieve natural vitality and well being.
With a solid presence in the media, like 24k followers on Instagram, and over 50k on Facebook, NativePath has featured on several media outlets such as Shape, Runner's World, Healthline, Livestrong, and Business Insider.
To help you decide if this collagen supplement is worth adding to your routine, my NativePath Collagen review will take an in-depth look at things like the company's philosophy, key ingredients, customer ratings, promotions, and more.
Overview of NativePath Collagen
NativePath was co-founded by Dr. Chad Walding, a doctor of physiotherapy, and Chris Clarke in 2013. The company is now headquartered in Sonoma, California, United States.
The three pillars that NativePath builds upon are eating, moving, and living well. The brand's mission is to help those who have been sucked into an unhealthy lifestyle led by stress and empty calories in the modern world.
According to Dr. Chad, the chronic illnesses that we are suffering from in this era all originate from separating from natural ways of living.
In order to thrive again and go back to health, NativePath's vision is to combine ancestral wisdom with advanced technologies to tap into humans' natural ability to live a healthy life by eating nutritious food and moving more.
To simplify this NativePath Collagen review, here's a quick list of highlights that celebrates the main perks of what this product has to offer:
Highlights
Made from grass-fed collagen peptides
Provides type I & III collagen peptides to maintain healthy collagen levels.
Comes in two sizes and 4 different tasty flavors
Can help reduce the signs of aging
Can promote hair, skin, nails, joints, bones, arteries, and digestive health.
Free from artificial ingredients, fillers, and allergens like gluten, dairy, and soy
The brand offers a 60-day money-back guarantee
Subscribe & Save 10% on each order
Ingredients are sustainably sourced and manufactured in a GMP (Good Manufacturing Practices) certified facility
NativePath Collagen Review
Collagen is one of the most abundant substances[1] in the body, which makes up around 80% of your skin and 25-30% of all the protein content in your body, like a perfect structural matrix[2].
Collagen has a ton of benefits, as this study shows[3]. It is essential for the firmness and structure of your skin, hairs, and nails[4], as well as the connective tissues, the corneas of your eyes[5], blood vessels, bones, and joints all over your body.
NativePath Collagen comes from the hides of pasture-raised, grass-fed cows from farms in Brazil, Argentina, and Colombia. Their collagen peptides are broken down through the hydrolysis process, making it easier for your body to process them so you won't have a hard time absorbing them.
The prevalent amino acids in NativePath Collagen are glycine, proline, hydroxyproline, and glutamic acid.
The brand is so big on education and offers several resources for its close-knit community. To teach you about different types of collagen and the benefits, the NativePath Facebook community provides free access to a virtual library of doctor-developed health articles, recipes, and virtual lifestyle courses designed to support you on your health journey.
NativePath comes in unflavoured, as well as peach, chocolate, and wildberry, and here's a breakdown of how much it costs you:
250g/8.8oz jar
One-time-prchase – $29
Subscribe & Save 10% – $26
560g/19.8oz jar
One-time-prchase – $50
Subscribe & Save 10% – $45
The flavored NativePath Collagen comes in only one size and costs you:
One-time-purchase – $34
Subscribe & Save 10% – $31
By signing up for the subscribe and save plan, you will automatically receive your NativePath Collagen every 30, 60, or 90 days and you can cancel your subscription any time.
Your one-time purchase price lowers if you choose to buy more than 2 jars of this product. For example, if you purchase 5, you will only have to pay $19 per jar.
Who Is NativePath Collagen For?
NativePath Collagen is gender-neutral and does not target a specific age. With all the real benefits that collagen peptides have to offer, anyone can expect to benefit from supplementing with this collagen to achieve firm and healthy-looking skin[6], hair, and nails, as well as flexible joints and stronger bones. 
If you are feeling the signs of aging on your skin and all over your body, including stiff and painful joints, gut problems, and flabby skin, and you are searching on the internet to find a solution to add to your routine, NativePath Collagen has got you covered.
It's there to help improve the structure of your skin and joints by hydrating and nourishing you from within.
What Are The Benefits Of NativePath Collagen?
Who doesn't want their skin to look beautiful, youthful, and radiant?
The brand claims that by adding this collagen supplement into your routine, you will see benefits in different areas such as your gut lining, which impacts your immune function, hair regrowth, joint, bone, and muscle strength, and your skin.
As part of the natural process of aging, after we hit 30, the natural production of collagen begins to decline[7], and stressors such as lack of sleep, hydration, and being exposed to toxins accelerate this process. 
Therefore, getting support from NativePath Collagen supplements can be super beneficial[8].
Several studies support the wonderful benefits of supplementing with collagen. Using NativePath Collagen regularly not only improves your skin's look[8] but additionally can promote the production of other proteins such as elastin that help keep your skin's structure intact for a more radiant appearance.
Also, if you struggle with problems like autoimmune conditions, food sensitivities[9], or skin rashes caused by a leaky gut, collagen is packed with large amounts of amino acids such as glycine, proline, and hydroxyproline. These amino acids act as nutrients that feed the cells of your gut lining so that they can heal and repair themselves. 
Your immune system can be affected if your intestinal lining is damaged and toxins can pass through. These building blocks in NativePath Collagen work great together to reduce the permeability of your gut barrier[10] by fixing the damaged cells lining the wall of your gut and restoring its integrity.
It's important to note that you need to do your own research on whether this collagen is the right supplement for your gut and immune concerns. The above claims have been made by the company, and larger-scale studies are necessary to conclude the effectiveness of collagen supplementation in healing the digestive system.
All that said, if you do add collagen peptides to your regime, focus on types I & III. They're the ones responsible for reducing wrinkles, supporting your gut, and preventing stiff joints, brittle hair, and nails.
How Does NativePath Collagen Work?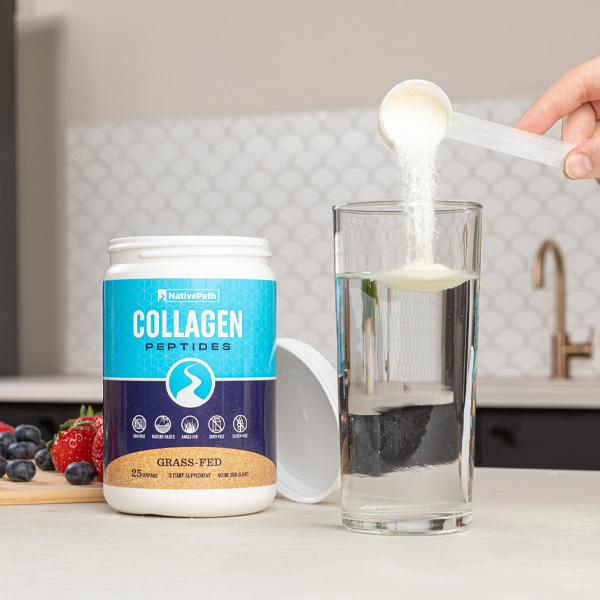 To understand how this collagen supplement functions, it's important to know collagen types I, II, and III are the most prevalent in your body, so most products on the shelves like this one promise to offer these collagen types in a bioavailable form.
Collagen peptides type I, II, and III can all be sourced from cows, considered the best source for providing skin-supporting benefits.
Now, we should look into the differences between collagen types and their jobs in your body.
Type 1 collagen[1] itself makes up 70% of your skin. This type of collagen is beneficial in enhancing the skin and helping to reverse the aging process. 
When absorbed in the dermis (aka the thickest layer of the skin), collagen peptides can improve skin health[11] by increasing the number and diameter of collagen and elastin fibers and increasing the production of hyaluronic acid[12]. 
Hyaluronic acid[13] is a natural substance found in your joints that acts as a cushion and lubricant in your tissues.
Type III Collagen[14], on the other hand, provides and improves the structure of your muscles, joints, ligaments, and blood vessels, as well as your skin. Supplementing with this type of collagen, found in grass-fed beef connective tissues, can help you produce more collagen itself, as well as elastin to keep your skin and joints flexible so you can move easier.
What Are The Ingredients In The NativePath Collagen?
The NativePath collagen ingredients are minimal. The base in all collagen flavors is hydrolyzed bovine collagen peptides type I and III. While the unflavoured has no other non-medicinal elements, inside the chocolate one, you will see natural flavoring, alkalized cocoa powder, and pink Himalayan sea salt.
In addition to collagen, there is malic acid, trisodium citrate dihydrate in the wild berry flavor. The peach-flavored NativePath collagen contains natural peach flavoring, malic acid as a flavor enhancer, and cinnamon.
All versions have monk fruit extract and enzymatically modified stevia for sweetness.
How to Take NativePath Collagen And Dosage
Every day you can easily dissolve 1-4 scoops of NativePath Collagen powder in one cup of your favorite hot or cold beverage, such as coffee, tea, or juice. You can also mix it in soups and smoothies.
NativePath Collagen Side Effects
NativePath Collagen peptides are well tolerated by healthy individuals, and no side effects appear on the brand website.
However, I found a few NativePath Collagen reviews on Amazon stating some digestive discomfort like bloating and diarrhea. Like with any new supplement, it's best to start with a small dose and slowly work your way up.
If you are on medications or have food allergies, it's best to consult with your doctor before adding this product to your anti-aging routine.
NativePath Collagen Reviews: What Do Customers Think?
This NativePath review took a look at customer reviews from the company website, Amazon, and other platforms to find out what customers are saying about this product.
One happy customer on their website mentioned: "This collagen powder mixes smoothly in my juice. After a month I feel an improvement in my skin's resilience. I have encouraged my husband to start using it."
Another satisfied customer on Amazon wrote: "I was a bit skeptical about how the bovine collagen might affect my hormonal acne. After using it for over a month I find that it makes my skin look more youthful and pores smaller. My husband has even commented on this and has started to use it as well ."
They went on to say, "Also, my lower back pain/sciatica has been reduced. Along with a healthy diet and exercise, I believe this product does make a positive difference. I ended up buying the 4-pack on the NativePath website since it's a much better deal per tub."
Lastly, a happy NativePath collagen user raved on their website: "I run 4 times a week and used to have some pain in my left hip but Lately it's been feeling better when I do my runs and my skin seems to be getting softer. good product so far."
I found some complaints on one of the platforms too. There are a couple of negative NativePath Collagen reviews regarding the size, price, and taste of this product on Amazon.
However, it is also worth mentioning that NativePath company has got an A- rating on Better Business Bureau based on their successful interactions with customers.
Overall, most of the NativePath Collagen reviews are positive, and users have praised its effectiveness in different areas.
Is NativePath Collagen Worth It?
The brand is worth the investment because the founders seem to wholeheartedly care about changing their community's health journey. Their approach to health and dedication to taking you back to your native way of eating, moving, and living is admirable.
Even though a significant body of research supports the numerous benefits of supplementing type I collagen, it is important to consider lifestyle and nutrition's role in collagen production.
I'd recommend that those looking to integrate a trustable product into their daily routine look into NativePath Collagen as a third-party tested and high-quality product that will aid your body's collagen synthesis process.
NativePath Collagen Promotions & Discounts
Sign up for the NativePath newsletter to get informed about their latest deals and special offers. Also, when you subscribe to receive your product on auto-ship, you save 10% off the regular price.
Where to Buy NativePath Collagen
It is best to buy NativePath products directly from their official website or on the Amazon store. You can also find it in most online and retail natural health food stores.
FAQ
How many NativePath Collagen should I take daily?
The serving sizes are very different between flavors; you can just go by measuring a little more than one scoop and dissolve it into hot or cold beverages or use the powder in pancakes, oatmeal, or other recipes.
Should I take NativePath Collagen with food?
It's best to drink your collagen shake away from meals. Make sure to take it at the same time, every day.
Also, if you are new to the whole collagen game, our site's recommendation was to pay attention to two phases when supplementing with NativePath Collagen.
The first is called Collagen Loading, and the second is Collagen Maintenance.
The first phase requires you to take 20 to 40 grams of collagen daily for 8 weeks, and the Maintenance Phase consists of 10 to 20 grams of collagen each day.
Note that if your goal with collagen supplementation is increasing bone density and reducing joint pain, it's recommended to take at least 30 to 40 grams daily.
Is NativePath Collagen vegan?
No. Collagen products are derived from animal sources and are not suitable for vegans.
Is NativePath Collagen gluten-free?
Yes, NativePath collagen is free from gluten, soy, and dairy.
What are the supplement facts of NativePath Collagen?
Each scoop of NativeCollagen ranges between 10-13.4 grams in different flavors.
10g of the unflavored hydrolyzed NativePath Collagen provides you with 35 calories, 9g protein, and 50mg sodium.
Approximately 13.4 grams of the chocolate flavor includes 50 calories, 10g protein, 2g carbs, 130mg sodium, 10mg calcium, 0.9mg iron, and 120mg potassium. The amount of dietary fiber in this formula is less than 1g.
11.2g of the peach collagen contains 10mg grass-fed collagen bovine gelatin hydrolysate, 35 calories, 50mg sodium, and 9g protein.
One scoop of the wild berry NativePath Collagen (11.4g) has only one difference from the peach one, which is more sodium content (85mg).
What is NativePath Collagen's Shipping Policy?
NativePath ships only within the United States using USPS, UPS, FedEx, and DHL. Your orders ship from their warehouse located in Taylor, Michigan, and the processing time is usually up to 2 business days.
You can expect to receive your order in 7 to 10 business days. However, shipping times may be delayed depending on weather conditions, location, and available stock. When you place your order, you receive the tracking information.
The digital products on the NativePath website, such as the NativeBody Reset 30-day course, will be delivered to your inbox immediately.
What is NativePath Collagen's Return Policy?
If you are unsatisfied with your NativePath order for any reason, they offer a hassle-free 60-day return policy.
To initiate the return process of your unopened product, you should contact their customer service support center at (800) 819-2993, Monday – Friday, from 9:00 AM to 5:00 PM CST within 60 days from the date you received your order.
To return a product, they recommend using the original packing slip that includes your full name, address, and order number. Note that the shipping costs are not reimbursed.
How to Contact NativePath Collagen
If you still have questions that I did not answer in this NativePath Collagen review, feel free to get in touch with the brand through one of these methods:
Phone: +1 800-819-2993
Email:

[email protected]

Social media platforms: Instagram, Facebook, Pinterest, and Youtube
---
Check out similar brands you might like:
Isagenix Collagen Elixir Review
Dose and Co Collagen Creamer Review
Vital Proteins Collagen Review
Get Access to Exclusive Deals
Subscribe for free to get exclusive deals in your inbox. 100% privacy