Neil Gaiman MasterClass Review
About Neil Gaiman MasterClass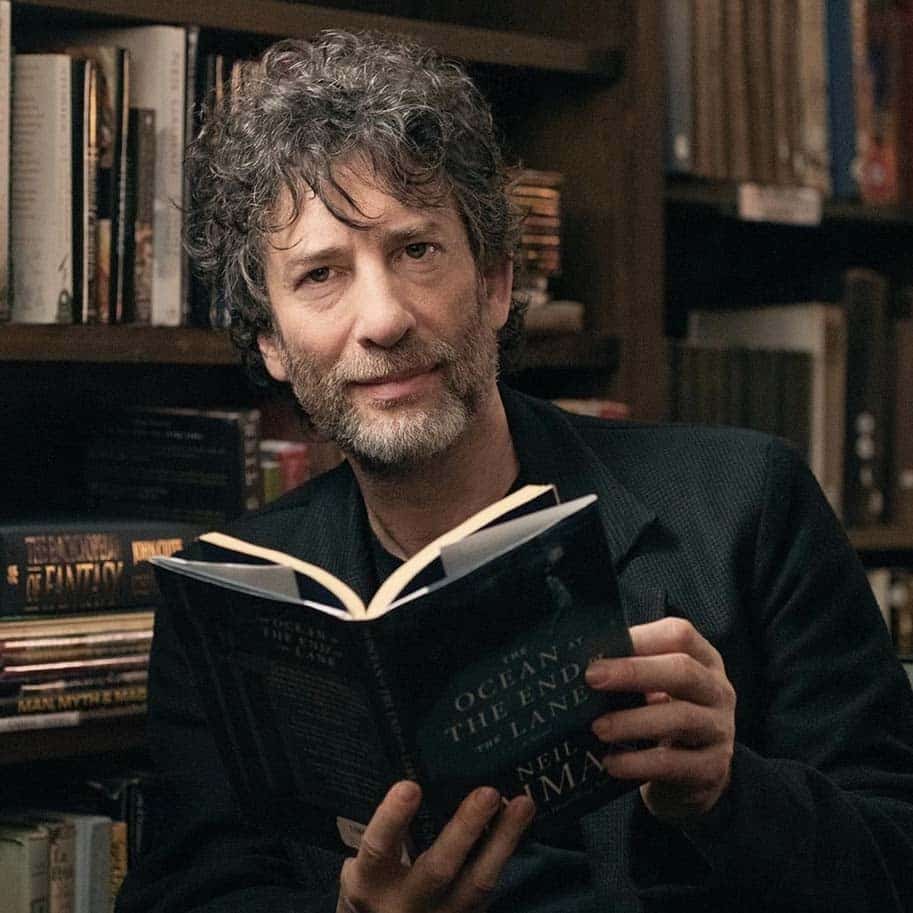 The Neil Gaiman MasterClass is a wealth of writing knowledge. Don't know him by name? Perhaps you'll recognize his famous titles. Some best selling Neil Gaiman works are Stardust, Coraline, Norse Mythology, American Gods, The Sandman comic books. He's a sci-fi and fantasy legend.
In Neil Gaiman's MasterClass, he'll teach you how to find your unique voice, develop original ideas, and bring your characters to life. It will feel like he is telling you a story. You'll discover ways to improve your writing skills, create your worlds, and pull stories out of your imagination.
This Neil Gaiman MasterClass review will provide insight into the course, the notable and award-winning novels it features, customer feedback, pricing, and more to help you decide if this fiction writing class is what you're looking for.
Who is Neil Gaiman?
Neil Gaiman is an award-winning author who has devoted 25 years to mastering his craft. He is imaginative and unique, creating characters and worlds that are memorable, enchanting, and noteworthy. Gaiman was born in Hampshire, UK, and now lives near Minneapolis, US. As a child, he consumed as many books as he could get his hands on.
Some of Neil Gaiman's favorite authors were C.S. Lewis, J.R.R. Tolkien, Edgar Allan Poe, and Gene Wolfe. His passion for reading created a desire for writing. Gaiman also adores teaching, and with this MasterClass course, he gets to reach millions of students all over the world. Don't miss out on this opportunity to learn from one of the greats.
Neil Gaiman writes sci-fi and fantasy across age groups, like the young readers title M is for Magic, The Graveyard Book for teens, and adult fiction like Good Omens, which he wrote in collaboration with Terry Pratchett. Gaiman also writes short fiction, like the popular fantasy collection Fragile Things.
If you don't know him for his renowned work, maybe Neil Gaiman's net worth of 18 million dollars will impress you. The Neil Gaiman MasterClass is worth taking a look at, if your dream is to write fiction that tops the bestseller lists.
Today Gaiman writes poems, prose, short fiction, novels, comic books, graphic novels, nonfiction, audio theatre, and films. He's won numerous prestigious literary accolades including:
Eisner Awards for Best Writer (The Sandman), Best Publication for Teens (Coraline)
Bram Stoker Awards for Snow, Glass, Apples; The Sandman; Coraline; American Gods
Hugo Awards for Dramatic Long Form (Good Omens), Graphic Story (The Sandman), Novel (The Graveyard Book and American Gods)
Nebula Awards for Best Novel (American Gods) and Best Novella (Coraline)
British Fantasy Awards for Best Novel (Anansi Boys), Best Collection (Fragile Things and Norse Mythology), Best Comic/Graphic Novel (The Sandman)
Harvey Awards for Best Continuing or Limited Series (The Sandman)
Locus Awards for Best Young Adult Book (The Graveyard Book and Coraline), Best Collection (Fragile Things), Best Fantasy Novel for American Gods, Anansi Boys, and Stardust
Step into this Neil Gaiman MasterClass review and learn about the secrets to storytelling that he wants to share with you.
Neil Gaiman Teaches the Art of Storytelling
In the Art of Storytelling, Neil Gaiman's MasterClass will guide you through various parts of the writing process: genres, tips and advice, and improving your stories and craft. He will discuss second drafts, writer's block, characters, give you exercises, and even help you plot a comic. You can watch the Neil Gaiman MasterClass trailer to hear his introduction. We're confident that his storytelling voice will pull you in.
The Art of Storytelling has 19 video lessons in all and runs for a total of 4h 49m. This Neil Gaiman MasterClass review believes that the Neil Gaiman storytelling course has something to offer most writers, and especially budding sci-fi and fantasy authors.
Sneak Peek: Truth in Fiction
We all tell stories, even if we aren't award-winning authors. Classic stories like Little Red Riding Hood and The Three Little Pigs are passed down from generation to generation to teach our children. These fictional little "lies" share important truths, in ways that are relatable and fun.
Little Red Riding Hood teaches kids that not everyone can be trusted, and The Three Little Pigs teaches children that hard work pays off. This Neil Gaiman MasterClass lesson will teach you how to weave your truths into your lies.
In Truth and Fiction, Neil Gaiman instructs writers on how to use the "lie" of a made-up story to tell a human truth. As he so poetically puts it: "Human beings are storytelling creatures. Stories are vital. We convey truth with stories. That is the magic of fiction."
Fiction is your canvas. You can create characters, build worlds, fashion the most basic suburban family, or launch a fairytale in space. Inside each story you tell, you can layer in beautiful truths, scary truths, hurtful truths, that bless, teach, frighten, or appall. Truth and Fiction teaches you how to pull this off.
The topics in this Neil Gaiman lesson include The Truth of Coraline, Be Honest, and Honesty in The Ocean at the End of the Lane. The Truth in Fiction video length is 20 min.
Sneak Peek: Developing the Story
Find your big idea. Stir up conflict. Dream up compelling risks for your characters to take. In this MasterClass lesson, Neil Gaiman will help you find your idea, one that is meaningful to you, and he'll help you build it up and bring the pieces together.
In any story, the main goal should be to attract and hold your reader's interest. You can imagine them saying, "What's next?" and turning the page, reaching the next paragraph, chapter, or even book in your trilogy. Gaiman refers to it as the "'What's going to happen?' game". What will happen to her? Will they end up together? Is he going to die? I think she did it.
Developing the Story teaches the subtle art of inviting your readers into the story so that they can escape and become part of your world. Gaiman will help you play the "'What's going to happen?' game" in this MasterClass lesson.
"Writing a novel is like driving through the fog with one headlight out. You can't see very far ahead of yourself. Every now and again the mists will clear." In this Developing the Story MasterClass video, Gaiman will help you figure out how to proceed when the mists clear up.
Developing the Story topics include:
And Then What Happened?
Write Down Everything You Know
What is Your Story About?
Create Conflict
What Do Your Characters Want?
Neil Gaiman's Developing the Story video length is 18 min.
Sneak Peek: Dialogue and Character
In this MasterClass lesson, Neil Gaiman teaches you how to conjure up memorable characters who have realistic conversations. He also provides insight on how to listen to and trust your characters.
One of the gems that makes your characters realistic and tangible is dialogue. Sure we describe them through narrative, and we show moods through internal thoughts, but the dialogue is what will breathe life into your people.
As Neil Gaiman explains in Dialogue and Character, dialogue must show the character, the plot, and it must move the story along. "In my class I'm going to tell you what stories are. I'm going to give you some tips. I'm going to give you some exercises. And most of all I'm going to give you a little push forward that you might not have had."
Dialogue and Character topics include:
Practice Compression and Economy
Listen to Your Characters
Trust Your Characters
Find the Part of You That is the Character
Do Just Enough Research
Funny Hats
Case Study: Neverwhere
The Dialogue and Character video lesson by Neil Gaiman is 25 min.
Sneak Peek: Worldbuilding
It sounds like worldbuilding is one of Neil Gaiman's favorite things. Just listen to him in the MasterClass trailer: "Worldbuilding is honestly the joy of getting to play god. Every little detail that you can smuggle with you, into your fiction, makes your world more real for your reader… They are just smudges in the background. And, that's okay, because it was informed by you and your imagination."
Gaiman guides students through creating believable worlds and settings that are compelling and realistic. Every bit of your world comes from your imagination. But as Gaiman warns in Worldbuilding, it's important to make sure that it's your world that you are writing about and not someone else's world that you're building upon.
Worldbuilding teaches you how to take in your surroundings and write about what you know. Convert your world into a fantasy fiction playground, if that's the genre you're writing about. If all you know is your job, try and imagine what your job would look like in that fantasy world. Are women more empowered than men in your world? Are you the CEO instead of a grunt worker?
Worldbuilding topics include:
Smuggle in Details From Your Own Life
Moments of Reality Create Credibility
All Your Characters to Discover the Rules
Do Your Homework
Worldbuilding Influences
Neil Gaiman's Worldbuilding video lesson is 23 min.
Sneak Peek: Genre
A reader's expectations are linked to the genre they read. If you pick up a science fiction book, you're expecting unbelievable technology that's plausible, maybe some aliens, something futuristic, perhaps some outer space. If all you get is a setting where nothing has changed from reality, your readers will be disappointed.
In Genre, Neil Gaiman explains that genre is a way of bringing together all of the things one would expect from a specific area of fiction, and making sure that they don't all happen at the same time. For instance, the first chapter won't introduce all of the awesome technology, every alien from space, and each futuristic civilization on earth.
Gaiman discusses how plot will help you present each element in time with the story, whereas genre will help you understand what your reader will expect from your story. If you haven't brought it all together in your first draft, you always have your second draft to connect the dots.
As per the words of wisdom from Neil Gaiman's MasterClass: "The process of doing your second draft is the process of making it look like you knew what you were doing all along."
Genre topics include:
Understand Reader Expectations
Learn the Rules in Order to Break Them
Sail Against Expectations
Get Out of Your Comfort Zone
The Neil Gaiman MasterClass lesson on Genre is 13 min.
Sneak Peek: Dealing With Writer's Block
Every writer has bad days when the words simply won't come, and the well of ideas seems to have run dry. We call it writer's block. In his MasterClass, Neil Gaiman argues that writer's block doesn't exist. "I have writer's block. I cannot write. Sounds like something that you can do nothing about. That of course isn't true."
In the Dealing With Writer's Block video, Gaiman explains that you're not actually at a loss for words, you're instead stuck on a thing. You can't get past a moment, you're stuck there and you have no idea how to move the story forward from that point. He recommends stepping away and going for a walk, a run, shopping, anywhere not in front of your writing.
When you return, Gaiman suggests going back to your story and reading it over again. Maybe reread that particular chapter from the beginning. Or if you're just starting a new chapter, reread the previous chapter. By doing this, you'll likely find where it was that you veered off course and figure out how you need to fix that thing so you can keep moving your story forward.
Dealing With Writer's Block topics include:
Retrace Your Steps
Willing to Recalibrate
Give Yourself a Deadline
Write the Next Thing You Know
Neil Gaiman's MasterClass video on Dealing With Writer's Block is 13.5 min.
How Much Does Neil Gaiman's MasterClass Cost?
This Neil Gaiman MasterClass review found that, in order to access the course, you need to purchase a one-year subscription to MasterClass. For one year, you have access to all 90 available classes currently on the site, and any classes launched in the future. Unfortunately, you cannot subscribe to just one course.
The MasterClass yearly subscription costs $180, not including taxes. The annual subscription will automatically renew after one year. When the subscription renews, you will pay whatever the new subscription costs at that time.
Neil Gaiman MasterClass Reviews: What Do Customers Think?
Overall, customers give MasterClass an average rating of 4.7/5 stars. This Neil Gaiman MasterClass review found comments at the bottom of each lesson page that you can read to get an idea of what others thought of the video. One example Neil Gaiman MasterClass review from the Dealing With Writer's Block: "I appreciated this section and was particularly excited to hear Neil's strategies here."
There are also MasterClass Neil Gaiman reviews on the course as a whole. We flipped through them and could only find positive remarks. Reviewers offered high praise for the course and described it as one of the most valuable ones they had ever taken. Others talked about the inspiration that Neil Gaiman provided, and how in awe they were over his brilliance.
Neil Gaiman MasterClass Reddit comments are mostly positive. There is a lot of talk about the workbook and how useful it is. Students also mentioned that he talks more about the art of writing and storytelling and not the technical side of writing. Overall, Reddit customers seem to love his class.
Although this Neil Gaiman MasterClass review couldn't find any other sites with star ratings, we were able to find other reviews on The Expert Editor and Kindlepreneur. Both platforms said yes to the Neil Gaiman MasterClass. You can also find some positive feedback from customers on Quora.
Is Neil Gaiman MasterClass Worth It?
So many positive comments and grateful writers have taken this course and have found inspiration in Neil Gaiman's words. A lot of people found the encouragement to move ahead with their stories. This Neil Gaiman MasterClass review finds that very inspirational.
When you look at MasterClass as a whole, is it worth it? A lot of people wondered that same thing and they searched the internet for answers. Is MasterClass worth it Reddit users? A large number of people on the site agree that the MasterClass subscription is worth the money, especially if you have interests in multiple subject areas.
MasterClass offers courses in a range of topics including Arts & Entertainment, Sports & Gaming, Cooking, Business, Science & Tech, Music, and more. If you divide the annual membership cost ($180) by 12, that's only $15/month for as many MasterClass videos as you want to watch.
This Neil Gaiman MasterClass review gives MasterClass and Neil Gaiman's class a resounding yes! It's worth it!
More MasterClass Writing Courses
It might not be worth it to pay for an annual MasterClass subscription if you're only interested in one course. Fortunately, this Neil Gaiman MasterClass review discovered over a dozen other writing lessons by famous creatives:
Aaron Sorkin MasterClass on screenwriting
Shonda Rhimes MasterClass on writing for television
David Sedaris MasterClass on storytelling and humor
Joyce Carol Oates MasterClass on the art of the short story
David Baldacci MasterClass on mystery and thriller writing
Billy Collins MasterClass on reading and writing poetry
Dan Brown MasterClass on writing thrillers
Margaret Atwood MasterClass on creative writing
R.L. Stine MasterClass on writing for young audiences
Malcolm Gladwell MasterClass on writing
Judy Blume MasterClass on writing
David Mamet MasterClass on dramatic writing
James Patterson MasterClass on writing
MasterClass Promotions & Discounts
Bogo! Right now when you sign up for one membership, you get two. That means instead of paying $360 for two yearly memberships, you're only paying $180. That would make an amazing gift for a loved one, and it's not costing you anything extra.
This Neil Gaiman MasterClass review writer might even sign up for that promotion!
Sign Up for MasterClass
To purchase a MasterClass membership, following these steps:
Go to MasterClass.com
Click on 'Log in'.
Click on 'Need an Account? Sign up'
Create an account by logging into your Google or Facebook account or by entering an email and password.
Click 'Create Account'.
Enter your payment details.
An annual subscription fee of $180 will be charged to your payment card.
Once your payment has gone through, you have unlimited access to classes
Alternatively, you can set up your MasterClass subscription directly from Amazon Fire TV and Roku devices. You'll be asked which subjects you're interested in and prompted to choose six classes to start. Then get learning!
MasterClass offers a 30-day money-back guarantee if you don't love your annual membership.
FAQ
How much does MasterClass cost?
The all-access MasterClass pass costs $180 annually, plus any applicable taxes. You can also give MasterClass as a gift, with classes priced individually for $90.
Does MasterClass have a free trial?
MasterClass does not have a free trial, however, if you are unsatisfied with the service, you can receive a full refund within 30 days of trying it out.
Can I pay MasterClass monthly?
No. The all-access MasterClass pass is an annual subscription and you will be billed $180 plus any applicable taxes once per year.
Can you put MasterClass on your resume?
You can put your completed MasterClass on your resume, however, MasterClass currently does not issue official certificates of class completion. They do send students an email confirming the completion of the course, containing a congratulatory message along with tips on how to use the site to continue their studies.
Can MasterClass be shared?
MasterClass was designed to be taken individually, so group viewings are discouraged. They can't stop you from sharing the information or watching the class with other people, however, they ask that students do not copy or redistribute class materials in any way.
How long does a MasterClass subscription last?
Your MasterClass subscription lasts as long as you like. Subscription fees are automatically renewed based on the day you signed up for an annual subscription.
Can I cancel MasterClass at any time?
Customers can cancel their MasterClass subscription at any time. But it's important to note that after 30 days, no refunds are issued for unused services.
Follow the steps below to cancel your MasterClass subscription:
Use your MasterClass login to access your Account page
Select the Cancel button in the Subscription section of the page
On the page, select Continue to Cancel; your account will not renew at the end of your current subscription period
For in-app subscriptions through Apple or Google Play, cancellations can be managed through the respective App stores in the subscription sections.
How to Contact MasterClass
If you have questions that weren't covered in this MasterClass subscription review, you can contact the team through:
Contact form on MasterClass.com
Email: [email protected]
Phone: 1 (855) 981-8208, Monday-Friday 9 am to 6 pm PST (excluding major holidays)
---
Interested in more MasterClass lessons? Check out our review of Garry Kasparov Teaches Chess.
Get Access to Exclusive Deals
Subscribe for free to get exclusive deals in your inbox. 100% privacy