Pikolinos Review
About Pikolinos
Are you looking for fashionable leather footwear to complete your look? Pikolinos might be able to fill your needs with their classic and modern designs. This Spanish artisan has been in the game for over 30 years, offering collections for both men and women.
Pikolinos' shoes are sold in many department stores and through online retailers worldwide, including Nordstrom and Amazon. The brand has also grabbed some attention on their social media accounts, with about 108k followers on their Instagram page!
Before you fill up your cart, this Pikolinos review aims to figure out if the company indeed has the comfiest shoes ever. So, keep reading to learn about their history, some bestsellers, customer ratings, policies, and more, so you can decide if they're worth checking out.
Overview of Pikolinos
Pikolinos was founded in 1984 by Juan Perán Ramos. While creating the brand, he aimed to meet one goal: developing high-quality shoes with original designs. Today, the company manufactures products in both Asia and Spain with strict quality control processes in place.
The company is dedicated to upholding values like "authenticity, originality, and naturalness." This explains their commitment to maintaining traditional Spanish shoemaking. Each leather shoe is hand stitched and showcases other classic techniques.
Pikolinos is also committed to social causes. They've partnered with 70 non-profit organizations, and about 16,000 families benefit from their initiatives every year. Additionally, they founded Pikolinos Solidarity, a label that incorporates all of their social projects.
These collections are made in collaboration with at-risk groups and people with special needs. This helps Pikolinos with their long-term sustainability and integration mission. Their values have proven strong, as their products are exported to 60 different countries with about 17 stores and 8,000 sale points worldwide.
This Pikolinos review will now discuss some highlights of the shopping experience: 
Highlights
High-quality leather shoe brand with years of experience in the industry
A wide selection of styles available for men and women
They offer a quality guarantee
Financing options are available
Free shipping and returns for US orders
Generous returns policy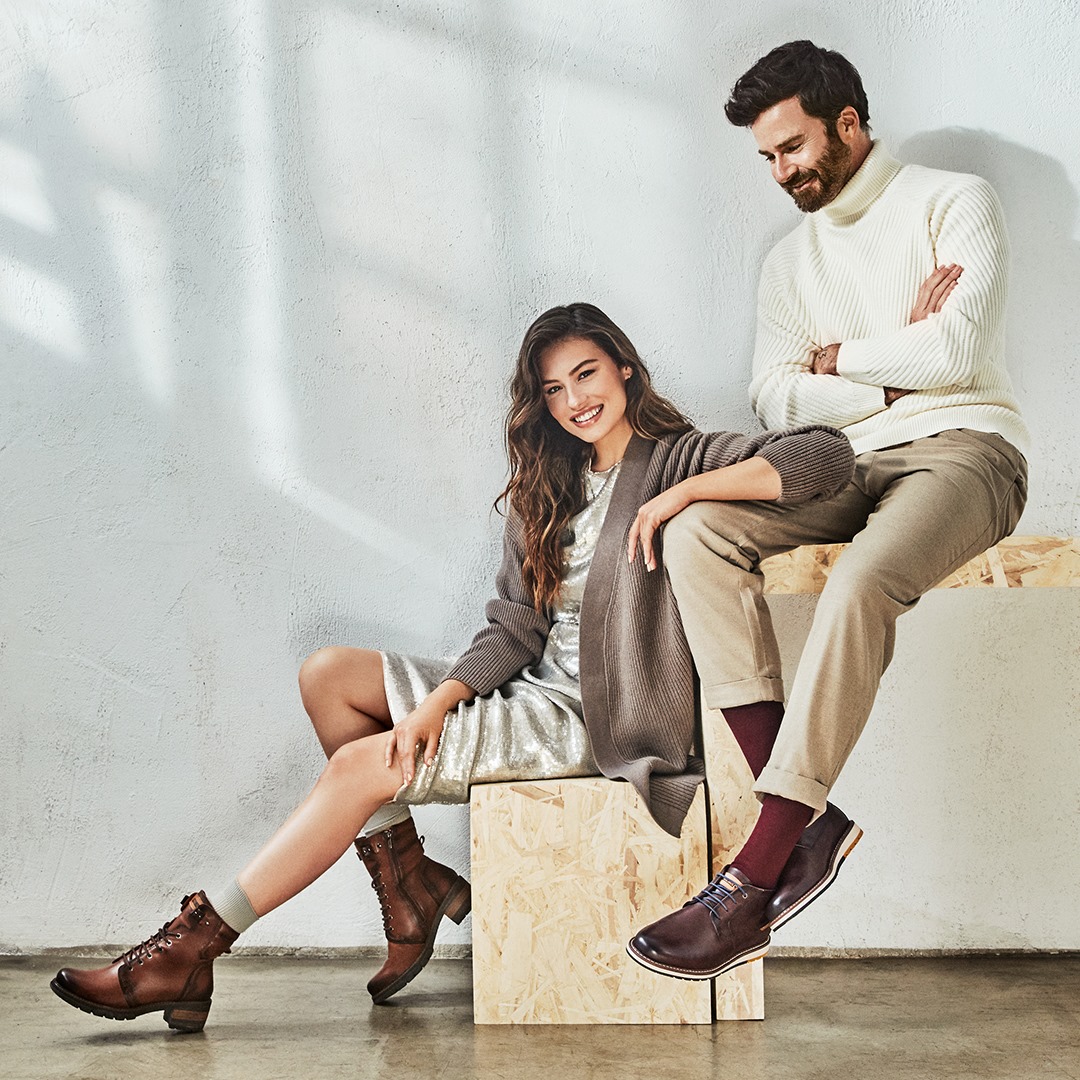 You really can't go wrong with a classic leather shoe. Pikolinos offers timeless hand-crafted footwear that you'll be wearing for years.
So, stay tuned as this Pikolinos review looks at some of the most popular customer picks from various categories. As a side note, there are financing options available with Klarna.
Pikolinos Women's Footwear Review
From stylish flats to functional boots, the Pikolinos women's shoes are ready to be added to your wardrobe. The leather shoes are versatile enough for everyday wear. Also, this Pikolinos review wants to note that there are half sizes available if needed.
Pikolinos Boots San Sebastian W1T-8812 Review
For your winter walks, Pikolinos offers the San Sebastian W1T-8812. These ankle boots have a flexible rubber sole along with some tread so you can get a good grip while strutting the streets during colder months.
The San Sebastian boots are designed with a 2-inch heel, adding a bit of flair to your outfit. And, for an extra comfortable fit, the shoes have a cushioned inner sole and collar so they can fit around any ankle.
Once you've got the fit you want, you can slip the boots on and off with the included zipper. Of course, the San Sebastian boots would go perfectly with a pair of skinny jeans or leggings. Either way, you'll get a great candid photo for your Instagram feed with these shoes.
The 100% calfskin leather boot retails for $235.
Pikolinos Shoes Jerez 578-7399 Review
Next up are the Shoes Jerez 578-7399. Sure to become a spring staple, the leather moccasins are perfect for your casual days out. They're also made from calfskin leather and cushioned inside so you can feel like you're walking on a cloud.
These moccasins are another versatile shoe. This Pikolinos review thinks they'll pair well with some tapered pants or skinny jeans. So, that means you'll probably be able to sport them in the office.
Additionally, the shoe's collar is gel and foam-padded for your comfort, making the break-in period a bit easier. Bye-bye, blisters!
Available in three different colors, the stylish and functional Jerez Shoes will cost $150 at checkout.
Pikolinos Sandals Cadaques W8k-0741c2 Review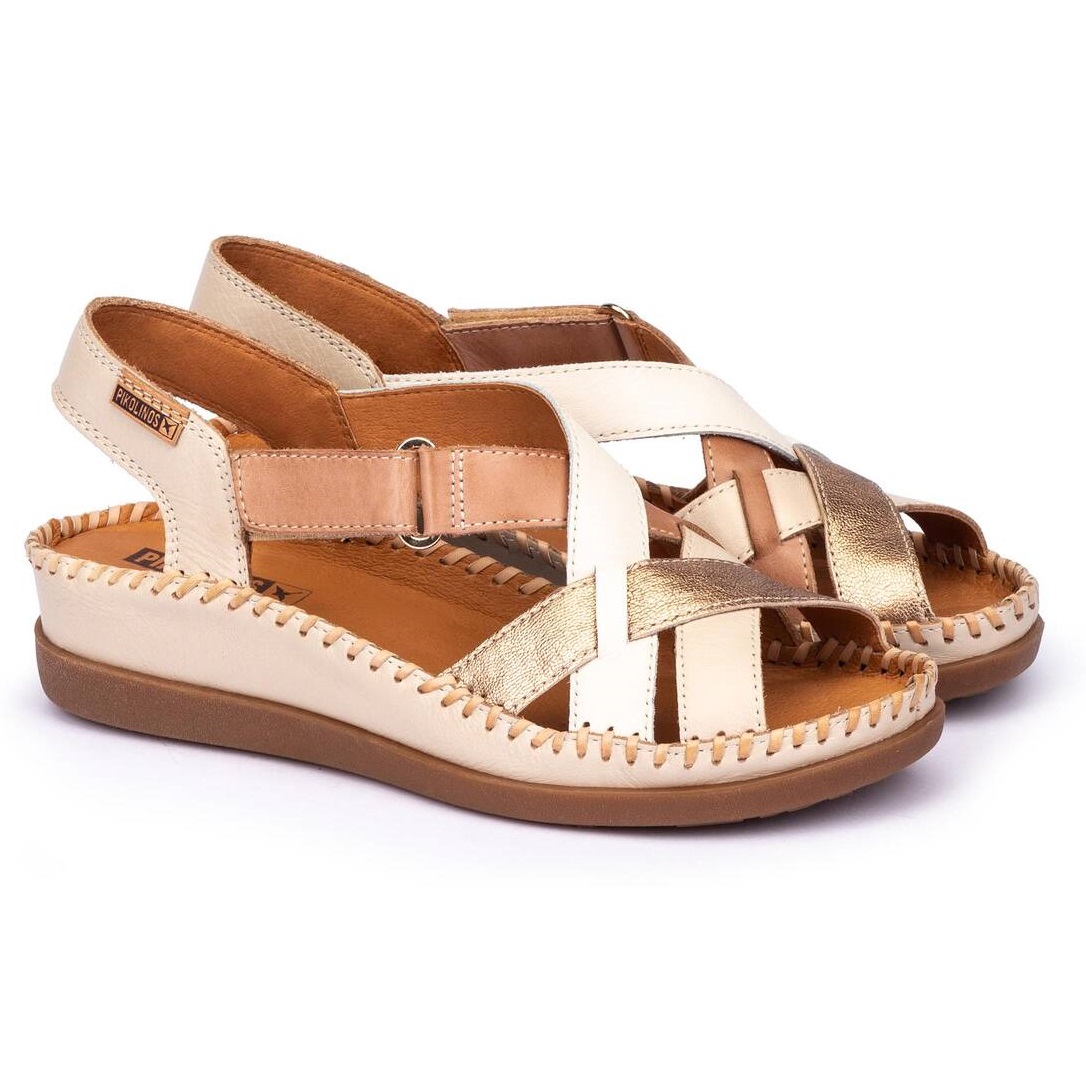 The last women's shoe in this Pikolinos review is the Sandals Cadaques W8K-071C2. This is the quintessential summer sandal, designed with a wedge and additional straps. Partnered with a cushioned insole, it can become your pool party or summer vacay go-to.
The cream and brown Cadaques also feature a wide metallic strap, adding a bit of glamour to the casual shoe. The small wedge and summer vibe would match with a flowy sundress or maxi skirt. Either way, you'll be the talk of the party with these sandals.
This calfskin and goatskin leather Sandals Cadaques W8K-071C2 costs $160.
Pikolinos Men's Footwear Review
Now, we're going to look at Pikolinos' collection for men. Like the women's selection, this versatile line of footwear can be worn casually or dressed up for special occasions. So, let's take a look at some of the brand's bestsellers.
Pikolinos Boots York M2M-8170 Review
As the colder months approach, the best way to be prepared is to throw on the Boots York M2M-8170. They definitely have a city look to them, with a low ankle and slight heel. There's also some cushion at the heel, collar, and tongue to help you get the best fit.
You'll be able to slip the York Boots on and off with the inner zipper. They also add some style to your overall ensemble with contrasting colors on the heel and collar. We suggest wearing them with a pair of black or blue slim-fit denim. Then, throw on your favorite coat to really get in a fall mood.
You can grab a pair of the York Boots on Pikolinos' website for $220.
Pikolinos Shoes San Telmo M1D-6032 Review
Another great day-to-night shoe that this Pikolinos review landed on was the San Telmo M1D-6032. Whether you're walking around the city or getting ready for an adventurous date, these shoes can do it all. For added comfort, the soles mold to your feet.
The San Telmo M1D-6032 offers generous flexibility thanks to Pikolinos' traditional hand-sewn stitching. So, as we mentioned, it makes for a great walking shoe. Plus, with the shiny calfskin leather, you can look just a touch fancier when sporting them. And throwing on some black pants will definitely dress them up.
As a bonus, you can even wear these in the office and turn your colleagues' heads. The San Telmo M1D-6032 style retails for $180.
Pikolinos Sandals Tarifa 06J-5433 Review
Last up in this Pikolinos review are the Sandals Tarifa 06J-5433. These take on a more classic European vibe, with straps that cover the entire shoe. It's definitely one of the brand's signature designs—and the ultimate sophisticated sandal for the hotter months.
Matching these leather sandals with some casual board shorts can give you a relaxed vacation look. It'll even be great for a smart casual summer party. Plus, you'll get a comfortable fit with the Velcro closure, so you can feel calm and collected while mingling with other guests.
These leather Sandals Tarifa 06J-5433 come in three different colors for $165.
Who Is Pikolinos For?
Pikolinos is for men and women looking for timeless and well-made leather footwear. They also have some classic European styles that will appeal to many people. If you're also someone who likes to give back, the company is involved in a few initiatives that you'll be able to support.
That being said, the collection is on the expensive side and might not be as accessible to everyone. But don't get discouraged! Pikolinos offers financing options so you can still grab those sandals as a holiday present.
Pikolinos Reviews: What Do Customers Think?
What would a Pikolinos review be without some customer feedback? We think it'd be pretty dull. So, we went searching for ratings and found some on Trustpilot and eKomi. Unfortunately, the main website does not publish testimonials from buyers.
We couldn't find any specific product ratings, but here are the average overall ratings from the two sites we mentioned:
eKomi: 4.5/5 stars from 2.2k reviews
Trustpilot: 2.6/5 stars from 65 reviews
Pikolinos partners with eKomi for reviews, so they publish the same comments. Generally, customers seem happy about the service they receive from the online store.
One reviewer writes, "I have no complaints. I love everything about Pikolinos, from the quality of their boots to the shopping experience. Delivery is always on time. I have never returned anything but a family member has, and it was an easy process. Will definitely be purchasing again!"
Another customer shares, "Your service and shoes are both excellent. I have told several friends about your shoes, and my wife has several pairs from Florida, which is how we were both introduced to your shoes. Keep up the great work."
We can't get enough of the love. A reviewer says, "Your website was very easy to use. Free shipping was greatly appreciated. The communication on when the item was sent […] was helpful. I always have gotten quality merchandise from this company. This was my first time ordering online, and the item I bought was perfect and of high quality."
There's even more praise with another shopper writing, "Completely satisfied. I have small feet, so the merchants that sell this product never have my size. By ordering online, I was able to get my correct size and in a very timely manner. Thanks so much!" 
Several Pikolinos customers had good experiences with the company, as seen on Trustpilot. One reviewer says, "Well, the shoes are just as described, but they came with a few scuff marks on them. […] I paid $200 for these shoes. But, I was able to buy some shoe cream and get the scuff marks off. […] I just wanted to say how beautiful these shoes are. Definitely happy." 
Another buyer writes, "I love their products, but recently when something went wrong, their customer support team was absolutely fabulous! They handled the issue professionally and extremely efficiently. I'm an even bigger fan now! That's what premium brands are all about. Well done to you all!" 
That's not all. Another satisfied reviewer writes, "Perfect! I have been a customer for years, and I am very satisfied with my Pikolinos shoes. Always very good quality and super fast forwarding. Just 4 days from Alicante to Denmark."
Ultimately, this Pikolinos review found some criticisms about the brand, especially on their Trustpilot page. Some shoppers experienced issues with the shoe quality and unresponsive customer service reps. 
Luckily, these comments receive prompt responses from customer service reps on eKomi. Additionally, based on positive reviews on Trustpilot, it's safe to assume that Pikolinos is a safe place to shop at. 
Is Pikolinos Worth It?
Pikolinos has been around for a while, and they definitely know what they're doing when it comes to shoemaking. Their handcrafted shoes carry on a Spanish tradition that can still be appreciated today.
This Pikolinos review has determined that the brand is worth browsing. They have classic and contemporary styles available, and their materials are high-quality. They could last a long time with the proper care. Plus, they're involved with many social causes, and it'll feel good knowing that you're helping people in need.
Despite mixed reception, it's safe to assume that Pikolinos representatives work hard to rectify any rising issues. Still, if you end up with a pair that doesn't suit you, they offer solutions like free domestic returns.
Pikolinos Promotions & Discounts
Trying to get your hands on some Pikolinos boots at a discounted rate? We've got good news—you can get 10% off your first order by subscribing to the brand's emails.
Unfortunately, we couldn't find any other active discounts at this time. But by signing up for their newsletter, you can stay updated on their latest deals.
Where to Buy Pikolinos
If that pair of Pikolinos sandals caught your eye, check out the rest of the selection at pikolinos.com. Their footwear products are also available at Nordstrom and Amazon. Additionally, you can use their store finder tool online.
FAQ
Who owns Pikolinos?
Juan Manuel Perán is the current owner of Pikolinos. He is the original founder's son, and the company was handed down to him in 2016.
Does Pikolinos ship internationally?
Pikolinos ships to countries in the EU, the United States, Canada, and Mexico. We'll share more shipping information in the following section.
What is Pikolinos' Shipping Policy?
Pikolinos offers free shipping within the US. Costs for other locations are calculated at checkout. Processing and delivery times may vary depending on your location, but generally, it can take between 2 to 7 business days.
There are no additional shipping methods, but the carrier will get everything ready as soon as an order is placed. Once the package is shipped out, you'll receive a confirmation email with a tracking number in order to monitor the delivery.
What is Pikolinos' Return Policy?
Pikolinos has a free 30-day return policy for US customers. No refunds or exchanges can be issued past this period. To be accepted for return, your item must be in its original condition and packaging.
You can initiate a return by logging into your account and clicking on 'My Orders'. Then, Pikolinos will send a confirmation email along with a prepaid shipping label. The company recommends using a trackable service to ensure items don't get lost.
This Pikolinos review uncovered the following US returns address:
PIKOLINOS USA, CORP
Attn: Refunds 6701
NW 7th Street, Suite 1406
Miami, FL 33126
Your refund should be processed within 30 days. If it's taking longer than a month, Pikolinos suggests contacting their team by email. Note that if you're opting to exchange an item, you must send a Cancellation Notice to the same address. Then, simply allow your return to be processed and place a new order.
How to Contact Pikolinos
If you have any questions beyond this Pikolinos review, you can contact their customer care team via an online contact form or through the following channels: 
The company monitors their phones from Monday to Friday, 9AM to 5PM EST. They're also available on Saturdays from 10AM to 3PM EST.
---
Check out similar brands you might like:
Get Access to Exclusive Deals
Subscribe for free to get exclusive deals in your inbox. 100% privacy