Scrub Daddy Review
About Scrub Daddy
Do you have an array of cleaning gear for different jobs taking up valuable space in your cupboard? Wary of chemicals in cleaning solutions? Avoiding throwing out that one sponge that's seen better days because it's only one that really works?
If you answered 'yes' to any of these questions, then you'll want to check out our Scrub Daddy review.
Scrub Daddy is a high-quality brand of innovative, non-toxic cleaning equipment designed to make taking care of messes around the house easier, and maybe even a little fun.
Since hitting the market in 2012, this smiley-faced sponge has gained 54.4k followers on Facebook and 137k on Instagram, and has been featured in by numerous media outlets including The Business Journals, Well + Good, and Good Housekeeping.
At the time of writing this Scrub Daddy review, this powerhouse scrubber still holds the title of the most successful product on Shark Tank, having reached over $200 million in sales.
This Scrub Daddy review will delve into the company's history, their best-selling products, and feedback from real costumes, to help you decide if the Scrub Daddy is just the thing to make your living space better than spotless!
Overview of Scrub Daddy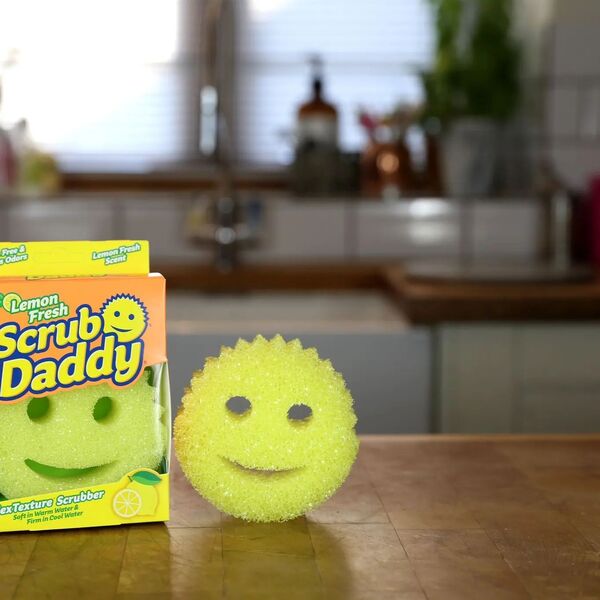 Prior to inventing the little sponge that could, Scrub Daddy founder Aaron Krause was no stranger to mess as the head of an international manufacturing company.
Mess and dirty hands were a regular annoyance, and the abrasive cleanser common in the industry just wasn't cutting it. 
Trying to find a better way to clean up at work, Krause looked to his 14 years of working with urethane foam buffing pads, he developed a non-toxic, non-abrasive polymer foam circular sponge with two finger holes punched out of the middle for better control and access to small spaces..
His invention didn't take off as planned, and Krause's initial sponges were cast off for a few years – until he needed a gentle way to clean his lawn furniture at home.
As Krause cleaned, he realized his polymer foam sponges were seizing up in the chilly air, their scrubbing power strengthening while leaving his furniture scratch-free. Whenever he'd dunk them back into warm water, however, they returned to their original soft state.
Krause tried them on surface after surface and found his sponges could do just about anything, hence the name Krause would eventually give his patented foam: FlexTexture.
When exposed to cold water, this sponge gets very suitable for scrubbing hard at built-up grime without damaging surfaces. While in hot water, it becomes flexible and soft, making it great for scrubbing in tight spaces like the insides of a glass.
He added a smile to go with the two eye holes, both for aesthetics and an easy way to clean cutlery, and in 2012, the Scrub Daddy scrubbing sponge was born.
Scrub Daddy soon hit QVC, made a highly profitable appearance on Shark Tank, and has been growing ever since, now producing out of their own factory in New Jersey.
For a quick rundown of what this brand is all about, check out the highlights of our Scrub Daddy review below:
Highlights
High-tech, versatile sponges that go from soft or hard with a temperature change
Little-to-no cleaning agents required
Doesn't scratch common surfaces like stovetops or cookware
Non-toxic and BPA-free
Available at most major retailers
Ships internationally
Free continental US shipping on orders over $30
Now that you've learned more about the brand and their flagship Scrub Daddy scrubbing sponge, let's scrub up on the details of some of their other best-selling products!
Scrub Daddy Review
While it all started with the Scrub Daddy sponge, the brand's catalog has grown vast and varied in the last decade.
For this Scrub Daddy review, I'll give you a rundown of some great products to start out with: the best-selling Scrub Mommy, PowerPaste, and the Soap Daddy.
Scrub Daddy Scrub Mommy Review
What's better than a sponge that can do two types of scrubbing? How about a third function for easy washing and drying?!
The original Scrub Daddy is a FlexTexture scrubbing sponge that provides both gentle and tough cleansing power for all kinds of surfaces. The Scrub Mommy does all that and more with two effective cleaning surfaces – a tough FlexTexture scrubber and a soft sponge.
The Scrub Mommy is double-sided to easily switch between its two surfaces. The colored side is a layer of Scrub Daddy's transforming FlexTexture that can stiffen or soften with a simple change in water temperature.
The second side is a more traditional sponge layer made from another exclusive material the brand uses: ResoFoam.
This side is super absorbent – 6 times more than leading brands, according to Scrub Daddy – and is great for drying off surfaces.
ResoFoam is also designed to produce even more foam from your soap. It's perfect for getting the most out of your cleanser and a lifesaver when you're running low – just give it a few squeezes and the Soap Mommy will create enough foam to finish those last few dishes!
In addition, the Scrub Mommy is both stain and odor-resistant, and dishwasher-friendly, meaning you can get tons of use from it before it ever starts to look used or smell funky.
The Scrub Mommy is non-abrasive and can be used on many common surfaces around the house, such as, but not limited to:
Non-stick surfaces
Crystal
Granite
Travertine
Oil-rubbed bronze
If you think this two-in-one sponge would be a big help in your home, pick up a Scrub Mommy for $4.
Scrub Daddy PowerPaste Review
The Scrub Mommy is already good at cleaning surfaces with nothing but water. But, if you've got a really stubborn stain to deal with, or you'd just feel more assured that a surface is clean by using a cleaning solution, Scrub Daddy PowerPaste has you covered.
Unlike other cleaning products that utilize chemicals to vanquish grime, PowerPaste is made from non-toxic clay.
The naturally occurring grit the clay imparts into this paste is excellent for taking on the toughest of messes. PowerPaste is said to be very abrasive, so it is not recommended for soft, varnished, or any other delicate surfaces.
This paste also doubles as a polisher, so you can expect a sheen after every cleanup.
Scrub Daddy PowerPaste is incredibly easy to use. Here's how:
Insert and swirl a damp Scrub Mommy in the paste to create a foam.
Apply the paste to the dirty surface.
Rinse it off!
Each 8 oz pot of Scrub Daddy PowerPaste comes with a free Scrub Mommy for just $10.
Scrub Daddy Soap Daddy Review
If you have a particular soap or cleaning solution you'd prefer to use with your Scrub Daddy or Scrub Mommy, meet the Soap Daddy.
This plastic soap dispenser makes cleaning up faster and can help you avoid any additional messiness and product waste.
Not only does its simple yet stylish design look good next to any sink, but the Soap Daddy is also versatile in how it can release your cleaner.
If you have a sponge on hand you need to apply the solution to, all you need to do is press it down on the flower-shaped lid, and a small amount will be pumped onto the bottom of your sponge.
If you need more cleanser for bigger clean-ups, you can hold the Soap Daddy over the surface and squeeze the flexible sides. The bottom is designed to give you a more generous yet measured amount of cleaner, so you can tackle the job at hand without worrying about using too much by accident and wasting product.
Keep the Scrub Daddy soap dispenser next to your sink for $13.
Who Is Scrub Daddy For?
Scrub Daddy is ideal for any home that wants to cut down on cleaning equipment and have safe, effective products on hand that can handle any cleanup situation.
They might even help kids see clean-up chores as more fun, thanks to the array of bright and friendly shapes and colors the sponges come in.
While Scrub Daddy is a brand mainly marketed for use in and around your home, the possibilities don't end there.
Their founder initially tried selling these products to auto body shops, which means the Scrub Daddy is tough enough to potentially help with oil spills or messes with other hard-to-clean vehicle fluids.
Any industry dealing with its fair share of mess could also benefit from Scrub Daddy's products. They'd be ideal for offices, daycares, and of course restaurants, considering all the dirty dishes and tables they confront regularly.
The versatility of these products, and the fact they just need water for most messes, means they'd also be great for professional cleaners who work with different messes and surfaces but want to keep the tools they bring to a minimum and avoid chemical fumes.
Scrub Daddy Reviews: What Do Customers Think?
This Scrub Daddy review wanted to take a look at what real customers have been saying about the brand online. So, I consulted Scrub Daddy reviews from a few websites, including their own shop. 
Scrub Daddy's official site shares both customer feedback and star ratings of their products. Based on their high rankings and positive feedback, Scrub Daddy reviews from their official site suggest customers enjoy making use of this brand for all their cleaning needs.
Scrub Daddy's durability and longevity are certainly a major draw. A reviewer of the Scrub Mommy on the brand's site says:
"I've been using my very first scrub mommy for over a month now…and it's still looking great! Very minimal wear has occurred so far. It is so easy to throw in the dishwasher to clean…This sponge doesn't build odor and doesn't shrivel up like your typical sponge. I have never had a sponge last this long." 
Here's how customers rated the brand's best-sellers on the Scrub Daddy site:
Scrub Mommy – 4.2 out of 5 stars based on 10 reviews
PowerPaste – 4.6 out of 5 stars based on 22 reviews
Soap Daddy – 4.1 out of 5 stars based on 148 reviews
The brand's Amazon store also has a number of glowing Scrub Daddy reviews. Their products' ease of use and versatility are a check in the pro column for many Amazon shoppers.
One customer review of the Soap Daddy says: "It is super convenient and has an easy pump don't have to press too hard to dispense soap I like that there are two options to squeeze a soap or to pump the soap out."
The star ratings for their best-sellers on Amazon are impressive:
Scrub Mommy (4 pack) – 4.8 out of 5 stars based on 7,019 reviews
PowerPaste – 4.7 out of 5 stars based on 3,040 reviews
Soap Daddy – 4.8 out of 5 stars based on 2,939 reviews
Some of Scrub Daddy's products are also sold at Target, where customer reviews praised their gentle cleaning performance.
A Scrub Daddy review on Target's site discussing the PowerPaste says:
"I used an old kitchen sponge and went to town on old grease splatters on the kitchen wall…The splatters on the wall were set in and I tried everything to make the wall pretty again. This power paste got the stains off… The wall is looking white again and it did not affect the texture." 
Target customers also gave their Scrub Mommy and PowerPaste products high star ratings, each sitting at 4.8 out of 5 stars out of more than 500 reviews on each product.
Is Scrub Daddy Worth It?
Scrub Daddy's products are versatile and allow you to clear up space in your cleaning cupboard and still have the right gear to tackle any job. Customers love their products, and it's easy to see why.
Scrub Daddy's cleaning products are durable, non-toxic and safe for anyone to use, won't scratch most common surfaces, and are odor and stain-resistant – meaning you'll get more use and longevity from the reasonably priced Scrub Daddy than many other conventional cleaning tools.
Overall, I would certainly recommend this brand to anyone in need of a way to clean tough messes fast with excellent efficiency.
Scrub Daddy Promotions & Discounts
Our Scrub Daddy Review was unable to find any current promotions.
You can get a discount on some of Scrub Daddy's merchandise if you shop their Bundles. In this section of their site, you'll find sets of their products for less than buying each item individually.
Bundles include the Pet Lovers Bundle, the BBQ Daddy Bundle, and the Power Paste Bundle, which comes with 2 containers of PowerPaste and a Scrub Mommy for just $25.
Where to Buy Scrub Daddy
The full line of Scrub Daddy products is available on their official site.
This Scrub Daddy review found that the brand also has an Amazon storefront, and are stocked in major retailers like ACE Hardware, Bed Bath & Beyond, Home Depot, Kroger, Lowe's, QVC, Staples, Target, Walgreens, Walmart, Whole Foods, and many, many more.
A full list is available on their Where to Buy section. 
FAQ
Who owns Scrub Daddy?
Scrub Daddy inventor and founder Aaron Krause is still the person who runs and owns the brand.
Does Scrub Daddy ship internationally?
Currently, the only country outside of the US that Scrub Daddy ships to is Canada. The brand plans to expand distribution to other countries in the future.
What is Scrub Daddy's Shipping Policy?
If you're in the continental US, you can get free shipping on orders over $30. Otherwise, there is a flat shipping fee of $5.
Once you've placed your order, you'll receive a confirmation email with tracking information. Your order should ship out within 3-7 business days and arrive 7-14 business days later, depending on the destination.
US orders are shipped via USPS and UPS, while international orders go through Worldwide Economy DDP.
What is Scrub Daddy's Return Policy?
All Scrub Daddy sales are final.
How to Contact Scrub Daddy
Have any further questions after reading this Scrub Daddy review? If so, you can reach the customer service team through the Contact Form on the brand website or get in touch via email at [email protected]
---
For more top rated cleaning brands, check out the links below.
Get Access to Exclusive Deals
Subscribe for free to get exclusive deals in your inbox. 100% privacy