Bemz Review
About Bemz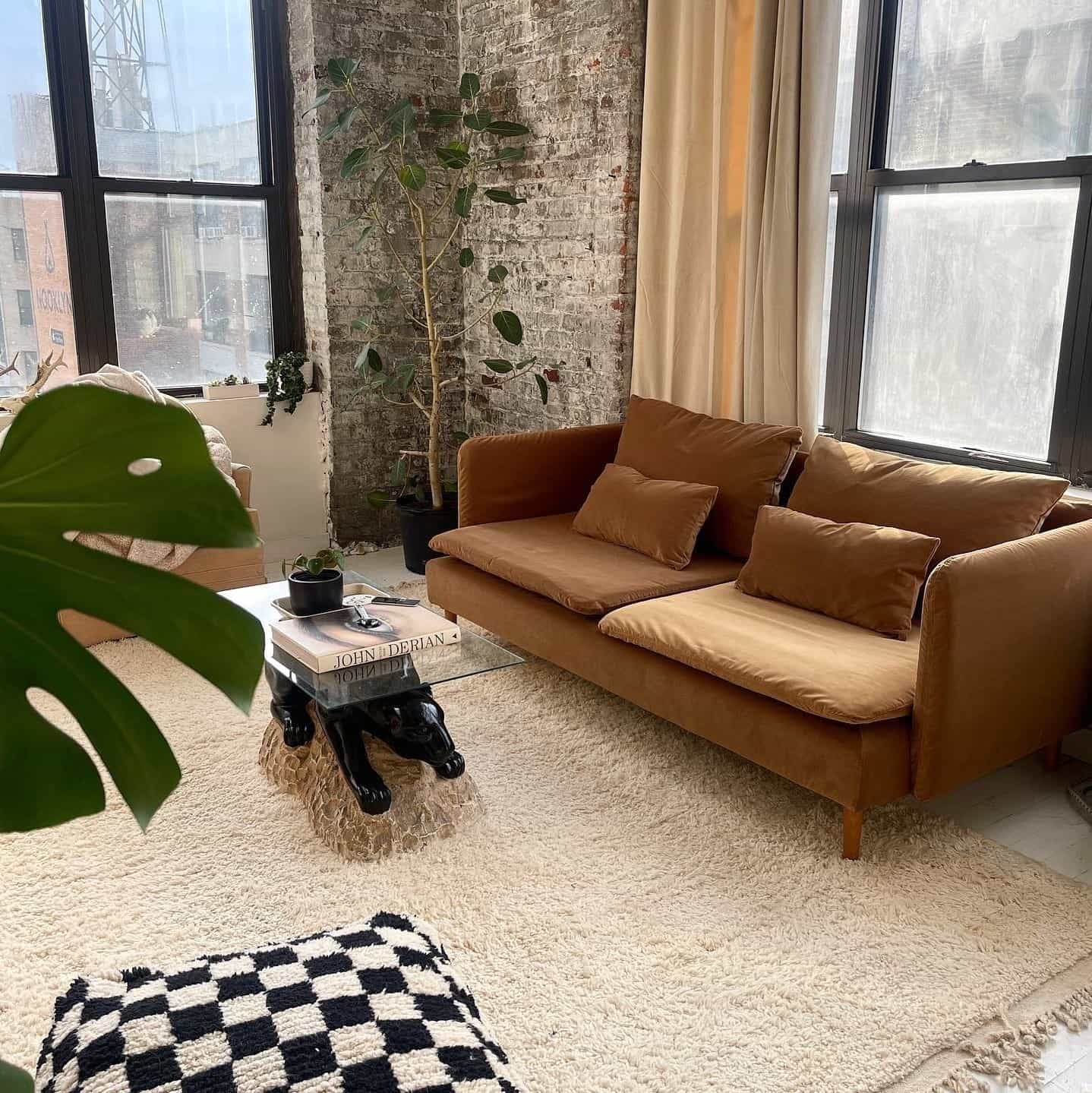 Looking for an easy, affordable, and sustainable way to update your furniture? If you're reading this Bemz review, chances are that's exactly what you're here for! The company makes upcycling super easy with its selection of high-quality, handmade covers for IKEA furniture.
We aren't the only ones who have our eyes on this brand, as it has over 197k followers on Instagram, where it features a stunning photo gallery of IKEA pieces that look super stylish with their fresh covers. The brand has also been backed by plenty of influencers, like the popular DIY expert and home decor lover Alexandra Gater.
Ready for your old sofa to do a complete 180? If so, keep reading this Bemz review. We'll cover everything there is to know about the brand, including details on some of its best-selling options, customer testimonials, important FAQs, and more, to help you decide if their products are the solution to your home decor woes.
Overview of Bemz
Bemz's founder, Lesley Pennington, noticed a few things missing from the home decor market: a sustainable way to avoid purchasing new furniture once you've grown tired of your pieces as well as a productive, affordable, and stylish way to recover used IKEA pieces.
With that in mind, Bemz launched in 2005, offering fashion-forward fabrics and styles that easily upcycled any IKEA furniture—lessening the number of sofas that ended up in landfills. The brand is owned and operated in Sweden, although it provides covers for shoppers all over the globe.
The covers are handcrafted with ethical manufacturing, responsible sourcing, and little waste. What's the brand's mission? Its mission is to "transform IKEA furniture in a personalised way"—which is exactly what it has done for thousands of home decor lovers and IKEA furniture owners.
Now that we know a little more about the brand, we'll take a look at some key highlights in this Bemz review.
Highlights
Wide range of fitted fabric covers designed for upholstered IKEA furniture
International shipping
Free shipping on orders over $150
Up to five free fabric samples
Handcrafted and made to order
Machine washable
Most fabrics are stain-resistant
3-year warranty
Bemz doesn't only sell furniture covers. It also sells all the accessories you need to update your pieces—from MCM legs to cushion covers, bed skirts, and curtains. It even carries covers for discontinued IKEA items!
To help you narrow down your options, we'll guide you through what the brand is most well known for which are its fitted IKEA covers. Before we dive into the details in this Bemz review though, we'll tell you how the whole process works:
Fabric samples
Start by choosing up to five different fabric samples to help narrow down your choices. There are loads of different colors available—in soft cotton fabrics to smooth velvets—to match your aesthetic. But it helps to test out the swatches in your space to find the right pick.
Choose your cover
After testing out some swatches, you'll be able to select the cover you need for the furniture item you have, whether your IKEA piece is old or new. Also, be sure to double-check the dimensions of your piece with the info listed on the site!
Attach the cover
After you've received your order, all that's left to do is follow the directions to attach your cover! A tuck here and zip there and you'll be relishing in your comfy (like) new sofa in no time!
Bemz Covers Review
The Bemz product range includes covers for all different design styles, including boho textures and linen fabrics, creamy shades synonymous with Scandinavian designs, and bold velvets that scream mid-century modern.
Interested in the options available? Down below in this Bemz review, we will go over some of the brand's top-selling products that were made for popular IKEA furniture styles so you can easily upgrade your space!
Bemz Ektorp 3 Seater Sofa Cover Review
Like the name would suggest, the Bemz Ektorp 3 Seater Sofa Cover is made for the IKEA sofa by the same name. It matches the comfortable rounded arms and has a sleek skirt to finish off the simple shape.
There are separate covers for the cushions and the frame so it will look exactly like the original. You can opt for a looser, more relaxed fit, or a classic regular fit depending on your style. Plus, you can add piping to go around the edges of the sofa for a more refined and elegant look.
The Ektorp 3 Seater Sofa Cover comes with over 126 fabrics to choose from and ranges in price from $386–$1100 depending on the fabric, fit, and color you choose!
Bemz Backamo 3 Seater Sofa Cover Review
Refresh your IKEA Backamo with the Bemz Backamo 3 Seater Sofa Cover. This cover hugs the curved edges of the sofa for a smooth finish and matches the original sleek, floor-grazing skirt. It comes with covers for all the cushions, as well as the decorative pillows, to keep your couch looking fluffy and full.
You can choose from 125 different shades and fabrics to match your style—from a wool-look fabric to luxurious and conscious materials. So, cuddle up in your new(ish) and improved sofa with the Bemz Backamo 3 Seater Sofa Cover. It has a price tag of $329–$1100 depending on the fabric and color combo of your choosing!
Bemz Jennylund Armchair Cover Review
Spice up your living room by recovering your old armchair with the Bemz Jennylund Armchair Cover. Fitted to the chair, this is a simple and sleek cover in a regular or loose fit depending on how relaxing you want the chair to look. The cover fits the 2003 IKEA armchair model to their current model.
It comes in a total of 125 different options—with or without piping around the edges of the sofa. You can find deep earthy velvety greens to add texture and depth to your space or fall in love with bright white linen to add an ethereal touch to any room.
The Bemz Jennylund Armchair Cover price ranges from only $79–$379.
Bemz Pällbo Footstool Cover Review
Once you've got a new cover for your sofa, find one for your ottoman to match with the Bemz Pällbo Footstool Cover. This one-piece cover fits securely over the basic cube shape of the footstool, taking the design factor up a notch.
It comes in 125 different colors and fabrics—from a silky silvery gray for your moody basement to a vintage sage green corduroy for your '70s-inspired living room. Plus, it's easy to wash in the washing machine, and almost no effort will be required to remove and reattach it!
The Bemz Pällbo Footstool Cover price ranges from only $29–$79 and will give your ottoman a complete makeover.
Bemz Beddinge Sofa Bed Cover Review
Your sofa bed needs a little love too, but that doesn't mean tossing the whole thing out and starting over. Give it a new life with the Bemz Beddinge Sofa Bed Cover. While this multifunctional piece might already look great as a sofa, you can easily up the stylish appearance with a simple cover.
Like the other pieces, there are 125 different options to choose from so you can find something that suits your space. Similar to the ottoman cover, it comes in only one piece (aside from the two cushion covers) and is easy peasy to remove and wash!
The Bemz Beddinge Sofa Bed Cover price ranges from $179–$700.
Bemz Abelvär Headboard Cover Review
Ready to add a little warmth to your bedroom by updating your headboard? The Bemz Abelvär Headboard Cover is your solution! The simple cover is smooth and sleek, with a piping detail around the edge for a finishing touch.
There are 125 fabrics and colors to choose from to switch up the vibe in your room—making it cozier than ever—and all you have to do is replace something as simple as the Abelvär Headboard Cover! It comes in three different sizes:
47": retails for $71–$349
63": retails for $53–$300
71": retails for $89–$829
Who Is Bemz For?
From what we found while writing this Bemz review, the brand is ideal for anyone who has an IKEA piece they love— whether it's a sofa, headboard, ottoman, or anything else that's upholstered—that they'd like to update with a new fabric cover. 
It's also a great option for anyone who loves the shape and style of an IKEA item but doesn't love the fabric options. Essentially, it's a perfect way to save money on a high-fashion couch that looks straight out of a home decor magazine!
Plus, the easy-to-change covers work well for those with ever-changing tastes and design styles because there are plenty of affordable options to constantly switch things up in your home.
This way, shoppers won't have to purchase an entirely new couch when their style changes because changing the cover can completely update the aesthetic of any space, adding a pop of color, texture, and interest.
Bemz Reviews: What Do Customers Think?
In this Bemz review, we've only had good things to say about this brand. But if you don't believe us, let's take a look at what customers are saying. We sourced testimonials from TrustPilot and a couple of independent blogs to help paint an accurate picture of what these covers are truly like.
On TrustPilot, the brand is rated 4.6/5 stars (from 13466 reviews). One customer appreciates the easy ordering process and high-quality result. This is their Bemz review:
"I initially ordered some samples, which I'm glad I did. I got exactly what I wanted as a result. The fabric is beautiful and fits like a glove. A guest thought I bought a new chair and was shocked when I told them it was a custom made cover."
Another buyer wrote a glowing review about a Bemz couch cover:
"I have an IKEA couch I love. However, owning pets and moving has given it some wear and tear. Due to the shape and storage element it was difficult to find a cover. Bemz to the rescue! Easy and free to order samples. Loads of information and eco friendly options. Heck, I'm already planning a second purchase just to have options!"
One shopper rated the brand 5/5 stars. In their review, they explained that they had an excellent experience with customer service after needing to change something about their order:
"Order was delayed and I changed my address, but customer service was responsive and ensured delivery was made to the new location. I actually think the slipcover is nicer than the chair."
On Megan Tesser, a reviewer described the amazing experience they had when laying eyes on the product for the first time, and an even better one seeing their updated couch in their living room:
"I could have cried when I opened the box, honestly the most gorgeous fabric I've ever seen. They took my sofas from Ikea to Restoration Hardware in seconds and for a fraction of the cost. They went on the frame and the cushions effortlessly."
After washing their IKEA sofa covers a few times, one shopper on The Pink Dream realized they were going to need something a little more high quality. Bemz offered a solution:
"When the Bemz Designs covers arrived I was amazed! The quality is great (I chose a linen blend), the color is the perfect soft white and it's so much softer than the original Ikea covers. The Bemz covers are just as easy to remove and put together and wash really well."
All things considered, customers report high levels of satisfaction and have no regrets opting for Bemz fabric covers when it comes to upgrading their sofas and other IKEA furniture. Plus, the Bemz customer service team ensures the best experiences for all patrons from the moment they place their order to years after they've had the pieces.
Is Bemz Worth It?
Bemz helps to extend the life of furniture that might otherwise be thrown away, allowing shoppers to customize and update pieces without breaking the bank. Plus, the fact that items are made to order cuts down on fabric waste, water waste, and the production of unnecessary goods.
IKEA furniture is already affordable and their cushions are comfy and high quality. But, sometimes the five or six color options they offer aren't your fave, end up not matching your style in a few years, or wear out with regular use. So Bemz offers a super easy solution that will enhance your space in no time.
As so many customers explain, the brand makes it easy to save money and adjust your already loved furniture to your own aesthetic—making something that's good into something that's great.
To help you achieve a luxurious look at a fraction of the price, we thinks it's safe to say that this brand is worth the buy considering everything in this Bemz review.
Bemz Promotions & Discounts
Looking for a good deal on your purchase? Here are some promos we found at the time of this Bemz review:
Receive 10% off when you sign up for emails
Free shipping on orders over $150
Where to Buy Bemz
To shop for Bemz products, you can visit the brand's website, bemz.com. To feel the fabrics, visit the Bemz showroom in Odengatan 22, 113 56 Stockholm. Or you can order some free samples!
FAQ
Who owns Bemz?
Bemz is owned by Lesley Pennington who founded the company after moving to Sweden.
Where is Bemz located?
Bemz is located in Sweden—the same place IKEA originated!
Does Bemz ship internationally?
If you've got your eye on a cover for your IKEA sofa, you're in luck! Bemz ships internationally. Some countries may be subject to duties on arrival or at checkout.
Does Bemz offer a warranty?
Worry less when you shop at Bemz with the knowledge that all fabrics come with a three-year warranty. The brand asks that customers contact them within two months of noticing the deficiency and sending photographs for the situation to be assessed.
What is Bemz's shipping policy?
Since Bemz covers are made by hand to order, they ship in about 3-5 weeks, at which point shoppers will be emailed a tracking number for DHL or DPD. Orders may be subject to duties and taxes if they are over $800.
What is Bemz's return policy?
If your Bemz cover doesn't the right fit, you can return it for a refund within 14 days of delivery. ​​Fabric per meter and made-to-measure curtains are not eligible for returns unless they are defective. To start your return follow these steps:
Fill out the return form and email it to the company
Pack the unused products into one package
Send the return through the same carrier that delivered your order
How to Contact Bemz
We hope you enjoyed our Bemz review! If you have any further questions about the brand or its products, you can contact their customer service team. Here's how:
Email: [email protected]
Use the live chat function on their website
Visit the store in Stockholm
DM them on social media
---
Check out similar brands you might like:
Get Access to Exclusive Deals
Subscribe for free to get exclusive deals in your inbox. 100% privacy