Bite Toothpaste Bits Review
About Bite Toothpaste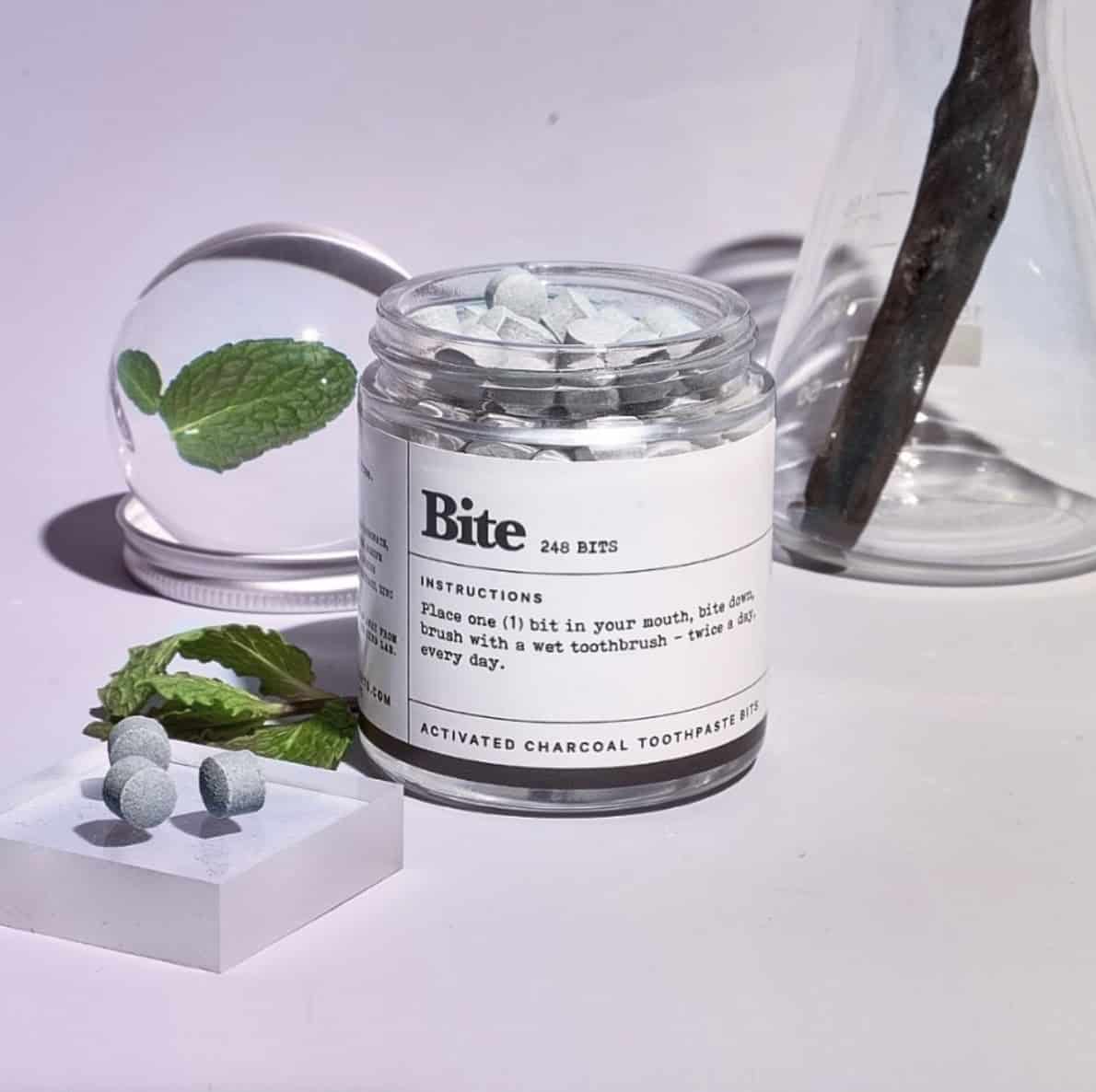 What is Bite Toothpaste, and why should you care? Bite Toothpaste offers vegan and cruelty free oral care that's beneficial to the environment by minimizing waste. The brand is best known for their chewable toothpaste bits, a sustainable alternative that eliminates the plastics and chemicals used by typical toothpaste providers.
Bite Toothpaste began with a feature on CNBC's Shark Tank and now boasts close to 90K followers on Instagram. Bite Toothpaste Bits have also made their way into Forbes, Cosmopolitan, and Oprah! Are they actually worth the hype?
This Bite Toothpaste review provides details of the brand, its teeth cleaning products, customer feedback, and more, to help you make an informed purchase decision.
Overview of Bite Toothpaste
This Bite Toothpaste Bits review goes back to the beginning, when the brand was created with sustainability and natural ingredients as part of its identity. Who owns Bite Toothpaste? Comments by Bite Toothpaste Bits founders on their Shark Tank experience provides insight into the brand's origin story.
Lindsay McCormick was the mastermind behind Bite Toothpaste Bits, after inspiration hit her during a work trip, where she noted the waste involved in using travel toothpaste tubes. Her research into an alternative solution to travel toothpaste led her to discover that regular toothpaste is made with unnecessary chemicals. So she decided to make her own.
In Lindsay's words, Replace messy, chemical-laden commercial toothpaste by using dry and sustainably-sourced ingredients, pressed into tablets made to clean and protect teeth—and sold in refillable glass bottle.
Asher Hunt, the co-founder of Bite Toothpaste Bits, was on board as a participant in the co-partnership. One of the admirable points mentioned on the Shark Tank episode that featured Bite Toothpaste Bits is that the co-founders turned down Mark Cuban's offer of $325,000 for a 5% stake in their company. According to Asher and Lindsay, they were 'not prepared to give more than what they offered.'
This act of turning down funds in order to maintain control of the product speaks to the founders' interests in maintaining the quality they had envisioned at the expense of losing investors. This, from a subjective view, is a noble stand.
Despite its substantial media attention, The Bite Toothpaste Bits team currently includes only 8 employees, with headquarters in Los Angeles, California.
Do Dentists Recommend Toothpaste Tablets?
The answer is a bit more complicated than you might expect. Chewable toothpaste tablets mix up with saliva and generate an all-natural toothpaste that cleans the teeth. While all-natural toothpaste has been around for quite some time, tablets are new to the scene.
Some dentists consider them to be an effective means of teeth cleaning, while others are cautiously optimistic, as there has not been enough research conducted into their effectiveness. It's worth noting that if your dentist recommends that you use oral care containing fluoride, you shouldn't use all-natural products regularly.
Another potential issue with toothpaste bits: they don't distribute paste in the mouth as easily as toothpaste does. You have to be especially thorough when brushing, since there could be areas of the teeth that may be missed while cleaning. This could be said of regular toothpaste as well, though, if you aren't cleaning your teeth properly.
We touched on the benefits of sustainability and minimizing waste with Bite Toothpaste Bits, and convenience is another advantage. Chewable toothpaste tablets are easy to carry around for travel. Whether you're traveling to the office or going out of town, they're a practical means of saving space in your purse or suitcase.
Before we get into the brand's oral care products, here are the highlights of this Bite Toothpaste Bits review:
Pros
Environmentally conscious products and compostable packaging
100% vegan and free of gluten, cruelty, fluoride, and chemicals
Remineralizes tooth enamel, helps fight sensitivity and cavities, balances pH levels in the mouth
Naturally whitens and polishes teeth
Minimizes waste
Convenient for taking toothpaste on the go
Cons
Shipping only available in the US
Bite Toothpaste Subscription
Since brushing your teeth is a daily routine, Bite Toothpaste offers a subscription program to ensure that you always have your oral care products. After signing up, customers receive a glass jar that contains 4-months' supply of Bite Toothpaste tablets delivered straight to their door. Each 4-month jar contains about 248 tablets and subscribers receive free shipping.
After the first 4 months of receiving Bite Toothpaste Bits, subscribers are sent a 100% compostable refill pouch containing the refill tablets, instead of tablets in glass jars. All Bite Toothpaste products are available for subscription or sold individually, except for the mouthwash, which is sold by subscription only.
Bite Toothpaste Bits Review
The Bite Toothpaste Bits are available in 3 flavors: Fresh Mint, Activated Charcoal Mint or Mint Charcoal, and Berry Twist, available by subscription or as single bottles. The vegan, all-natural toothpaste tablets contain some or all of these ingredients:
Xylitol has a natural sweetness and repels cavity-causing bacteria
Erythritol prevents cavity-causing bacteria build up
Calcium Carbonate acts as a mild abrasive to clean and polish teeth
Sodium Cocoyl Glutamate makes the tablets foam up
Sodium Bicarbonate helps balance PH levels in your mouth
Guar Gum keeps the bits together before use
Nano-Hydroxyapatite nHAp fights sensitivity and remineralizes tooth enamel
The Fresh Mint Toothpaste Bits are naturally whitening, though if you have surface stains (and are likely a coffee or wine lover), the Mint Charcoal Toothpaste Bits are the way to go. These contain activated charcoal that detoxifies and tackles surface stains on your teeth. Both contain a natural peppermint flavor.
If you want to switch things up from the typical mint flavor, the Berry Twist flavor features mandarin and orange for a nice fruity taste. This is a great option for kids—Bite Toothpaste describes it as "tooth fairy approved," which is pretty cute.
For non-subscribers, a month supply containing 62 tablets costs $12. Bite Toothpaste Bits are priced at $7.50/month for subscribers, who receive a 4-month supply containing 248 tablets. This amounts to 38% savings. The travel-friendly tablets initially come in a small tin, and regular subscribers receive them in compostable refill packets after their first order.
Bite Mouthwash Review
The Bite Mouthwash also comes in tablet form, which is pretty neat. It boasts of minty freshness and travel friendliness. Hauling around a big bottle of mouthwash on a trip isn't ideal, and neither is the waste from the travel-sized bottles. The mouthwash only comes in a Fresh Mint flavor.
Aside from flavor, the more important features of this mouthwash are its claim to balance the mouth's pH levels, fight bad breath and kill cavity causing bacteria. The tablets also restore enamel, whiten teeth, and decrease sensitivity. It contains the same ingredients as the toothpaste bits: Xylitol, Erythritol, nHAp, Calcium Carbonate, a natural peppermint flavor.
The Bite Mouthwash is only available by subscription. It's currently on sale for $20, priced regularly at $24. The tablets come in a nice travel-friendly tin that matches the toothpaste bits.
Bite Dental Floss Review
This Bite Toothpaste Bits review would not be complete without looking at Bite Dental Floss, since these two products complement each other in a daily teeth cleaning routine. A wise doctor once told me: Floss only the teeth that you intend to keep. If you tend to only floss before going to the dentist, it's time to step up. If you neglect to floss your teeth, plaque will build up and can cause gingivitis (which is as gross as it sounds).
Personally, I have come across flossing brands with floss threads that are so weak, they break very easily in the teeth. The Bite Dental Floss may be a pleasant surprise in the area of thread thickness, especially in reading one customer review: "The floss itself was a bit thicker and didn't cut very easily."
These words are like music to the ears of a shopper such as me who appreciates a floss thread that will stand the test of vigorous rubbing against the teeth. The Bite Toothpaste thread viscosity is made up of candelilla wax that glides smoothly between the teeth. At a cost of $5, the Bite Dental Floss seems to be a good price for a product with these features.
Bite Toothpaste Toothbrush Review
To round up this Bite Toothpaste Bits review, we'll take a look at the toothbrush. The Bite Bamboo Toothbrush contains 100% certified plant-based materials, from the bristles which consist of castor beans, to the toothbrush handle which is made up of Moso Bamboo. The toothbrush has a detachable head, which is a handy feature for the traveler who wishes to keep the teeth brushing end of their toothbrush in a well wrapped or secure place during travel.
There is one particular characteristic that attracts me to the Bite Bamboo Toothbrush—the soft bristles component. This is particularly important for someone who has sensitivity and would not like the experience of harsh toothbrush spikes swooshing against their delicate gums.
The fact that the toothbrush is compostable may appeal to a completely different consumer base as well, but my preference remains for the soft bristles. The Bite Bamboo Brush is priced at $12 for non-subscribers, and $5 for subscribers.
Bite Toothpaste Bits Reviews: What Do Customers Think?
The Customer Experience is the final determining factor for any product, and the number of reviews for Bite Toothpaste Bits are varied among its different flavors. On the website, the Fresh Mint flavor has a notable 8,327 reviews, the Mint Charcoal flavor has 5,436 reviews and Berry Twist has only 382 reviews.
This lower review number for the Berry Twist flavor could be because this flavor is intended to appeal to a mostly child audience—and kids are not often known to write reviews. The good points made on Bite Toothpaste Bits reviews include comments such as:
"Honestly… not only are we excited to rid yet another plastic piece of trash from our grocery cart, but our mouths feel so fresh!"
"My son loved it, he's 14 and now looks forward to brushing his teeth!"
"My teeth have never felt cleaner and I had a great report back from my dentist / dental hygienist."
While the vast majority of Bite Toothpaste Bits review content is favorable, there are a handful of one star reviews. The overall feedback on these negative reviews was that customers preferred a toothpaste that had fluoride. Another customer had a preference for a stronger mint flavor than the Bite Toothpaste Fresh Mint flavor.
Bite Toothpaste Bits have a 3.5/5-star rating on Amazon, although this is only based on 16 reviews. Other Bite Toothpaste Bits review content comes from blogs, which have mixed feedback. Some reviewers enjoyed the change to tablet toothpaste, while others did not like how the bits felt in their mouth. It seems that personal preference is an important factor here, and how much you value sustainable products.
Is Bite Toothpaste Worth It?
On to the big question of this Bite Toothpaste Bits review: are they worth buying? There are several indicators that say yes, buy it. The number of positive reviews in comparison to negative ones suggests that the product is enjoyed by most customers. In addition to their vegan, plant-based features, the toothpaste and mouthwash tablets are a more practical and less wasteful alternative to traditional oral care.
This Bite Toothpaste Bits review recommends this all-natural toothpaste product. Imagine cleaning your mouth with a product that will not introduce harsh chemicals into the body, and yet comes at prices that are comparable to the regular non-natural brands at the stores. It sounds like a very good deal for the savvy shopper. That is, unless your dentist recommends that you use fluoride products.
Bite Toothpaste Promotions & Discounts
This Bite Toothpaste Bits review discovered that the toothpaste tablets and mouthwash are currently on sale. Keep checking their site and social media accounts regularly for a Bite Toothpaste promo code.
Where to Buy Bite Toothpaste
Bite Toothpaste products can be purchased on their website, BiteToothpasteBits.com. Amazon also carries some Bite Toothpaste products. On each product page, there is an option to subscribe to Bite Toothpaste and create an account.
FAQ
How do you cancel the Bite Toothpaste subscription?
Subscription orders can be cancelled with return and refund within 30 days of receiving the product. Most bulk orders or orders over $75 cannot be returned, but this is evaluated on a case by case basis.
To cancel your Bite Toothpaste subscription, follow these steps:
Login to your Bite Toothpaste account
Go to "Manage Subscriptions" on your account page
Follow the instructions towards cancellation
Subscriptions will continue to be billed until cancellation is requested
If any issues are experienced, contact the Bite Toothpaste Bits Customer Service Team at

[email protected]
What is Bite Toothpaste's Shipping Policy?
At the time of this Bite Toothpaste Bits review, the company only offers domestic shipping within the US, though this may change in the future. Here's what you need to know:
Orders are shipped within 2 business due to Covid-19, visit the Bite Toothpaste Bits FAQ page in case of changes
Domestic shipping includes Alaska, Hawaii and military APOs
There is no rush shipping as part of Bite Toothpaste Bits policy on carbon emissions
Once orders are confirmed, customers receive an email with information to track their package
What is Bite Toothpaste's Return Policy?
Bite Toothpaste returns are quite easy. If you're unsatisfied with the product, email the Bite Toothpaste Bits customer service team within 30 days of receiving the product at [email protected]. Refills or subscription items after the first subscription are not eligible for return, refund or cancellation until they have been charged or paid for.
How to Contact Bite Toothpaste
If you have questions that weren't covered in this Bite Toothpaste Bits review, you can contact the team via email at [email protected] or through social media.
Author: Victoria Thomas
---
You've got more oral care options. Check out these other popular brands:
Get Access to Exclusive Deals
Subscribe for free to get exclusive deals in your inbox. 100% privacy