Boarderie Review
In partnership with Boarderie
About Boarderie
With the weather getting warmer, many of us want to dust off our picnic blankets and skip to the park. Other times, we just want to have a cozy night in playing board games or catching up over wine and snacks. Whether we're hosting or need to send someone a spectacular gift, we're always looking for the best ways to impress with what we bring to the table.
If you want to elevate your summer events or need to send a special gift Boarderie's selection of pre-arranged, catering-quality cheese and charcuterie boards are going to be your new go to. Boarderie ships the first and only completely assembled, artisan cheese and charcuterie boards directly to your door, overnight. It saves you a tedious trip to the grocery store and having to rummage through your cupboards for tupperware, while allowing you to try something new outside of your comfort zone.
Featured on Shark Tank, Boarderie is a family-owned business that's been thriving since 2021. They've even delivered boards to Bruce Springsteen and Prince Harry! Now running as a direct-to-consumer website, the company offers a wide range of artisan cheeses, meats, dried fruits, jam, olives, crackers, and more.
In this Boarderie review, I will go over the service and how it works, what you can expect to receive, some customer feedback, FAQs, and more, so that you can decide if it's worth looking into.
First, let's look at a list of highlights.
Highlights
Family-owned, founder-run business with over 40 years of experience in the gourmet catering industry
Beautiful cheese and charcuterie platters delivered to your door fully-arranged with an array of artisan ingredients (Boarderie is the first company EVER to offer nationwide charcuterie board delivery)
Perfect for gifting or hosting on special occasions like birthdays, graduation, and more
Free overnight shipping nationwide
Offer themed boards for every holiday
Offers corporate options with custom logo engraving on the acacia boards
Award-winning brand
Sustainable cutlery
Why You Should Trust Us
Our mission is to help you make better, more informed purchase decisions. Our team spends hours researching, consulting with medical experts, gathering insight from expert professionals, reviewing customer feedback, and analyzing products to provide you with the information you need.
How Does Boarderie Work?
Boarderie prepares and packages artisan cheese and charcuterie boards fresh daily and ships them overnight in temperature controlled packaging directly to customers' doorsteps. The final product doesn't require a lot of work or assembly as it is already arranged on a board, chilled at 40 degrees, and can be served right away.
Nuts are packaged separately so you might have to simply take them out of the packaging and pour them into the right spots.
I'll give you a breakdown of the process so you can use this Boarderie review as a guide when you're ready to order. This is how it works for individual orders:
Head over to the website and click on Choose My Board
You can make a selection depending on how many people you aim to serve, your personal preferences, and urgency of the event
Add to cart and set a delivery date
Add a gift message if you're sending the board to a friend
Checkout normally
If you're placing a corporate order, these are the steps you need to follow:
Click on Corporate Gifting at the top left corner of the website
Open the brochure and browse your selection options
Download and complete the Corporate Order Form with all the necessary information. Make sure to have your company logo ready in PNG or PDF form in case you opt for a custom engraving
Send the form to

[email protected]

. They will respond with an invoice and schedule the boards
Who Is Boarderie For?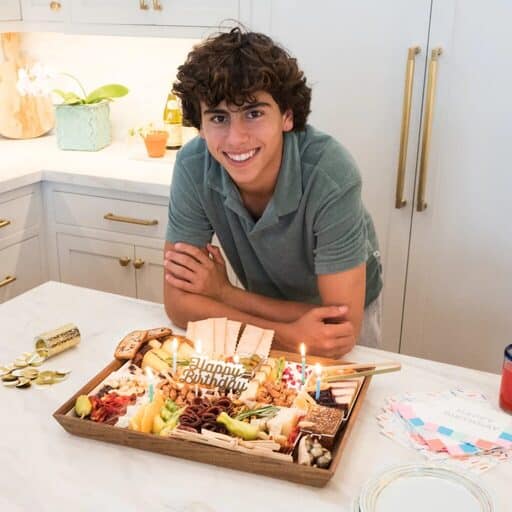 Boarderie is for anyone who appreciates cheese and charcuterie boards or wants to experience indulgent treats that they wouldn't normally have time to put together. The company offers small and large spreads that can serve as few as two people, or as many as 20. They also provide options for corporate events.
3 Boarderie Bestselling Boards
Boarderie Customizable Birthday Boards Review
Show your appreciation for a loved one by celebrating their birthday with a delicious picnic. It'll be one they won't forget any time soon! The Boarderie Customizable Birthday Board comes in 3 sizes and includes  a box of 6 wax candles, as well as hand-selected artisan cheeses, meats, dried fruits, nuts and chocolates from all over the world.  The best part is, you can customize the board with your recipient's age in cheese! 
No need to worry if anyone has a nut allergy, as the nuts are packaged separately and you can choose to leave them out of the spread. Graze over this magnificent board as you light up the candles, pop a cube of ​​Blueberry Wensleydale in your mouth, and look back at the previous year.
The customized birthday board comes in small, medium, or large sizes, which cost $139, $169, or $249 (including free shipping) and serve 2-3, 4-5, or 9-10 people, respectively.
Boarderie Arte Cheese & Charcuterie Review
The Arte Cheese & Charcuterie board made it into the list of Oprah's Favorite Things 2022. With over 35 hand-selected artisan cheeses, meats, dried fruits, nuts, chocolates, olives and spreads, this platter is a total showstopper! If you notice a sudden quiet has fallen over the room, it's probably because your guests are filling their mouths with anything they can get their tongs on. 
Gorgeously curated by a chef, it's a visual feast full of colors, textures, and tantalizing tastes. It comes on an acacia wood board with bamboo cutlery and tongs, accompanied by 3 boxes of crackers of different flavors.
You can find a complete list of ingredients on the website. The Arte Cheese & Charcuterie board costs $239 and serves 9-10 people. 
It holds a 5/5 star rating from 92 reviews. Customers say: "We sent this to our real estate company for their 2-year anniversary. They were totally 'shocked' at how beautiful and delicious the board was."
Boarderie Ultimate Baked Brie Board Review
Now here's something that's a little different but equally exquisite. Boarderie has won awards for the flavors featured in their Baked Brie Board. This board contains handmade pastries that elevate the classic baked brie in order to bring you a tasting experience that is new, delicious, and inspirational. Pop them into the oven for 20 minutes and get ready to dazzle your guests. 
It includes four flavors that'll send your taste buds to heaven:
Blueberry, Vanilla & Ginger: Blueberry vanilla goat cheese paired with Thai crystallized ginger and honey atop a classic French brie
Truffle, Fig & Orange: Truffle moliterno cheese paired with Turkish fig and sweet orange preserves atop a classic French brie
Chocolate, Espresso & Raspberry: Boarderie's twist on a classic French dessert; Nutty asiago paired with dark chocolate, espresso and raspberry preserves atop a classic French brie
Rosemary, Sun-Dried Tomato & Olive: Rosemary Asiago paired with tangerine chili marinated olives, sun-dried tomatoes, red pearl peppers and a drizzle of balsamic glaze atop a classic French brie
Well, I was going to travel to Paris this summer, but now I'm thinking, why bother? I'm going to be thinking of this $129 Baked Brie Board for a long time after the last pastry has been polished off. A little secret? I'm definitely not going to invite 4-6 people to share this with. This one's all mine.
Boarderie Reviews: What Do Customers Think?
So far in this Boarderie review, I've explained how the charcuterie board delivery service works, some bestsellers, and brand history. But what do customers think? As of May 24, 2023, these are the ratings found online.
On Trustpilot, the company scored an Excellent rating of 4.6/5 stars from 77 Boarderie reviews. Here are some testimonials from happy customers:
"Wonderful! My cousin was thrilled with her birthday Charcuterie board. She said the paper and note was high quality and that the treats were delicious. She loved her age in cheese. She said she could tell whoever created the board really cared about her!"
"I ordered a Boarderie for a sailing trip the 4 of us were taking. The board arrived the NEXT DAY, which was impressive. Upon initial inspection, I was not overly impressed with what I thought I had received for the price; however, I was DEAD wrong! Once I opened it all up, the board continued to grow and get bigger, and it comes in the cutest packaging and board that I will reuse on our boat. We were all so impressed, and the quality of meats/cheeses/snacks is incredible!"
"My wife and I ordered this BIG board for just us two. We wanted to try all of the options. It was AWESOME! Everything on the board tasted amazing. Well, we don't eat olives, but everything else was great. We can't get cheeses like these where we live so this is a good option for us. We used the board for a date night treat for ourselves. We will definitely order again."
On the Boarderie website, there are also a handful of 5/5 star reviews featured. One buyer wrote, "I was pleasantly surprised by the board we received. At first I wasn't sure it would feed 4 – 5. Once I opened up and started to enjoy, I realized that the pieces were bigger than they looked. The meats and cheeses were really fresh and tasty. Great variety. Definitely will be back for more."
The response to Boarderie's products seems to be unanimous: people are loving these creative spreads. Some negative comments talk about how the service may be on the pricier side or that they didn't receive their boards due to a shipping delay, but customer service seems to be quick to remedy the issues and most customers agree that the treats are worth the splurge. In fact, the Boarderie team did a test to see how much money they'd spend crafting a similar board when visiting a grocery store, and the price ended up being more for the customer to make it themselves from a local store than to purchase from Boarderie.
Is Boarderie Legit?
Boarderie got a deal on Shark Tank and was chosen for Oprah's Favorite Things 2022. It has served high-profile celebrities as well over 100,000 customers. t's safe to say that overall this is a legitimate business.
Is Boarderie Worth It?
Well, if it's good enough for royalty, it's good enough for me! To wrap up this Boarderie review, I'd say that the brand is definitely worth checking out.
Whether you're hosting a special event or you're sending a board to a loved one just to brighten up their day, it's a refreshing change from ordinary gift baskets. There's a ton of feedback out there about how the curation is beautiful and that the taste is restaurant quality.
How To Choose The Best Boarderie Board
Choosing the best board depends largely on the types of appetizers you're craving or interested in trying out. But, there are also a few other things to consider before you place your final order:
Variety: Of course there's cheese and meats galore, but there are also some boards that focus on just cheese. Take a look at all of the available boards instead of clicking on the first one that makes your mouth water!
Occasion: Boarderie offers seasonal boards for events such as birthdays, graduations, seasonal holidays, and more. If you want to stick a candle in a block of cheese, make sure you're selecting an appropriate board and specifying things like the age of the recipient
Party size: Some of these boards can be customized to accommodate small, medium, or large parties, while others come with fixed serving sizes (for example, 4-5 people, or 9-10 people)
Urgency: The brand gift card and some boards can be sent right away, but other boards need to be ordered well in advance. You can also set a delivery date to make sure you have the spread ready on the day of a planned event
Boarderie Promotions & Discounts
At the time of this Boarderie review, the brand offers free overnight shipping on every order! I would also sign up to their email newsletter to be kept in the loop with any sales, new releases, and exclusive offers.
Where to Buy Boarderie
You can browse and order the products from Boarderie's website directly.
FAQ
Who owns Boarderie?
Boarderie is run by Rachel Solomon, Aaron Menitoff, Julie Menitoff, and Angel Jerez.
Where is Boarderie located?
Boarderie is based in Palm Beach, Florida, US. It's a direct-to-consumer website, so at this time, there's no physical location.
What is Boarderie's Shipping Policy?
While doing my research for this Boarderie review, I learned that the brand ships US-wide (no international shipping at this time) via FEDEX and UPS free overnight shipping.
The boards should arrive chilled at 40 degrees and served at room temperature. If you notice that they're not cold or if they're left out on your doorstep for too long, the food might not be safe to consume.
Here are some other points to keep in mind:
Boarderie is not responsible for delays related to the weather or on part of FEDEX or UPS
You will receive a refund if the package arrives more than 24 hours after the scheduled delivery date
If you order close to a major holiday and your package is delayed due to weather events out of their control, they will not issue a refund
If your package is damaged due to extreme weather conditions outside of their control and your package has left their facility, they will not issue a refund
If you need the shipment for a specific occasion, make sure to have it arrive at least one day early to be safe. FEDEX or UPS can deliver as late as 11 pm to some locations
During major holidays, Boarderie may add a shipping surcharge for delivery on specific dates
What is Boarderie's Returns Policy?
Due to the nature of the service, Boarderie cannot accept returns. That being said, if your order was damaged or had any issues, you can contact the customer service team at [email protected] to work out a solution.
How To Contact Boarderie
I hope you enjoyed this Boarderie review! Get in touch with the company through the following channels for any further questions:
---
Check out similar reviews you might also like:
Hickory Farms Gift Baskets Review
Get Access to Exclusive Deals
Subscribe for free to get exclusive deals in your inbox. 100% privacy