C4 Energy Drink Review
About C4 Energy Drink
Portable, tasty, effective—there isn't much more you could ask for from a pre-workout drink. C4 takes their beverages even further by ensuring they're free from sugar and calories. Instead, the brand fills them up with patented energy and focus blends, as well as a potent dose of caffeine to help get you moving.
The company's flavors are perhaps what customers love from their first sip, but it's the positive results C4 brings in and out of the gym that keep them hooked. To get a peek at the kind of results made possible through Cellucor pre-workout, head to any of its social media pages where you'll find a collective following of over 2 million.
Ready to kick things up a notch? This C4 Energy Drink review is about to shift into high gear. Ahead, you'll find all the must-knows about the brand and its pre-workout drinks, read customer feedback, find answers to FAQs, and more.
Overview of C4 Energy Drink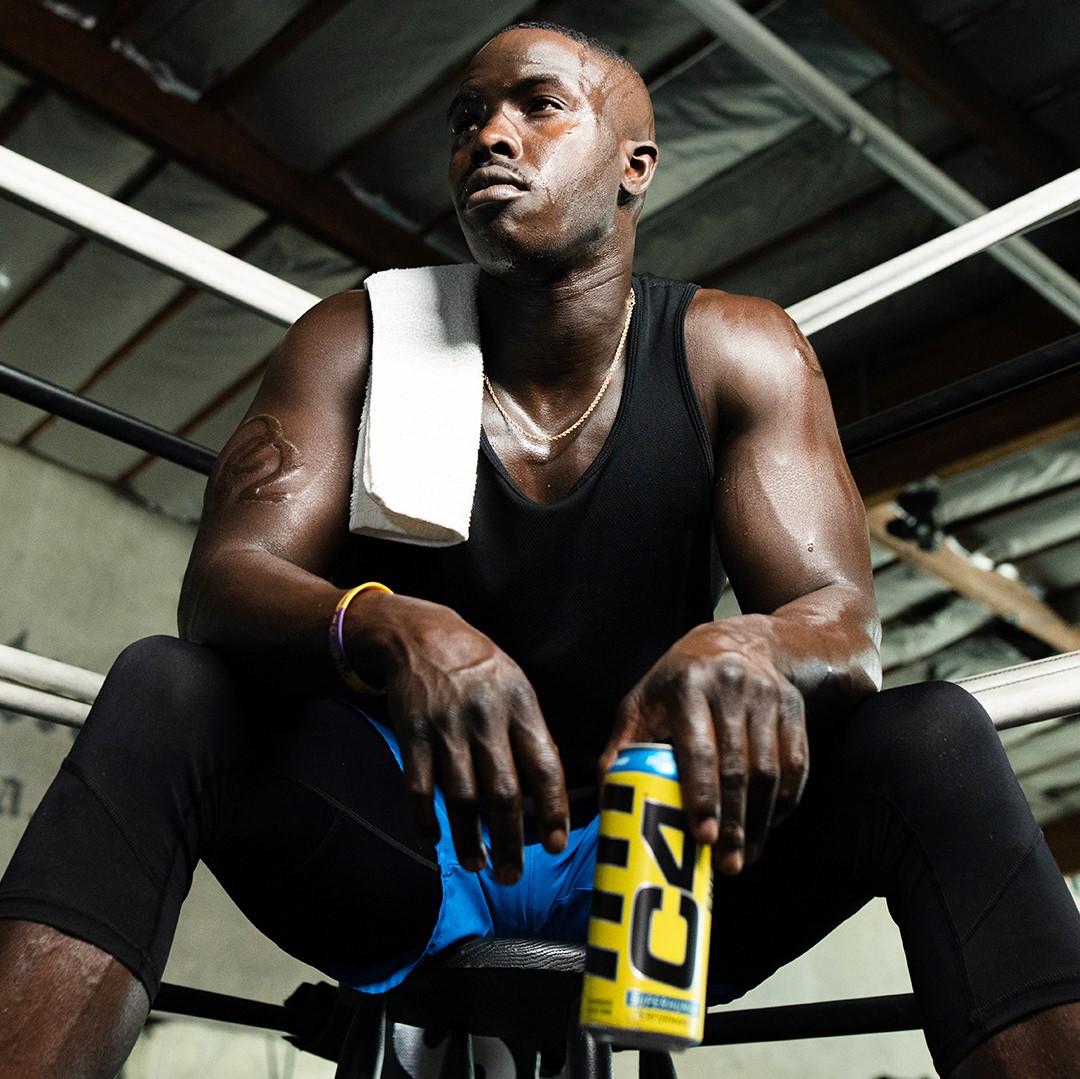 C4 Energy is the portable form of pre-workout powder put out by the brand Cellucor. Designed to boost performance in the gym, its powders are loved by the body-building realm and those who have caught on to its ability to provide somewhat superhuman powers when it comes to getting active.
Founded in 2002, Cellucor is an Austin, Texas-based company owned by sports nutrition brand Nutrabolt. Its C4 Energy line was launched in 2011 and has taken the fitness beverage market by storm, loved for its calorie and sugar-free label, along with its brain and body benefits ideal for strenuous, muscle-pumping workouts.
Coming up, this C4 Energy Drink review will dive into the nitty-gritty of the brand, so be prepared to get into it. Before we do though, take a peek at the company's highlights to get a feel for what's in store.
Highlights
Variety of energy drinks to choose from
Sugar & calorie-free
Safe for vegetarians and vegans
Tons of tasty flavors
Offers deals & discounts
Subscribe to save 20%
Free shipping & returns
If it's portable energy you're after, this brand has a few options for you. The next section of this C4 Energy drink review will reveal its most popular picks, and now, there's nothing left to do but get to it. Let's go.
C4 Energy Drink Carbonated C4 Energy Review
C4 Energy is the brand's OG formula. It comes in 10 deliciously sweet flavors, despite the fact that they contain absolutely no sugar.
Made with what the brand calls an Explosive Energy Blend, this tasty drink is perfect for upping the ante whenever things get serious. Enjoy favorites like orange slice, cotton candy, and cherry limeade—all of which are so tasty that you'll think you're having a dessert.
Get things going with a 12-pack of 16 oz cans for $30.
Ingredients Label
Sweet and tart, each can is made from a blend of carbonated water, CarnoSyn® Beta-Alanine, L-Citrulline, malic acid, BetaPower® Betaine, citric acid, natural flavors, potassium sorbate, caffeine anhydrous, sucralose, acesulfame potassium, niacinamide, N-Acetyl-L-Tyrosine, and cyanocobalamin.
Nutritional Value
With literally zero calories per can, you don't need to worry about carbs, sugar, or fat. You will get 190% of your daily niacin intake and 250% of your daily vitamin B12 value.
Benefits
Take advantage of your new energy provided by 200 mg of caffeine per 16 oz can. C4 Energy helps you push through workouts, keep your muscles hydrated, and improve mental cognition while you work for a clear, focused mind.
How Does It Work
If you just read the ingredients, there were probably a few names you may not have recognized like BetaPower® Betaine, CarnoSyn® Beta-Alanine, and N-Acetyl-L-Tyrosine.
These elements band together to help keep your muscles moving and on-task while your mind stays focused on the task at hand. You'll perform better, be able to endure more, and can push harder than you would on caffeine from coffee alone.
How to Take & Dosage
Drink one can anytime you need an extra boost. With 200 mg of caffeine per can, you can safely have two cans per day according to the FDA's recommendations. Remember to always listen to your body though.
C4 Energy Drink Carbonated C4 Smart Energy Review
It's hard to get things done without focus, and it's so easy to get distracted by the world around you. The C4 Smart Energy drink was made for those who need to get things done. Available in six tasty flavors like peach mango nectar, ice blue razz, and electric sour, you can get a 12-pack of 16 oz cans for $30.
Ingredients Label
C4 Smart Energy is made from a blend of carbonated water, InnovaTea® naturally-derived caffeine, Cognizin® Citicoline, Acetyl-L-Tyrosine, malic acid, citric acid, natural flavors, sucralose, acesulfame potassium, niacinamide, and cyanocobalamin.
Nutritional Value
There's not a whole lot in the form of C4 Energy Drink nutrition facts. You won't find any calories, fat, carbs, or sugar, but you will get 6 mcg of B12 and 30 mcg of niacin.
Benefits
You can do anything with clear, unbreakable focus. C4 Smart Energy gets your mind in the right place and supports concentration and alertness, helping you tackle difficult tasks and stressful situations.
How Does It Work
The drink uses caffeine from green tea for a power boost, while Cognizin® Citicoline helps with focus and mental cognition. You'll also feel the benefits of N-Acetyl L-Tyrosine which may assist in mood and brain health.
How to Take & Dosage
Sip back on a C4 Smart Energy drink before you're ready to kick things up a notch. Ideal for exercise, you can enjoy one whenever the mood strikes, like a morning study session.
C4 Energy Drink Carbonated C4 Energy X Starburst Candy Review
The word Starburst makes our mouths water. The Carbonated C4 Energy X Starburst Candy is a collaboration of these two brands, and the flavors are on point.
Made in the four classics, including strawberry, cherry, orange, and lemon, you'll get a strong dose of caffeine to power you through your workout. Calorie and sugar-free, you can get a 12 case of 16 oz cans for $30.
Ingredients Label
The first thing in the can is carbonated water, followed by the C4 Energy Drink ingredients CarnoSyn® Beta-Alanine, L-Citrulline, malic acid, BetaPower® Betaine, citric acid, natural flavors, potassium sorbate, caffeine anhydrous, sucralose, acesulfame potassium, niacinamide, N-Acetyl-L-Tyrosine, and cyanocobalamin.
Nutritional Value
Zero calories, zero carbs, zero fat—this drink is flat across the board until it comes to niacin (30 mcg) and B12 (6 mcg). Letting the Explosive Performance Energy Blend do the talking, you won't have to worry about fitting this one into your diet. It was made for it, baby.
Benefits
Drinking a can of Carbonated C4 Energy x Starburst Candy is said to give you explosive energy. You'll get pumped up with 200 mg of caffeine without the sugar that some other energy drinks have. Along with a buzz, these bevvies hydrate muscle cells and increase endurance during workouts.
How Does It Work
One 16 oz can of C4 Energy contains 200 mg of caffeine—enough to energize you for whatever brutal workout you've got planned. Also made with CarnoSyn Beta-Alanine, your energy will stay longer thanks to the way this element delays fatigue.
The Carbonated C4 Energy x Starburst Candy uses L-Citrulline to increase nitric oxide levels, BetaPower Betaine to keep cells hydrated, and N-Acetyl-L-Tyrosine to give your brain support during stress.
How to Take & Dosage
Carbonated C4 Energy x Starburst Candy is delicious, apparently, it really tastes like Starburst, but you won't want to snack back on this before bed. It's designed to be used pre-workout, so knock a can back 20-30 minutes before you're ready to hit the gym.
With that said, you can still enjoy this beverage on days you're not working out. Try it before running errands or any time you know you'll need a little extra energy.
Who Is C4 Energy Drink For?
Based on what we learned about the brand in this C4 Energy Drinks review, the brand's pre-workout beverages are ideal for those following a diet or fitness regimen. Designed for athletes and gym-goers, the brand's energy drinks will not cause you to fail a drug test, they're NSF Certified for Sport.
C4 Energy Drinks are only for healthy adults 18 years of age and older. They're not for pregnant or nursing women, those on ED medication, or people who are taking nitrates for chest pain. It's important to consult a healthcare professional before you start taking C4 if you have any sort of condition or are taking medication.
There's a lengthy list of people who should not drink C4, so just be sure to review it prior to purchasing.
C4 Energy Drink Side Effects
Before you take a sip of our first C4 Energy Drink, it's important to read the warnings. This product contains 120-300 mg of caffeine—400 mg is the safe limit set by the FDA. If you have more, you may experience conditions like:
Heightened sense of anxiety
Fatigue
Rapid heart rate
Insomnia
High blood pressure
And more
C4 Energy Drinks don't contain sugar, but they do have both sucralose and acesulfame potassium, artificial sweeteners that when consumed in high amounts have been linked to:
High blood sugar and insulin levels
Cancer
IBS
Triggering leaky gut syndrome
Weight gain
Even though customers say that the brand's drinks don't make them jittery, if you drink too much of them (and thus consume too much caffeine), you may experience C4 Energy Drink side effects such as anxiety, cramping, numbness, jitters, and headache. Consume just one per day and you're less likely to run into those issues.
C4 Energy Drink Reviews: What Do Customers Think?
No matter what you're buying online, it's important to check in on what it's really like before you pick it up. You could, of course, buy it and return it, but isn't it just better to know what you're getting before you go through the hassle?
This section of our C4 Energy Drink review will do the research for you. We've combed the web to find out what those who have bought the brand's drinks really think about them, and you'll find a blend of ratings and reviews below.
To kick things off, we put together a list of scores from C4Energy.com:
C4 Energy x Starburst Candy: 4.8/5 stars from 71 reviews
C4 Energy: 4.8/5 stars from 458 reviews
C4 Smart Energy: 4.9/5 stars from 447 reviews
Looking into the Energy drink, we found one C4 Energy Drink review that mentioned what it's like ordering from the brand. It reads: "Ordering is convenient and there are promotions every week. Best part is that there is no commitment, you have various options that can be tailored to your needs."
Others mention the drinks' amazing flavors, and that's probably the most common thing we found amongst C4 Energy Drink reviews. Another comment that mentions the overall process read, "Flavor is right on point, taste gets you going, fast and easy delivery, highly recommend this product."
For our next dose of feedback, we headed off of the brand's website and over to BodyBuilding.com to look in on C4 Explosive Energy On the Go. The drink has an overall score of 4.6/5 stars from 245 shoppers, and again, the flavor seems to be the #1 topic.
Since we already have a feel for that, we chose to look at a review that talks about the effects of the drink. It read: "I actually took just HALF a can after a month off preworkouts and BOOOOOM. I was so excited for the gym. Not shaky or jittery, but the wonderful, elevated mood feeling, and a strong desire to lift."
Anything that makes you excited to work out is a home run in our books, considering that motivation is the one thing that usually stops folks from getting to the gym. Not feeling shaky or jittery is huge too, and it sounds like these drinks are truly made for performance.
Our last stop for feedback was on Amazon. We headed down to the C4 Energy Drink review section for C4 On The Go and found a 4.7/5 star score from 324 buyers. Here's how it breaks down:
5 stars: 82%
4 stars:10%
3 stars: 5%
2 stars: 1%
1 star: 2%
With so many positive reviews, it was hard to pick one to feature here, so we chose one that we felt demonstrated what drinking a can of C4 was like. It read:
"Over the years I have tried many different brands and concoctions to fuel my workouts. Cellucor's C4 is the real deal. It is easy to drink and quick acting like a punch in the face. I have noticed significant gains in strength and endurance, where I was at a plateau before."
Now, we can't attest to the fact that a punch in the face is motivating, but we've heard that it does wake you up. By the sound of this review, it makes for big changes in the gym too.
Overall, C4 looks to be an incredibly popular drink within the fitness community, and thanks to the mountain of positive reviews we found, it's not hard to understand why. Great tasting, calorie-free, and delivering smooth energy, it very may well be exactly what customers say it is: the best energy drink on the market.
Is C4 Energy Drink Worth It?
We never take this section lightly. Recommending a product means we have had to find out that it's useful, tasty, and beneficial in some way or another, and in the case of C4 Energy Drink, not only does it taste exceptional, but it won't leave you jittery—a big pro in our books.
So does this C4 Energy Drink review conclude that they're worth it? If energy, power, and performance are what you're after (who isn't?!), then choosing this delicious, energy-boosting beverage is a no-brainer.
C4 Energy Drink Promotions & Discounts
Energy drinks give us the pep we need to make it through long days and hard workouts, but drinking them daily can rack up quite the cost. To help with this, the brand offers customers several ways to help them save a few bucks. Here's what we found after scoping out the site for this C4 Energy Drink review:
Refer a Friend: Give $20, get $20
Student Deal: Get 25% off a Variety 6-Pack
Military Discount: 30% off the entire site
Subscribe & Save 20% + get free shipping
Free continental shipping on orders over $55
Where to Buy C4 Energy Drink
C4 Energy Drinks are sold in stores across the USA like Walmart and GNC. To find one close to you, use the Store Locator tool on the brand's website. If you'd rather keep things virtual, you can order up a case directly from C4Energy.com.
FAQ
Is C4 Energy Drink vegan?
C4 energy drinks don't contain animal-derived ingredients but they do contain artificial sweeteners. Artificial sweeteners have been linked to animal testing (on rats). So it depends on your level of vegan-ness.
Is C4 Energy Drink gluten-free?
The brand's energy drinks don't have any gluten-containing ingredients in them. That's great news for those following a keto diet!
What is C4 Energy Drink's Shipping Policy?
C4 ships within the USA only. Your order will ship out in about 3-5 days, and after that, it'll get to you in another 3-5 business days if you live in the continental US. Customers in Alaska and Hawaii will receive their orders in about 5-10 business days. Shipping rates are as follows:
Orders over $55: free
Orders under $55: $7
Expedited: TBD (depends on weight)
Subscription orders are always shipped for free
What is C4 Energy Drink's Return Policy?
Along with your purchase of C4 Energy Drink, you'll get a 30-day money-back guarantee. You can try the drinks for yourself and if you're not totally happy, get a full refund. To do so, send an email to [email protected] and let them know what's up. Be sure to include a copy of your original proof of purchase.
How to Contact C4 Energy Drink
If you need any other information that wasn't included in this C4 Energy Drink review, shoot the brand an email at [email protected].
---
Looking for more ways to boost your energy? Then check out Magic Mind, an energy and performance-boosting matcha drink packed with adaptogens, nootropics, and vitamins.
Get Access to Exclusive Deals
Subscribe for free to get exclusive deals in your inbox. 100% privacy