Cafe Appliances Review
About Cafe Appliances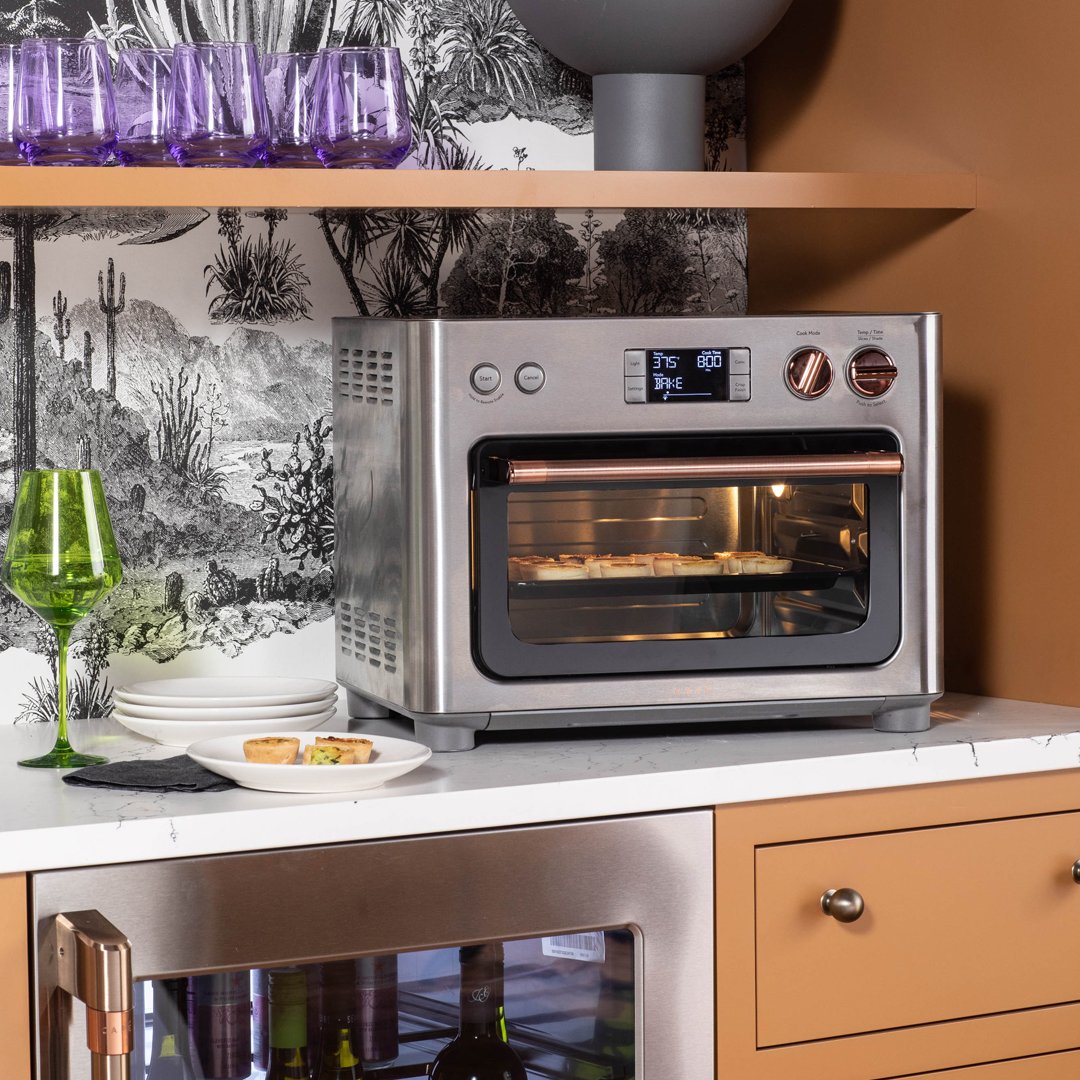 When it comes to kitchen appliances, it's never just about functionality. Aesthetics matter, especially if you live in a chic city apartment. From stovetops to toasters, trendsetters take design seriously when it comes to planning the perfect living space. Fortunately, there's a way to make your Pinterest dreams come true, and it starts with Cafe Appliances. 
This brand offers homeowners a one-stop shop for trendy kitchen devices. Stylized for the modern palette, customers can find a broad selection of beautifully designed products to choose from. In terms of popularity, Cafe Appliances has over 126k Instagram followers and has been featured in several media outlets including Business Wire.
Looking to build your dream kitchen? If so, you'll want to keep reading my Cafe Appliances review. Here, I will take an in-depth look at the brand, its products, customer ratings, promotions, and more to help you decide if they're worth checking out.
Overview of Cafe Appliances
Acquired by G.E. Appliances, Cafe Appliances began operations around 1907. It's one of many brands under the cooperation, which include Monogram and Hotpoint.
Known for its proud tradition in manufacturing cookware, tool, and kitchen furniture, the brand maintains a strict reputation in quality control.
Cafe Appliances state that they operate at zero distance. This means that the brand works closely with business owners and customers to ensure they walk away satisfied.
As they put it: "We're creators, thinkers, and makers who believe that anything is possible and that there's always a better way. We're a company powered by our people, made stronger through our diversity."
Before I get my Cafe Appliances review started, let's go over some initial highlights.
Highlights
A wide selection of stylish kitchen appliances to choose from
Buyers can request assistance through the owner support section
Financing option through Affirm
Products are covered under a one-year warranty
7-day free returns for bigger merchandise
Customers can choose to have their appliances installed
Personalization separates the house from the home. Naturally, sentimental assets like crayon drawings, family photos, and achievement trophies offer a wide degree of identity, but I'm specifically referring to furniture and appliances. Finding the perfect model for your space can do wonders in giving it a sense of warmth and friendliness.
Cafe Appliances, a brand that's home to hundreds of trendy designs, is made to cater to your Architectural Digest dreams. Currently, product categories range from major appliances, countertop appliances, smart appliances, collections & finishes, and style & living.
From retro finesse to mid-century modern, homeowners can find a wide selection of in-style models to choose from. Keep reading, as I'll take a look at some of their best-selling products to help you get started.
Cafe Appliances Review
Have you ever watched those celebrity house tours on YouTube? It's easy to get jealous, especially when they flaunt extravagant flexes like pools and walk-in closets. Kitchen appliances may seem like a trivial thing, but it's typically the first room that takes your breath away.
I can't say for certain that celebs like Jessica Alba and Kendall Jenner frequent Cafe Appliances, but I'm totally confident that the brand's products are styled for the celebrity life. From microwaves to coffee machines, I will feature a few of their top-sellers in this section as a quick sneak peek.
Cafe Appliances Built-In Microwave Drawer Oven Review
We typically associate microwaves with frozen TV meals. It's not the most glamorous image, especially if you're home alone on a Friday night. But the Built-In Microwave Drawer Oven is considered a step up for lazy cooks. This stylish appliance is designed to fit into your pre-existing space to ensure a clean look.
Built with an automatic sensor cook and reheating system, this household must-have can warm up leftovers, whole meals, and snacks in seconds. Rather than your average microwave door, this handy appliance has a pull-out drawer that makes for easy loading.
Aesthetics-wise, the Built-In Microwave Drawer Oven features touch controls, which are fairly easy to clean considering that it's free of cracks and crevices that normal buttons have.
Looking to elevate your mealtime? If so, the Built-In Microwave Drawer Oven retails for $1,699.
Cafe Appliances Smart Slide-In Front-Control Induction and Convection Range with In-Oven Camera Review
The Smart Slide-In Front-Control Induction and Convection Range with In-Oven Camera is a mouthful of a descriptor, but it only goes to show you its impressive features.
This bad boy is designed to level up your cooking expertise, as it's programmed to follow instructions based on any recipe. The stove-top is compatible with the Gourmet Guided Cooking app, which automatically adjusts the time and temperature of the oven to perfectly cook your dish. What a world we live in!
Built to maintain a set temperature to ensure the perfect sear, you can practically say goodbye to overcooked and undercooked meals. If that wasn't already enough, this oven can update you when the food is ready through the app.
For something that breaks the old-school tradition of cooking, you can get the Smart Slide-In Front-Control Induction and Convection Range with In-Oven Camera for $4,899 with standard stainless steel. The three other available finishes will cost you a bit extra, but you got to make sure you match.
Cafe Appliances Warming Drawer Review
It's no secret that meal time requires preparation skills. This is especially true for multi-course dishes, such as the typical roast.
Basically, you don't want to let your Thanksgiving turkey get cold as you prepare the mash. Case in point, the Warmer Drawer ensures that your pre-cooked portions stay warm as you chef-on.
Designed with an 80-210° temperature setting, this kitchen appliance ensures that crispy foods stay crispy and tender meats remain tender. It also comes with a nifty indicator light, just in case you forget to turn it off.
Available in various finishes, the Warming Drawer sells starts at $2,332.
Cafe Appliances Commercial-Style Gas Rangetop with 6 Burners and Integrated Griddle Review
It's a well-known fact that home cooks keep the family together. Their house is the default spot for dinner parties, and they're typically head-chef when it's time to eat.
If this sounds like you, the Commercial-Style Gas Rangetop with 6 Burners and Integrated Griddle can help you cut down on cook time thanks to its amount of space. When you buy this item, you'll get an awesome 48" of cooking space.
Aesthetically pleasing to the eye, this stovetop disperses heat evenly to help ensure the perfect cook. It's great for big dinners, especially if the menu calls for 4 to 5 courses. You can easily stir that French onion soup as you keep an eye on that risotto.
With prices starting at $4,777, I think it's safe to say that the Commercial-Style Gas Rangetop with 6 Burners and Integrated Griddle is an investment and not a mindless purchase.
Cafe Appliances AFFETTO Automatic Espresso Machine Review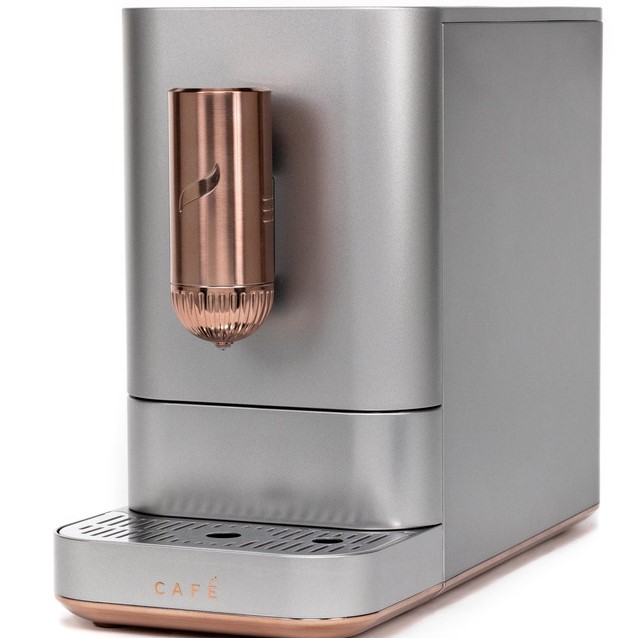 Preparing the perfect cup of joe is not just an art, it's a science. Unless you covet the taste of weak coffee, it's important to consider the beans and machine in equilibrium.
Fortunately, the AFFETTO Automatic Espresso Machine takes care of the filter, drip, and pour process. It's a hands-free procedure, which leaves you with the responsibility of sourcing the right blend.
Designed with a one-touch brewing system, this coffee dispenser can make you tasty espressos and americanos in just 90 seconds. The device is set with 20 bars of pump pressure to ensure a smooth, balanced taste.
It's also worth noting that this espresso machine pairs with the SmartHQ app, which lets you customize your drinks.
For those looking to minimize their visits to Starbucks, the AFFETTO Automatic Espresso Machine retails for $629 and is available in three finishes.
Cafe Appliances Specialty Drip Coffee Maker with Glass Carafe Review
Your day begins with a hearty breakfast of hash, eggs, bacon, and pancakes. Aside from OJ and a glass of milk, what's missing from this scene? If you answered coffee, then congrats! Here's a virtual cookie.
For those who choose to skip homemade brews in favor of diner-style blends, the Speciality Drip Coffee Maker with Glass Carafe ensures the perfect sip every time.
SCA-certified, this coffee dispenser pairs with the SmartHQ app, Google Home, and Alexa. Yep, you can finally give out those kingly demands just by uttering a single request.
Plus, this machine is equipped to make 10 cups of joe in one sitting, which is great for those who have guests or arabica lovers who want seconds.
Price-wise, the Speciality Drip Coffee Maker with Glass Carafe costs $279 at checkout.
Who Is Cafe Appliances For?
It's no secret that Cafe Appliances is expensive, but if you have a pretty penny to spend, I highly recommend checking them out.
They offer a broad selection of trendy models to choose from, which is great for homeowners looking to channel their inner Joanna Gaines or Bobby Berk. Stylized for the modern household, most of the brand's products are compatible with wireless devices, such as SmartHQ and Alexa.
If you value the convenience of technology and aesthetics, I suggest giving them a try.
Cafe Appliances Reviews: What Do Customers Think?
As you've probably already noticed, Cafe Appliances is well past the $100 limit. In fact, their most impressive products retail for around $1,000. With something so expensive, it's natural to wonder how much they are worth the price tag.
For my Cafe Appliances review, I scoured the internet to see what customers are saying about the brand and the result? It's mainly positive. To kick things off, here are the ratings for some of the best-selling products I featured:
Built-In Microwave Drawer Oven: 10 reviews with 5/5 stars
Smart Slide-In Front-Control Induction and Convection Range with In-Oven Camera: 23 reviews with 4.4/5 stars
Warmer Drawer: 15 reviews with 4.3/5 stars
AFFETTO Automatic Espresso Machine: 30 reviews with 4.7/5 stars
Specialty Drip Coffee Maker with Glass Carafe: 75 reviews with 4.5/5 stars
Aesthetically pleasing and impressive in performance, it appears that several customers find Cafe Appliances worth the investment. They say their products are easy and convenient to use, especially when paired with certain wireless devices.
For the AFFETTO Automatic Espresso Machine, one customer wrote: "We were looking for a few things in a coffee machine: good quality machine, as automated as possible, makes an excellent espresso, not too big and aesthetically pleasing. This machine checks all of those boxes."
"I love having this drawer-style microwave that is installed below the counter as it really finishes the look in our space and the microwave doesn't distract from the lines of our cabinetry," one reviewer said about the Built-In Microwave Drawer Oven.
I found several positive Cafe Appliances reviews from a few outside sources. Over on Designer Appliances, the reviewer here had many great things to say about the brand's high-quality stylish appliances:
"Cafe appliances combine the stellar performance and reliability of the GE brand with fresh, design-forward colors and finishes. You'll find a range of sizes and price points, whether you're looking for a full kitchen package or a single replacement piece."
After trying them out for two years, Classy Clutter gave a raving review about this brand. Suffice it to say, they are obsessed:
"You're probably here hoping that this stunning line of appliances is too good to be true so you can stop thinking about them! Sorry, I'm not sorry – these appliances are AMAZING. They are as functional and luxurious as they are beautiful and I am so happy to have them in my kitchen."
With all the hype surrounding this brand, is it safe to say that the C.A. is within the clear? While writing my Cafe Appliances review, I did uncover some unsatisfied customers online, which I'll discuss in the following segment. 
Is Cafe Appliances Legit?
Before giving you my final verdict, I thought it best to give you a few red flags. Some customers noted design and manufacturing defects. Others reported shipping problems on Trustpilot.
Nevertheless, you can take care knowing that the amount of positivity shared online easily trumps the number of negative comments posted. For a company of this size, some complaints here and there are generally fairly common.  
Is Cafe Appliances Worth It?
It's easy to settle for simple kitchen appliances as a budget-friendly option. On the other hand, cheaply-made products often leave something to be desired.
Truth be told, I'd honestly bite the bullet and choose the best option, even if it's the most expensive alternative. There's an assurance that pricey appliances will pay off in the future, especially if they're designed well. 
Cafe Appliances fits the bill for high-quality appliances and you can take care knowing that their products speak for themselves. Designed to be functional and fashionable, it's a luxury purchase that offers style in substance.
Cafe Appliances Promotions & Discounts
While writing my Cafe Appliances review, I found out that the brand has an extensive sales section on its website. This includes a wide range of products at decent discounts. They also have a rebate and special offers section that's worth checking out.
Where to Buy Cafe Appliances
Convinced by the amount of positive Cafe Appliances reviews? If so, you can visit cafeappliances.com to see what they have in store. You can also find their products sold on:
BestBuy
Sears
Lowe's
Home Depot
Wayfair
FAQ
Who owns Cafe Appliances?
Cafe Appliances is owned by GE Appliances.
Does Cafe Appliances ship internationally?
Unfortunately, it appears that Cafe Appliances only ships within the United States. This does not include Alaska, Hawaii, or U.S. territories.
What is Cafe Appliances' Shipping Policy?
This Cafe Appliances review is happy to report that they offer free shipping on countertop appliances. Small products will be delivered through FedEx, and will typically take 2-5 business days to arrive. Those who've purchased larger merchandise will automatically apply for free installation.
To help keep track of your order, the brand will issue a reference number through a confirmation email.
What is Cafe Appliances' Return Policy?
Cafe Appliances offers a 60-day window for customers to send back their products. It's worth noting that this only applies to countertop appliances. Items that do not fall in this category are subject to a 30-day limit, which also comes with a 25% restocking fee if it's a large appliance or isn't returned within 7 full business days.
Customers should also know that Cafe Appliances offers free returns for those who send back their products within that 7-day window. To start this process, buyers must contact the brand directly to get started.
How to Contact Cafe Appliances
If you have any questions after reading my Cafe Appliances review, you can contact the brand by:
Their customer service team is available Monday through Friday from 8:00 am to 8:00 pm ET, and Saturdays from 8:00 am to 7:00 pm.
---
Check out similar reviews you might like:
Hawkins Pressure Cooker Review
Get Access to Exclusive Deals
Subscribe for free to get exclusive deals in your inbox. 100% privacy