8 Best Carpet Brands
Searching For The Best Carpet Brands
Home renos are a hot topic as more buyers plant their roots in houses that need a little upgrading to meet their needs. And while hardwood flooring looks nice in plenty of spaces, sometimes you just need a carpet to add that cozy, luxurious element.
Now, I'm not saying that you need to opt for the dreaded thin, low-quality blue carpeting found in every rental on the market. With the best carpet brands, there are a ton of different options to choose from when it comes to shade, style, density, weave, and more.
To kick your home decor journey off to a good start, I'll cover the 8 best carpet brands down below. Plus, I'll take a look at the top things to consider and important FAQs to help you decide which carpet will suit your space and needs best.
8 Best Carpet Brands
1. Mohawk
Created in 1878, Mohawk flooring focuses on innovative flooring solutions that are designed to make life easier. The story began with William Shuttleworth who set up a carpet factory with his four sons in Hudson Valley. By the 1920s, the company was the most popular weaver in the US.
All carpeting is made in the USA and the brand is one of the top-known flooring companies in the world. Mohawk is also best known for its sustainability efforts, with multiple different programs in place to make changes.
The Continuum program uses recycled bottles. 2+ billion lbs of plastic bottles have been saved from the oceans. The ReCover program recycles used carpets and keeps them out of landfills and over 159 lbs of carpet have been recycled.
Carefully designed to be durable and timeless in design, Mohawk carpeting starts at around $1 per square foot up to around $8 depending on the style, color, and series.
Highlights
Wide collection of carpet, carpet cushion, hardwood, laminate, and tile made from recycled and renewable resources
Focus on sustainability and using ethical production methods
Made in the USA
Pet and kid friendly options
2. Atlas Carpet Mills
Speaking of a variety of options, Atlas Carpet Mills delivers on that. The company was founded by Jim Horwich in 1960 in Los Angeles, California, and has long since been a leader in unique designs for patterned flooring.
Beginning with a commercial carpet fiber, Atlas Carpet Mills is best known for its vast collection of flooring options that stand strong against your house's everyday traffic. Ultimately, the brand strives to improve "away-from-home interiors where people work, learn, heal, and play."
When it comes to pricing, Atlas Carpet Mills offers more affordable options as well as pricier flooring, meaning there's something for everyone. For more information on pricing, select the carpet you'd like to see where you can shop.
Highlights
Vast collection of flooring products from carpeting to tile and area rugs
Made from Antron® Nylon
Variety of patterns, textures, and budgets
Known for its high-quality designs and fabrics
3. Capel Rugs
Originally created in 1917 by A. Leon Capel, Capel Rugs continues to grow the family business and release timeless, carefully designed rugs. In the beginning, things kicked off when Capel Rugs were featured in the Sears catalog.
Today, the brand is best known for its vast collection of carpets and area rugs. The selection ensures there is something for everyone, keeping customer satisfaction at the forefront of every design. Plus, there are plenty of different materials and fabrics as well as designs and patterns available to create a unique look.
With a wide collection of rugs and carpets that are reversible and long-lasting, Capel Rugs' prices range from $20 for samples to up to $2,800.
Highlights
Wide variety of carpets and area rugs
Numerous designs and patterns to choose from
Plenty of different materials and fabrics to create a different aesthetic
Backed by over 100 years in business
4. Shaw Floors
No matter what you need when it comes to carpeting and flooring, Shaw Floors has it all. On a mission to "create a better future," the brand was founded in 1946 by Clarence Shaw, who originally purchased a dying company that also carried scatter rugs.
Today, Shaw Floors is best known for its vast collection of different styles of flooring, seamlessly decorating and modifying a number of different rooms and spaces. Whether you need an area rug or a complete overhaul, there's plenty to choose from.
Shaw Floors offers an affordable price range, starting from only $1 and going for up to only $12 per square foot.
Highlights
Wide collection of flooring including carpeting, tiling, and paneling
Durable and pet friendly
Plenty of colors and patterns available
Committed to sustainable production and transparency
Affordable pricing
5. Southwind Carpet
Originally founded as Cherokee Carpet Industries in 1994, Southwind Carpet carries a broad range of high-quality flooring products at affordable prices. The vast collection of options is ideal for a range of different spaces, with anything from neutral collections to bold and bright carpeting.
Made in Dalton, Georgia, the company is best known for its commitment to the environment while maintaining high-quality standards and affordable prices. Southwind Carpet uses natural resources and raw materials in dedication to reducing its carbon footprint.
Depending on the carpet style and fabric, Southwind Carpet prices range from $1-$13.
Highlights
Wide collection of carefully designed flooring including carpeting, tiles, and vinyl
Made in the USA
High quality and durable fabrics
Affordable pricing
Focus on environmentally friendly processes
6. Marquis Industries
Designed to handle everyday life, Marquis Industries carpeting began in 1997 and has since become a national carpet manufacturer committed to "providing value, styling, and service." It sells directly to dealers, making it widely available across the country.
Today, Marquis Industries focuses on providing the highest quality, using the most efficient carpet mills in the industry, and consistently testing the product to develop the best finish. All of their rugs and carpets are made in north Georgia and the brand is one of the top 10 residential carpet manufacturers in the country.
Marquis Industries carpets start at only $2 per square foot, making them an affordable option.
Highlights
Vast collection of flooring solutions made in the USA
High-quality fabrics and designs
Widely available
Natural stain protection
7. Stanton
On a mission "to create a brand that was synonymous with style and value for the decorative market," Stanton Carpet Corporation was brought to life by Sy Cohen in 1980. It is now a leading manufacturer of flooring and even carries a number of the top decorative flooring brands, such as Antrim, Rosecore, Crescent, and Hibernia.
Headquartered in Long Island, New York, and manufactured in Calhoun, Georgia, the brand has always remained committed to producing carefully crafted, high-quality flooring products. It's best known for its ultra-soft, plush carpeting that withstands the test of time.
The average Stanton Carpet collection comes in at around $3 per square foot, though this depends on the style ordered.
Highlights
Wide selection of functional and beautiful flooring
Completely custom options and designs
Made in the USA
Room gallery for inspiration
Swatch samples available
8. Fabrica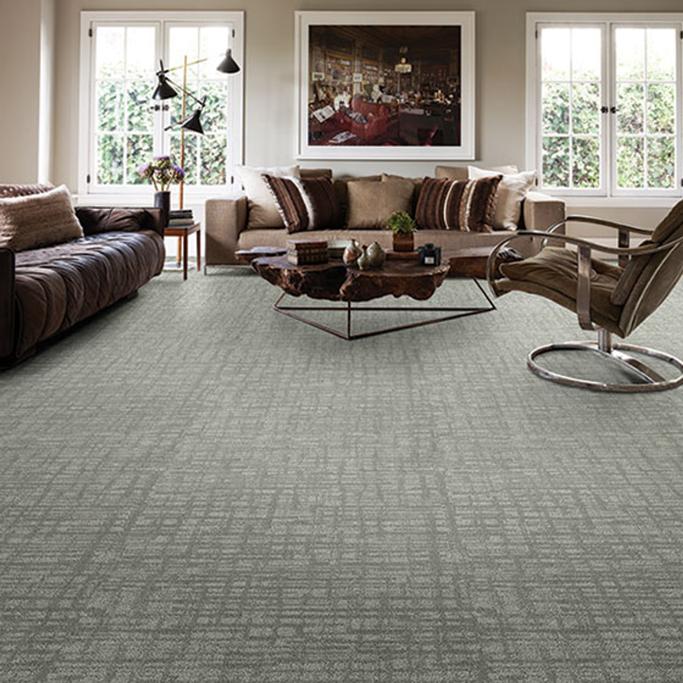 Best known for its collection of premium, durable, and timeless flooring options, Fabrica was created by Al Frink in 1974. The company uses superior materials, "state of the art technology, and highly skilled craftsmen" to create "flooring styles that offer Quality Without Compromise."
Manufactured in Southern California, Fabrica has always remained committed to the environment. The company focuses on limiting waste during every part of the process, consistently using recycled materials, conserving water, and opting for alternative fuel sources.
When it comes to costs, Fabrica carpeting ranges in price from $6-$24 per square foot.
Highlights
Wide collection of classic carpets, hardwood, and rugs
Designed to have a luxurious feel
Committed to protecting the environment
Made in the USA
Carries the Carpet and Rug Institute's Green Label Plus certification for Indoor Air Quality
How to Shop for the Best Carpet
Whether you're looking to carpet one room in your home or cover the whole nine yards, there are a number of factors to consider when choosing from the best carpet brands. From durability to cost and appearance, we'll cover all the big things so you can make the most educated decision for your space.
Brand
When shopping for a base piece in your home, it's important to choose a company that is backed by plenty of happy shoppers with clear credibility and an established reputation. You may also want to consider what different brands have to offer, whether that's unique styles, warranties, free shipping and installation, and more.
Fortunately, the options in our list of the best carpet brands cater to a wide range of needs and all maintain a strong customer base, proving that they're a great choice when it comes to investing in your home.
Design
Patterns, colors, weaves, and piles all play a role in the final design of your carpet. Of course, it's important to go for a look in line with your decor choices, but neutral options are timeless and will always look beautiful no matter how you choose to decorate.
Popular design options from our list of the best carpet brands include diamond patterns, horizontal lines, dark shades, and bold colors. A good way to add a lot of life to a space is by adding a bright tone or plenty of patterns, but simple options are equally as stunning.
Durability
Depending on the density and carpet grade you buy, the durability of the carpet you choose and its lifespan can range across the board. Affordable options tend to be less durable and last about 3-5 years, while higher-end choices last up to 15-20 years.
Different materials and colors are better for different spaces. If you've got pets and kids, dark colors and tight weaves are your best friend. But if it's just you and you're a neat freak, there are no worries in choosing a lighter color and looser weave, especially if the fabric is easy to wash.
Materials and Sustainability
No matter what you're shopping for, materials and sustainability are always at the forefront of consideration. It's important to opt for fabrics that are ethically sourced and crafted, so check out the product description and the brand's commitment to ensure that they're following protocols.
Functionality
Of course, the flooring you choose from our list of the top carpet brands should always be suitable and functional for the space. Bathrooms, laundry spaces, and entryways usually call for tile, while living and bedrooms are ideal spaces for carpet.
More plush carpets usually find themselves in basements to add warmth, while dense and thick carpets, such as wool, work best in high-traffic areas because they're more durable. It's also important to choose an option from our list of the best carpet brands that is customizable and works in the space you need it to.
Maintenance
Like all flooring, carpets need to be maintained in order to look as nice as the day you first had them installed. But, some options and materials from our list of the best carpet brands require a little more love than others.
High-traffic areas should be vacuumed more often and a deep clean is definitely necessary every once in a while. If you're eating where there is carpet, you may want to vacuum it especially often and a dehumidifier may be necessary for damp basements.
All that being said, spot cleaning is also necessary (especially if you've got a thing for red wine). So, we've gathered some tips for tackling any spills ASAP:
Vacuum and treat stains right away
Fill a bucket with a mixture of vinegar and warm water
Apply the solution, allow it to sit, and then blot away
Allow the carpet to air dry
Use a professional cleaning solution and machine if necessary
Budget
Carpeting is an investment, but that doesn't mean it has to break the bank. If you're looking to protect floors while you have a few tenants in a space, a lower-grade carpet may be the best option.
But if you want something plush, durable, and long-lasting, you may want to consider a higher quality, more expensive option from our list of the best carpet brands.
What is a high-quality carpet?
The quality of any item depends on what you're looking for, so it's important to consider the factors that our list of the best carpet brands detailed above. That being said, a high-quality carpet is often characterized as being dense and durable.
Since carpets often face a lot of traffic, it only makes sense to opt for a density that remains strong against hundreds of steps in a day, messy little ones, and our claw-footed furry friends. A density of 2,000 or more often ensures more durability since the fibers are packed together tightly.
What is the most popular carpeting?
When taking a look at the best carpet brands, it only makes sense to consider the most popular carpeting. Neutral colors, such as gray, black, cream, and brown tend to be a top choice considering that they go with many different styles, though darker colors are a more common choice since they hide stains.
Nylon materials are used often because they are resistant to wear and stay plush and bouncy to maintain the original shape. They're also easy to maintain and usually come in high density without outward facing tufts.
Natural fibers like jute, sisal, and seagrass are also quite trendy and popular, and they're especially durable for dog owners. Overall, the most popular choices suit a variety of different styles and work best in a broad range of spaces.
What are the different grades of carpet?
With all this talk of the best carpet brands, we've mentioned the different grades a few times. But what exactly does this mean? Essentially, the carpet grade is determined by the weight, fiber type, fiber construction, and density, though there isn't a universal scale.
Here are a few things to keep in mind:
Weight: the weight of a carpet is affected by the number of fibers there are. The more fibers there are, the heavier the carpet, which is likely more durable and strong
Fiber Types: nylon, olefin, polyester, and wool are the most common choices because they are durable while still having a soft feel
Fiber Construction: tufted and twisted carpets are usually more durable, while stapled carpets can shed or be sucked up by vacuums
Density: how close the fibers are tufted together can affect the lifespan. The looser the weave, the more likely the carpet is to fall apart
Depending on the carpet grade you opt for, your flooring can last between 5-20 years. Of course, it makes sense that more inexpensive options have a shorter lifespan, while the opposite is true for pricier carpeting.
Final Thoughts
In this list of the best carpet brands, I've covered some of the top options on the market as well as the most important things to keep in mind. So, when you're choosing the flooring for your space, you know which options will be most functional, durable, beautiful, and affordable to suit your every need.
While furniture, paint, and decor are easy to switch up, carpeting and flooring are a big decision, but also an investment. Plus, the option you choose can make or break your space. With a few tips and tricks up your sleeve after reading our list of the best carpet brands, you should be prepared to start your home renos.
---
Check out some other curated lists of top brands:
20 Best Dairy Free Protein Shakes
20 Best Hyaluronic Acid Supplements
10 Best American Made Boots Brands 
Get Access to Exclusive Deals
Subscribe for free to get exclusive deals in your inbox. 100% privacy