Clae Review
About Clae
What's the last thing you put on before leaving your house everyday? It's the final piece of every outfit—that cherry on top that you just can't live without.
A pair of shoes, of course! A comfortable pair of shoes is a must in every wardrobe, and Clae has you covered with their selection of sustainable, minimalist, unisex footwear (seriously, could they be more 2022?).
With over 86k followers on Instagram, Clae has made a name for itself. This brand has transformed the boring and unappealing sneaker into a classic and effortlessly cool shoe. So if you'd like some trendy sneakers for your wardrobe, keep reading this Clae review to find out more.
Donned by celebs like Shawn Mendes, whose style can be athleisure at times but also grungy rock'n'roll, it's clear that these shoes can be worn with a plethora of different looks. 
In this Clae review we will tell you everything there is to know about the brand—from their mission to in-depth reviews of their products, as well as customer ratings to help you decide if a pair of Clae shoes will help you to kick your outfits up a notch.
Overview of Clae
Clae was born in 2001. Founded by Sung Choi, his vision was to make shoes that are comfortable for everyday wear and can easily be worn during all your daily activities—from a long day at work to an afternoon in the park to a night on the town.
With Clae, there's no longer the need for 20 pairs of shoes in your closet, because these shoes can take the place of several pairs. So if you were thinking about becoming a fashion minimalist, now might be the time to start.
Clae is on a mission to "unite a community around our vision of sustainable and social initiatives while inspiring a responsible and reasoned method of consuming." So that's why they make shoes that have timeless silhouettes from sustainable sources.
Clae is committed to sustainability. They manufacture their shoes from recyclable and ethically-sourced materials. All their shoes are designed in LA and handcrafted in Vietnam.
Although it took a few tries before Clae took off, in the past two decades the brand has remained true to its ideal of creating timeless shoes that belong in closets everywhere.
Now that you know a little more about the brand, in this will check out a list of highlights about the company in this Clae review.
Highlights
Carries a wide selection of unisex shoes 
Shoes blend casual with sophisticated styles
Vegan sneakers made from cactus
Recycled materials
Handmade products
Clae's collections are all about simplicity, and their unique textured shoes are the perfect accessory for any outfit. We will now give you a run-down of some of the brand's best kicks in this Clae review to help you decide if their shoes are right for you.
Clae White Sneakers Review
A good, clean white pair of sneakers is a must-have in every closet. Not only will they complete literally every outfit you could think of, but they also elevate any style.
Clae carries a selection of white sneakers for both men and women, so everyone has options. Let's take a look at some of the brand's best-selling pairs!
Clae Men's Malone Vegan White Sneakers Review
Tired of your bland kicks that are hard to clean? The Clae Men's Malone Vegan White Sneakers will add a bright pop of white to your wardrobe.
These men's vegan leather shoes are made from recycled plastic bottles. They have classic warm-toned rubber soles that contrast with the upper leather. The perforated toe and texture throughout the shoe, as well as the black heel, add a little flair to the otherwise simple design.
Pair them with your fav joggers on a chilly day or dark jeans and a crisp white top for a more elevated casual look. Don't worry about them getting dirty either—this white synthetic leather wipes clean super easily!
Of course, a classic sneaker should be available in classic colors, so you can get these shoes in stark white or black for $160.
Clae Women's Bradley Knit – Clae X Seaqual White Sneakers Review
The Clae Women's Bradley Knit – Clae x Seaqual White Sneakers are styled after a basic white tennis shoe, but these have a little spice. The textured knit is made from marine plastic, while the entire shoe is all-white for a bright monochrome look. The synthetic leather heel and white rubber sole contrast with the all-over knit design without taking away from the texture.
Truly bring the style to life by pairing it with a white tennis skirt and sporty tank top for a fun day on the court, or you could slip on some comfy ripped jeans with a white tee and you'll be ready for anything the day throws at you.
These white sneakers retail for $130.
Clae Nappa Collection Review
When it comes to an everyday pair of shoes, durability is important. Clae's Nappa collection has you covered, with a selection of all-Italian-leather sneakers so you can go anywhere and simply wipe any debris off your shoes with a damp cloth at the end of the day. Let's take a look at some of their most popular men's and women's styles!
Clae Ellington SP Black Milled Leather Review
The Clae Ellington SP Black Milled Leather shoes have a unique design. It's as if sophisticated dress shoes have been married with the comfort and casual design of a regular pair of sneakers. Made from Italian leather, the waxed cord laces and pointed toe give them a fancier look, while the low-top and contrasting beige rubber sole feels more natural.
You can transition through your day-to-day activities in these shoes—starting with some checkered dress pants fit for the office, and switching to some more comfortable rolled jeans to end your day with some errands. The footbed is breathable so you won't have to worry about your feet getting hot throughout your busy day.
Available in black as well as chestnut brown, these shoes cost $130.
Clae Bradley California White Milled Leather Camel Review
Say hello to fall with these warm-toned high tops! The Clae Bradley California White Milled Leather Camel shoes feature neutral shades to add a chic look to any ensemble.
The shoe is mostly a warm white color. But the mustard heel accent, peachy sole, and natural suede lace cage and heel add a little texture and contrast against the white. These shoes will pair perfectly with some wide-leg flare jeans or your best pair of burnt orange cords.
These leather high tops come with a super cushy sole for optimal comfort. They cost $160.
Clae Malone Limited Edition Clae X Son of Cobra Review
Marble meets paint splatter with the Malone Limited Edition Clae x Son of Cobra sneakers. The white base and stunning black veining create a dramatic contrast, while the black heel adds more depth while the white flat laces keep things light.
Class up any all-white jogging suit with a bold and elegant twist or lean into the dramatic vibe and pair them with dark black jeans and a leather jacket for something a little edgier.
These sneaks are limited edition, so grab 'em while you still can for $160!
Clae Herbie Collection Review
Is the shiny look not your thing? Neither is canvas? Then we've compiled some perfect shoes for you in this Clae review! Herbie is Clae's collection of shoes that are made from recycled materials, and they're good ones, too! With fabrics like suede and terry cloth, these unisex sneakers are a home run for many buyers!
Clae Herbie Black Waxed Suede Review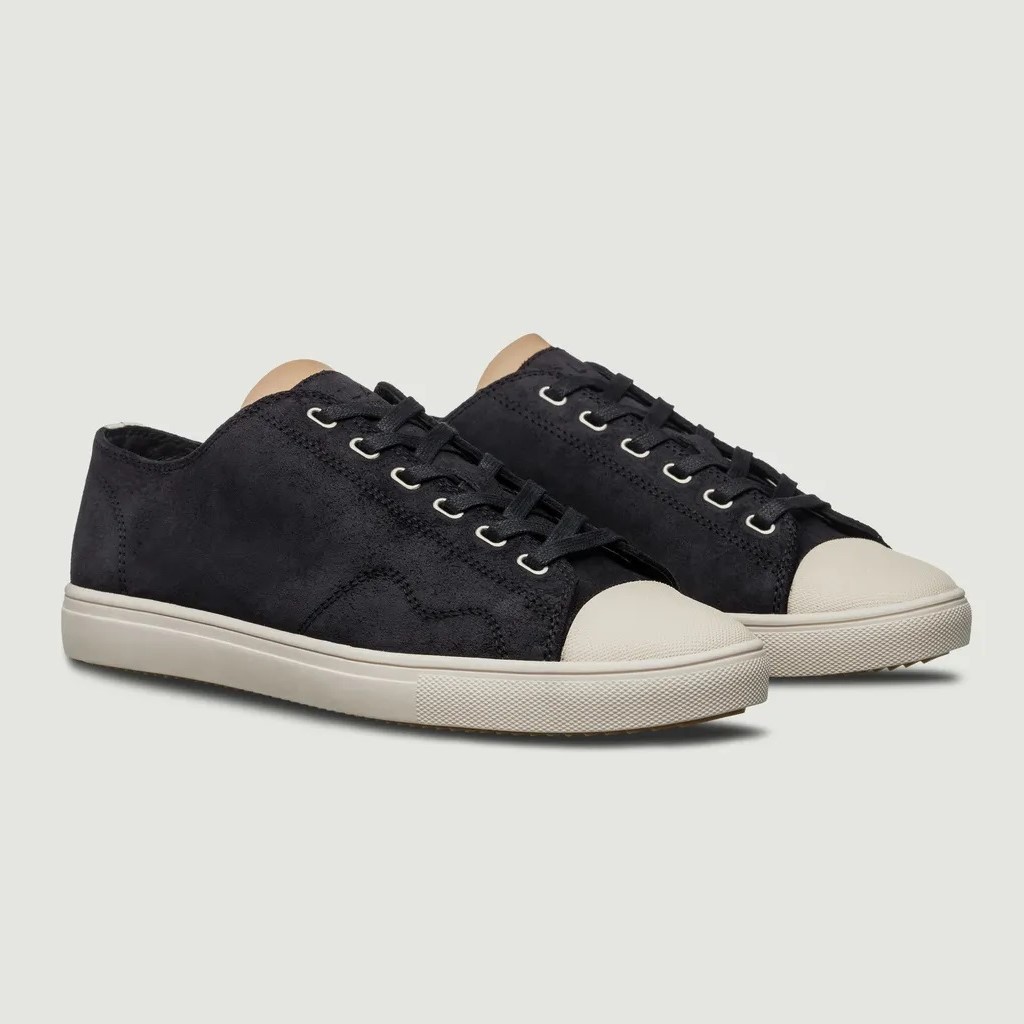 The Clae Herbie Black Waxed Suede sneakers are an all-black, silky smooth suede. They have black laces with double stitching throughout for contrast, as well as a creamy white rubber toe and sole. The tongue is lined with a warm brown leather to add some visual interest.
Pair them with a black tee and some neutral shorts to play into that contrasting look, or with an oversized cable knit sweater and long black trousers for a fashion-forward winter ensemble.
Also, you can feel good about what you're buying, because these shoes are made from recycled materials and are currently on sale for $69 (from $120)!
Clae Neo Mint Recycled Terry Review
Like all Herbie sneakers, the Clae Neo Mint Recycled Terry sneakers are made from recycled materials. We should say 'upcycled' though since these sneakers truly make something out of nothing.
If you love a pop of color, the mint color is super fun, although they're also available in a few neutral colors. Like the Herbie Black Waxed Suede shoes, these are a classic low-top chuck taylor style, with the beige rubber toe and sole.
Pair these with some white pants and an oversized short sleeve button-down shirt for a beach vacay vibe. Or roll the ankles of black skinny jeans up and wear a black and white striped top and black beanie for a grungy look with some fresh color.
These sneakers might be what's missing from your wardrobe, so grab them while you can since they're on sale for $79 (down from $100)!
Who Is Clae For?
Since Clae shoes are all about simple and classic silhouettes, it's only fitting that they be made for everyone. The idea is that there is no exclusion—no foot that the shoes won't fit. And while they really aren't Cinderella slippers, they'll make you feel as special as the princess.
Times are changing, but the fact that we need comfortable shoes never will. We know that everyone needs a fashionable, good-quality shoe to go about their day. If you value a good pair of versatile shoes, then Clae is for you. Age, gender, and style are all things that are no object to the brand because these shoes are made with everyone in mind.
Comparison: Clae vs. Veja
In the past decade, sustainability has been at the forefront of the fashion industry, and brands like Clae and Veja have hopped on board this bandwagon. They recognize that quality shoes should also come from quality sources.
The two brands, both of which came to fruition in the past 20 years, have substantial followings on IG, though Veja has an impressive 762k followers. Plus, lots of Veja reviews commend the brand for their classic styles that are super easy to throw on and wear without fearing that your feet might start to hurt.
While Clae's products definitely lean on the sophisticated yet casual side, Veja's shoes are meant for wearing with athleisure and are more athletic in general. Yet, it's not about trends for either of these brands—instead it's about timeless styles that will last you throughout the ages—withstanding both ever-changing trends and wear and tear.
Both brands remain committed to both the planet and their customers. Their shoes are affordable, costing around $100 per pair on average, without sacrificing sustainable manufacturing or sourcing.
Veja's materials come from the Amazon Rainforests and the shoes are manufactured in Brazil. Veja does accept international returns within 28 days while Clae does not.
All in all, both Veja and Clae carry great quality, ethically made, and inexpensive shoes for everyone to wear. For this Clae review, it all comes down to how versatile of a shoe you're looking for. If you want some cool athletic-style shoes, Veja's your top choice, but if you want something a little more transitional, then Clae has you covered.
Clae Reviews: What Do Customers Think?
While there aren't too many reviews for the Clae label, the ones that this Clae review found are all glowing reflections of the brand's quality products. Clae is commended for its beautiful marriage of sustainability with comfortable, fashionable shoes.
The brand received 4.5/5 stars (from 43 reviews) on Zappos. It's clear that the shoes are well-loved, versatile, and are time and time again referred to as being worth the price.
One 5/5 star reviewer wrote, "I love these shoes. They're so comfortable, so durable. I'll never buy from another shoe brand other than Clae. After a year and a half of playing basketball, hiking, and working in these shoes, they are still as comfortable as when I first got them. I did mess up the interior leather up some, though. But that hasn't affected the feel of them."
Another customer rated the brand 5/5 stars on Zappos lists. In their review, they listed all the amazing qualities of their new kicks:
"Wow, these shoes are just so fresh. They look great; the feel is great; they sit well with jeans; overall just amazing shoes. I would highly recommend them to anyone looking to go beyond the candy colored kicks that are popular today. They're a little bit pricey, but well worth it. My only gripe is that the inside of the tongue is white, and it's gotten stained a little bit blue from my pants. It's hardly noticeable, and it's basically my fault though!"
Basically, reviewers seem to love the shoes, but what they love more is how long they last. A good shoe shouldn't just feel good, but it should move with you and handle all of your everyday activities.
On This Fits, one buyer discussed how they've found a new staple for their wardrobe, and one they'd been on the hunt for. Here is their happy review:
"They were immediately comfortable out of the box for a full day's wear, probably because of the EVA midsole. On their first day out, I wore them with a chestnut suede bomber, textured linen sweater, and slim washed denim. They looked fantastic, and overall I'm quite happy with them. I think my search for minimalist white sneakers is over."
There are also several reviews on Reddit. One reviewer loves all the unique qualities of the shoe, as well as the fact that they're comfortable even for the first wear:
"The leather upper is of the softer variety and isn't hard or plasticky, it's supportive without giving up it's structure. The neoprene heel accent definitely adds to the comfort level and also makes it easy to slip the shoes on and off. The saw tooth rubber sole looks decent and will hopefully stand up to every surface we walk on. We'll report back on break-in times and wear in the future. Also since we got it on sale, we can't recommend it enough. It ticks all our boxes, but it's still inexpensive so if you need a beater pair that still looks the goods, the Clae Bradley is it."
Some reviewers comment on the fact that the shoes are narrow, so if you have wider feet it might be a good idea to size up. This doesn't impact the love they have for the shoes though, as they remain a favorite in the wardrobes of many.
Is Clae Worth It?
With some wonderful customer reviews and a commitment to sustainable sourcing and manufacturing of quality, comfortable, and stylish shoes, we conclude that this brand is worth the buy!
Although each shoe is made to last you a lifetime, you'll probably be wanting more than one pair for your closet.
Clae Promotions & Discounts
If you're looking for a good deal on your first pair of Clae shoes, you can get 15% off your first order if you sign up for their email list.
At the time of writing this Clae review, the brand is also hosting a sale section with shoes that are up to 60% off—so run, don't walk, and grab a deal!
Where to Buy Clae
If you're interested in buying a new pair of kicks, you can shop for Clae's products on their website, clae.com. If you want to try them on in person, you can find them at retailers like Nordstrom.
FAQ
Who owns Clae?
Clae is owned and operated by CEO, Jim Bartholet. The owner believes in making good-quality shoes that are comfortable and stylish (hence the brand's main focus).
Where is Clae based?
Wondering where the idea for every Clae shoe begins? Clae is based in Los Angeles, where the shoes are designed. We'll tell you more about where they're made, next!
Where are Clae shoes made?
Clae shoes are made in Ho Chi Minh City in Vietnam. The shoes are handmade to ensure the best quality and meticulous design of each pair.
Are Clae shoes sustainable?
When it comes to sustainability, Clae is committed to ensuring that its products are made with the world's wellbeing in mind. The brand's leather fabrics only come from certified tanneries and it also upcycles as many materials as possible.
Are Clae shoes vegan?
While not all Clae shoes are vegan, they do offer plenty of clearly marked vegan alternatives. One-third of the collection contains only vegan materials, so you can feel good about the shoes you choose.
What is Clae's Shipping Policy?
Wondering when your new shoes are going to arrive? Clae offers tracked shipping through FedEx or USPS so you can keep your eye on the prize. Your order should arrive within 7-21 business days, but unfortunately, duties and taxes are the responsibility of the buyer.
What is Clae's Return Policy?
Clae accepts returns of unused shoes within 30 days of purchase in the US only. Unfortunately, orders outside of the US cannot be returned or exchanged.
Contact the customer service team to let them know about your return
Ensure the RMA# they send you is included in your package
Bring the package of your unused shoes to the nearest post office
Your return should be processed within 3-5 business days after the company has received it.
How to Contact Clae
We hope you enjoyed our Clae review! If you have any further questions about the brand and its products, you can contact them using the following means.
Clae's customer service department operates between the hours of 9:00 am – 4:00 pm PST, Monday through Friday.
---
Check out similar brands you might like:
Get Access to Exclusive Deals
Subscribe for free to get exclusive deals in your inbox. 100% privacy