Honeylove Shapewear Review
My Experience Buying Honeylove Shapewear
Who Am I?
Hey my name is Stephanie but on social media I go by Violet Vibes! Pleasure to virtually meet you. I am from a small town in New Jersey but lucky for me its only 30 minutes away from the big apple (New York City lol).
A normal weekend for me is typically spent creating content because I absolutely love trying new products and sharing my thoughts on them! I also spend a lot of time trying out new and fun places to go.
With the city being so close to me, I have endless possibilities and always find a new cool spot to try. Can't forget about my lovely dog, Freyja! We like to go hiking and I love finding dog friendly places and products for her to try out too!
Why I purchased HoneyLove
I have a ton of events coming up where I will be wearing a dress or fitted clothing so it was time to get a shapewear that really works and doesn't leave me hanging….out the sides.
My Experience Shopping with Honeylove
The website was straight forward. Very simple and easy to navigate. They give you categories you can choose from which I felt was the easiest for my needs.
I was able to go straight to shapewear and pick which one I wanted. They have a "find my size" and a "sculptwear quiz" which are so helpful to find what the best fit for you.=
Shipping
Shipping was crazy quick. Once the order was placed, I received my shapewear within 3 days.
Packaging
The packing was great because they use biodegradable mailers instead of a box! They are helping save the planet one package at a time.
First Impressions
I was very impressed. The material was so impressive. You never really know how something is going to feel until you feel it for yourself and I felt it was amazing!
My Honeylove Shapewear Review
This shapewear does what you want it to do. It sucked in my tummy. It has padding in the chest so you don't need any additional support. The grippers on the butt area make it so there is no ridding up of the shapewear during the day.
The side area of the chest has a corset type wire so the it snatches in that area as well which is something that I was looking for in a shapewear because my other shapewear had me hanging over the top and it was not cute.
The material is so soft on your skin which is really nice. It is also very durable material so I do not feel like I am going to rip it as I am putting it on. I feel like these are true to size but they do have a sizing chart for guidance.
How did Honeylove Shapewear Fit me?
Yes, it fit. This Honeylove shapewear was amazing and it did everything it was supposed to. It sucked in all the parts that needed to be sucked in.
My tummy was flattened and looked great in my clothes. It fit the way it was supposed to. I am a size large so I ordered a large and it fit perfectly so that I was able to get it on but it was tight enough to still suck in my rolls.
Material
The material was a 10/10. It was so soft which is important since you are in direct contact with it and it is tight so you want something that is this soft on your skin.
What I like about Honeylove
The best thing about this shapewear is the shaping! It really sucks you in and makes you feel so confident wearing your outfits. It also has grippers on the booty area so that it will not ride up.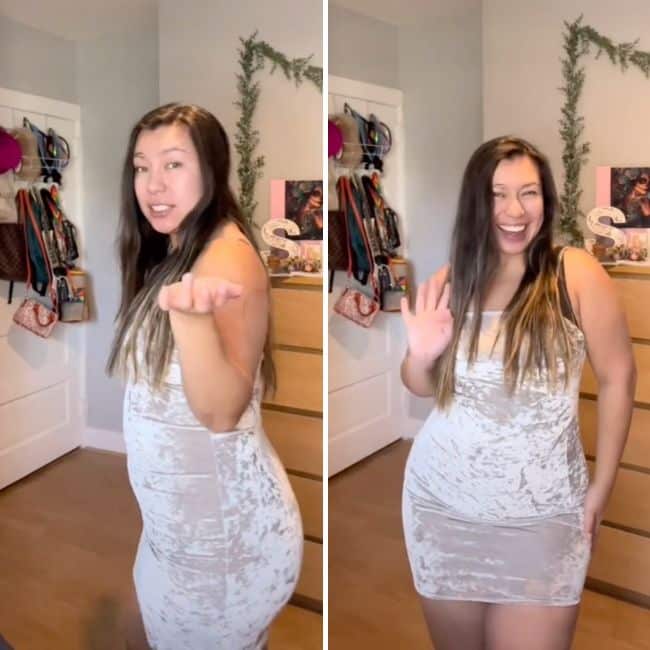 Suggestions
I don't have any suggestions, they did a great job with the product as is and have plenty variety to accommodate everyone's needs.
Rating
For quality, comfort, and function I would have to give Honeylove a 10 out of 10. For all the reasons, I have listed they have just crush the competition and I can't wait to try more products from them.
Would I recommend them to a friend?
Yes, I have already recommended it to my friends and family. I feel like this is the best shapewear on the market and more people need to know about them.
About Honeylove Shapewear
I'll be the first to tell you that my relationship with my body needs a little work. I struggle wearing tight clothing and regrettably, I've even skipped a few meals in my day to look slim before a big night out.
So when I read that Honeylove was going to help me confidently embrace femininity, I thought it sounded like a lot of therapy and self-hugs.
Turns out, they help women to feel good in their own skin through a line of lifting, compressing, and toning shapewear they like to call "sculptwear."
Their wide range of underwear, camis, and bras are all actually comfortable and have been featured in Cosmopolitan, Elle, and the New York Times to back that up. The company currently has over 73k followers on Instagram too.
In this Honeylove Shapewear Review, I'll introduce you to the brand and its collection. We'll dive deep into bestsellers, customer reviews, and more to help you decide if their sculptwear is right for you.
Why You Should Trust Us
Our mission is to help you make better, more informed purchase decisions.
Our team spends hours researching, consulting with medical experts, gathering insight from expert professionals, reviewing customer feedback, and analyzing products to provide you with the information you need.
Pros and Cons of Honeylove Shapewear
Pros
High-quality shapewear options: Honeylove offers a wide range of shapewear products, including bodysuits, shorts, leggings, bras, and more, all made from high-quality materials.
Style options: Honeylove shapewear is available in a variety of styles, colors, and designs, ensuring that you can find the perfect option to fit your body type and personal style.
Smart compression panels: Honeylove's shapewear features compression panels strategically placed to provide targeted support and ensure a comfortable, seamless fit.
Size-inclusive line: Honeylove offers a size-inclusive line, ranging from XS to 3X, ensuring that women of all body types can find shapewear that fits and flatters.
Positive reviews: Many reputable sources have praised Honeylove's shapewear for its effectiveness and comfort, with numerous positive reviews available online.
30-day fit guarantee: Honeylove offers a 30-day fit guarantee, allowing customers to try their shapewear risk-free and return it for free if they are not satisfied with the fit.
Cons
Price: Honeylove's shapewear is more expensive than some other brands, which may be a drawback for some customers.
Limited size options for some products: While Honeylove offers a size-inclusive line, some of their products may not be available in all sizes.
May not be suitable for all body types: While Honeylove's shapewear is designed to fit a variety of body types, it may not work as well for some women as it does for others.
Honeylove Shapewear Materials
Honeylove shapewear is made from a variety of high-quality materials that are designed to provide comfort, support, and a flattering fit. Here are some of the materials used in Honeylove shapewear products:
Power Mesh: Honeylove's patented Power Mesh technology provides targeted support and compression where it is needed most. The Power Mesh panels are strategically placed to smooth and shape the body, while still allowing for comfortable movement.
Nylon and Spandex: Many of Honeylove's shapewear products are made from a blend of nylon and spandex, which provides stretch and support. The nylon helps to make the shapewear durable and long-lasting, while the spandex ensures that it can stretch and move with the body.
Polyester: Some of Honeylove's shapewear products are made from polyester, which is a lightweight and breathable material. Polyester is also durable, which makes it a good choice for shapewear that will be worn frequently.
Silicone: Honeylove's thigh shapers and shorts feature silicone grips around the legs to keep them from riding up or slipping down. The silicone grips are soft and comfortable against the skin, and they help to keep the shapewear in place all day long.
Overall, the materials used in Honeylove shapewear products are carefully chosen to provide the right combination of support, comfort, and durability. From the Power Mesh panels to the silicone grips, each material serves a specific purpose in ensuring that the shapewear fits well and flatters the body.
5 Honeylove Shapewear Best Sellers
Honeylove Shapewear Queen Brief Review
You'll be feeling like the queen bee in the Queen Brief. These corset-style sculptwear briefs ensure compression while also providing a Marilyn Monroe look. Cue gasp here.
Its hourglass shape smoothes your stomach while showing off those curves with pride. With added boost bands, your booty will also be uplifted and shaped to perfection.
The sweat-wicking construction keeps this garment dry and comfortable throughout your day and its SoftFlex structure holds everything in place.
These structures are like the bones you find in corsets but thankfully, I've read they're super comfortable and soft.
You don't have to worry about panty lines with these because Honeylove has got your back (and your front, too). This pair is $107 and you can grab these in white, tan, or black.
What customers are saying: "This is the only shapewear I will ever buy! The Queen Brief was comfortable, yet structured too. Not only that, but I wore it for almost an entire day and never had any issues with it falling down or rolling. I love Honeylove!"
Honeylove Shapewear SuperPower Short Review
They don't call this a SuperPower Short for nothing. These provide the same support the briefs give, and then support your thighs, too!
Its unique paneling targets your stomach with a firm compression but doesn't compress anywhere you don't want it to.
With booty bands that provide lift to your behind to enhance your curves, I love these shorts for silky dresses where smoothness is a must.
Don't worry about any unwanted bulges, either. This piece was designed with extra space at the waistband and thighs to help achieve a seamless look under your clothes.

I know you're wondering, what if I have to go to the bathroom? Don't stress, these are 100% bathroom-friendly. They feature a slit in the fabric to make trips to the lady's room much easier.
Finally, shapewear that makes sense.

The SuperPower Short comes at the price of $113. Plus, there are four color options to choose from!
What customers are saying: "You can tell they pay attention to detail at Honeylove! There are so many little details on this garment. This is very well manufactured and the fabrics are super luxurious."
Honeylove Shapewear SuperPower Thong Review
The SuperPower Thong provides the Honeylove guarantee of compression technology paired with style and comfort, but with the added benefit of being compatible with shorts or short dresses.
Their true superpower is no unwanted panty lines if you are looking to wear some soft shorts or leggings.
Pro tip: If you are between sizes or you need a very snug fit, I found that Honeylove suggests you order one size smaller than usual.
Tall women, celebrate!—the company provides optional straps with this sculptwear thong to help the piece reach your bra line for a seamless fit.
Priced at $101, these shaping knickers come in two color options.
What customers are saying: "All I can say is wow! I've recommended these to everyone I know! Stayed in place the entire night, didn't roll down, supported my posture. I felt so confident and held together without bulges everywhere."
Honeylove Shapewear LiftWear Tank Review
This LiftWear Tank is one of Honeylove's most-loved products because it provides support and comfort. I can see why.
So what makes this shapewear tank so comfortable? It's free of wires and has straps that won't dig in. It gives your chest support and lifts without any uncomfortable compression.
Unlike other super-tight shapewear that can only be worn for a few hours at a time, the brand promises that this piece is comfortable enough to wear every single day.
With seven color options that range from essential nudes to vibrant hues, you'll want to show off this $107 Honeylove tank bra. With a cute style and lasting support, I love it paired with jeans for a casual sunny day look.
What customers are saying: "What a hard-working WARDROBE STAPLE!! Just completed a 2 week journey through Scotland and ended in London and this tank was a crucial part of my carry-on wardrobe!! So comfortable for the long flight, easy to dress up for evenings…perfect layering piece for the temperature swings."
Honeylove Shapewear Silhouette Bra Review
For an adjustable and supported lift, check out Honeylove's Silhouette Bra. Instead of uncomfortable wires, this bra uses piping made of velvet to keep your breasts comfortably perky all day. Is that even a thing? This bra is living proof.
My favorite feature is the adjustable fit. Tighten your straps and hook or criss-cross your straps for an invisible appearance under most tops.
Plus, since it has a low neckline, you can show off your curves while remaining supported.
Honeylove recommends sizing down if you prefer a snug fit or are in between two sizes. Its removable cups provide additional coverage and shape but can be removed for a less modest look.
The Silhouette Bra is currently available in five color options for $80.
What customers are saying: "I really believe this bra gives me lift! I have been looking for a bra with lift that is comfortable and have found it. I have washed it and still feel the same way."
Honeylove Shapewear Reviews: What Do Customers Think?
Now you may be wondering, is Honeylove shapewear good? I dove deep into online reviews to answer this very question.
The company currently has an A+ rating from the Better Business. Bureau, and they are an accredited business there to boot! In the past three years, there has been one customer complaint, which was resolved.
I also found that the brand's website is filled with glowing Honeylove Shapewear reviews. Here's an overview of their bestsellers:
LiftWear Tank: awarded 4.9/5-stars from over 300 reviews
SuperPower Brief: awarded 4.9/5-stars from over 400 reviews
SuperPower Short: awarded 5/5-stars from over 1000 reviews
V-Neck Bra: awarded 4.8/5-stars from over 100 reviews
Throughout the many reviews I checked out, I discovered that customers often list three reasons why they love the brand's sculptwear in their Honeylove Shapewear reviews: 
They're surprisingly comfortable
They fit perfectly
All provide amazing lift, support, and compression
One woman loves how the V-Neck Bra provides support while looking flattering: "It is so freaking comfortable and looks great under my clothes. I feel confident that I look good from the front AND the back."
While other customers feel Honeylove's shapewear is sexy, unlike other brands: "Ok writing this review because I've honestly never seen such beautiful shapewear like wow I feel sexy wearing it – what!??"

There are also glowing Honeylove Shapewear tank reviews on Facebook. One customer feels the LiftWear Cami is "worth every penny":
"I am highly impressed! It came extremely fast and it's one of the most comfortable and supportive camis I've ever had! I love that I don't have to wear a bra with it and how slim it makes me look!"

Honeylove Shapewear reviews are not all positive, though. On Trustpilot, their collection has only earned an average of 2.4/5-stars from 25 reviews.
Some users argue that their shipping and customer service both fail to meet reasonable expectations. While these concerns are valid, we should also take into consideration that they are in the vast minority of opinions when it comes to Honeylove.

Reportedly, some customers struggle to go to the bathroom in Honeylove's pieces, but I love that the brand's SuperPower Short and SculptWave Capri feature a special slit to solve this problem. Hopefully, the brand extends this feature to other pieces in their line.
It's important to note that negative testimonials are scarce, and many women seem to be happy with their products. If you're still on the fence, the company offers a 30-day hassle-free return policy.
Is Honeylove Shapewear Worth It?
After hours spent researching the brand, I now come to the question you're probably wondering—is Honeylove a legit company? Are they worth it? Based on what I've learned about their shapewear and sculptwear, the answer is yes!
Having an A+ accredited rating on the BBB is pretty impressive itself, but if that isn't enough, the hundreds of positive Honeylove shapewear reviews should convince you.
What do I love most? That this company is by women for women.
Honeylove has tried endless prototypes to come up with their perfect version to empower women to feel confident in their skin.
Plus, they ensure that looking great doesn't mean feeling uncomfortable. Comfort AND appearance intersect at every stage of their design process.
Need proof? The brand provides a convenient Size Quiz to help you to find the size for your body type before you purchase.
I particularly respect how diverse the Honey models are. The brand is passionate about representing all women, which is also reflected in their size range.
Plus, they make Honeylove sizing easy with their in-depth Honeylove size chart.
Though the prices are higher than some comparable brands, throughout my research for this Honeylove Shapewear review, I read that many reviewers agree that they are "worth every penny."
For shapewear that features high-quality fabrics, a diverse size range, innovative designs, and a comfortable fit, I can definitely say that this brand is worth the buy.
Honeylove Shapewear Promotions & Discounts
Right now, the company is offering a Honey promo! When you purchase one item, the rest of your shopping cart receives a 20% discount.
Alternatives
While Honeylove shapewear is a popular and well-regarded brand, there are several alternatives on the market that may be worth considering. Here are a few options:
Spanx: Spanx is perhaps the most well-known shapewear brand and offers a wide range of products, including bodysuits, shorts, leggings, and bras. Spanx shapewear is designed to provide targeted compression and support, and is made from a variety of high-quality materials.
Skims: Skims is a newer shapewear brand founded by Kim Kardashian, and has gained popularity for its inclusive sizing and comfortable, seamless designs. Skims offers a variety of shapewear products, including bodysuits, shorts, and leggings, made from a blend of nylon and spandex.
Shapermint: Shapermint is an online retailer that offers a variety of shapewear brands, including Honeylove, Spanx, and Skims, as well as other options. Shapermint's website features customer reviews and a fit guide to help customers choose the right shapewear for their body type and needs.
Yummie: Yummie is a shapewear brand founded by Heather Thomson, a former Real Housewives of New York City cast member. Yummie offers a variety of shapewear products, including bodysuits, shorts, leggings, and bras, made from a blend of nylon and spandex.
Commando: Commando is a shapewear brand that specializes in seamless, invisible designs that are meant to be worn under tight-fitting clothing. Commando's shapewear products are made from a blend of nylon and spandex, and feature targeted compression and support.
Overall, there are several shapewear brands on the market that offer high-quality, comfortable options for women. While Honeylove is a popular and well-regarded brand, it's worth exploring other options to find the right shapewear for your body type and needs.
Where To Buy Honeylove Shapewear
Honeylove can be purchased exclusively through their website, Honeylove.com. The Honeylove shapewear Amazon collection is not supported by the brand and may not include authentic products.
FAQ
What sizes does Honeylove Shapewear have? 
Honeylove Shapewear offers its shapewear in sizes XS-3X. The brand also has a Size Quiz to help you accurately anticipate the proper size to order. 
How long does Honeylove take to ship?
I'm happy to report that Honeylove ships internationally. US orders take 5-9 days, while international orders take 8-14. Priority and Express shipping options are available upon request.
In this Honeylove Shapewear review, I found that US shipping is free but the shipping cost for international orders depends on your location.
Once your order has been processed, you'll receive a tracking number to easily track your Honeylove order status.
What is the Honeylove Returns Policy?
Honeylove Shapewear has a 30-day return policy. If you decide to return your garment, you will be able to do so (no questions asked!) as long as it is in new condition and with the original packaging. The brand also covers the return shipping fees.
How To Contact Honeylove Shapewear
If you have questions that were not answered in my Honeylove Shapewear review, you can reach out to them through the following methods of contact:
Check out the Live Chat feature on their website
Text: 1-855-568-3676
Telephone: 1-855-740-8229
Email:

[email protected]
---
Need more options? Check out Skims, or Conturve for more shapewear.
Get Access to Exclusive Deals
Subscribe for free to get exclusive deals in your inbox. 100% privacy