Jack Rogers Review
About Jack Rogers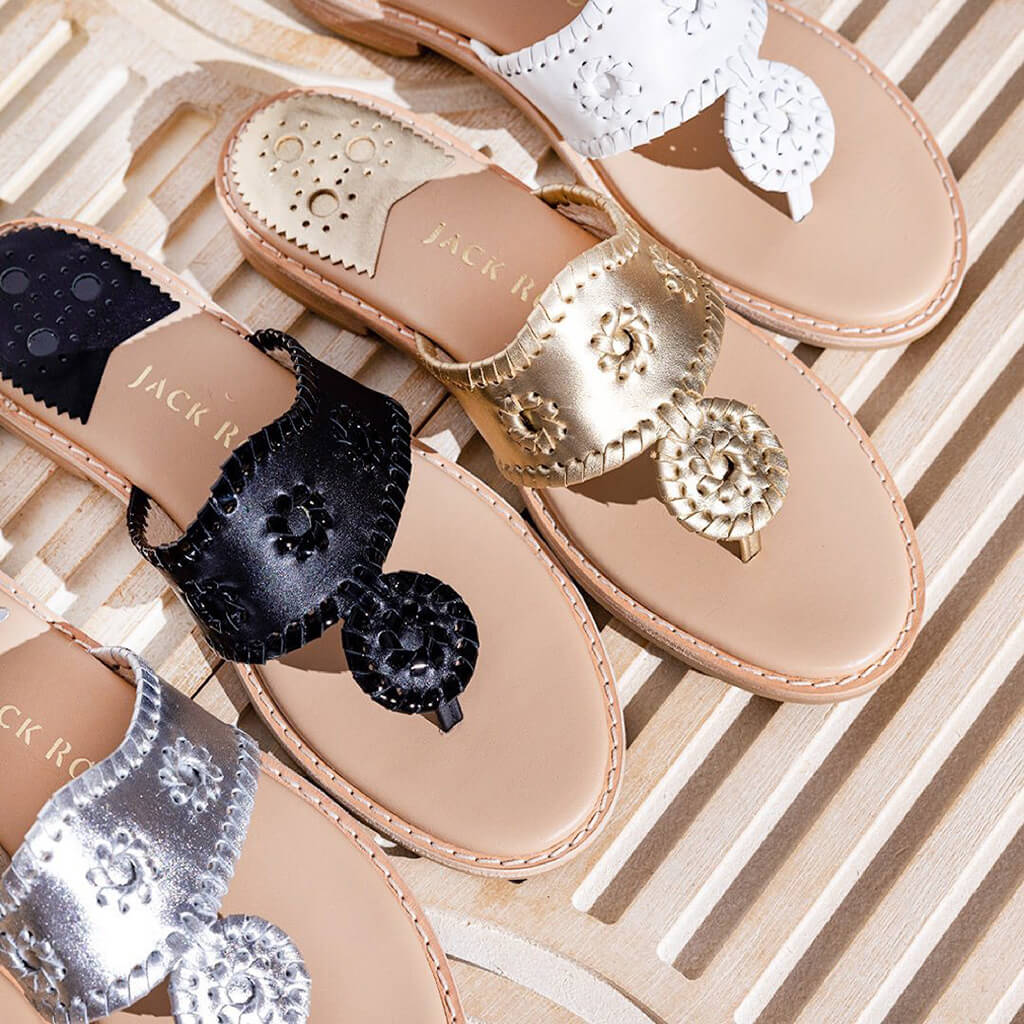 Popular since Jackie Kennedy wore them 60 years ago, Jack Rogers sandals are beloved and collectible footwear. No doubt you've seen women wearing them and wanted them for yourself but may not know just how iconic they are.
In their 60 years of business, they received a lot of media attention, many still raving about them as being one of the top and most stylish brands of sandals.
More recent media include Town & Country Magazine, USA Today, Harper's Bazaar, People, and Good Morning America, to name a few. They have 209k Instagram followers and 240k on Facebook.
In this Jack Rogers review, I'm going to help you to make an informed decision about this brand. I'll take an in-depth look at their products, promotions, and customer reviews, among other things.
Overview of Jack Rogers
If it wasn't for Jackie Kennedy, Jack Rogers wouldn't exist. During a vacation to the Isle of Capri, the then First-Lady found a pair of sandals that she wanted in a variety of colors.
She brought them home to her cobbler in Palm Beach, Florida to replicate, which he did by hand using the whipstitching and rondelle styles of the original.
With Jackie sporting these stylish sandals, it didn't take long before the women in Palm Beach wanted them and then women from across the country. A factory sprung up in Palm Beach and so did the name Jack Rogers, or the "Jack," to separate them from the standard flip-flop.
Sixty years later, Jack Rogers still make the classic Jack sandal by hand.
They have added more styles of footwear as well as spicing up the Jack sandal with new colors and designs.
Before I check out some of this iconic shoe brand's footwear, let's get a bird's eye view in this Jack Rogers review at what makes the company special:
Highlights
Offers a variety of comfortable, fashionable footwear
Jackie Kennedy levels of stylishness
US-made sandals
Timeless, long-lasting shoes
Financing options available with Klarna
Jack Rogers Sandals Review
Along with the classic Jack, Jack Rogers sandals include flats, jellies, heels, wedges, slides, and ankle wraps. All are handmade and are suitable for casual and dress.
For this Jack Rogers review I'll check out two classic styles of this best-selling brand.
Jack Rogers Embroidered Champagne Sandal Review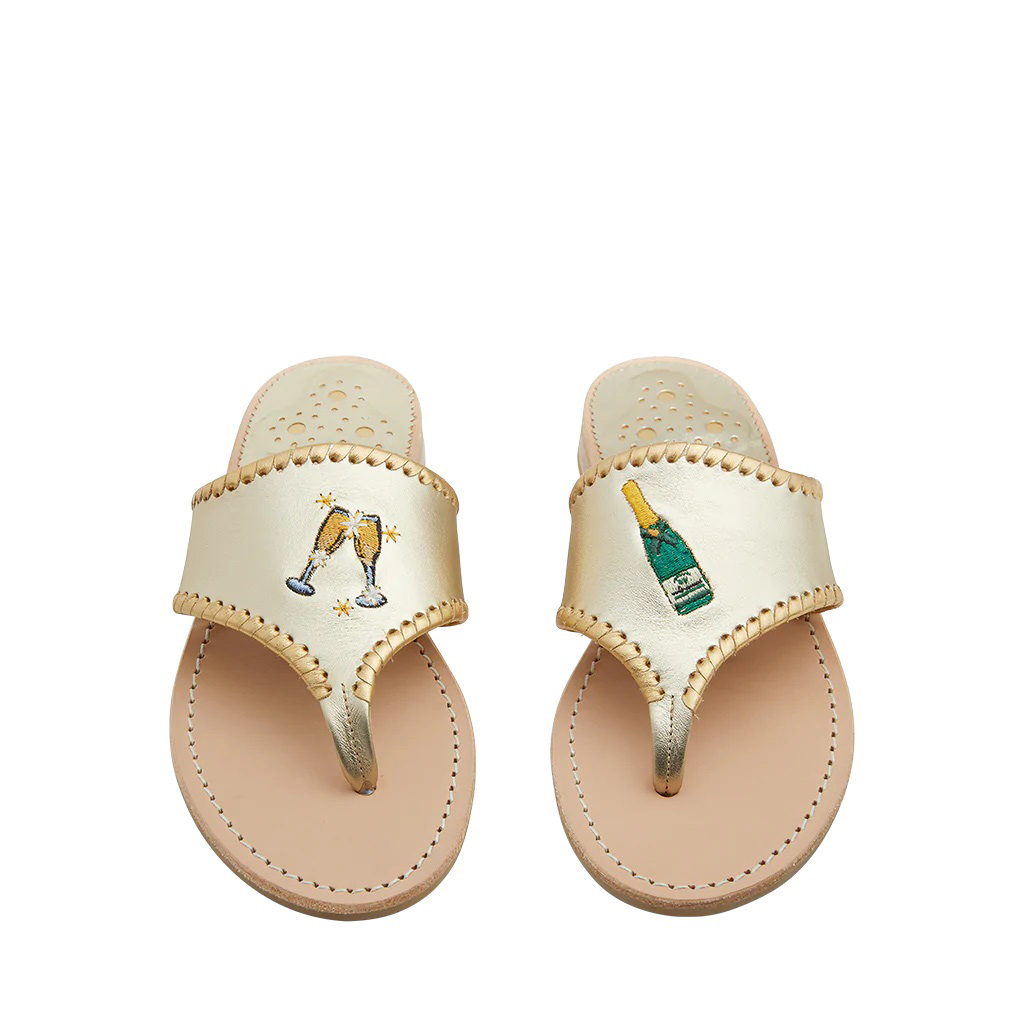 Pop open a bottle of bubbly with the Jack Rogers Embroidered Champagne Sandal. This 1"-heeled, platinum-colored sandal has a toe post design and an embroidered image of a champagne bottle on one foot and clinking glasses on the other.
The upper is made of quality leather as is the lining. It comes in sizes 5 to 12, including some half sizes.
With a metallic finish, day or night, you can be the toast of the town in these sandals for $148.
Jack Rogers Jacks Comfort Sandal Review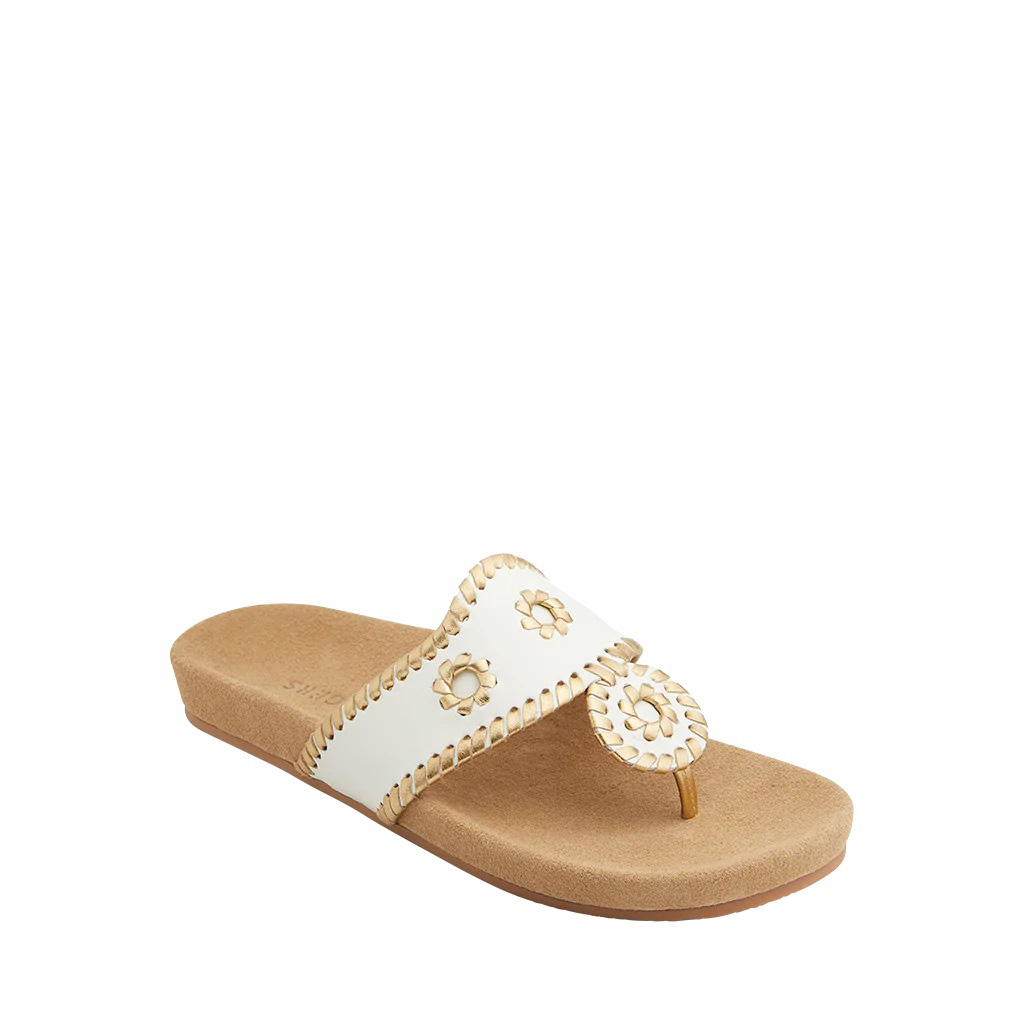 The iconic Jack is now more comfortable for all-day wear. With the classic style of whipstitch, toe post, leather sole and upper, and rondelles, the Jacks Comfort Sandal looks like the original but has a thicker, molded sole.
Made of rubber, the edges come up slightly to contour around your foot. With a 1" sole and arch support, pardon the cliche, but it might just have you wondering if you are indeed walking on clouds.
With sizes available from 5-12 and 12 choices of color from white to aqua, you can jack up your look with this Jackie Kennedy style for originally $138, or hurry and grab it on sale for $79.
Jack Rogers Shoes Review
As more than just a sandal company, Jack Rogers shoes include sneakers, boots, heels, and wedges. In sneakers, there is a choice of 5 styles in a variety of materials and colors.
The boots come in styles including heeled, flat, and booties. While there are tons of options to consider, my Jack Rogers review will look at our favorite pair of sneakers and boots from this best-selling brand.
Jack Rogers Hayley Duck Boot Review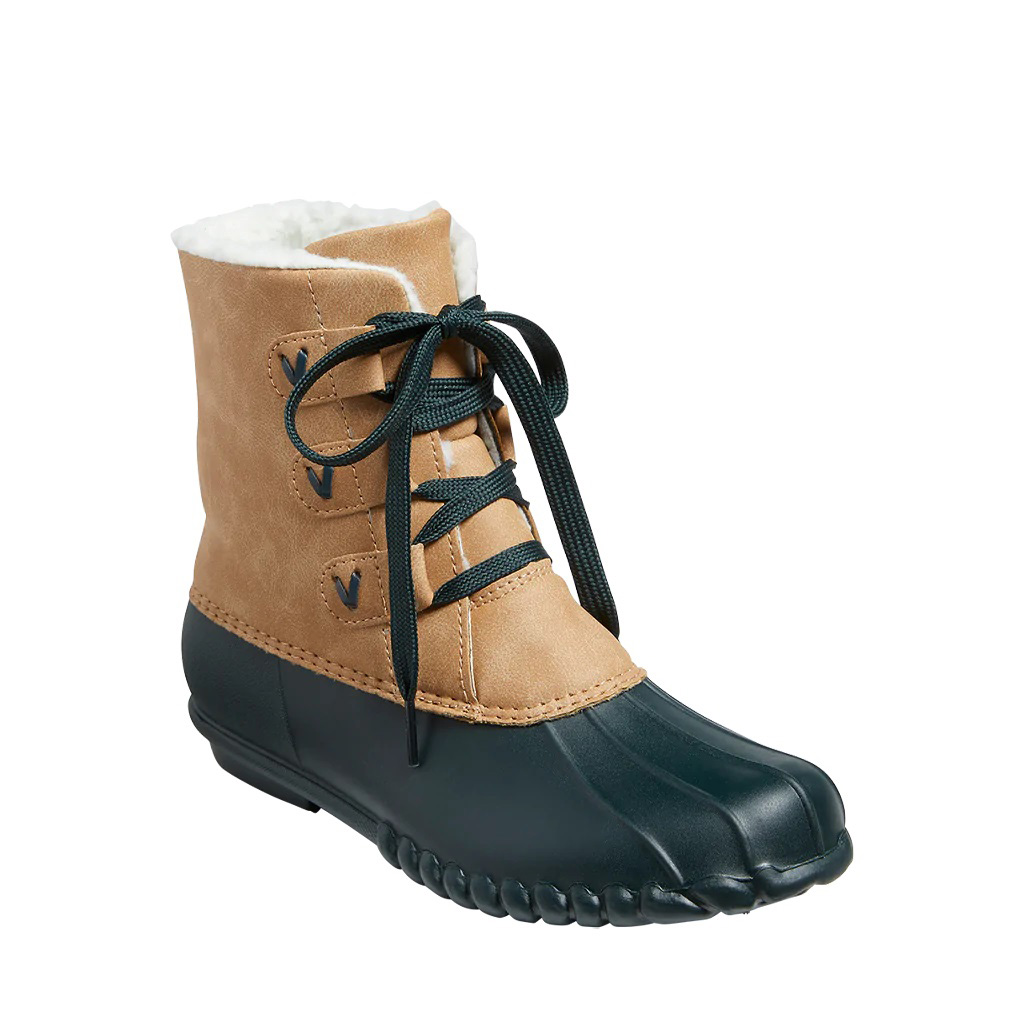 You'll be Singing in the Rain or snow with the Jack Rogers Hayley Duck Boot. This timeless staple is jacked up with three fun colors including green and tan, pink and platinum, and blue and plaid.
The rubber sole encases the whole foot and is stitched to the shoelaces and the fabric upper that covers your ankle. It's also lined to keep feeling oh-so-warm in the colder months.
These cozy, waterproof boots are intended for wet and/or cold weather. They come in full sizes from 5 to 11. Puddle jump in style for the sale price of $40, originally $88.
Jack Rogers Whitney Sneaker Review
Not meant to be a runner, the Whitney Sneaker is all about style and comfort. Intended for all-day wear, the whipstitch around the laces and the rondelle on the heel tab say classic Jack Rogers.
Unfortunately not around during her time, Jackie Kennedy would have loved a pair of these shoes to keep styling on casual days. 
Available in four colors and material choices, these sneakers are fun and bold. The black and green pine (white with a green heel tab) are made with leather uppers and linings, while the white has a sherpa upper and the leopard print is suede.
They come in sizes and half sizes 5 to 11. Run into a pair of these sneakers now on sale for $79, originally priced at $108.
Who Is Jack Rogers For?
With relatively affordable prices, Jack Rogers is for any woman looking for stylish footwear. Their iconic sandal's design is constantly played with, yet stays timeless.
Their other footwear stays true to the brand while giving more options to enjoy the look. The range of sizes fits every woman and the variety of colors and fun materials cover women from the shyest to the boldest.
Jack Rogers Reviews: What Do Customers Think?
Now you've heard from me, but now it's time to hear some Jack Rogers reviews from the brand's customers. On Zappos, out of 404 customer reviews, the Classic Navajo holds a respectable score of 4.1/5 stars. 
Let's zoom in for a moment and see what one descriptive review had to say about the sandals:
"This is my second pair of Jack Rogers Hamptons Classic Navajo sandals. I have silver and now gold, and appreciate that they come in 1/2 sizes. They are always comfortable and a great sandal for shopping days—easy to slip on, look more put together than a simple flip flop, and I love that they've been stylish since Jackie O wore them in the 60's!"
You know you're a real fashion trendsetter like Jackie Kennedy Onassis when you're still making an impact on people's buying habits 50 years later. That is a true and timeless icon, like the sandals that she inspired.
Zooming on over to Macy's, the Jacks Comfort Sandals have an overall score of 3.3/5 stars from 12 reviews. So, what are people saying about this product? Here are all the deets:
"These shoes are like your favorite pair of shoes had a baby with Birkenstock's, your other favorite pair of shoes with arch support. I absolutely love them and got the in every color! They run true to size and literally can match anything; casual or night out."
I wonders if they know that the shoes come in an outstanding 12 color choices. Probably, if they are a collector and a fan. 
Google is also a great place to look for customer testimonials. The brand's Georgica Jelly holds an impressive 4.4/5 stars from close to 70 satisfied customers. Speaking of which, here's what one of them had to say:
"LOVE these sandals! They are my go-to for the beach and pool. I love that they don't squeak when wet. I also use them for if it's raining outside so I don't ruin my other jacks! They might be slightly more expensive than your normal flip flop but will last way longer and look SIGNIFICANTLY better!"
So, it seems that Jack Rogers covers you in any warm, weather situation. They also have your back when it comes to cold weather with their boots. The Chloe Duck Boot got 81 reviews on Amazon for a total rating of 4.1/5 stars.
Similar to the Hayley Duck Boot, the main difference is that the rubber sole is a different color than the upper instead of being one flowing piece.
One reviewer was ecstatic about the pair they bought for her daughter: "Love Jack Rogers! ADORABLE! I got these as a gift for my daughter. The price was by far the best price! She has worn them non-stop on her recent trip to PA. Stomping through snow and staying warm as well as being super stylish! (sic) Super cute, soft inside and a perfect fit!! Win Win! Thanks!"
Before wrapping up the customer reviews, I must mention in this Jack Rogers review that I came across a few negative reviews about this brand. Trustpilot had 21 bad reviews (practically all about a lack of quality) and not a single good one, which seems a little wonky. 
On the Better Business Bureau website, there are several complaints, almost all about customer service and shipping/refunds taking too long. Jack Rogers responded to just about everyone and they have been satisfactorily resolved.
I can't tell you why Trustpilot reviews are so one-sided but I'm taking them with a grain of salt, as they are not reflected anywhere else. 
A check on Knoji shows that over 38 ratings they have 4/5 stars overall and their customer service & brand rating is also 4/5 stars.
Let's not forget that social and mainstream media rave about Jack Rogers. Before wrapping up this section, let's take a quick look at some of their product rankings. As you can see, they don't back the Trustpilot reviews:
Embroidered Champagne Sandal – 1 review – 5/5 stars
Jacks Comfort Sandal – 7 reviews – 4.6/5 stars
Hayley Duck Boot – 3 reviews – 4.3/5 stars
Whitney Sneaker – 333 reviews – 4.5/5 stars
Is Jack Rogers Worth It?
So, are they worth your money? Only if you want timelessly fashionable and comfortable shoes that people can't help but notice. Only if you want to feel fabulous in the same styles as rocked by Jackie Kennedy. This long-lasting footwear brings together comfort, function, and fashion in one beautiful package.
The price is affordable, especially as most of this footwear is good with both casual and dressy outfits as well as pants, skirts, or shorts. The style and versatility are why Jack Rogers is considered one of the best footwear brands by media and customers alike.
Jack Rogers Promotions & Discounts
At the time of this Jack Rogers review, the brand is offering their customers several ways to save money on their purchases through their website:
Loyalty program
15% off your first purchase
SMS program
Free shipping in the US on orders over $50
A robust sale section
Refer a friend and you both get $10 off a purchase
Financing options available with Klarna
Where to Buy Jack Rogers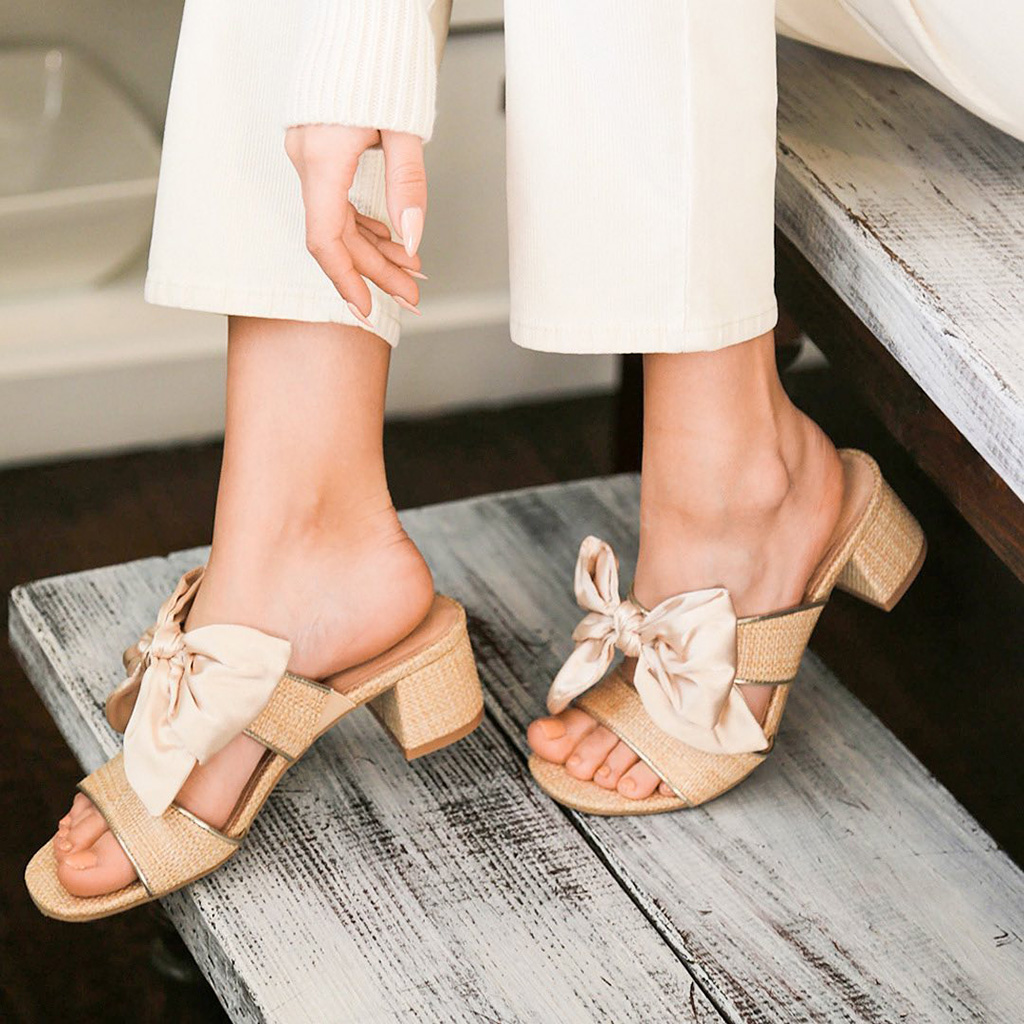 The best place to buy Jack Rogers is through their website at jackrogersusa.com, especially as they offer opportunities to save money.
Since they have been around so long, they are pretty well available everywhere such as in department stores and shoe stores across the nation as well as online like Zappos and Amazon.
FAQ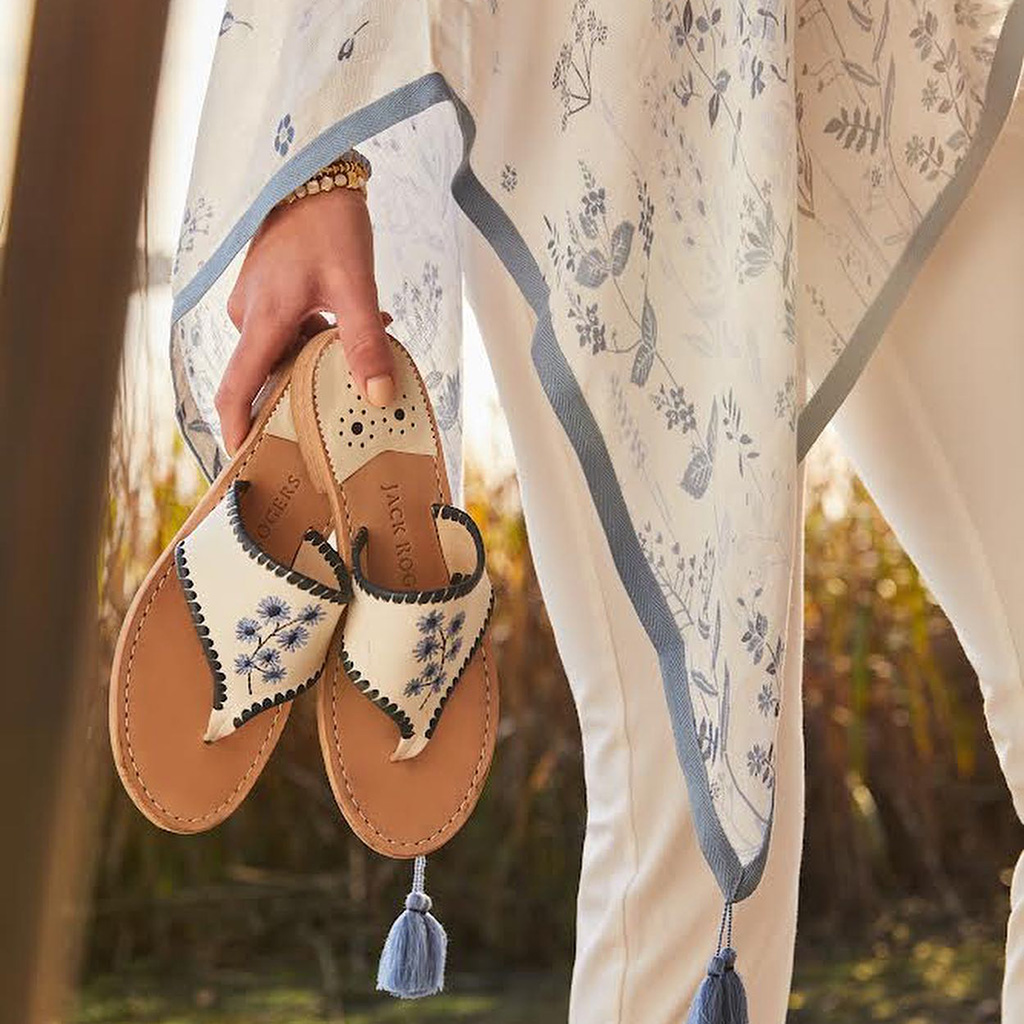 Who owns Jack Rogers?
While writing this Jack Rogers review, I found that the brand is currently being led by CEO Lydia Park Luis. She took up the mantle in 2018.
Are Jack Rogers handmade?
Yes, all Jack Rogers sandals, shoes, and boots are handmade in Florida and the Dominican Republic.
Does Jack Rogers ship internationally?
Yes, I'm happy to report that Jack Rogers ships internationally to Canada, Mexico, Australia, and New Zealand.
What is Jack Rogers' Shipping Policy?
Jack Rogers offers free shipping for orders over $50 in the US. Less than that, it is a flat rate of $10. You can pay for 2nd-day shipping or express delivery if you want to receive it more quickly.
They do not ship to AFP/FPO/DPO addresses. Orders start processing the next business day from the day they were placed.
Standard shipping is usually about 7 business from order placement, 2nd-day shipping takes 2-3 business days, and express shipping comes in at 1-2 business days.
What is Jack Rogers' Return Policy?
Jack Rogers' return policy is 30 days from the date of your purchase. There is a $5 return shipping fee and your original shipping costs will not be refunded. Items must be unworn.
There is a one-year warranty on defective items. You can get a refund within 90 days of your purchase or store credit/exchange after 3 months. Here are the steps for returning any items:
Visit the brand's return portal and fill out an RMA form
Receive the return shipping label
Package the item and affix the label
Note the tracking number on the label
Drop it off at a FedEx location
How to Contact Jack Rogers
If you have any questions that I didn't answer in this Jack Rogers review, you can contact them through email at [email protected]. It can take 5-7 business days for a response. 
---
Check out similar brands you might like:
Get Access to Exclusive Deals
Subscribe for free to get exclusive deals in your inbox. 100% privacy