Lumen Review
About Lumen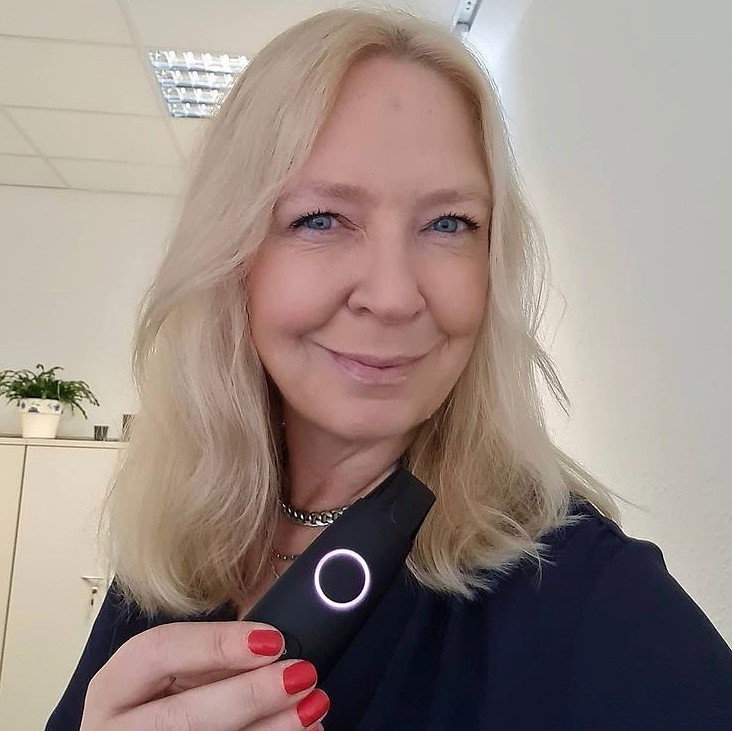 Tracking your metabolism to lose weight isn't always the easiest process. From following diet plans that may or may not work for you to restrictive meals, it can be a confusing journey for all. In the past, elite athletes have had access to advanced technology that allows them to analyze their individual metabolism, helping them with meal plans and training to excel.
With this kind of personalized metabolism tracking and information, a select few have been able to specialize their diet and energy output, allowing them to be the best they can be, and become hyper aware of their body's needs. But now, you can get this information at your fingertips too. This technology has finally been released to the public, in the form of Lumen.
Lumen is a metabolic tracking device with a simple, easy-to-use procedure — using your breath. By blowing into a CO2 sensor, the app produces detailed and individually tailored meal suggestions for weight loss and energy gain. That's all you have to do! When you use the Lumen device and app, you've basically got yourself a health guru at your beck and call.
At just over a year old, this fresh device has gained plenty of general accolades from a variety of sources, including features in Forbes, Entrepreneur, and TechCrunch, even collaborating with Adidas Runners to help them improve their capabilities. That, and they have nearly 60k followers on Instagram — not bad for a young company!
In this Lumen review, we will look at the process behind the science of this metabolic tracking device — who it's for, what it's like to use, and what it can do for you. We'll also see how it stacks up against different technology, and whether or not the price of investing in this device is worth integrating into your daily exercise and diet.
Overview of Lumen
The Lumen metabolic tracking device was created by Ironman winners and twin sisters, Merav and Michal Mor, with doctorates in physiology. Tracking your metabolism was a complicated process reserved only for professional athletes or Olympians. Wanting to simplify the process, the sisters teamed up with researchers, and after four years, Lumen was born in 2020.
With a headquarters located in Tel Aviv, the Lumen founders and its CEO, Daniel Tal, work to gain notoriety and support for Lumen and its tech. The Lumen device takes an individual user's breath and breaks down what their body needs, including the amount of carbs or fat they should be eating, and how much energy their bodies have to burn.
By offering a sleek and lightweight device, an easy-to-use app, and a simple subscription process, Lumen is a unique and exciting new product in the health and fitness market. Without any competitors of its kind, Lumen is blazing a trail and fast!
This Lumen review has plenty of information ahead, but here's a quick list of highlights of what the company offers:
Highlights
Sleek, easy-t0-use device tells users what their bodies need
Easy to subscribe or cancel
Endorsed by big name brands like Adidas
Ships internationally
Positive customer reviews
Yep! It's all true — there's lots of warranted hype around what Lumen offers, and what they can do for you personally. With big names endorsing the brand and giving top-notch Lumen reviews, it's hard not to be curious about what specific subscriptions they offer, and how the process works. Of course, that's what we're for — to fill you in!
Below is a more detailed review of the Lumen operation: how to subscribe, how much it will cost, what you can expect from your subscription, and what results you might have. We will go over the science behind Lumen, the process of being an owner of such a high tech device, and what's in store for you (depending on what level of service you choose, of course).
Lumen Review
While there are three different types of subscription offered on their site, there is only one device. The Lumen breath analyzer is shipped to you once you choose a subscription and pay the fee, along with shipping. Once it arrives, you'll go through a detailed setup in the app and device to ensure it's totally personalized. Then, you're off to the races!
Below is a look at the cost and commitment to Lumen's three-tiered subscription system, including the Lumen Metabolism Booster, the Lumen Advanced Fat Burn, and the Lumen Optimal Health subscriptions.
Lumen Metabolism Booster + Lumen Review
The Lumen Metabolism Booster & Lumen Device offers you a 6-month track for $249, and a monthly charge of $25 after that, with the ability to cancel at any time. This subscription is the shortest commitment, but also the highest cost when divided on a monthly basis.
Of course, if you're happy with the 6-month track, it will auto-renew or you can cancel and consider an alternative track. It's a great way to try out the device and see if it's something you want to commit to. And, you can always upgrade to an annual subscription if you find you're getting the results you've been wanting!
Lumen Advanced Fat Burn + Lumen Review
The Lumen Advanced Fat Burn & Lumen Device is the most popular of the three subscription options, currently being offered for a New Year discount, at $269 for 12 months, instead of the regular $299.
After your 12 months are up, you can choose to cancel, and if not, your subscription will auto-renew for another year.
Lumen Optimal Health + Lumen Review
The Lumen Optimal Health & Lumen Device subscription offers the lowest cost per month, but the greatest financial commitment up front. At $349 for 18 months, users will get the most bang for their buck. After 18 months, the subscription will auto-renew for the same length, but you can choose to cancel at any time.
All three subscription options are currently being offered with a $25 rebate upon signup, regardless of the option you choose.
How Does Lumen Work?
Lumen's technology allows the device to explore intricate data about your metabolism, all with a single breath. Using a CO2 sensor and flow meter to analyze your body, the device then shows you the type of energy your body is using to generate energy. So, it basically tells you what you've eaten, how to fuel, and move most effectively in a day.
The actual process of using a Lumen is as simple as how quickly the technology works. You just need to go on the Lumen website and choose one of the three subscription options — each differs in terms of length of commitment, price, and perks. While Lumen ships the device to you, download the app and enter your personal information.
The app will take you through a detailed startup process to make sure it has all the personalized information it needs to give you the best results. Remember, this little device is going to be used a few times a day, and help you with some critical choices. It's no wonder the setup is stacked with questions and stats for you to answer!
Once you've got the device and the app, you're ready to go! You'll blow into the sensor, and the Lumen device will then give you a score between 1-5, showing what your metabolism is burning more, carbs or fat. It'll give you instructions on what to eat, how much energy (or how little energy) you're storing to burn in a workout, among other insightful tips.
Who Is Lumen For?
Lumen is a handheld metabolic tracker, meaning its target audience is anyone looking to keep a close eye on their metabolism: athletes, those looking to lose weight, or anyone looking to gain muscle. The device is for anyone who wants detailed guidance on what they should be consuming, when, and how much or little activity they should do in a day.
The device itself is easy to use — all you need is the app and your breath. The simplicity behind the science of Lumen is what makes this technology appealing to virtually anyone who finds motivation in personalized fitness information, or those who need a little help, guidance, and encouragement for their day-to-day diet and activity.
Keep in mind that there are a handful of individuals that Lumen is not recommended for, including those with diabetes, asthma, kidney disease, cancer, obese people, COPD, thyroid disorders, or those who are pregnant. It's probably just best to consult your doctor if you have any specific questions, or want to know if Lumen is right for you.
Lumen Reviews: What Do Customers Think?
Even though the company was only launched just over a year ago, Lumen reviews are plentiful. From doctors, scientists, consumers to nutritionists, everyone wants to give some feedback on whether they think Lumen is everything it claims to be, especially since the innovation is still so new.
So here's a few more intimate reviews and stats that might help clarify all that info.
On the Fitnessista website, a platform dedicated to debunking fad diets and gadgets, this customer giving an enthusiastic Lumen review said, "I feel like this nutrition plan is the real deal. The macros I received were right in line with the macros I'd calculated for myself, with carb cycling based on my workout routine and boost days (which are double the amount of carbs."
And when speaking to the relevance and convenience, they continue, "I'm absolutely loving it so far and highly, highly recommend it. It's a helpful tool if you want to track your metabolism and have any health or fitness-related goals."
The device and app is also getting good Lumen reviews from health and tech gurus like Michael Kummer regarding dietary needs, like this 4.3/5 star review:"It's also a great alternative to measuring ketone levels in your blood, urine, or breath. I strongly believe that the sophistication of the device, combined with its unique look, increases the changes of its effectiveness."
Since the Lumen technology is new and accessible in comparison to previous methods of obtaining results, folks are excited about how easy the process is. This customer gave a positive 7/10 Lumen review on Wired Magazine, saying, "It was refreshing to get straightforward information on how my body was working and reacting to the food I was ingesting."
They went on to say it was better than "[…] trying to decipher the pages and pages of information on the internet written for and by already well-versed health pros. I also highly appreciate that this is an alternative to weighing myself on a scale each day."
There's still a handful of negative Lumen reviews out there. Even though the information the brand provides used to take days and was reserved for top athletes and Olympians, some folks don't like how demanding the process is, breathing into the device multiple times a day, and waiting up to three minutes for results.
On the other hand, those who can recognize and appreciate the intensity of this personalized metabolic information seem entirely on board. The positive Lumen reviews all speak to the simplicity, weight loss results, and cost, which at the end of the day, seals the deal for most consumers with an open mind.
Is Lumen Worth It?
Science is progressively making complicated weight loss methods more accessible. The technology behind Lumen is groundbreaking, and it was only in the recent past consumers have ached for something so innovative right at their fingertips. With Lumen's widely obtainable device and technology, the future is here.
One look at the inventive and advanced science behind owning a Lumen device had us convinced. That you can have such insight into the details of your body, with a handheld tracker, is fantastic and convenient. The perk? You can control and retrieve your Lumen information through an app. The whole Lumen concept is low cost, low fuss, effective, and worth a try.
Lumen Promotions & Discounts
Although Lumen doesn't offer any coupon codes, they currently have discounted their most popular subscription service as a New Years offer, at $30 off the annual price. And, if you sign up for their newsletter, you also get $25 off any subscription you buy.
Lumen also makes a point of highlighting that, of their three-tiered subscription options, their highest is most cost-effective, with an overall savings of $200.
Where to Buy Lumen
Although some third-party platforms such as Amazon and Indiegogo have listed the device as previously available, the only consistent place to purchase a Lumen metabolism tracker is directly from the brand's website.
This is likely because Lumen operates via annual subscription and doesn't actually charge for the device itself. Between the Lumen app and the tiered subscription service, it makes sense that you can't purchase a Lumen breath analyzer anywhere else.
FAQ
Who owns Lumen?
Lumen is owned by the larger share-holding company, MetaFlow. The company was co-founded by twin sisters, Merav and Michal Mor, and the current CEO, Daniel Tal.
Does Lumen ship internationally?
Yes, Lumen does ship internationally, but they won't cover the cost of duties, and the price for shipping varies by country. Unfortunately, they don't give an estimated shipping time for addresses outside of the US and Canada.
What is Lumen's Privacy Policy?
The company's privacy policy focuses on the use of the app required to access your Lumen information, and covers the sharing and storing of your personal information. They also do not take subscribers that are minors, and are not responsible for anyone under 18 years old.
What is Lumen's Shipping Policy?
Lumen will ship your device within 7-10 days from your order date. However, this timeline is only regarding any orders shipped within the US, and includes free ground shipping.
Outside of the US, shipping costs and times vary, so Lumen does not specify due to inconsistent timing. They also do not cover any possible international duties that apply.
What is Lumen's Refund Policy?
Lumen gives you a 30-day window from your delivery date to return your device. All of the original packaging and device hardware needs to be returned along with the product, or you won't get your money back.
To start the return process, you have to follow these instructions:
Contact

[email protected]

and let them know you're unhappy with the device.
You'll need to include the receipt + anything that you received in the original package (including charging dock and cables).
Make sure to send back the device in its pristine condition.
Choose an insured carrier to send it back so you know when it arrives.
If you're approved for a refund, the company will apply it to the original method you paid.
How to Contact Lumen
If this Lumen review hasn't illuminated you on all the ways you can use the device to lose weight or track your metabolism, you can reach out to the company in the following ways:
Their customer service team is available Sundays to Fridays, from 7 am to 9 pm BST, or 2 am to 4 pm EST.
---
Check out similar brands you might like:
Get Access to Exclusive Deals
Subscribe for free to get exclusive deals in your inbox. 100% privacy