Nucific Review
About Nucific
Nucific is a health and wellness brand focused on providing digestive and weight loss supplements to help you reach your peak fitness goals.
With a variety of different products that aim to replenish your body with healthy vitamins, minerals, and nutrients, Nucific uses natural and clean ingredients to help you function at your best.
Over the years, Nucific has found its place on social media, gathering tons of followers on multiple online platforms. With over 508K followers on Facebook and 61.7K followers on Instagram, Nucific is a popular choice for health supplements.
I will use this Nucific review to go through the details of the brand, customer ratings, promotions, and more to help you decide whether or not Nucific is the right choice for you and your health.
Overview of Nucific
Nucific is an American company founded in 2015 with the goal of providing health and wellness to all adults who seek it. Their products are mostly targeted towards individuals hoping to improve their digestion and achieve weight loss as their primary goal.
Based in California, Nucific promises "high-quality ingredients you can feel great about." They have partnered with Dr. Amy Lee, a board-certified physician with experience in nutrition and obesity, to make their brand as effective as possible.
Nucific has focused on creating natural supplements free of artificial ingredients, antibiotics, preservatives, and any other fillers and binders that other brands may use.
The brand's mission is simply "to help you get the body and life you deserve," developing their products in GMP-certified facilities, promising quality and safety.
With that dedication in mind, this Nucific review will explore some of the brand's main highlights to give you some more insight into what they're all about:
Highlights
100% natural ingredients
All products are gluten-free, lactose-free, and vegetarian
All products are free of antibiotics, preservatives, fillers, and binders
Small capsules that are easy to swallow
No prescription required
GMP certified facility
90-day money-back guarantee
Free shipping within the United States on orders over $50
International shipping available
Positive customer reviews
Within this Nucific review, I'll look over the many, many products that the brand offers and how they will help you get back on track to being the healthiest and happiest version of yourself.
Nucific Bio x4 Review
Weight management is more than a one-step process. It requires us to combine multiple factors. Exercise and diet are obviously the most important steps you've heard all about, but a meaningful change that could take you to the next level is investing in a good supplement.
Now this Nucific review is not saying that popping a pill and hoping for a miracle is the answer. But rather, using a dietary supplement alongside your healthy habits can make a noticeable difference.
Nucific Bio x4 is a digestive supplement that includes a 4-in-1 model to balance your digestive system, increase your metabolism, curb unhealthy cravings, and support weight loss. By initially targeting your gut, this supplement works to fix your digestive system from the inside, ensuring long-term success.
Each Nucific Bio x4 supplement bottle comes with 90 capsules for $99, lasting for 30 days. However, the brand currently offers the following discounts if you choose to buy the supplement in bulk:
3 bottles: $261 (save 12%)
6 bottles: $487 (save 18%)
You can also purchase this supplement from Walmart for $60 per bottle.
Ingredients Label
Nucific Bio x4 has a 4-in-1 process to fix your digestive tract and get you back to a healthy weight. In order to do that, they've used four main ingredients, which each tackle a different problem within your body.
Five probiotic strains[1] work to replenish your digestive tract by introducing healthy bacteria in your gut and slowly improving the environment to aid long-term digestion. The specific strains used in this supplement include the following:
Lactobacillus acidophilus
Lactobacillus rhamnosus
Lactobacillus plantarum
Bifidobacterium lactis
Bifidobacterium animalis
Caralluma Fimbriata[2] comes from a cactus plant in India that helps your weight loss journey by curbing your cravings and preventing the urge to snack on unhealthy food.
Amylase, bromelain, and lipase are three essential enzymes[3] that help you break down and absorb your nutrients better, causing a smoother digestive process.
Green tea extract (EGCG)[4] helps with boosting your metabolism, resulting in improved digestion, fat loss, and increased human health span.
Nutritional Value
Each ingredient within the Nucific Bio x4 has great nutritional value, as they all work together to tackle a different part of digestive health and weight loss.
The probiotic strains are essential in sending healthy microbes to your gut to allow healthy change from within
Caralluma Fimbriata doesn't provide you with any nutrients; however, it can potentially help prevent you from consuming any unhealthy food.
Green tea extract is great in providing energy to your body.
Enzymes are the final step, increasing nutrient absorption and ensuring everything you've consumed makes your bloodstream as quick and efficient as possible.
Benefits
Nucific Bio x4 aims to provide you with the following four main benefits with the use of their supplement:
Curb cravings
Improved weight management
Smoother and improved digestion
Boosted metabolism
How Does It Work
Nucific Bio x4 works through a four-step process. The most important step has to do with the five probiotic strains providing your gut with healthy bacteria and helping you improve from the inside. Without a healthy digestive tract, the food you consume may not be getting to you the way it should.
Next, the Caralluma Fimbriata helps you control your appetite. If you start eating unhealthy junk food, you could introduce harmful bacteria to your newly healed gut, making your weight loss process much longer than it needs to be.
The three key enzymes help break down the carbs and fats of the healthy food you consume and then allow your body to absorb them faster to see maximum results of the supplement.
And finally, the green tea extract aids with getting you the energy you need through this whole process and charges your digestive system to work more efficiently.
How to Take & Dosage
You should take 1 capsule of Nucific Bio x4 with each meal, 3 times a day. You can double the dosage, but you shouldn't take more than a maximum of 6 capsules a day, even if you miss a serving.
You will notice the best results if you take the supplement daily, but don't take more than what's recommended, even if you forget to take it.
Nucific Advanced Slimming Probiotic Review
You have probably been in a situation where you put on your favorite pants after a while and were shocked to discover they don't button up anymore. The struggle of making time for weight loss while also going through your day with a million different chores and duties can make it easy to give up on the pipe dream that is a slim waistline.
In situations like these, weight loss supplements can be exactly the motivation you need to get back on track. Obviously, there is no replacement for a healthy lifestyle, but what Nucific Advanced Slimming Probiotic can do is support your fitness journey.
Paired with a healthy diet and regular exercise, you may find that Nucific Advanced Slimming Probiotic gives you that extra boost to shed pounds faster than you gained them.
Each Nucific Advanced Slimming Probiotic supplement bottle comes with 30 capsules, for a total of $65, aimed to last for 30 days. Currently, the brand offers the following discounts if you choose to buy the supplement in bulk:
3 bottles: $174 (save 11%)
6 bottles: $330 (save 15%)
Ingredients Label
The serving size for Nucific Advanced Slimming Probiotic is one capsule, each of which contains a variety of ingredients.
Calcium Beta-Hydroxybutyrate and Magnesium Beta-Hydroxybutyrate are both ketones[5], which are chemicals your body makes to increase energy levels when you don't have enough carbohydrates or sugars in your system.
Bifidobacterium breve[6] is a bacteria found in the intestines that can aid with alleviating symptoms of inflammation as well as treating symptoms of constipation and diarrhea.
Probiotic strains introduce healthy bacteria into your gut to help change your gastrointestinal environment into a positive one, while prebiotic strains[7] protect your gut from harmful bacteria. The combination of probiotic and prebiotic ingredients can aid with digestion and improve abdominal discomfort.
Nutritional Value
The ingredients in Nucific Advanced Slimming Probiotic work to increase energy levels and improve digestion within the body. This supplement can help you heal your body by working from the inside out, leading to weight loss and overall digestive health.
Benefits
There are many benefits that digestive supplements can provide you with, but the major benefits of Nucific Advanced Slimming Probiotic are to improve your digestion and boost your metabolism.
With the increased levels of healthy bacteria and ketones in your system, you'll notice that your body works much smoother than it used to, like a well-oiled machine. Eventually, the long-term benefits you'll see are decreased fat and improved weight levels.
How Does It Work
Nucific Advanced Slimming Probiotic mainly benefits your metabolism and digestion. As your gut is filled with healthy bacteria, your food will pass throuugh your system much smoother, and the ketones will help provide you with energy to metabolize the food.
Overall, this supplement will increase the chances of healthy weight loss.
How to Take & Dosage
You should take 1 capsule of Nucific Advanced Slimming Probiotic at the beginning of the day, with lots of water. You'll notice the best results if you continually take this supplement until you finish your bottle.
Nucific Probiotic Complex Review
You've probably heard the saying "You are what you eat," but have you ever thought about what that actually means? The food you put into your body has a massive influence on your overall health.
Did you know that the gut[8] is one of the most important parts of the body when considering overall health? If your digestive health is poor, every other aspect of your body's health can be negatively affected.
If you're experiencing poor abdominal health, Nucific Probiotic Complex may be your best bet to replenish the bad bacteria in your digestive tract and replace it with the good healthy bacteria that keep you happy and healthy.
Working to improve your digestion, aid weight management, and uncomfortable abdominal symptoms like gas and bloating, Nucific Probiotic Complex is for anyone struggling with tummy issues.
Each Nucific Probiotic Complex supplement bottle comes with 30 capsules for a total of $45, aimed to last for 30 days. Currently, the brand offers the following discounts if you choose to buy the supplement in bulk:
3 bottles: $122 (save 10%)
6 bottles: $230 (save 15%)
Ingredients Label
Nucific Probiotic Complex comes with 15 different probiotic strains[9] containing 30 billion colony forming units, or CFUs. That means that billions of live bacteria are inserted into your digestive system to help flush out the toxins from your body and get it back to optimal health.
The list of the 15 probiotic strains includes the following:
Lactobacillus acidophilus
Bifidobacterium lactis
Lactobacillus plantarum
Lactobacillus rhamnosus
Lactobacillus casei
Lactobacillus salivarius
Lactobacillus bulgaricus
Bifidobacterium breve
Lactobacillus paracasei
Lactobacillus lactis
Streptococcus thermophilus
Lactobacillus brevis
Bifidobacterium bifidum
Bifidobacterium longum
Bifidobacterium infantis
Nutritional Value
The probiotic strains in the Nucific Probiotic Complex have great nutritional value, as they all work to make your digestive system flourish. The microbes, or healthy bacteria, that are released from this supplement can provide nutrition to your system, creating a healthy internal environment.
Benefits
The main benefits of Nucific Probiotic Complex come from improved digestion. When your body can heal itself and pass food smoothly, you'll start to experience fewer abdominal symptoms[10] like gas, bloating, and poor bowel movement.
Plus, with everything digesting the way it should, you'll be able to manage your weight better[11] and feel healthier.
How Does It Work
Nucific Probiotic Complex is all about balancing the good and bad bacteria in your gut and getting it to function optimally. With the probiotic strains releasing 30 billion colony-forming units (CFU) into your digestive tract, you'll start to develop healthier insides.
How to Take & Dosage
You should take 1 capsule of Nucific Probiotic Complex before your first meal of the day with a full glass of water. You'll note optimal digestion and weight loss results if you take this supplement daily.
Who Is Nucific For?
As many digestive supplements go, Nucific is only for adult use, for individuals over 18. The brand can be useful to those who either struggle with their weight or are interested in improving their digestive system from the inside out.
That being said, this brand's products can really be for anyone. With their natural and healthy ingredients, you can use Nucific supplements as a crutch for getting back into shape while improving your diet and exercise habits.
An important disclaimer goes out to those who are either pregnant, nursing, taking medication for serious illnesses, have a weakened immune system, or have severe allergies or reactions: be sure to check in with your healthcare provider before supplementing with Nucific to avoid unknown risks.
Nucific Side Effects
Nucific claims that there are no reported side effects from any of their supplements. This may have something to do with the extensively researched and completely natural ingredients they used.
However, many digestive and weight loss supplements can still sit badly in the stomach due to sensitivities, allergies, or taking too much of the product. This Nucific review found the following mild side effects may be associated with taking Nucific products:
Bloating
Flatulence
Upset stomach
Heartburn
Acid reflux
Nucific Reviews: What Do Customers Think?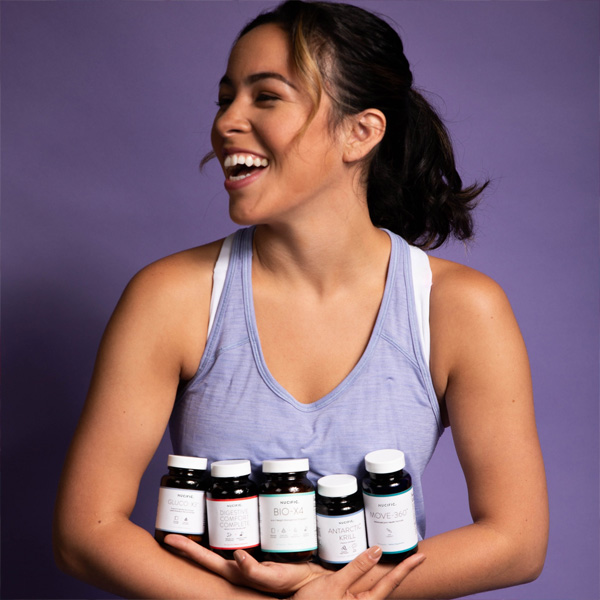 Based on customer reviews and ratings, this Nucific review found that the overall reception to the products by this brand were very positive.
With a high average rating of over 4/5 stars for all products, Nucific seems to be a fan favorite.
The following ratings were posted on the brand website for the few Nucific products we reviewed:
Nucific Bio x4: 4.6/5 stars by 3921 reviewers
Nucific Advanced Slimming Probiotic: 4.9/5 stars by 37 reviewers
Nucific Probiotic Complex: 4.7/5 stars by 73 reviewers
Nucific's goal is to target digestive health and weight loss for all adults. The brand aims for their products to alleviate symptoms of poor bowel movements, gas, bloating, and more while also helping people lose unwanted pounds.
The customers who've tried out the different supplements seem to support the claims of digestive relief and comfort. One reviewer posted on the brand website about the benefits she experienced from the Nucific Bio x4:
"I am not always hungry anymore and a huge decrease in craving for sweets and snacks!!! Not always have to eat and look for food anymore."
Another satisfied customer commented about the slimming benefits of Nucific Advanced Slimming Probiotic: "This product has improved my digestion so much, I look forward to my morning bathroom routine, so impressed with this, thank you for this product."
Nucific Probiotic Complex was also a winning supplement for many customers, with one user commenting the following:
"I never would have considered taking a probiotic before, but after a friend recommended it, I took the plunge. I have had such great relief with Nucific Probiotic Complex, the embarrassing abdominal discomfort has all but disappeared. This is the product I didn't realize I needed."
Nucific also has an A+ rating with the Better Business Bureau and a 4.4/5-stars on Trustpilot, making it a supplement to try!
Is Nucific Legit?
Based on what I've researched in this Nucific review, I can guarantee you that this brand and its products are legit.
Nucific uses science and research to decide what goes in each product and remove any extra ingredients that aren't necessary to the supplement. Each component is thoroughly researched, giving you the best for your body and your health.
The customers who've tried out the products have only good things to say. There were only a few complaints here and there about the lack of noticeable results. However, those were few and far between.
Nucific delivers internationally, with free shipping on domestic US orders over $50. There are no complaints about delays or missed deliveries that the brand hasn't dealt with, so it's safe to say that everyone's receiving exactly what they paid for.
All in all, I think Nucific is legit.
Is Nucific Worth It?
This Nucific review found that this brand is worth the purchase.
The few products that we've reviewed all have very clear goals that they aim to achieve, and they do so with healthy and natural ingredients. The importance of digestive health is explained in great detail, and most people who have given Nucific a try can agree that their products work.
Whether you want to lose weight, fix your gut, or just feel better overall, there's a Nucific product for you.
Plus, if you buy a supplement from Nucific and find that you aren't a fan, you can contact the customer service team within 90 days and get your money back with no hassle.
Nucific Promotions & Discounts
Nucific offers you the chance to sign up and create a login with the brand to become a VIP member. With this option, you can receive exclusive offers, coupons, and savings, as well as early access to newer formulas as they're being released to the public.
Where to Buy Nucific
Nucific can be purchased from its main website at https://nucific.com/. You can also find its supplement products at Walmart.
FAQ
Is Nucific vegan?
Unfortunately, Nucific is not vegan. However, their products are 100% vegetarian. If you have a specific dietary restriction, you should be careful to consume Nucific supplements, as they may contain animal products.
Is Nucific gluten-free?
Yes, all Nucific products are 100% gluten-free. You are safe to consume this brand's supplements if you have this dietary restriction.
What is Nucific's Shipping Policy?
Nucific offers free shipping on all domestic US orders if you spend over $50 on your order. Once you've placed your order, it can take up to 48 hours to process your order. However, shipping costs and delivery times are dependent on where you live.
Nucific also ships internationally; however, there is a flat shipping rate of $10, and delivery times may depend on where the product is going. You should double-check the prices, as all the prices listed on the website, including shipping costs, are in USD, and you may need to check with your country's money conversion.
Shipping policies on other retail websites may vary.
What is Nucific's Return Policy?
Nucific has a 90-day money-back guarantee on all supplement products purchased through their brand website. Excluding any shipping charges, you can get a full refund on your order if you contact the customer service team within 90 days from when your order was shipped out to you. The company will issue your refund once they receive their product back.
Return policies on other retail websites may vary.
How to Contact Nucific
If you have any more questions that this Nucific review didn't answer, you can contact the company directly. They are available Monday to Friday from 6 am-5 pm and Saturday and Sunday 6 am-4 pm PST via the following contact information:
Live chat: 24/7 support on their website
Email: [email protected]
Phone: 888-679-5520
Online contact form
You can also find this information at the following website: https://nucific.com/contact/.
---
On the hunt for more probiotics? Check out these brands:
Get Access to Exclusive Deals
Subscribe for free to get exclusive deals in your inbox. 100% privacy