Odacité Review
About Odacité
Odacité emphasizes the concept of healthy beauty with its line of clean, natural, and vegan skincare. Fusing the effective, science-backed nature of French skincare with refreshing California culture, the brand packs high-quality, pure ingredients from around the globe into its toxin-free formulas.
Conscious beauty is becoming a massive trend around the world, and Odacité's many features in international publications like Elle, In Style, and Cosmopolitan are an obvious sign of its popularity. Of course, a social community of over 100k nods at this as well, and users gravitate towards this brand for its holistic approach to beauty.
What can you expect to find in this Odacité review? All the must-knows about the company and its top-sellers, along with customer feedback, information on promotions, and more.
Overview of Odacité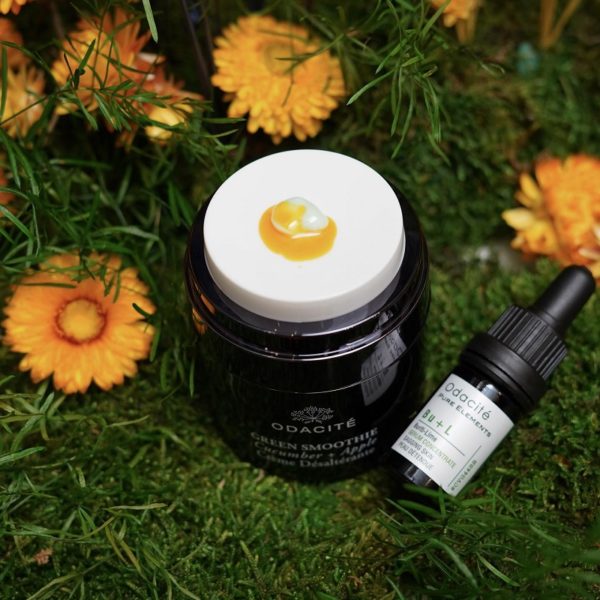 Customers are loyal to Odacité for reasons past its incredible, effective formulas. Expressing love towards the brand's founder, Valerie Grandury's story, they highly respect the way she totally transformed her life after recovering from breast cancer.
Knowing that in order to heal she had to completely change the way she ate, lived, and thought, Valerie quit her job and went back to school to become a wellness coach while undergoing the incredible challenge of eliminating all toxins from her life.
Do you know how difficult that process actually is? Swapping what you eat and drink is just the start, but it also means she had to look at every product she used—from lotion to toothpaste to shampoo—and search for a healthier option. That's a lot easier today than it was 15 years ago, around the time when Valerie would have started.
After searching for clean skincare that actually worked and coming up empty handed, she decided to make it herself, using it personally and offering it to clients. A short time later in 2009, Odacité was born with the mission to make "the most effective products sans les toxins."
The next section of this Odacité review will dive into what makes its skincare so special, but before we get there, take a peek at the brand's highlights to get a feel for what's in store.
Highlights
Wide range of skincare for common concerns (aging, acne, hyperpigmentation)
Vegan & cruelty-free
Handmade in California
Free of toxic ingredients
Offers a rewards program
Interest-free payment plan available through klarna
Free shipping over $49
Ships internationally
As soon as we landed on Odacité's website, a woosh of calmness overtook us and we quickly discovered its line of supremely clean skincare. With the option to shop by category or concern, the brand offers all of your favorite essentials, but with a refreshing twist from uplifting botanicals and luxury ingredients.
Not sure where to go or what to buy? Check out the Odacité skincare blog or take the skin quiz. Should you need a little more help on a personal level, schedule a one-on-one video consultation with an expert.
To help make your search a little easier, the next section of this Odacité review will focus on a variety of the brand's products including cleansers, eye serums, and facial serums.
Odacité Cleanser Review
It's the first step in an effective skincare routine, and most say it's also the most important. You can't expect serums to work as effectively through dirt and grime, so having a quality cleanser is key in experiencing the results you're looking for.
This Odacité review will introduce you to the brand's best-selling cleansers to start your routine off right.
Odacité Montana Harvest Omega Oil Cleanser Review
Oil…in a cleanser. What's up with that? The concept of using an oil base for a cleanser is one that's very smart. The Odacité Montana Harvest Omega Oil Cleanser is made with both safflower and hemp oil that help to remove dirt and impurities from your pores while soothing and protecting your skin.
Scented with sweet basil and lemongrass, it's formulated with sea buckthorn to infuse skin with vitamins and antioxidants while olive oil-based squalane moisturizes for a smooth, ultra-clean feel. Pick up a 3.38 oz bottle of this Odacité cleanser for $48.
Odacité Blue Aura Micellar Water Review
You've probably heard all the fuss that's going on about micellar water, but what are micelles exactly? The scientific definition of a micelle is a phospholipid dispersed in a liquid.
In other words, they're tiny molecules of fatty acids that do an excellent job at cleansing. Known for their dirt and pollution-removing qualities, the Odacité Blue Aura Micellar Water captures the powerful nature of micelles that suck out dirt from your pores.
Unlike others, this formula doesn't require you to rinse and instead uses calming plant ingredients like aloe, neem, and turmeric to soften, calm, and effectively cleanse your skin. Salicylic acid is added to help minimize the look of pores. Get a 4 oz bottle for $39.
Odacité Eye Serum Review
Our eyes are usually the first place wrinkles show up. The skin is thinner in that area, and constant smiling and squinting take a toll by the time we hit 30. That magical age happens to be one of the most common that women start looking for eye serums, but the hard truth is that not all of them work.
A results-driven brand known for its effective formulas, up next, we'll introduce you to the best-selling super-powered Odacité eye serum and cream.
Odacité Ultra Effective Eye Cream Review
When it comes to the eyes, all we really want is something that totally erases our wrinkles and banishes dark spots. Is that too much to ask? Odacité says no and offers up the Ultra Effective Eye Cream as an easy solution.
Its purpose is to improve the appearance of the skin surrounding your eyes while protecting it from further damage. The results? A visible reduction of wrinkles.
This formula is made with blue-green algae to help plump out fine lines. Pomegranate extract and vitamin E are then added to help fight off the free radicals that lead to collagen deterioration.
Powerful and great for all skin types, you can get a 0.5 oz bottle of the Odacité Ultra Effective Eye Cream for $95.
Odacité Ba+S Eye Contour Serum Concentrate With Rollerball Review
You know how when you apply eye serum half of it gets absorbed into your finger? How about when you accidentally stab yourself in the eye with your killer nails? We've been there.
The Odacité Ba+S Eye Contour Serum Concentrate With Rollerball solves that issue, easily rolling around your eye for effortless application, using cold-pressed, virgin baobab oil to nourish and hydrate your skin. Fortified with vitamins A, E, and F, it helps cut down on puffiness, reduce wrinkles, and erase dark circles.
Made with sarsaparilla essential oil, you'll look forward to the spirited, light scent every time it's time to apply. Add a 0.17 oz bottle to your routine for $48.
Odacité Serum Review
Whether it's for pimples, enlarged pores, wrinkles, or dark spots, Odacité has a serum for that. Made with hard-working natural ingredients, its line of dermatologically tested formulas is made to give you the healthy, radiant skin you've been longing for. We'll introduce you to its best-sellers next.
Odacité BL+C Pimples Serum Concentrate Review
We don't know anyone who hasn't struggled with a pimple or two in their life. They're a normal part of having skin, but they affect some people more than others.
Whether you're someone who struggles with constant spots or just want to combat them when they creep up once per month, the Odacité BL+C Pimples Serum Concentrate may be able to help.
It's made with vitamin E to soothe redness as well as black cumin for a potent, non-aggravating dose of linoleic acid that may help to stop pimples in their tracks. Infused with cajeput, this positive essential oil is added to help clear your mind and uplift your spirit.
You can get a 0.17 oz bottle of this Odacité serum for $36.
Odacité PA+G Hyperpigmentation Serum Concentrate Review
Hyperpigmentation happens, but it doesn't have to stay. The right ingredients can help lighten dark patches on your skin, helping to even out your skin tone and promote a natural-looking glow.
The Odacité PA+G Hyperpigmentation Serum Concentrate uses fruit enzymes from papaya to help lessen the look of darker skin cells, thus helping you look younger. This lightweight serum absorbs gloriously into your skin, leaving a light and balancing scent of geranium behind.
Pick up a 0.17 oz bottle for $42.
Who Is Odacité For?
Odacité makes skincare that comes with a ton of labels. Don't worry, they're the good kind, like vegan, cruelty-free, and clean to name a few. Made for those with common skin concerns like wrinkles, pimples, and discoloration, its incredible formulas are results-driven and some of the purest on the market.
Though the line isn't specified for women, we get the feeling it's targeted at them. There's no reason men can't use it as well.
Odacité Reviews: What Do Customers Think?
The thing about skincare is that it may work really well for one person and not as well for another. At the end of the day, we get that, but it's still important to know that the majority find a brand's products effective. This part of our Odacité review is dedicated to customer feedback to find that out.
Here, you'll read comments and ratings we sourced from around the web. We'll start with a few best-sellers taken from Odacite.com.
PA+G Hyperpigmentation Serum Concentrate: 4.7/5 stars from 144 reviews
BL+C Pimples Serum Concentrate: 4.8/5 stars from 307 reviews
Ultra Effective Eye Cream: 4.9/5 stars from 77 reviews
Blue Aura Micellar Water: 4.9/5 stars from 133 reviews
Montana Harvest Omega Oil Cleanser: 5/5 stars from 33 reviews
We decided to look into the BL+C Pimples Serum Concentrate because finding a serum that actually makes pimples go away, and quickly, would be a heaven-sent miracle. Here's what one customer had to say about its efficacy:
"My skin cleared up within a few days, it is the best product I have ever used." Of its healing process, another Odacité review revealed, "Acne slowly clears without irritation, which I liked as most oils wound sting. Smell is nice, not overpowering which is another plus. This should be top on your list for skincare."
In general, users reported less redness and pimples that cleared up in a few days. Not everyone experienced the same results, but as you can see from its outstanding 4.8/5-star score, the majority really loved it.
Our next stop for feedback was Influenster. We love this site because users tend to be brutally honest about the products they receive and so we looked into the Blue Aura Cleansing Water to see what they had to say. Overall, 56 users gave the cleanser a 4.6/5 star score that broke down like this:
5 stars: 77%
4 stars: 16%
3 stars: 5%
2 stars: 2%
1 star: 0%
One Odacité review read, "This is the best makeup removal water I have ever used. I use false lashes and this stuff takes the glue off with ease as well as waterproof mascara and eyeliner. On a side note it smells great too."
Others also say that they love the fragrance and describe it as a sweet, sour candy. Feeling refreshed after using the water was a common opinion, and Influensters said they would purchase this again when they run out.
Feeling great about the brand's lineup so far, we headed out in search of one final Odacité review for some extra proof. For that, naturally, we turned to The Beauty Proof and checked out a few of the serums its team reviewed.
The first one was the Baobab Sarsaparilla Serum Concentrate, of which the Odacité review revealed, "Although it only makes a nominal difference to my longtime under eye darkness, it quickly improved the crepe-like texture that began forming around my eyes after turning 30."
We love that the folks at The Beauty Proof are real. Though this formula isn't 100% perfect (literally no brand's ever are), it's still effective. Knowing that it truly reduces crepey textures is a fact we, and so many others, will treasure.
Of the Peach Cypress Serum Concentrate for Combination Skin, the folks at The Beauty Proof wrote, "On humid days, I rely on this serum by patting a couple drops onto my face before applying sunscreen. For me, this is a game-changer. My makeup can now last all day."
Having the right products in your makeup bag truly makes all the difference in feeling and looking your best. When you feel good, you look good and vice versa, and that's something we really love about Odacité: its skincare is designed to help you glow from the inside out.
Is Odacité Legit?
From the Odacité reviews we came across, the majority of those who try the brand are customers for life. We ran into a ton of long-time users amongst feedback. That's a great thing because it lets us see what the brand's results are like in the long run. It also tells us that it's legit.
Nowhere in our search did we come across shipping woes or return issues. Overall, it looks like Odacité is a solid brand that honors customer requests and respects their honest feedback. At the end of the day, it appears the brand just wants you to be happy.
Is Odacité Worth It?
There are a handful of reasons why we're obsessed with the brand. For starters, the founder's story is enough to make us load up our carts in an instant. Why, you ask? Well, the simple fact that she's created a pure skincare line that she, herself feels good about using says a lot about it. As a purist offering clean skincare, that point is important.
Secondly, the ingredients in Odacité's formulas are some of the cleanest we've come across. Containing no fillers, preservatives, or harmful chemicals, the potent plant ingredients they owe their power to are some that have been clinically proven to produce results.
Thirdly, we're suckers for packaging, and skincare in glass bottles just lights our souls alive. Not to mention they're better at preserving the ingredients inside. There's a lot going for Odacité, and it's no wonder it's been such a success thus far.
Odacité Promotions & Discounts
During this Odacité review, we may or may not have added a few different things to our own carts, but we were also on the lookout for any deals the company had to offer. Hey, what can we say? We're not ones to pass up a deal. Here's what we discovered:
Free video consultations are available
Join the Odacité Rewards Program: Earn 10 points for every $1 spent
Get your order shipped for free when you spend over $49
Where to Buy Odacité
You can find the brand's collection in clean and luxury retailers like The Detox Market, Kolya Naturals, and Nordstrom, along with big-box stores like Walmart. Of course, you can also shop its entire collection and get personal beauty advice from its own website, Odacite.com.
FAQ
Who owns Odacité?
Valerie Grandury owns Odacité. After healing her own body and recovering from breast cancer, she developed a pure, results-driven skincare line and began offering it to private clients.
Where is Odacité from?
Odacité is French skincare made in California. Its founder was originally from Paris and infused the renowned efficacy of the country's skincare into her personal line.
Does Odacité ship internationally?
Yes, it does! Odacité ships around the globe aside from Spain and Russia. International shipping is $29 and takes about 2-3 business days to arrive.
What is Odacité's Shipping Policy?
Odacité ships to all 50 United States and processes orders within 1-2 business days from the time they're placed online. All orders are shipped Priority and take about 2 business days to arrive. Orders sent to P.O Box addresses are delivered via USPS and can take up to 14 business days.
Shipping costs $5 but is free when you spend over $49. Once your order is sent out, you'll receive a confirmation email with a tracking link that you can use to keep an eye out for your delivery.
What is Odacité's Return Policy?
Odacité offers a 30-day return policy on both opened and unopened products. At the end of the day, they just want you to be happy with what you buy, so if it's not working for you, don't hesitate to reach out and let them know. Take a look at these basic guidelines to keep in mind when making a return:
Refunds for items that have been opened and partially used will be issued in the form of store credit only
If you purchased your items from another retailer, you'll need to go through that store to make a return
Individual items from bundles cannot be returned without the other items
To start a return, send an email to [email protected] and ask for a return authorization. In your email, include your order number and the item you want to send back. You'll be responsible for all return shipping costs. Returns are processed within 14 business days.
How to Contact Odacité
If you need any other information that wasn't included in this Odacité review, reach out to the brand via:
---
Check out similar brands you might like:
Get Access to Exclusive Deals
Subscribe for free to get exclusive deals in your inbox. 100% privacy