Ridge Wallet Review
About Ridge Wallet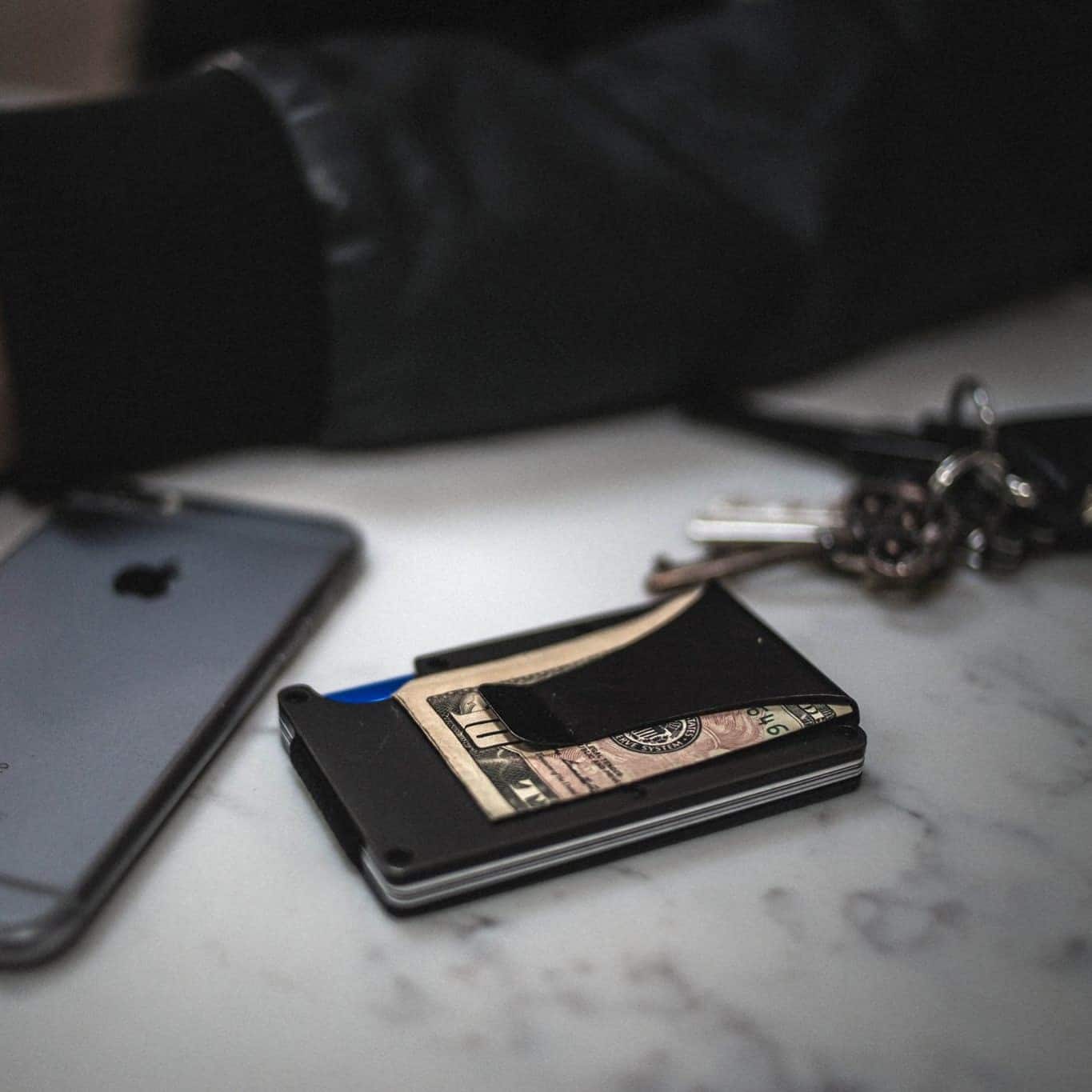 Ridge Wallet is a Kickstarter success story that has grown into a worldwide brand phenomenon. This Ridge Wallet review will get into how and why this father and son team is redefining the wallet and bringing the money clip into the 21st century.
Overview of Ridge Wallet
Daniel and Paul Kane took to Kickstarter with a modest goal of $12,000 to redefine the wallet for the modern era. They ended up raising over $200,000, a major mandate from both men and women to make a better wallet for everyone. The father and son duo used that money to recruit a small team to do more with less, not just with wallets, but with backpacks, phone cases, power chargers—even pocket knives!
They use aluminum, carbon fiber, forged carbon, and full grain leather for their products, with manufacturing partners both domestic and abroad. Traditional wallets are these big leather monsters that bulge out of your back pocket and can even mess up your spine[1]! And let's be honest, how many cards do you really need to be carrying around with you? 
The Ridge Wallet is designed to be a front pocket wallet, not a back pocket one, to keep you more organized. It helps that they look cool, too, and feature some awesome customization options.
Pros
Made with metal, not leather, so they'll hold up after years of daily use
Built-in RFID[2] blockers protect your banking and other personal information from RFID skimmers who can steal your credit card info right out of your pocket
Lots of color and patterns options, including a rad burnt titanium finish that you've got to see!
You can choose either a money clip or an elastic cash strap. The money clip can even be removed to transform the Ridge into a pure card holder
Cons
They're pricey – the cheapest Ridge Wallet is $75
The Ridge Wallets are slimmed down to carry credit and debit cards, so business cards will bend
Not much design variation if you're not into the industrial riveted metal look, though the aluminum wallet does have some fun Tiki and tropical patterns
Ridge Wallet Review: The Ridge
The Ridge Wallet is their flagship product and the item that got them Kickstarted in the first place. The Ridge Wallet comes in three different metals, carbon fiber, titanium, and the original aluminum. The Ridge Wallet is designed to be minimalist without being limiting: to keep you from overloading your wallet with tons of faded receipts and old business cards.
The price range is from $75 for the Ridge Wallet Aluminum, $105 for Ridge Wallet Titanium, and $115 for Ridge Wallet Carbon Fiber and Forged Carbon.
I really like the tropical pattern for the Ridge Wallet Aluminum, but I have to give the edge to the Ridge Wallet Titanium – Burnt. I just love that scored metal look—it brings a really unique vibe that a traditional leather wallet can't match.
Ridge Wallet Review: Carbon Fiber
The Ridge Wallet Aluminum is already designed to be lighter and thinner than any wallet you've ever had, but the Ridge Wallet Carbon Fiber is lighter and thinner still. The Aluminum weighs 2oz while the Carbon Fiber comes in at an astonishingly light 1.6oz—that's the weight of a golf ball!
All Ridge Wallets measure 86 x 54 x 6mm and hold between 1 to 12 cards with a replaceable elastic. They block RFID signals to protect against identity theft and have two options: a money clip or cash strap.
The Ridge Carbon Fiber actually comes in two varieties, Carbon Fiber and Forged Carbon, and each has a distinct look. Carbon fiber is made from sheets filled with resin and has a 'weaved' look[3], while the forged carbon is squeezed to form any shape. The forged carbon Ridge Wallet features a neat pattern that looks like brush strokes.
Ridge Wallet Review: Titanium
If you're looking for a slightly heftier metal, the Ridge Wallet Titanium fits the bill. A little heftier at 2.5oz, the titanium comes with all the features of the aluminum and carbon fibre, but made with hand torched and hardened Grade 5v titanium.
While I like the Titanium – Burnt option, there are also gunmetal, matte black, and matte cobalt colors.
Other Ridge Wallets
Each Ridge Wallet type comes in a few different colour and pattern options, and the Ridge Wallet Aluminum has the most variety:
Black
Gunmetal
OD Green (Olive drab, think U.S. Army)
Navy (Team Favorite)
Desert Tan
White
Raw (Looks like plain metal)
Gold
Rose Gold
Celeste
Tropical (Pictured Above)
Tiki
Ridge Wallet Money Clip Review
Every Ridge Wallet has two options for carrying bills: A cash strap and a money clip. Of the two, the money clip is the sleeker, more practical option. You can add a money clip to your order or purchase an additional one for $12. All Ridge Wallets have slots on the front and back and the money clip can be put in either one—or you can add a second and have two! You can convert a cash strap wallet to a money clip wallet by purchasing an elastic.
Is the Ridge Wallet Worth It?
You can leave a Ridge Wallet review on the website, and the customer ratings there are overwhelmingly positive. Many users say the Ridge Wallet is the best wallet they've ever owned. You can find many a Ridge Wallet review by both men and women, with women commenting the Ridge Wallet significantly reduced the amount of bulk in their purse.
Some Ridge Wallet Amazon reviews complain about the rigidity of the wallet, especially if you're used to a soft leather wallet, but mention the wallet's elastic will get more pliable in time. A common concern is how hard it is to take just one card out of the wallet without pulling out the entire stack. Other customers have concerns about the price—$75 for the cheapest option (Aluminum) is a lot pricier than a cheap nylon wallet.
Reviews are generally very positive, both from customers and professional product reviewers. Concerns about price are offset by the sheer quality of the product and the lifetime guarantee that goes with it. Customer service is listed as a highlight as well—speedy responses and fast shipping especially.
I've come to acknowledge in this Ridge Wallet review, that the product is absolutely worth it—as long as you know what you're getting! If you want a sleek, solid, functional wallet that holds only exactly what you need day-to-day, it's the best possible option.
How to Use Ridge Wallet
A lot of the comments I came across when researching this Ridge Wallet review mentioned that the wallet comes with a bit of a learning curve before it is comfortable to use. I can understand this: going from a soft, pliable, folding leather wallet to a rigid metal credit card sandwich will take some getting used to. More than one Ridge Wallet review mentions that it's easier to remove all of your cards at once, in one big stack, than to try and get one card in particular.
You could argue with this Ridge Wallet review that this is the entire point of the product: the stated mission of the company is the streamline wallets. To ensure you're only carrying exactly what you need when you need it, to reduce how much clutter you're bringing with you along with your cards and cash.
Each Ridge Wallet comes with either a money clip, for carrying a few bills, or a money elastic for a slimmer profile. You can switch them out at will to customize your wallet the way you like. The RFID blocking is handy, but you'll need to remove any cards you need to be scanned, like a transit or gym pass. A small price to pay for protection from identity theft!
Ridge Wallet Alternatives
If you're looking for a Ridge Wallet alternative, Here's a quick overview of some similar wallets on the market:
Fantom Wallet
Super thin and light – weighs less than 1oz
Cool card fanning feature: hit a button and all your cards pop out in a fan shape for easy access
Money clip is sold separately, not included in the purchase price
$54 for the basic Fantom, $94 for the new Fantom R
Coin slot for small objects, though many reviews mention the coins rattle around which sounds annoying
Andar Pilot
Leather and aluminum design is very handsome
Only carries 6 cards to Ridge Wallet's 12
Optional money clip
Sliding wheel displays your cards in an easy-to-access stack
Currently sold out on their website
Trayvax Contour
Extremely expensive! $139.99!
Sourced and made in the US
Weird metal and leather design isn't for everyone
Ekster Parliament
$69
Quick card access button
Leather build
RFID blocker
Stores 10 or more cards and has a cash strap
Optional tracking card makes the wallet "unlosable"
Ridge Wallet Promotions & Discounts
The only Ridge Wallet promo code we found is this pretty cool refer-a-friend deal. If a friend you refer to Ridge Wallet makes a purchase, they get 10% off their first purchase, and you get $15 off your next purchase. You get another $15 for every friend you refer through this same Ridge Wallet coupon code that makes a purchase—up to $75 for five friends!
Where to Buy Ridge Wallet
You can buy Ridge Wallets directly from their website, or from stores all over the US. Their website has a handy map to help you find a store near you.
There are a few other online stores that stock the Ridge Wallet, but the most interesting one is Huckberry. Huckberry sells a special Navy Blue aluminum Ridge Wallet and 5% of proceeds are donated to the Navy SEAL foundation.
You can, of course, also get the Ridge Wallet on Amazon.
FAQ
Shipping Policy
Ridge Wallet offers standard domestic shipping (2-5 days) for $3, or free standard domestic shipping on orders over $40. 1-3 days priority shipping is available for only $5 and next day air is available for $25.
International shipping (7 – 14 days) is available for $5, but again is free on orders over $40, which easily covers the price of one wallet. Tracking is provided by DHL eCommerce. DHL Express shipping (2-4 days) is $20. The website says there are rarely any import or customs fees, but they vary from country to country and Ridge Wallet can't guarantee what they'll be.
All orders are shipped within 1-2 business days, except on holidays.
Return Policy
All Ridge Wallet products have a lifetime guarantee due to their military-grade materials, though it doesn't cover cosmetic damage like scratches, or unauthorized modifications. To make a claim, you simply take a picture of the damage and send it in through a form on their website.
You can return your Ridge Wallet for an exchange or a refund within 45 days of your purchase. Ridge Wallet will send a USPS label so you don't have to pay the shipping cost on the return. Just like the lifetime guarantee, there's a form you can fill out on the website to request a return.
Contact Ridge Wallet
The Ridge Wallet website has a live chat feature available during business hours, and you can send them an email if it's not online when you need it. You can fill out a form or email them directly at [email protected]
Article Sources
[1]
Viggiani, D., Noguchi, M., Gruevski, K.M., De Carvalho, D. and Callaghan, J.P.
The Effect of Wallet Thickness on Spine Posture, Seat Interface Pressure, and Perceived Discomfort During Sitting
Taylor Francis Online
IIE Transactions on Occupational Ergonomics and Human Factors, 2(2), pp.83–93
Get Access to Exclusive Deals
Subscribe for free to get exclusive deals in your inbox. 100% privacy