About Stryx
Stryx is a men's cosmetics brand praised for its functionality, formulas, and results. Offering concealer, tools, and skincare, the company's approachable, masculine line is quick and easy to apply.
Featured in noteworthy publications like GQ, Forbes, Men's Health, and a bundle of others, Stryx is frequently praised for its confidence-restoring line. The brand also boasts a hefty online presence, with 168k followers on Instagram.
Not sold on men's cosmetics just yet? We get it. But before you run to chug a beer or do 100 pushups at the mere thought of concealer on your face, we invite you to read through this Stryx review.
Here, we'll tell you everything you need to know about the brand and its bestsellers, fill you in on what customers think about them, and show you why, though the brand technically sells "cosmetics," it's anything but feminine.
From there, you can decide if the brand's straightforward, solution-based products are something you want to try out.
Overview of Stryx
Stryx was founded on the belief that "men seek to look handsome." That's certainly not a lie, and even those who don't put a ton of effort into their look would probably agree.
Launched just a few short years ago in 2017, the brand was created after a pimple escapade on Stryx founder, Devir Kahan's wedding day. After receiving the pictures from the photographer, he became embarrassed and frustrated that his pimple stood out like a sore thumb, essentially ruining the whole lot.
Wondering why women could hide their flaws, but for men, it was a dainty disgrace, Kahan set out to do something about the future of wedding days, big presentations, hot dates, or any day when a man feels like covering up his imperfections.
Everything about the NYC-based company is masculine—from the packing to the ease-of-use to the straightforward product selection. Any of the brand's products would blend in comfortably on your bathroom shelf next to the Axe spray and electric razor.
They're not frilly or fussy—they're products with purpose, designed specifically for men.
But before we get into what the brand's products are exactly, this Stryx review will shine a little light on its pros and cons.
Pros
Inclusive product selection designed specifically for men
User-friendly, straightforward products
Cruelty-free with some vegan options
Ships to the US, Canada, and the UK
Free US Standard Shipping
Free returns for those who want store credit
Cons
Does not ship outside of the three areas listed above
Stryx has a concise product lineup that concentrates on covering imperfections and accentuating your features. When it launched, the brand released just concealer and a tinted moisturizer, but due to the overwhelming popularity, has expanded its selection to include skincare, tools, and accessories.
In the next section of this Stryx review, we'll be focusing on a broad spectrum of its products to help hide flaws and boost confidence.
Stryx Review
Stryx products can be bought as part of a recurring subscription. You'll get 10% off and your order will be shipped every 1-4 months, depending on your preferences.
Below, you'll read about the brand's bestsellers, including its signature cosmetics, skincare, tools, and expansive kits.
Stryx Gel Cleanser Review
First things first. What are you washing your face with? If it's a bar of plain old soap, please reconsider. Not only is soap not designed to deeply cleanse your face, it often strips your natural oils and leaves your skin feeling dry and tight.
The Stryx Gel Cleanser is in, you guessed it, gel form, meaning it's going to hydrate your skin better from the get-go. Add in nourishing botanicals, like tea tree, vitamin B, as well as hydration stars like aloe vera, and you have yourself a winning product.
Available in a 3.3 oz tube, you can get the Gel Cleanser for $12.
Stryx Tinted Moisturizer Review
We all know the perks of a moisturizer—it adds hydration and soothes the skin. But this one goes a little further, helping to reduce redness and adding a touch of color to even out your complexion.
The Stryx Tinted Moisturizer comes in three shades: light cognac, medium mahogany, and dark eclipse. But, it's designed to provide sheer coverage so you don't need to worry about looking like you have makeup on. It's just an easy swipe of lotion that also happens to make you look more put together and not so tired.
Pick up a 1.76 oz tube for $25.
Stryx Concealer Tool Review
You may have tried the eye tool to help reduce puffy eyes and dark circles, and the Stryx Concealer Tool works in a similar way. It adds a bit of color to trouble areas, helping them look more muted, for a calm and collected appearance.
Ideal for razor burn, scars, or any other areas you'd like to hide, Stryx delivers dependable masking in a convenient twist-up tube that's super easy to apply. It's best at hiding red spots, so you don't have to worry about everyone staring at your pimple during your next business meeting.
The Concealer Tool comes in light cognac, medium mahogany, and dark eclipse. But, the colors are described as "adaptable," meaning you can build to the shade that matches your skin.
Hide what you don't others to see and get on with your day with this 0.64 oz tool for $20.
Stryx The Essentials Kit Review
A good-looking man always has some power-playing products in his back pocket, and they all work together to make him look professional and put-together, but still a little rugged.
The Essentials Kit includes four of the company's top-selling products, including:
Concealer Tool (0.64 oz)
Gel Cleanser (3.3 oz)
Energizing Eye Tool (0.27 oz)
Brow & Beard Gel Comb (0.5 oz)
Look alive, hide your flaws, and keep things clean with this handy kit for $75 (normally $83).
Stryx The Complete Kit Review
The Complete Kit is for the guy who wants it all. It has everything you need to prep and care for your skin, finesse your look, and feel your best. In each bundle, you'll receive:
Concealer Tool (0.64 oz)
Tinted Moisturizer (1.76 oz)
Gel Cleanser (3.3 oz)
Energizing Eye Tool (0.27 oz)
Brow & Beard Gel Comb (0.5 oz)
You'll also get a few special extras, like the:
Bronzing Gel (2 oz)
Anti-Shine Tool (0.24 oz)
Advanced Lip Balm (0.12 oz)
In addition to the above cosmetics and skincare, you'll receive two tools: the Microfiber Cleansing Disc and the Pro Blending Wedge. The disc helps you get a deep clean when cleansing, and the wedge helps ensure flawless application when applying any face products.
This is literally every last product the brand carries, so you're getting the full deal. And talking about deals, this kit is usually $200 but is on sale right now for $180.
Stryx Pro Blending Wedge Review
Since Stryx's signature products are its Concealer Tool and Tinted Moisturizer, the brand figured they'd do guys one solid and offer a tool that makes the whole process a little easier.
The Stryx Pro Blending Wedge is a latex-free, simple foam piece that allows you to blend concealer to look more natural or evenly spread moisturizer. Use the larger side to quickly apply product all over your chin, cheeks, and forehead, and then use the pointed edge anywhere that needs precise application, like under your eyes or the corners of your nose.
Pick one up for $6.
Who Is Stryx For?
Stryx is for men. More specifically, men who want to hide a pimple or look a little less tired on a stressful day. It's for men who want to do something good for their skin without putting animals in harm's way.
It's for men who sneak their girlfriend's concealer when she's not looking on the morning of a big presentation, and for those who proudly wear it out to dinner with friends.
Stryx designed its products to be manly, easy to apply, and unnoticeable. So really, any man who sees the benefits of wearing concealer, keeping their unruly eyebrows in shape, or desires a face wash that doesn't strip their skin may find the line appealing.
Comparison: Stryx vs. Bulldog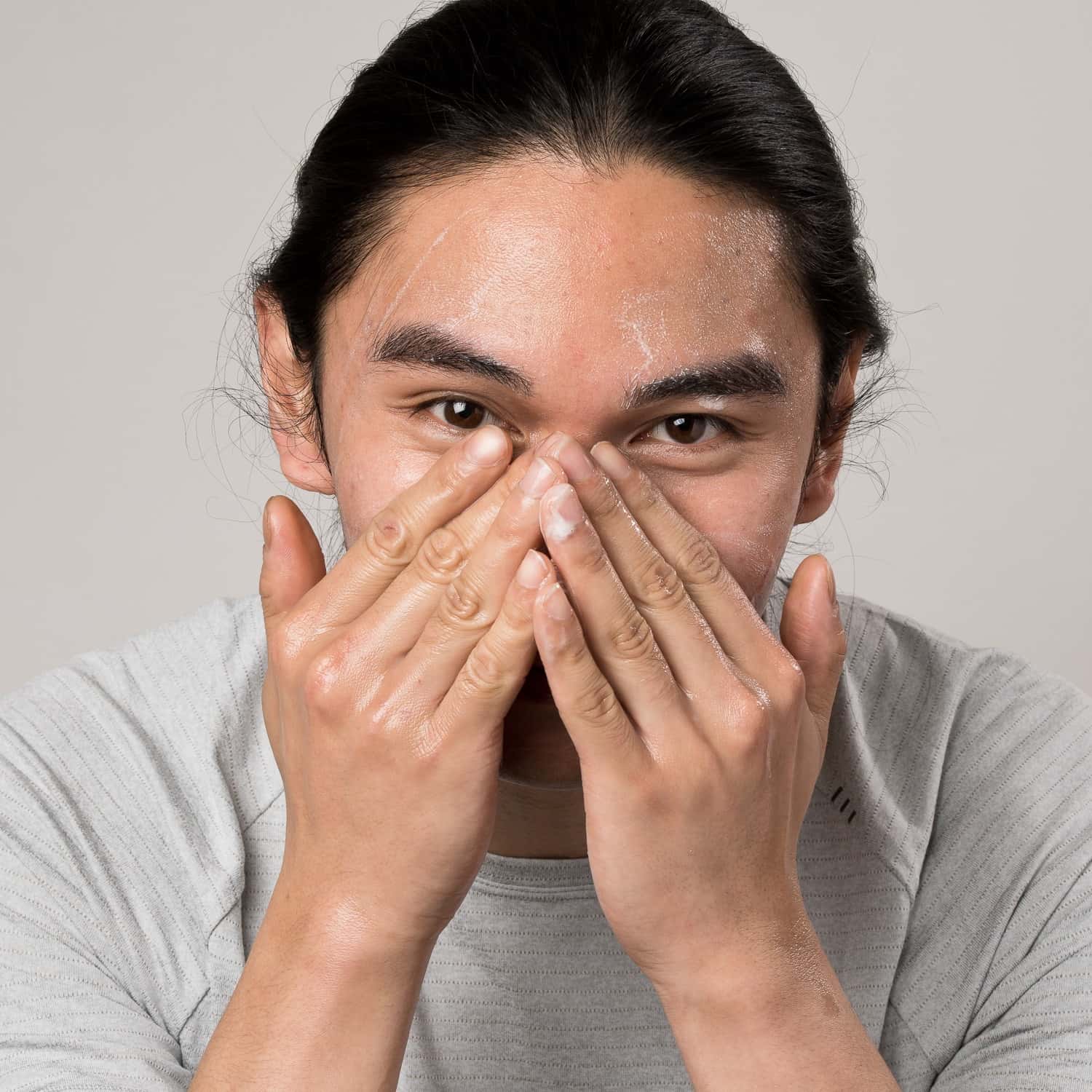 The times, they are a-changin'! And why shouldn't men have the same enjoyment from personal care products as women do? In this section of our Stryx review, we'll put our featured brand side-by-side with, not a competitor, but a co-pilot in creating change within the men's personal care market.
Bulldog was one of the first of its kind, making men's skincare products more approachable with a manly spin. Stryx does this very same thing, except it's just with colored lotion (aka tinted moisturizer).
The two brands are similar in this way, but not so much in any other way, as Bulldog has a more extensive skincare line and includes shaving and body care products as well.
Stryx comes at things from a more manicured POV, offering products like brow gel, tinted moisturizer, and bronzing gel that work to level up a man's features the way hair putty elevates your 'do.
With that said, the two brands do have one similar product: cleanser.
The Stryx Gel Cleanser clocks in at $12 for 3.3 oz and is cruelty-free, while the Bulldog Original Face Wash isn't sold on its website, but looks to cost between $7-$10 for 3.3 oz depending on where you buy it.
Both of these brands have great things going for them, but one is just a little more mainstream than the other at the moment.
What's kind of interesting to think though, is that when Bulldog Skincare came out, they were met with the same hesitancy from men as Stryx is, but yet, look how widely accepted it is today—proving that, no matter what anyone else thinks, you should just go ahead and do you!
If you want to learn more about Bulldog then check them out in our full Bulldog Skincare Review.
Stryx Reviews: What Do Customers Think?
Men don't mess around when it comes to shopping. They know what they want, but it's also important to know if a product works.
We've dedicated this section of our Stryx review to customer feedback, and here, you'll read a handful of comments that shed some light on what the brand's products are really like.
Let's kick things off with a few ratings taken from the brand's website.
The Complete Kit: an average of 4.9/5 stars from 853 reviews
The Essentials Kit: an average of 4.9/5 stars from 635 reviews
Concealer Tool: an average of 4.8/5 stars from 389 reviews
Tinted Moisturizer: an average of 4.8/5 stars from 233 reviews
Gel Cleanser: an average of 4.8/5 stars from 62 reviews
From these ratings, it looks like people love the kits, but upon closer inspection, it turns out the brand has pooled reviews for the individual products found within the kits, which, don't get us wrong, still show really impressive scores.
Isolating the Concealer Tool as the product that men may find the most use out of, we zoned in on the comments to see what customers had to say. Tons of guys talk about how well the Stryx men's concealer blends, that it's unnoticeable, and the application method is quick and easy to use—three things you definitely want from a concealer.
When it came to how dark the shades are, we came across one Stryx review that read, "I was a little hesitant about the shade color at first, however, you can control the lightness and darkness by applying less or more of the product." Since the concealer comes in just three colors, this little fact is helpful.
Craving some meaty information about Stryx cosmetics, we turned to The Modest Man for the poetic, yet informative opinions he's loved for. The reviewer quickly turned things over to his photographer friend, who applied the Concealer Tool and the Tinted Moisturizer, then critiqued it from a photo editing angle.
His Stryx review revealed that "the biggest benefit from a photo editing perspective is the even color…It's far easier to blend/remove blemishes in Photoshop with evenly toned skin than it is with the discoloration of bare acne/scars."
His words help us know that Stryx makeup isn't completely unnoticeable in texture, but it is in color, and if you've ever seen a woman with a foundation line across her chin, then you know how valuable a matching shade truly is.
We now felt like we had a good scoop on the quality and results of Stryx cosmetics, and wanted to find out if the brand's Gel Cleanser was one of quality or something that was there just to exist.
With this in mind, we headed to What Is A Gentleman to find out.
The Stryx review told of a great smelling, effective, and gentle product—things that came as a surprise, but considering the brand's other user-friendly formulas, shouldn't. It read, "I honestly would use it by itself as a daily cleanser, whether I used another one of their products or not." That line alone is a good sign this product is one of quality.
From what we can see, Stryx makes quality and easy-to-use products that do exactly what they claim to. This proves to us just how man-friendly this brand really is.
Is Stryx Worth It?
Before we even get into it, let's address the elephant in the room—the word "makeup." If the idea of men's makeup scares you, perhaps think about it from a different angle.
Stryx products are formulated for men's skin—they aren't for women. So you can take that elephant and gently release it into the wild to run around with all the other misconceptions about what masculinity should mean.
Now that's out of the way, let's talk about what really matters: the results, the formula, and the price. From what we found out in the previous sections of this Stryx review, all three check out. The brand delivers on quality and packages it up into user-friendly tools that help restore confidence.
And so, we think it goes without saying, but we believe Stryx to be worth the buy.
Stryx Promotions & Discounts
We know how quickly cart totals add up when it comes to online shopping, so it's always appreciated when a brand such as this one offers a couple of deals to help save a few bucks.
Throughout this Stryx review, we spotted quite a few, all of which you'll find in the list below:
Subscribe and save 10%
Join the mailing list & get 20% off
Get free standard shipping on orders $25+
Bundles deals: The Complete Kit & The Essentials Kit
Where to Buy Stryx
To get access to all of the deals mentioned in the last section of this review, the best place to buy the brand is directly from Stryx.com. But, if you're out and about and doing CVS hauls is your jam, you can now find the brand in its men's personal care aisle.
FAQ
Who Owns Stryx?
Devir Kahan owns Stryx. He founded the brand in 2017.
Where is Stryx Made?
Stryx is an NYC-based brand, but we couldn't find exactly where its products are made.
Is Stryx Vegan and Cruelty-free?
Stryx clearly states it is a cruelty-free brand, but we didn't find a mention of whether it is completely vegan. After a little digging, it looks like certain products are vegan, like the Bronzing Gel, while others are not. Each product page will state if the formula is or not.
What is Stryx's Shipping Policy?
Stryx ships within the US, Canada, and the UK. Standard shipping for US customers is on the house, but you'll find expedited options for your area listed at checkout as well if you'd prefer a quicker delivery.
Order processing is about 1 business day if you place your order before 2:00 pm EST, and if not, it'll get shipped out the next business day. Once your order ships, you'll receive a confirmation email with a tracking link that you can use to keep an eye on where your package is on its journey to your door.
What is Stryx's Return Policy?
If any Stryx products don't quite do it for you, you can return them within 30 days of purchase. To start a return, shoot the brand an email at [email protected] and let them know what's up.
There are a few things to keep in mind when it comes to returns, so we'll throw them into a little list below for easy reference:
If you're returning for a refund:

Get the item you wish to return in the mail 30 days from when you place your order online
You'll be responsible for all return shipping costs (you can get a prepaid label from Stryx, but they'll deduce $7 from your refund amount)
If you made your purchase on a gift card, the refund will go back onto that same card

If you're getting store credit:

Make sure the item(s) are in the mail 60 days from the date of purchase
If you use the return portal, return shipping is free for US customers

If your order totaled over $150, you may be charged a restocking fee
How to Contact Stryx
We try to hit all the bases but may strike out now and again. If you need any information that wasn't included in this Stryx review, send the brand an email at [email protected].
---
We know how important skincare is! Check out our reviews for other top skincare brands:
Get Access to Exclusive Deals
Subscribe for free to get exclusive deals in your inbox. 100% privacy