TestoFuel Review
About TestoFuel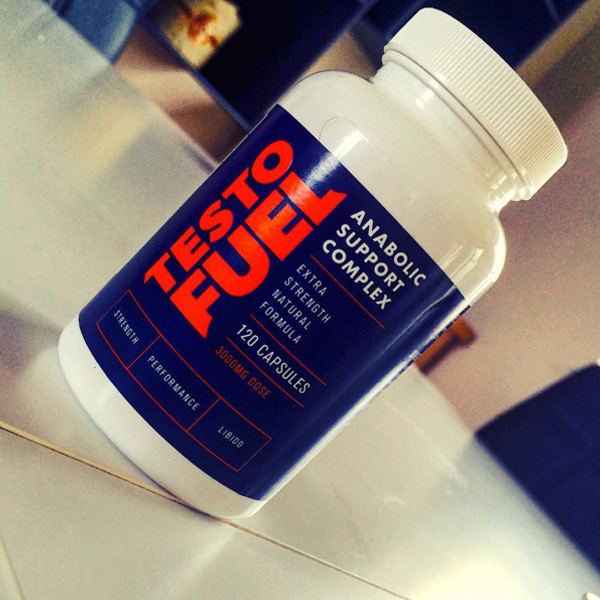 TestoFuel is a Testosterone boosting supplement made without the use of synthetic testosterone and steroids. It provides your body with key nutrients to improve testosterone production and push it to new limits to achieve optimum body-building results. The product is marketed toward both men and women.
TestoFuel, with 2.4k followers on Instagram, is endorsed by Robby Robinson, aka Mr. Lifestyle, who has had several impressive bodybuilding victories, such as winning Mr. Olympia five times during his 27-year career.
If you do a quick google search, you will notice TestoFuel is trusted by thousands of happy male customers who share their experience with this supplement and its impressive results.
My TestoFuel review will take an in-depth look at the brand and its ingredients, customer ratings, promotions, and more, to help you decide if their products are worth buying.
Overview of TestoFuel
Roar Ambition is the owner of the TestoFuel brand. This young company was founded by Robert Parker, a digital marketing entrepreneur who spotted a gap in the sports nutrition supplements market in 2012.
Roar Ambition has since become world-renowned and encompasses successful health product brands such as TestoFuel, Prime Male, and Instant Knockout brands with a wide range of products for different needs, from nootropics for brain health products to fat burners and testosterone boosters.
Roar Ambitions brands use advanced technology and research to back up their premium products, and they have all your needs in mind, whether you are an amateur or professional athlete.
Health enthusiasts or warriors who look for bulking up and losing fat at the gym or boosting cognitive health, better focus, and energy, can find a blend made by Roar Ambition to support their health regime.
Ready to find out more? In this TestoFuel review I will get to the brand's ingredients in just a few scrolls. Before we get there, have a peek at the highlights to get a feel for what's in store.
Highlights
Increases natural testosterone production
Kickstarts the body's natural production of other hormones to increase metabolism
Supports lean muscle growth and repair
Anti-aging
Boosts energy, libido, and mood
100% natural, high-quality, safe, and researched ingredients
Transparent formula without the use of steroids or proprietary blends
GMP certified
Made in USA and UK
TestoFuel Review
When it comes to gaining muscle, lifting weights and watching your diet alone may not be enough to achieve your goals. There are a host of variables in your day that can affect your body's ability to gain muscle.
In addition to lifting heavy loads at the gym and pushing your muscles, stimulating the release of muscle-growing hormones and recovery plays a role in defined and toned muscles.
You will need a lean muscle-building supplement to support your quest for a fit body. With so many options claiming to get you the bodybuilding results you want, it's hard to make the right decision.
All TestoFuel before and after pictures on the website look promising, and what they seem to have in common is noticeably reduced body fat and muscle growth. At the same time, the brand focuses on the better quality of life that comes along with improved mood and self-esteem with their large dose formula.
TestoFuel is proud to mention the key ingredients used in this supplement come in standard full servings for optimum benefits.
TestoFuel claims they have used all the right ingredients that are responsible for increasing your T-levels. To find out the true efficacy of the TestoFuel formula, this review went on the hunt to find some research linked to the role of its main ingredients in the body, which you can see in the following sections.
Are you interested in adding this supplement to your workout routine?
You can buy it for:
$65: one-month supply.
$130: 2-months supply (with no shipping fee to UK and USA)
$195: 3-months supply (One month free + free shipping worldwide)
Bonus: 2 free nutrition guide and workout guide ebooks
Keep scrolling as there's even more you need to know about all the important amino acids, vitamins and minerals, and other herbs packed in this natural testosterone booster supplement, so keep reading this TestoFuel review to find out more!
Who Is TestoFuel For?
TestoFuel is helpful both for athletes who wish to sustain their body mass naturally and older men who want to prevent low testosterone levels. It is the best option for those who prefer to avoid the damage induced by synthetic testosterone boosting methods out on the market.
If you are training at the gym religiously, are 18 years old or older, have specific bodybuilding goals, want to look in shape, and have a good mood and high energy, TestoFuel is the right product to accelerate your growth.
What Are The Benefits Of TestoFuel?
Your testosterone levels play an essential role in many aspects of your life. Using a supplement like TestoFuel increases the natural production of this sex hormone, benefits muscle mass and bone development affects your energy, libido, vitality, and improves the quality of life.
One of the reasons it gets challenging to pack on muscles as we age is lower testosterone levels. This hormone is in charge of muscle strength and size. Therefore combining high-quality supplementation with strength training and other exercises is more likely to benefit you in the long run.
Men who are satisfied with their shape tend to have more self-confidence and feel more motivated to keep raising their game and looking after their health.
How Does TestoFuel Work?
Just like how proper weight training and exercise help your muscles grow faster, a nutritional supplement with studied ingredients is an important piece of the puzzle to support the production of the right hormones in your body and ultimately get perfectly in shape.
TestoFuel is designed to help with Testosterone production, but it also promotes growth hormone levels. Growth hormone is needed for the growth of many body tissues, including muscles and bones, as well as speeding up the recovery phase.
The vitamin D content of TestoFuel is pretty high, the main reason being that it's a hormone-like vitamin supporting male hormones, including testosterone.
Studies have shown that vitamin D supplements boost immune function[1] and increase nitric oxide production[2], which leads to faster recovery[3] of sore muscles.
The D-aspartic acid in TestoFuel increases the release of your luteinizing hormone[4] (LH) in the brain, ultimately resulting in testosterone production[5]. With its different functions in the body, this amino acid is popular among testosterone-boosting supplements brands.
Your pituitary gland, which is a small gland located underneath your brain secretes luteinizing hormone (LH). It stimulates cells in men's testes to produce testosterone while stimulating steroid release from the ovaries in women.
Most TestoFuel reviews found that the formula emphasizes the mineral zinc due to its significant role in male reproductive health. Two bioavailable and effective forms of zinc monomethionine and zinc aspartate are used in TestoFuel, which again boost testosterone production[6].
We all know that zinc-rich foods such as oysters[7] can boost testosterone production. The oyster extract in TestoFuel not only improves T-levels but its zinc content has also been shown to maintain normal levels of dopamine[8], a neurotransmitter involved in mood and motivation.
What Are The Ingredients In The TestoFuel?
Now let's take a deeper dive into the other TestoFuel's ingredients:
Vitamin K2
This vitamin may be known to work together with vitamin D to balance calcium absorption in your body, but its role in increasing testosterone[9] levels cannot be ignored. TestoFuel has packed specific nutrients together in one formula for optimal results. As this study[10] shows, vitamins D and K together can support healthy bones, hormonal health, immune system, and overall longevity.
Zinc, Magnesium aspartate, and vitamin B6
A popular combination among fitness enthusiasts, zinc magnesium aspartate (aka ZMA) is known to alleviate muscle growth rates and improve recovery.
Magnesium aspartate is a highly absorbable magnesium salt commonly used as a mineral supplement. This mineral has numerous functions in the body, including strengthening your bones, maintaining normal nerve and muscle function, supporting a healthy heart and immune system, and energy production.
According to this study[11], the ZMA supplementation did not show a significant difference in free blood testosterone levels, and more research is needed. However, when zinc and magnesium are taken separately, they do offer testosterone-boosting benefits.
Vitamin B6 is another water-soluble nutrient crucial for hormone regulation in the body. It suppresses estrogen production and therefore helps testosterone[12] levels rise.
D-aspartic acid
According to this study[13], which is a randomized trial on resistance-trained men, D-aspartic acid supplementation for 3 months did not affect the participants' total testosterone and free testosterone levels. This indicates that D-AA might not be as effective as TestoFuel claims it is in helping you with the T-levels in your body.
Asian red Panax ginseng
Red ginseng or Panax ginsenx is a Korean herb known to improve energy, stamina, cognitive ability, and immune function. It can also increase nitric oxide levels, which promotes blood flow for greater muscle pumps. Based on this study, we know that ginseng can also influence testosterone[14] levels.
Fenugreek
Several studies prove the role of fenugreek supplementation in boosting testosterone. For example, after 12 weeks, this research[15] found that 500mg of fenugreek extract per day results in up to 46% higher free testosterone levels in the majority of participants. Fenugreek is also responsible for better mood and alertness.
How to Take TestoFuel And Dosage
TestoFuel comes in a 120 capsule bottle which will be a month's supply.
For best results, take 4 capsules everyday with food. You can divide the dosage and take two with your first meal and two with your dinner.
TestoFuel Side Effects
This review did not find any TestoFuel side effects or risks related to this product on their website. The ingredients are generally safe despite the other products that contain actual testosterone.
However, it's important to bear in mind that TestoFuel is not suitable for those with food allergies and sensitivities as it contains oyster extract, which is among the main allergens.
Like with all supplements on the market, it is highly recommended to talk to your doctor if you have a medical condition or are on medications before committing to TestoFuel.
TestoFuel Reviews: What Do Customers Think?
Now that my TestoFuel review has given you a good idea of some of the product's benefits, we should take a look at what some customers think. This is usually the best way to tell if a product can deliver what it claims. Let's look at a few websites:
Roarambition: 5/5 stars on 5 reviews
Trustpilot: 3.4/5 stars on 3 reviews
A satisfied customer who gave TestoFuel 5/5 stars on Roarambition.com raved:
"I had almost zero motivation until I decided to try TestoFuel. At first I was hesitant because I'm very careful with the products I used and was afraid of side effects and all, but the thing that made me get TestoFuel is the positive reviews I read first, and second because of my disappointment in the products I had taken before.
He went on to say, "First two weeks I felt the same until my 3rd week where I started to find some improvements…I was able to life heavier weights that I could never have lifted before and the energy I witnessed was amazing. I would be excited to hit the gym and didn't feel the laziness I always had."
In a glowing review on Sundrops Fuels, investigative medical writer Olive Brown was extremely impressed with his results, saying, "When I started observing benefits from the product, I immediately upgraded to the four pill routine. Till the very date I write this article, I continue to take four pills on a daily basis. It has been super effective for me and I hope that it would do the same wonders for you."
On Amazon, a customer from the UK wrote: "these certainly do the job. have been using for a few weeks now and in terms of exercise benefits they are very real. you feel a lot more energetic and can last a great deal longer. No nasty after taste and so far no bad side effects."
Overall, TestoFuel reviews are extremely positive.
Is TestoFuel Worth It?
After writing this TestoFuel review, I'd highly recommend considering a natural product like TestoFuel to assist you in feeling stronger, fitter, and more confident. At the end of the day, it's a satisfying feeling to see all your training and nutrition plan pays off after a while.
When you step on the scale or look in the mirror and feel great for committing to a routine that got you where you are, you will notice the importance of giving your body exactly what it needs to support you on your fitness journey without risking your health.
TestoFuel is worth a try if you feel you lack the energy and motivation to work on your body. The first thing middle-aged customers who swear by this product notice is the fact that it helps them become happy again with the way they look.
Getting back to your old physique is never possible but feeling and looking the way you were in your twenties most certainly is.
TestoFuel Promotions & Discounts
To take advantage of the bonuses they offer when you order more than one TestoFuel bottle, head over to their website.
When you order two, you will get free shipping in the UK and USA. Also, when you order three TestoFuels at once, you'll get a one-month supply for free plus two free Nutrition Guide and Workout Guide Ebooks and zero shipping in all countries.
Where to Buy TestoFuel
You can easily purchase this product on TestoFuel official website, Roarambition.com, and on Amazon.
FAQ
How many TestoFuel should I take daily?
You are recommended to take four capsules daily.
Should I take TestoFuel with food?
Yes. It's best to take TestoFuel with food as the amino acid D-Aspartic acid, as well as other ingredients, are absorbed better with the fat and protein in your meals.
Is TestoFuel vegan?
No, TestoFuel is not vegan. The supplement contains oyster extract, and the capsules are made of gelatin.
Is TestoFuel gluten-free?
TestoFuel is not certified gluten-free, but it does not contain ingredients that contain wheat or other glutinous grains.
What are the supplement facts of TestoFuel?
Each 4 capsule serving of TestoFuel contains:
4000IU vitamin D3, 18mcg vitamin K2, 5mg vitamin B6 (as Pyridoxine HCI), 200mg magnesium (as magnesium aspartate), 10mg zinc (as zinc monomethionine and aspartate), 2300mg D-aspartic acid, 100mg Asian red Panax ginseng, 100mg fenugreek (Seed), and 100mg oyster extract
The other ingredients listed on the label are vegetable cellulose, silicon dioxide, and magnesium stearate.
What is TestoFuel's Shipping Policy?
TestoFuel ships from Tennessee and Salt Lake City to the USA (including Hawaii, Alaska, and Puerto Rico) and Canada.
Shipping methods:
USPS Priority: for orders in the US. Delivers within 4 business days in the continental US and 5-10 business days for Hawaii, Alaska, and Puerto Rico.
USPS International: for shipments to Canada; delivers within 10 business days.
You can always track your order using the tracking number you receive up to one day after your parcel ships. If you place your order after 2 pm EST, your parcel will be processed and sent out the next day.
Check their shipping info page for more information regarding the TestoFuel shipping methods to other countries and delivery times.
What is TestoFuel's Return Policy?
If you choose to return your TestoFuel product, you can only do so if the product is unopened and is in its original condition within one month in USA/Canada or within two weeks in the UK and other countries.
If you meet all these conditions, you can contact customer service through email: [email protected] and request a return.
How to Contact TestoFuel
If you need any other information that wasn't included in this TestoFuel review, use any of the following contact methods to get in touch with the brand:
Whitehall Waterfront, Unit G4, 2 Riverside Way Leeds
LS1 4EH, UK
---
Check out similar brands you might like:
Get Access to Exclusive Deals
Subscribe for free to get exclusive deals in your inbox. 100% privacy