Ace Marks Shoes Review
About Ace Marks
Ace Marks is a men's footwear brand selling luxury shoes handmade by Italian artisan shoemakers without retail markups. The following Ace Marks shoes review will cover key elements of the brand and its products, in order to help you make an informed purchase decision.
Overview of Ace Marks
As featured in Forbes, Business Insider and Footwear News, the Ace Marks Kickstarter campaign was founded by Paul Farago, modelled on the motto that luxury men's footwear doesn't have to cost a fortune. By cutting out the middle process that increases prices and adds markups, Ace Marks delivers a handcrafted pair of shoes straight from the artisan to the customer. Each pair of Ace Marks shoes are made in a small factory in Italy operated by fourth generation artisans, using 100% full grain calf-skin leather.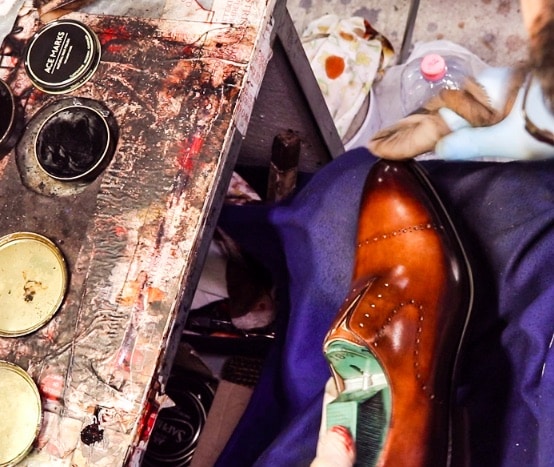 Ace Marks is also the first luxury shoe brand that buys back its shoes. Customers can send their old Ace Marks shoes in for a $50 credit toward a new pair of Ace Marks shoes. This program not only benefits the customer, but each returned pair will be donated to a not-for-profit called Career Gear, which helps empower men with tools and clothing to enter or re-enter the workforce, regardless of background or age.
In this Ace Marks shoes review, I noticed that compared to other men's designer shoe brands, Ace Marks can't be beat on price. Some examples include: Prada loafer with Saffiano leather, and a rubber sole, retails for $995, compared to Ace Marks loafers with 100% premium leather for $299.
Here are the highlights of our Ace Marks shoes review, weighing both the good and the bad:
Pros
Handmade in Italy with 100% full grain skin leather, a premium material by artisan shoemakers
Direct to customer, no middleman, no markups like traditional luxury shoe brands, with pairs costing from $224-$345
Free US shipping and returns; includes pre-paid labels
Feel good initiative: Ace Marks' buy back shoe program allows customers to return their old Ace Mark shoes for a $50 toward a new pair
Each returned pair of Ace Marks is given to Career Gear to help other men get on their feet
A variety of high-end designs, colours, and styles to match the sophisticated male shopper
Comfy, memory foam cushioning in the insole that molds to your feet
Sizing tools and videos with printable paper tracing options, making it easier to determine shoe size
Cons
No vegan or non-animal material options
Pricing is only in US dollars, so the conversion for some countries plus the fee may be just as expensive as luxury brands
International returns and exchanges have a $59 fee and no prepaid label, as well as possible duties and taxes
Everything is made with leather so not many casual options, besides a few sneakers
No real, in-person shoe, or mail try-on option; as there is only online buying options, it is difficult to know whether the shoe will fit properly
Ace Marks Wingtips Review
An Ace Marks shoes review found that the Wingtip is a new take on the traditional brogue shoe. The Ace Marks Wingtip comes in three different colour and material styles, like the Wingtip pictured above. Ace Marks Wingtip shoes range in price from $299-$320.
The Wingtip Vincent: a classic derby shoe, with open laces in a variety of colours; features some options with contrasting suede details
The Wingtip Luke and the Wingtip Beto: traditional Oxford style shoes with closed lacing in a variety of colours; features leather and contrasting suede details on some
The Blucher Louis: features a stacked leather heel and black lace up classic plain toe look
Ace Marks Wingtips are hand stitched in Italy, designed using 100% calfskin leather lining and insole. A memory foam cushioned insole offers extra comfort for when you're on the go.
Ace Marks Monkstrap Review
Ace Marks Monkstrap shoes feature an iconic double buckle strap with silver toned clasps for a traditional yet sophisticated look. For the executive or artist, these shoes are a dazzling statement piece. They come in two styles and a variety of colours:
The Monkstrap Kurt: a double strap buckle shoes, ranges in price from $299-$425.
The Single Monk Aron: a single strap buckle at the ankle, priced at $299.
The Monkstrap features a slip-on design, so there are no laces to bother with. Like the Wingtip, they're designed with luxurious 100% calfskin leather and a memory foam cushioned insole offers superior comfort.
Ace Marks Oxford Review
Ace Marks has a variety of different takes on Oxford shoes. The Oxfords feature a closed lacing system with an elongated toe, offering timelessness at the height of fashion. They feature the same defining design features as the Monkstrap and Wingtip, including handmade 100% calfskin leather and a memory foam cushioned insole.
Cap Toe Oxford: in polished leather or smooth suede, the Cap Toe Oxford is a classic look with a sleek design. Colours range from shiny black, deep cognac and dark blue antique (pictured above). The Cap Toe Oxford ranges in price from $299-$320.
Oxford Italian and Wholecut Oxford – For jeans, or slacks or to elevate an everyday outfit, this shoe has a dyed outsole to match the upper and a darker toe for added drama. This style features a variety of colours and styles like rum and blue suede and black toe patent, ranging in price from $299-$425.
Ace Marks Loafers Review
Made for the cool prepster, the Avio Antique Penny Loafer features an apron toe for a more conservative, traditionalist statement. They come in a variety of modern colours, like Avio Antique, a crisp, light navy blue (pictured above), all priced at $299. Ace Marks penny loafers boast a comfortable slip on design, 100% calfskin leather exterior and lining, and a cushioned memory foam insole, so they're just as old school as they are comfortable.
Ace Marks Shoes Review: What Do Customers Think?
If you're looking for an Ace Marks shoes review, you'll find plenty on the company's website:
"I am truly pleased with the quality and customer service-there are not enough stars in the sky to show how pleased I am," – Paul B
Another customer said in their Ace marks shoes review: "Beautiful shoes. Compared to the other types (wingtips) these shoes feel bespoke because there is no pain when I wear them," Alvaro S, referring to the Henry Captoe Monkstrap in Avio Tramonto
Here's a promising one: "Beautiful shoes. This is my first order from ace marks. They look exactly like the pictures. Pretty quick delivery. They fit perfectly and are the same size as puma sneakers in case you do not have a brand they compare too in their sizing chart. Overall very impressive looking shoes and I will be buying from them a lot more in the future," – William K
Ace Marks Sizing
Ace Marks mens shoes range from size 5-14. Shopping for dress shoes without trying them on can be complicated. There is no Ace Marks size chart; instead, customers go through a five step system before choosing their shoe size:
Five videos to determine your size and width
Download the size conversion chart
Watch the "How to Print the Measuring Tool" video, featuring a measuring tool that customers can print and then trace their foot on
Watch the "How to Use the Measuring Tool" video
Ace Marks Promotions & Discounts
An Ace Marks shoes review found a few deals on the website. The first time you visit acemarks.com, an email subscriber notification pops up to receive an Ace Marks promo code for $25 off your first pair. After entering your email, you get a specialized coupon code to use online.
Every month, Ace Marks also offers a $300 store credit contest. To participate, just enter your email address.
Where to Buy Ace Marks
Ace Marks sells directly on their website. They do not sell on Amazon or to other sites or retailers.
FAQ
What is the Difference Between Oxfords and Derby Shoes?
You're not the first to wonder while reading this Ace Marks shoes review. The main difference between Oxfords and Derbys lies in the laces. Oxford shoes featured closed laces under the vamp of the shoe, meaning they have lacing in which the shoelace eyelets (holes for the laces to pass through) are punctured and sewn under the front part of the shoe, or the vamp.
On the other hand, a Derby shoe features eyelet lacing on top. Derbys have open lacing, meaning that the eyelets are stitched on top of the vamp. Although the two styles of laces appear the same from an exterior view, the details of their stitching are different on the inside.
Shipping Policy
Domestic Shipping
Ace Marks ships all domestic US orders placed before 1 p.m. (ET) same day. Any order placed after 1 p.m. ships the next day. This is a decent shipping policy if you live in the US. Shipping in the US is free and will ship 2-4 days for the East Coast, 3-8 days for West Coast.
International Shipping
International shipping adds a fee of $59 and 5% GST is also added to orders shipping to Canada (as Canada has this tax on all goods). For international shipping, duties and import taxes aren't included, so this may also increase the cost.
Return Policy
Ace Marks offers free shipping and free returns with the condition that each pair be returned in its original packaging and in "factory mint condition" within 45 days of sale. Limitations to this policy include:
Any item that has been worn, scuffed, personalized or stretched cannot be accepted
Warehouse sale items can be returned or exchanged for store credit only
US returns and exchanges: any domestic returns and exchanges are free, including a prepaid label to send back to Ace Marks for the return/exchange
Returns from Canada: returns from Canada are not free (no pre-paid label) but are still accepted, however customers will have to pay for all tracking and shipping
Returns from EU & International: returns from EU and International are not free (no prepaid label) but are still accepted; however, customers have to pay for all tracking and shipping
Photos: Ace Marks recommends taking photos of items before shipping them
Contact Ace Marks
Phone number: (766) 518-2042
Email:

[email protected]

Customer service hours: M-F 9:30 a.m. – 6 p.m. (EST)
Live chat box available on website
---
Ace Marks shoes look great with socks in fun colors and patterns. Check out our review of Soxy for creative options on dress socks.
It's always better to have options. Read up on some other luxury footwear brands:
Get Access to Exclusive Deals
Subscribe for free to get exclusive deals in your inbox. 100% privacy