NOBULL Shoes Review
About NOBULL
NOBULL is a footwear, apparel, and accessories brand for athletes and fitness self-starters who want solid products without gimmicks. They are known for their minimalist and durable designs that cater to athletes and fitness enthusiasts.
A study highlights the growing interest in reevaluating consumers' relationship with clothing and footwear, reducing fashion consumption as a means to address environmental pressures and promote personal well-being.
The brand's minimalist designs and use of premium materials have won over sneaker enthusiasts and fashion-conscious consumers alike.
NOBULL Shoes are designed to provide a balance of comfort, performance, and style. The brand emphasizes versatility, making their shoes suitable for a variety of training activities, such as weightlifting, HIIT workouts, running, and CrossFit.
In this NOBULL shoes review, I will cover their bestsellers—how they are priced, what activities they're good for, how you can return them if they're not for you—and everything else you need to make an informed purchase.
NOBULL Pros & Cons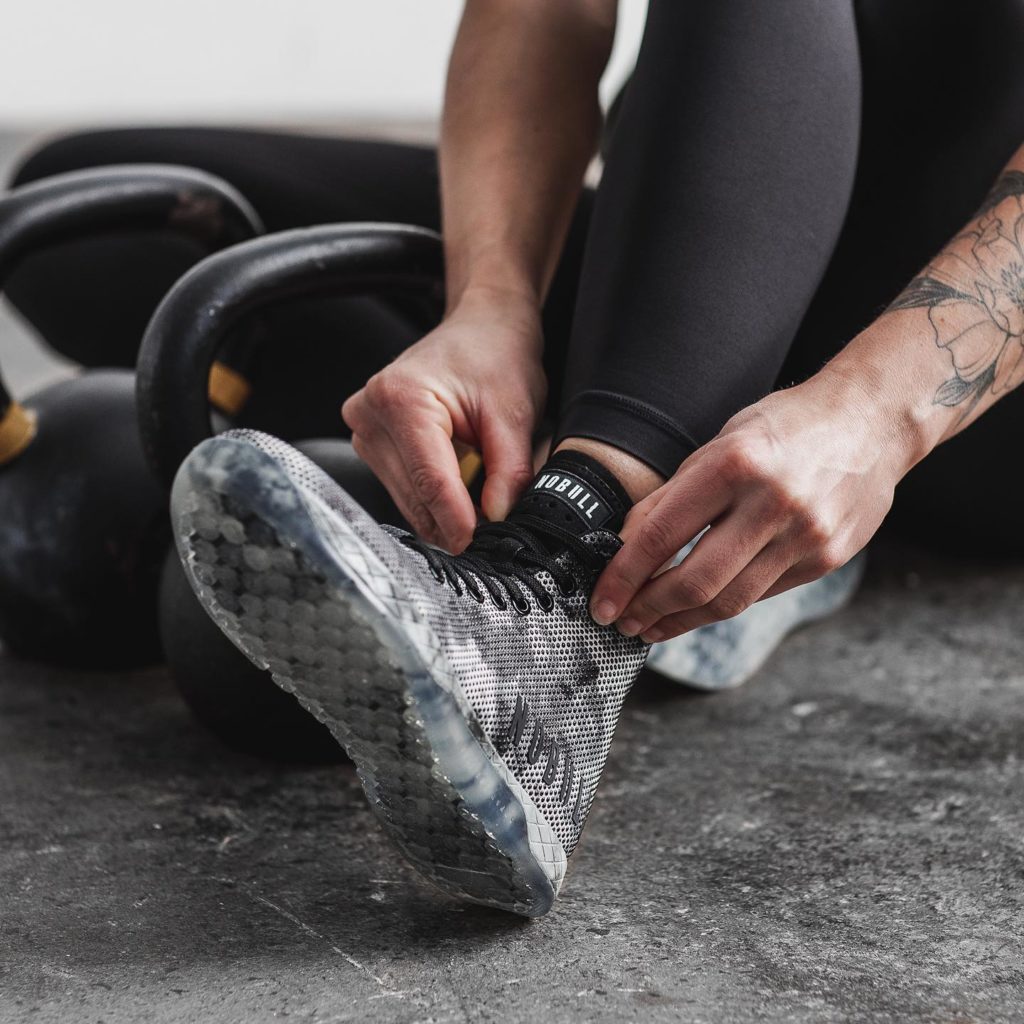 NOBULL shoes have experience with elite training and product design. Below, I'll break down some pros and cons of the brand:
Pros
Durability: NOBULL shoes are known for their durability. They are designed to withstand intense training sessions and are made from high-quality materials that can withstand the demands of various workouts.
Versatility: NOBULL shoes are suitable for a wide range of training activities. Whether you're weightlifting, doing HIIT workouts, running, or participating in CrossFit, NOBULL shoes are designed to provide the necessary support and performance.
Minimalist Design: The minimalist design of NOBULL shoes appeals to those who prefer a sleek and clean aesthetic. The simple design without unnecessary embellishments allows the shoes to focus on functionality and performance.
Comfort: Many users find NOBULL shoes to be comfortable, providing a secure fit and sufficient cushioning for their workouts. The shoes often feature breathable materials, which can contribute to overall comfort during exercise.
Style: NOBULL shoes are known for their fashionable designs and a variety of color options. This allows athletes to express their personal style while wearing functional and performance-oriented footwear.
Cons
Price: NOBULL shoes are typically priced at a higher range compared to some other athletic footwear brands. The higher price point may be a consideration for individuals with budget constraints.
Limited Options: While NOBULL offers a range of styles and color choices, the brand's product line is not as extensive as some other athletic shoe brands. This limited selection may not cater to the specific preferences of all individuals.
Fit for Certain Activities: While NOBULL shoes are versatile, some users may find that they are better suited for certain activities or training styles. It's important to consider your specific training needs and activities to ensure the shoe is the right fit for your workouts.
Limited Arch Support: Some individuals with specific foot conditions or higher arches may find that NOBULL shoes do not provide as much arch support as they require. Depending on individual foot anatomy and support needs, additional orthotics or insoles may be necessary.
Availability: NOBULL shoes may not be as widely available in physical retail stores compared to more established athletic footwear brands. This limited availability may make it more challenging for individuals to try on and purchase the shoes in person.
It's important to note that individual experiences and preferences may vary. It's always advisable to try on different shoe brands and models, consider your specific needs and requirements, and seek professional advice if necessary to find the right athletic footwear for your training activities.
Materials
NOBULL utilizes a variety of materials in the construction of their shoes to ensure durability, comfort, and performance. While specific materials can vary across different shoe models, here are some common materials used by NOBULL:
SuperFabric®
NOBULL incorporates SuperFabric® in many of their shoe designs. SuperFabric® is a patented material known for its exceptional durability, resistance to abrasion, and protection against wear and tear. It consists of tiny guard plates that are flexible and provide added durability to high-stress areas of the shoe.
Mesh
Mesh is commonly used in NOBULL shoes to enhance breathability and improve airflow. It allows for ventilation, helping to keep the feet cool and comfortable during intense workouts.
Synthetic Leather
NOBULL utilizes synthetic leather, which is a durable and lightweight alternative to traditional leather. Synthetic leather provides a sleek look and can withstand the demands of training without sacrificing performance or style.
Rubber
Rubber is used for the outsoles of NOBULL shoes to provide excellent traction and grip on various surfaces. The rubber compound used by NOBULL offers a balance of flexibility, durability, and traction to ensure stability during workouts.
EVA Foam
NOBULL incorporates EVA (ethylene-vinyl acetate) foam in the midsoles of their shoes. EVA foam provides cushioning, shock absorption, and responsiveness, helping to enhance comfort and reduce impact during training.
Features
NOBULL offers a range of features that make their footwear and apparel stand out. Here are some key features of NOBULL products:
Durable Construction
NOBULL products are known for their durability. The footwear is made with high-quality materials and reinforced in areas prone to wear and tear, ensuring longevity and withstanding intense training sessions.
Versatility
NOBULL shoes are designed to be versatile, suitable for a variety of workouts and training activities. Whether it's weightlifting, HIIT, CrossFit, or running, NOBULL shoes aim to provide the performance and support needed for different training modalities.
Minimalist Design
NOBULL embraces a minimalist design philosophy. Their footwear features clean lines and a simple aesthetic, focusing on functionality and performance rather than excessive embellishments.
Breathability
Many NOBULL shoe models incorporate breathable materials in their construction. This enhances airflow, keeping feet cool and comfortable during workouts and reducing the likelihood of excessive sweat and odor.
Secure Fit
NOBULL shoes are designed to provide a secure and supportive fit. They feature anatomical designs, snug uppers, and lacing systems that allow for a customizable fit, ensuring stability and preventing foot slippage during training.
Comfort
NOBULL prioritizes comfort in their footwear. The shoes are engineered with cushioning and padding in strategic areas, providing impact absorption and a comfortable feel throughout workouts.
Stylish Options
NOBULL offers a range of stylish options for both footwear and apparel. Their designs combine performance and fashion, allowing athletes to express their personal style while feeling confident during their workouts.
Apparel Integration
In addition to footwear, NOBULL also offers a line of athletic apparel. Their apparel integrates well with their footwear, providing cohesive and coordinated workout attire.
5 NOBULL Bestsellers
NOBULL Cool Grey Knit Runner Review
These Cool Grey Knit Runners have a contemporary, surfer-like design along the bottom edge that gives a nod to Yeezy. They have simple laces and are tapered at the ankle. Soft, breathable top fabric helps to air out your feet when they're sweating after a long hike.
These Cool Grey Knit Runners exude maximum comfort. Most customers say the shoes have great cushioning and are true to size. Other commonly read points are that they have good grip, and are best used for running under 10k.
These NOBULL runners come to $204 at checkout. They're available in sizes 5 to 11 (in .5 increments).
NOBULL Midnight Palm Trainer Review
The Midnight Palm Trainers have a black urban-cool design with a flash of patterned color on the bottom trim—flair minimal enough to add some spice, but not violate the Conan the Barbarian no-nonsense law that NOBULL abides by.
The Midnight Palm Trainer is totally sold out except in size 5. If the shoe fits, grab a pair at only $180.
NOBULL Black Gum Canvas Trainer Review
These NOBULL trainers are simple and effective. Most gym aficionados use them for cross-training and weightlifting.
The stylish Black Gum Canvas Trainers also have a great fit. About half of the sizes, 8 through 18, are sold out. You can buy the rest for $140.
NOBULL Cool Grey Knit Runner Review
Looking to get into shape, but not keen on participating in half-marathons anytime soon? These Cool Grey Knit Runners are perfect for short distance sprints, but also for resistance workouts. The mess top design provides ventilation for your feet and toes, while the tucked ankles ensure a clean fit.
Available in sizes 8 through 18 for $204, these runners are slick and modern, giving everything you need for a solid workout.
NOBULL High-Neck Sports Bra Review
This High-Neck Sports Bra is tight and comfortable around the bust, minimizing it instead of giving a sculpted look. Customers wear it for all kinds of activities, including weightlifting and running. Common feedback is that it offers great support that lasts through your workout.
You can purchase the High-Neck Sports Bra in extra small, small, medium, and large for $67. Alternatively, keep an eye on the brand's Instagram for when the next NOBULL sale comes around.
Who is NUBULL For?
NOBULL is designed for athletes, fitness enthusiasts, and individuals who prioritize functional and stylish footwear for their training and active lifestyle. The brand caters to a wide range of individuals who engage in various activities and workouts.
Here are some groups of people who may find NOBULL suitable for their needs:
CrossFit and Functional Fitness Athletes: NOBULL is popular among CrossFit athletes and those who participate in functional fitness workouts. The shoes' durability, stability, and versatility make them suitable for the dynamic and diverse movements commonly found in these types of workouts.
Weightlifters and Powerlifters: NOBULL shoes provide the stability and grip necessary for weightlifting activities. The secure fit and supportive design help maintain proper form and stability during heavy lifts.
High-Intensity Interval Training (HIIT) Participants: HIIT workouts often involve a combination of cardio and strength exercises. NOBULL shoes' versatility and support make them suitable for these high-intensity training sessions that involve quick movements, jumps, and changes in direction.
Runners: While NOBULL is not primarily known for running shoes, some individuals find them suitable for short-distance runs or as a cross-training option. The lightweight and flexible design may be appealing for runners looking for a minimalist-style shoe.
Fitness Enthusiasts: NOBULL shoes are also suitable for general fitness enthusiasts who engage in a variety of training activities, such as circuit training, gym workouts, functional training, or general workouts at home or in the gym.
It's important to note that individual preferences and needs can vary. Some athletes or individuals with specific requirements may opt for sport-specific shoes tailored to their particular activity.
Consulting with a healthcare professional or fitness expert can provide personalized guidance on choosing the appropriate footwear for your specific needs and activities.
Alternatives
While NOBULL is known for its durable and versatile athletic footwear, there are several alternatives available in the market. Here are some notable alternatives to NOBULL:
Reebok CrossFit: Reebok offers a range of shoes specifically designed for CrossFit and functional fitness training. Their CrossFit shoe lineup includes models with features such as stability, flexibility, and durable construction to meet the demands of intense workouts.
Nike Metcon: Nike's Metcon series is designed for cross-training and high-intensity workouts. These shoes provide stability, traction, and durability for activities like weightlifting, HIIT, and functional fitness training.
Under Armour HOVR: Under Armour offers a range of training shoes suitable for various athletic activities. Their HOVR line provides cushioning, support, and flexibility for workouts, including weightlifting, circuit training, and running.
Adidas Ultraboost: Adidas Ultraboost shoes are popular for their comfort and responsiveness. While primarily known for running, they can be suitable for general fitness activities and provide a balance of cushioning and support.
New Balance Minimus: New Balance Minimus shoes are designed for minimalist and natural movement. They offer lightweight construction, flexibility, and a low-profile design, making them suitable for activities like weightlifting and functional training.
Inov-8 F-Lite: Inov-8 specializes in functional fitness shoes that prioritize stability, flexibility, and grip. Their F-Lite series is popular among CrossFit and functional fitness enthusiasts.
ASICS Gel-Craze: ASICS Gel-Craze shoes are designed for cross-training and offer cushioning, stability, and support. They can be suitable for a variety of workouts and gym activities.
It's important to consider your specific training needs, preferences, and foot shape when choosing athletic footwear. Trying on different brands and models, and seeking professional advice if needed, can help you find the alternative that best suits your requirements and comfort.
NOBULL Reviews: What Do Customers Think?
Customers are crazy about NOBULL, and in the best kind of way. 10K+ customers gave reviews with an average of 4.7/5 stars across multiple websites. Here's the best and worst of what they had to say.
On Reddit, there is a swell of positive comments regarding NOBULL shoes' excellence with dynamic movements, like box jumps and lunges, and the fact that they are both super comfortable and durable.
This Reddit comment sums up the general feedback: "I love my Nobull's. I finally decided to give them a try during my last deployment, and I have to say, they are the best fitting 'CrossFit' shoes I've worn."
Amazon customers left NOBULL a 4.5/5 rating average from thousands of reviews. The most common feedback compliments the sturdy material of their shoes and that they are true to size (a good fit).
The most significant complaint is that the top material on one customer's shoes was too stiff and, over time, made their feet sore. Another customer said their trainers produce a squeaky sound on certain floor surfaces.
This Amazon review best sums up the customer experience: "First off the grip on these shoes are tremendous. The flat sole makes great placement for workouts I have to do. Since my foot is wide the shoes definitely need more breaking in. And my feet feel well encased in the shoes. I haven't seen any manufacturing issues. The exterior of the shoe definitely feels durable. They are breathable."
After seeing Amazon and Reddit's feedback, it's no surprise that customers give NOBULL a 5/5 star average on their official website. Thousands of reviews say their shoes provide great cushioning and the stability required for workout exercises. They also have a tight fit and work well in all kinds of settings, even outside of the gym.
One NOBULL verified customer writes, "Love the all-black!! I wear them practically 24/7. At work, I'm on my feet all day lifting and pushing things, and these make it easier to handle, and then I wear them at night when I go to the gym! Never slipped in them, never have feet pain!"
Is NOBULL Worth It?
Are NOBULL shoes good? When you travel across gyms and running paths, who do you want on your side? I'll tell you in this NOBULL shoes review: a no-nonsense brand that offers real support when you need it the most.
In all seriousness, NOBULL is totally worth it—in fact, most of their verified reviews say their shoes in particular are game-changers. The price tag is quite high compared to their competitors, so they are a better option for people who run and work out on the regular and will notice the jump in quality.
For casual wearers, the shoes are also functionally versatile and designed to suit many workplaces, so your trainers will work nicely as NOBULL sneakers too.
NOBULL Promotions & Discounts
Looking for a NOBULL coupon? There are currently none of those on display, but here are some other ways to save money.
First, you can enjoy free shipping on all orders to Australia and Canada. And no, you won't need a NOBULL discount code for this—it'll be applied at checkout. They will also pay for customs fees and import duties associated with the order.
There is a NOBULL military discount, as well as savings for customers with the following professions:
Teachers
Government employees
First responders
Hospital employees
Nurses
Military
Medical professionals
One more tip: follow their Instagram for a heads up on NOBULL Black Friday deals.
Where to Buy NOBULL
NOBULL Project orders can be purchased online directly from their website: nobullproject.com, or through Amazon. The brand also has retail locations in Miami, Boston, and SoHo, US.
FAQ
Who started NOBULL?
NOBULL was founded by Michael Schaeffer and Marcus Wilson, who previously worked at Reebok. Wilson led Reebok's brand strategy for three years, while Schaeffer worked for seven years as Reebok's global creative director.
Where is NOBULL located?
NOBULL is a US company which is currently located in Boston, Massachusetts. All of their products ship from the States.
Is NOBULL ethical?
Unfortunately, I have to report that there is no indication of the company implementing ethical practices. 
Is NOBULL a Crossfit brand?
NOBULL is the main sponsor of Crossfit Games and the official supplier of Crossfit workout shoes and clothing. The deal was announced in March 2021 after Reebok left the position.
Do NOBULL shoes fit true to size?
Yes, thousands of customer reviews verified that NOBULL shoes fit true to size. For additional information, and to match exact measurements, check out the brand's size guide on their website.
What sizes does NOBULL have?
I found the following information for the brand's 3 sizing sets while doing my research for this NOBULL shoes review:
Shoes: 8 to 8 for Men and 5 to 11 for Women
Sports bras: Extra Small to Large
Muscle tanks: Extra Small to Extra-Large
How long does NOBULL take to ship?
It all depends on where you're located. This NOBULL review found that orders take 24 to 48 hours to be processed and assigned to a courier, and then 2–5 business days to arrive by priority mail. If you choose expedited shipping, expect delivery within 2–3 days.
If you're in Australia or Canada, NOBULL will pay for the costs of customs fee and import duties, on top of the entire shipping cost.
Once the carrier picks up your package, you will receive a tracking number and estimated delivery time. International orders take 2 to 4 weeks to be delivered after they have left the NOBULL facility.
What is NOBULL's Return Policy?
NOBULL only accepts returns on products in brand new condition, tags attached, within 60 days of delivery. They will provide US customers with a prepaid label for return shipping.
How to Contact NOBULL
You can reach out to NOBULL in the following ways:
Text them at 1-617-997-0588
Email:

[email protected]

Use the live chat on their website
Use their support ticketing system (recommended for when live chat is not available)
Fill out the contact form on their website
NOBULL's customer service team is available during weekdays 9 AM to 5 PM, and Saturday 12 PM to 6 pm EST.
---
Looking for more options? Check out some other top shoe brands:
Get Access to Exclusive Deals
Subscribe for free to get exclusive deals in your inbox. 100% privacy