10 Best Running Strollers Brands
Looking For The Best Running Stroller Brands
So, you've got kids, but your love for running didn't disappear when they were born. Luckily, the best running strollers were designed to get you out and about, doing the things you love with the little ones who are now a big part of your life in tow.
The cool thing about running strollers is that they don't have to be used just for running. No matter if you're strolling the boardwalk, going grocery shopping, or jogging the trail, the best running strollers will support your kid and make the push over the bumps or up the hill a little easier.
The concept of a running stroller is relatively new. This type of stroller was developed in the '80s by an avid runner who had recently become a parent. Rigorously tested for safety and designed to be user-friendly, the best running strollers of today look sleek and operate smoothly.
The 10 Best Running Stroller Brands
1. Guava Roam Crossover Stroller
If getting outside is a non-negotiable, you'll likely want to check out the Guava Roam Crossover Stroller. It's designed for trail and urban treks since it's equipped with all-terrain, airless bike tires. Say goodbye to flats! Nothing is going to hold you back with this stroller.
With 3D folding technology, the Roam Crossover Stroller becomes super compact when folded down—50% smaller than traditional running strollers. So you can pack it in a small trunk or hallway closet and never worry about it taking up precious space.
Other key features include the remote-lock front wheel that prevents runaways and a large storage compartment for diaper bags or your necessities. It normally costs $650, but right now, you can get the Roam Crossover Stroller on sale for $550.
Highlights
Remote-lock front wheel
Storage compartment
Folds up 50% smaller than traditional joggers
All-terrain tires
Two-year warranty
2. BabyJogger City Select 2 Stroller
For families with more than one kid (or those that might have more in the future), the BabyJogger City Select 2 Stroller is a must. It can handle up to three kids with the right attachments, and when it's time to fold it down, it's 20% smaller than traditional joggers.
Lightweight and roomy for more than one kid, while your little ones are sitting pretty, you'll enjoy the adjustable height, telescopic hand bar, plenty of storage, and all-terrain, never-flat tires.
Plus, with the 24 different configurations (with attachments sold separately), you can totally customize how you stroll. Purchase your own City Select 2 Stroller for $599.
Highlights
24 different configurations
All-terrain, never-flat tires
20% smaller than traditional joggers
Can be equipped with two additional seats
3. BOBgear Alterrain
The BOBgear Alterrain stroller was made for the outdoors. Unlike others on this list of the best running strollers, it features a UPF 50+ XL canopy to protect your child from the sun. Equipped with SmoothShox™ suspension and air-filled tires, this jogger promises a smooth and balanced ride for your little one.
You can use the five storage pockets and large storage basket to keep your essentials close, and when it's time to pack up and head home, the Allterrain collapses with an easy twist. For convenience on the trail, pavement, or sidewalk, get the BOBgear Alterrain jogger for $650.
Highlights
One hand, one step, quick-standing fold
SmoothShox® suspension system
Durable, lightweight aluminum frame
XL Cargo Basket
UPF50 sun protection
4. Thule Urban Glide 2
The Thule Urban Glide 2 stroller comes highly recommended and is said to perform well on most paths. It's made with ergonomic features for you so you can focus more on the road ahead. Plus, this pick is popular with active parents who like the large 16" wheels—especially the front one that swivels for moving around corners and through tricky shop doors.
Along with a unique twist hand brake, you'll feel comfortable knowing you can stop your stroller on a dime, and it also folds up in a snap. The Thule Urban Glide 2 won the Reddot award for design in 2018 and can become part of your family's treasured outings for $650.
Highlights
Lightweight design
Swivel front wheel
Twisting hand brake
Folds down with one hand
Limited lifetime warranty
5. UPPAbaby RIDGE Jogging Stroller
Love adventure? If so, then you'll likely travel off the beaten path. Luckily, the UPPAbaby Ridge Jogging Stroller was made to assist you on your journey. It's equipped with advanced responsive suspension thanks to variable coil springs.
Ideal for kids up to 55lbs, the UPPAbaby Ridge Stroller is the only pick on this list of the best running strollers that can be used by babies that are three months old. That's because it reclines all the way down so that they can lie flat.
Featuring large 12" and 16" all-terrain wheels and a disc handbrake system, going and stopping are instantaneous. Plus, you can switch up the handlebar to any of its four positions, and feel secure with the wrist strap to prevent runaways. A seriously high-end stroller, you can get the UPPAbaby Ridge Jogging Stroller for $950.
Highlights
One-hand folding system and stands when folded
Suitable for children three months old to 55lbs
Reflective accents
Four-position handle with wrist strap
6. Graco Fast Action Jogger LX Stroller
Not all of us have a big budget for a stroller, so thankfully brands like Graco exist. Its Fast Action Jogger LX Stroller is super affordable and has similar features to more expensive models.
What are they, exactly? With FastAction™ one-second fold, you can collapse your stroller with just one hand. It's compatible with all Graco car seats, has a 3-position height-adjustable handle, and air-filler rubber tires.
And on strolls, your little one can enjoy snacks on the go with the included tray and cup holder, while you can enjoy using two cup holders and the extra storage up top. See what I mean? You can get the Fast Action Jogger LX Stroller for $190.
Highlights
One-second, one-hand fold
For children up to 50lbs
3-position height-adjustable handle
Affordable
Meets Disney size requirements
7. Bumbleride Speed
Though Bumbleride may sound a little bumpy, its Speed stroller is anything but. Equipped with Speed3 Steering to give you the utmost control, it was made to glide effortlessly with you on your run.
Along with ergonomic handles, reflective elements, and a UPF 45+ canopy, there's nowhere you can't go with this stroller. And if you're interested in being more eco-friendly, you'll love that it's made with recycled and responsible materials—like organic cotton and wool. Do your part and keep up the pace with the Speed stroller for $700.
Highlights
Organic cotton seat liner
Lightweight
Made from responsible and sustainable materials
OEKO-TEX Standard 100 certified fabric
Speed3 Steering
8. Cybex AVI
Cybex AVI is certainly the most stylish pick on this list of the best running strollers. Made in five different colorways, it's chic, compact, and folds like a dream. Ideal for six-month-olds up to 55lbs, the stroller is lightweight thanks to an aluminum frame which makes it versatile for city running.
The winner of the Reddot design award in 2021, Cybex AVI folds up in an instant and features an adjustable, ergonomic handle. Like to run at dawn or dusk? If so, you can feel safe with reflective details on the wheels and canopy. Get it for $750.
Highlights
For six months to 55lbs
Folds in seconds
Lightweight, aluminum frame
Five stylish colorways
Ergonomic handle
9. Baby Trend Navigator Double Jogger
Did you have twins? Then nothing is going to slow you down. The Baby Trend Navigator Double Jogger is an easy pick since it packs in kid-friendly and convenient features to make your jog as carefree as possible.
For example, it features pneumatic bicycle tires that swivel and lock, ratcheting shade canopies, and a parent tray for your necessities. That tray, by the way, has speakers to plug your MP3 player into. Enjoy the ride—even with two in tow—with the Navigator Double Jogger for $280.
Highlights
JPMA certified
BPA-free
2 x up to 50lb kids
5-point safety harness
Multi-position seats
10. Chicco TRE Jogging Stroller- Titan
So your family is always running around? Luckily, the Chicco TRE Jogging Stroller was made for running. A match made in heaven? Quite possibly. Its standout features include 16" pneumatic rear tires, FlexCore® suspension, and a decelerations hand brake.
With an aluminum frame, it's lightweight, so carrying it to and from your car is a breeze. It's also equipped with a 5-point harness for safety, a full-coverage canopy for protection, and a large storage basket for convenience. Add it to your routine for $400.
Highlights
JPMA certified
FlexCore® suspension
One-hand fold
For six months up to 50lbs
5-point harness
What Is A Running Stroller?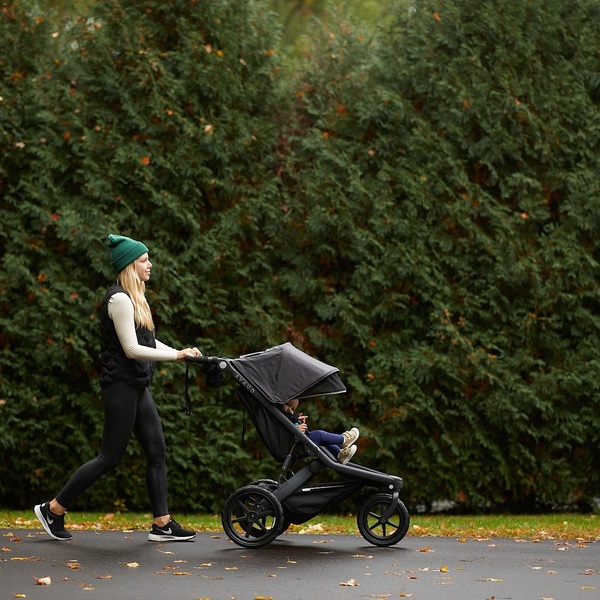 A running stroller is exactly what it sounds like: it's a stroller that's made for running. Its main purpose is to get you out for jogs and brisk walks while safely supporting your child. To do this, all of the best running stroller brands design their strollers with larger wheels than traditional strollers, adjustable or ergonomic handles, and an enhanced braking system.
At What Age Can You Use A Running Stroller?
Here's the thing about babies. Until they can sit up on their own, their head and neck need support. Since most running strollers don't have seats that recline all the way back, if you choose a design that doesn't, you'll need to wait until your little one is 6-8 months old.
Is A Running Stroller Worth It?
A running stroller is 100% worth it—even if you aren't a runner. Parents and caregivers prefer these types of strollers because they offer more flexibility in terms of where they can go and are equipped with handy features that make outings easier.
For example, the Guava Roam Crossover has all-terrain tires that make for a less bumpy ride and has a large storage compartment and easy-locking wheels for casual outings. Choosing a stroller that's versatile, like this one, means you'll get more bang for your buck.
How To Use The Best Running Strollers
Truly, you can use the best running strollers the same way you'd use any other stroller. But if you're using yours for running, depending on the model, you can take it on rough terrain or gravely sidewalks without fear that your little one will feel every lump and bump along the way.
In addition, most models on this list are very easy to set up, or they arrive fully assembled. To use one of them, all you have to do is ensure your stroller is ready to go, strap your little one in, and head out for your run.
Benefits Of Running Strollers
You've just finished reading the specs of the best running strollers, so you already have an idea of the benefits that each brand has to offer. For the most part, running strollers are designed to have a smoother ride and a more cushy seat for your kid.
No two are exactly the same, and designs like the Guava Roam Crossover will undoubtedly have more impressive features than say, the Graco Fast Action Jogger LX. In general, here are the benefits you can expect when choosing one of the best running strollers.
Easy-to-fold systems that can be operated with one hand
Compact size when folded
Lightweight frames that are easy to carry
Large wheels for smoother movement
Adjustable height handles for both mom and dad
Comparison: Guava vs Bobgear vs UPPAbaby
We've rounded up the best running strollers currently available on this list, so I'd assume your final choice will come with much deliberation. To help you in the process, up next, I'll compare three of our top contenders side by side.
Everyone has different needs, but if you like the thought of a compact stroller, the Guava Roam Crossover was made for you. It's 50% smaller when folded than traditional competitors, so you may have an easier time with it in a small car or apartment.
Ideal for running and urban treks, the Guava Roam Crossover is perfect if you value convenience, space, and security. It has all-terrain airless tires, unlike the BOBgear which has air-filled tires. So, depending on your needs, you may prefer one over the other.
Another area the BOBgear Allterrain stroller shines is with its UPF50+ XL canopy. It's also equipped with SmoothShox™ suspension, so you can have a smoother ride. Collapsing with one hand just like the Guava and the UPPAbaby, the latter is the only pick on this list that works for babies as young as three-months-old since it fully reclines backward.
The UPPAbaby Ridge jogging stroller may also be preferred by very active families. It has advanced responsive suspension, a disc handbrake system, and a wrist strap. I'm also a fan of its reflective accents.
Since all of these running strollers are fantastic in their own right, your choice may come down to the price. See below for a price comparison between the models.
Guava Roam Crossover- $550 (down from $650)
BOBgear Allterrain- $650.
UPPAbaby Ridge- $950
Who Are The Best Running Strollers For?
I've said it before and I'll say it again: even if you aren't into running, the best running strollers are still for you. They offer a smoother, comfier ride for your little one and advanced, adjustable features for you.
How To Shop For The Best Running Strollers
Choosing the right option for you and your child from this list of the best running strollers takes a lot of careful consideration. There are a total of 10 different strollers here, and each one offers something unique. So how do you go about picking one? I'll walk you through the process below.
Do your research: That's why we've put together this listicle, but you should also look into the safety standards each stroller meets and how the brand performed safety testing.
Consider what you'll use it for: You may be a walker or runner, but you may also be simply looking for an adjustable stroller that's easy to fold on your own.
Consider the age of your child: Certain designs on this list of the best running strollers can accommodate younger children. Children under six months old will need to be fully reclined when you're running, so if you plan on hitting the pavement before your baby reaches that age, you'll need to choose an appropriate stroller.
Check out the size: Strollers like the Guava Roam Crossover fold up to 50% smaller than other options. That means if you live in a small apartment or have a small car, a stroller like this would be ideal.
How many kids do you have? If you have more than one kid, you'll need to choose a double stroller or one that can become a double stroller with add-ons. Think of the future. If you plan on having more than one kid, opting for a design that can accommodate both kids would be smart.
FAQs
Are running strollers safe for newborns?
Some of the picks on this list of the best running strollers claim they can be used by kids three months old up to 50-55lbs. These options will have seats that almost fully recline—since your little one will need to lie flat on their back for optimal neck support.
Since most strollers don't have this feature, it's better to wait until your baby is six months old before you use a jogging stroller.
The safety of your child is obviously more important than them getting outside for a run. So if you need a break, ask your partner or parent to take over so you can clock some miles on your own.
Can you use a running stroller every day?
You certainly can. The cool thing about the best running strollers is that you can take them for runs and for literally everything else. You don't need to buy two separate strollers. Brands like Guava have designed their strollers to work for both exercise and urban life so you can get the most out of what you buy.
Are running strollers better?
As a matter of fact, they are. Running strollers give your little one a comfier ride thanks to the added cushioning. Plus, some trails, sidewalks, and streets can be bumpy. So even if you don't plan on taking your stroller out running, getting one for errands and walks is still an excellent choice.
Running strollers also tend to be easier to fold and have a ton of adjustable features. For instance, the Guava Roam Crossover folds up 50% smaller than your average running stroller, let alone a normal stroller. No matter where you take your child, features like this mean you'll feel less burned out by lugging around something big and bulky.
Final Thoughts
You've read all about the best running strollers, now what? If you're looking for an all-around great stroller, we highly recommend the Guava Roam Crossover for its compact, versatile design. But no matter your preference, if you're ready to get moving, choosing any of these brands is a fantastic choice.
---
Check out some of our other curated lists:
10 Best Personalized Wellness Plans
Get Access to Exclusive Deals
Subscribe for free to get exclusive deals in your inbox. 100% privacy