10 Best Coffee Brands
Finding the Best Coffee Brands
Coffee… we know it, we love it, we can't live without it, and we've all had our fair share of unpleasant brews. Bad cups of coffee are out there lingering in the shadows and waiting to ruin your next precious break.
To save you from the impending catastrophe of bitter, stale java, we've put together this list of the best coffee brands. And what do you know, they have their health benefits too!
"Coffee contains antioxidants, which can help fight inflammation and in some studies, coffee has been associated with reducing the risk of neurological disorders like dementia and Parkinson's," said Patricia Kolesa, a New Jersey based dietician.
Meet the Expert: Patricia Kolesa, RDN
Patricia Kolesa is a Registered Dietitian who graduated from Rutgers University with a Bachelors of Science in Nutritional Sciences (Dietetics) and a double minor in Biological Sciences and Psychology. She went on to complete her dietetic internship through Wellness Workdays, where she concentrated in Sports Nutrition and Entrepreneurship.
We've looked high and low for the companies to crown as the winners, digging up details about their sourcing, trade, and roasting practices to make sure they're worth your time and money.
10 Best Coffee Brands
Ahead, you'll discover our top 10 picks for the best coffee brands that each brings something buzzworthy to the coffee table.
#1: La Colombe
La Colombe was founded back in 1994 but it's definitely having a moment right now. Stocked in the Four Seasons and partnered with Whole Foods, this well-known Philadelphia-based roaster is taking the US by storm.
It was Todd Carmichael and J.P. Iberti who launched the brand almost 30 years ago. Their mission was to "make the world better through coffee," and from what we can tell, they've certainly met their goal.
Wishing to influence the world in a positive way, the brand has always advocated for equity and works to empower the communities from which it sources its coffee beans. Sustainably produced, La Colombe coffee changes seasonally and comes in a selection of light, medium, and dark roasts.
The brand's new draft lattes are incredibly popular in its cafes, attracting a lot of attention. With a great variety of coffee from around the world (from Brazil to Lyon to Bucktown), La Colombe coffee can be ground to your preference. A 12 oz bag is about $15-$20.
Highlights
Comes with brewing guide
Gives back
Organic options
Tons of grind options
Great variety of coffee
Roasted in the USA
#2: Death Wish
Death Wish is "the world's strongest coffee," with 6 oz caffeine content, which is double what you'd get in your average cup of joe. Made with high-quality arabica and robusta beans, the end result is smooth, bold, and never bitter like other high caffeine coffees can be.
Founded by Mike Brown in 2012, Death Wish was created to bring sippers the strongest coffee they'd ever had. It's based in Saratoga Springs, New York.
Serving up four different brew types, it's dark roast, medium roast, and Valhalla java coffees are fair trade and organic and use beans from India and Peru. You'll get a 1 lb bag of ground or whole beans for $20.
Highlights
USDA organic
Fair Trade certified
2x the caffeine content of regular coffee
High-quality beans
#3: Canyon Coffee
There's a peaceful vibe about Canyon Coffee, like the one you feel as you sip a hot cup of coffee while looking at the sunrise through the mountains. Its founders Ally Walsh and Casey Wojtalewicz created the brand in 2016 to help celebrate the act of drinking coffee.
For them, and so many others, coffee is about bringing joy to your day, and for that, its roasts are varied to please different tastes and brewing preferences. Canyon Coffee is based in LA but the quality of its beans starts with the relationships made with those who grow them.
These connections involve meeting farmers, their needs, and the needs of the people in their communities. Offering year-round and seasonal coffees, you'll find single-origin beans from Colombia, Brazil, and Ethiopia in this selection. A 12 oz bag is between $18-$20.
Highlights
Transparent about sourcing locations
Partners with sustainable farms
Good selection of year-round and seasonal coffees
Offers single-origin beans and blends
#4: Intelligentsia
Intelligentsia is a highly-rated brand that's carved out a solid reputation for itself over the past 27 years. Its founders, Doug Zell and Emily Mange, simply wanted freshly roasted coffee. Today, this Chicago-based company is known for its never-stale beans and thorough approach.
Their intent with the brand was to "change the way the world understands and experiences coffee," and that starts with education and Direct Trade sourcing.
Visiting every farm from which it sources its beans seasonally, Intelligentsia has built close relationships with growers to better understand and meet their needs.
The brand offers a wide selection of coffees, from the dependable Organic French Roast to the exotic Bolivia Finca Takesi Geisha. Choosing beans that vary in score from A to AAA, Intelligentsia provides sippers with a variety of tastes and flavor profiles.
Pick up a 12 oz bag of traditional roasts for $16 and more exotic blends for $65.
Highlights
Visits every farm before sourcing
Broad range of top-shelf coffees from A to AAA
Better than fair trade
Transparent about everything
Single-origin coffees and blends
Organic options
#5: Blue Bottle Coffee
The story of Blue Bottle Coffee starts back in the 1600s with Franz George Kolshtisky. Disguising himself to deliver a message during a Turkish invasion, Kolshtisky successfully completed his mission and was essentially responsible for the Turk's retreat in which they left all of their supplies behind.
Upon finding a large store of what others thought to be camel feed, Kolshtisky identified the beans as coffee, took them, and opened Central Europe's first coffee house called The Blue Bottle. If you thought the man behind this story would be equally as genius as the story itself, then you're right.
With this inspiration in mind, James Freeman, a self-proclaimed "coffee lunatic" and musician decided to open Blue Bottle Coffee as a side project at the start of the 2000s.
Based in Oakland, California, his idea took off, brewing up truly fresh roasted coffee for people who were sick of the stale options in played-out coffee houses.
Today, you'll find Blue Bottle coffee in 40 locations around the world, enjoyed by those who still love it for its superior taste. Its beans all rank above 84 on the 100-point scale for specialty coffee, denoting their high quality. Roasted around the globe and delivered fresh, you can get a 12 oz bag for $15.
Highlights
Brew guides available online
Whole bean only
Works with Fair Trade and sustainable farms
Organic
Pays higher than fair trade prices
Seasonal beans only
All coffees have above 84/100 cupping score
#6: Counter Culture Coffee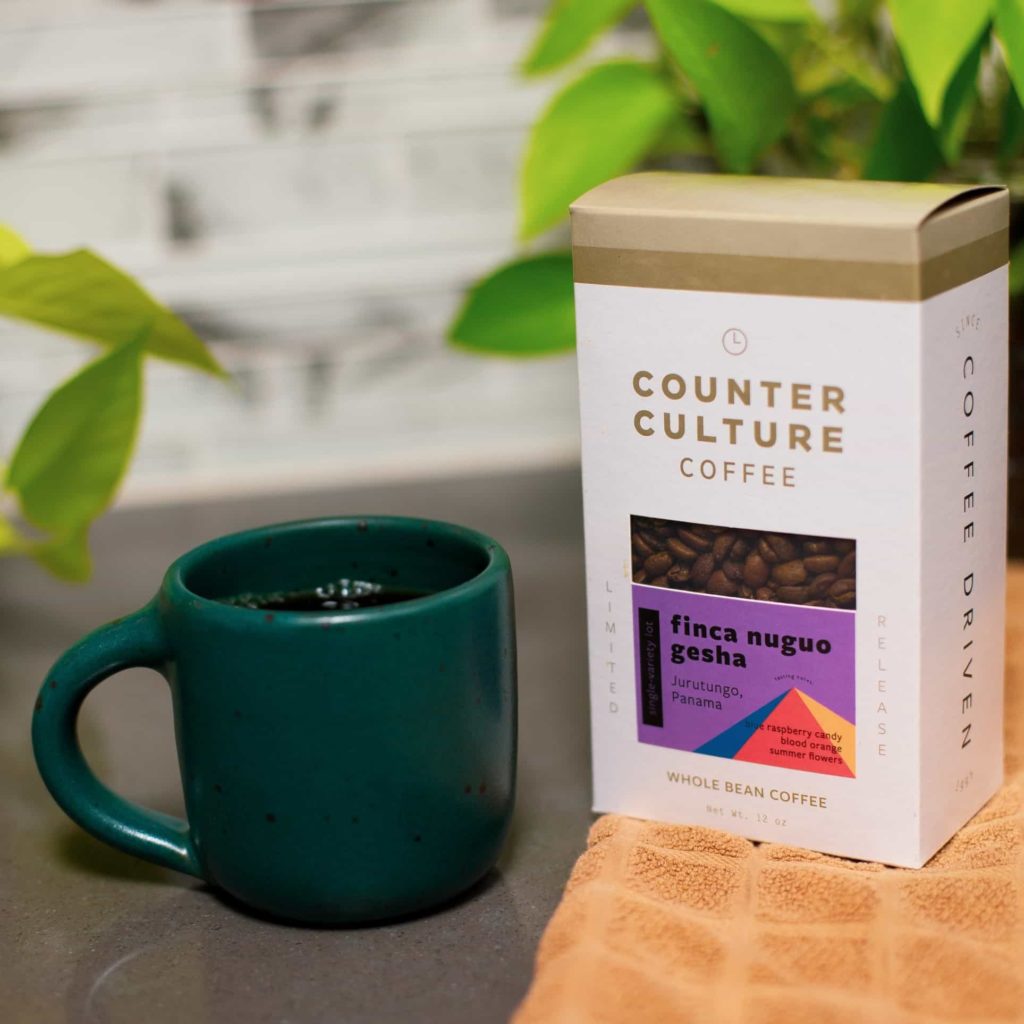 For Counter Culture, it's all about doing coffee right. Founded in 1995 by Brett Smith and Fred Houk, the brand set out to create transparency around the traditionally opaque world of coffee, breaking ground in its push to be truly sustainable, organic, and ethical.
Known to be one of the most sustainable coffee brands to exist, Counter Culture provides education and training to those seeking to expand their knowledge of great coffee.
It offers 14 different organic brews in 12 oz bags and single-serving bags of single-origin beans from Ethiopia and Papua New Guinea.
You'll also find blends like Field Trip, Big Trouble, and Fast Forward, made with sustainably-sourced beans. Pick up a 12 oz bag for between $16-$21.
Highlights
Organic roaster
Offers brewing guides & training programs
Transparent sourcing
Direct Trade
Sustainability report available online
Good selection of single-origin coffees and blends
#7: Stumptown Coffee Roasters
Take one look at its coffee and you'll know that Stumptown Coffee was made for the modern sipper. With attractive packaging in moody colors, its single-origin beans and blends represent the passion and journeys of those who grow and produce them.
Founded by Duane Sorenson, the folks at Stumptown believe that "coffee is about pleasure"—it's something to be joyfully savored. With a roasting team with over 120 collective years of experience, each coffee the brand produces tells a story.
Sourced by visiting some of the best farms around the world, inspecting the fields, and getting to know the growers, Stumptown Coffee has specific criteria each farm must meet before they shake hands.
The brand is known for its direct trade practice that pays higher prices for higher quality, along with being completely transparent about its sourcing.
You'll enjoy familiar favorites in 12 oz whole bean and ground form like the ever-popular Hair Bender for $16 or single-origin champs like Rwanda Huye Mountain for $21.
Highlights
Direct Trade
Transparent about producers & processing
Pays more than fair trade prices
Award-winning brand
Nice variety of blends and single-origin coffees
#8: Sam James
Sam James coffee isn't fancy, but it's designed that way. Aimed at the blue-collar worker who wants something better to sip on during his morning commute, its coffee has an approachable, never-changing taste.
Consistency is something a lot of people look for in a coffee, and that's something Sam James did with its very specific blend that's "sweet, chocolate, [and] medium roast." Sam's story starts in 2007 when he was working as a barista and pulled a shot of espresso for legendary coffee expert Scott Rao.
After Roa returned the shot and taught him a lesson about consistency, Sam had a lightbulb moment—the rest is history. It was just a year later that he won Barista of the Year, and in 2009, he began roasting and selling his own beans in Toronto.
With tons of details about where the coffee is grown, treated, and roasted, Sam James sources from farms in Guatemala, Colombia, and Costa Rica and offers six different coffees which all have a similar, sweet, chocolatey flavor. Espresso Butter Knife comes highly recommended. Grab any 12 oz bag for less than $20.
Highlights
Lots of different grind options
Transparent about sourcing
Consistent flavor
Roasted in small batches
Guides & education online
#9: Driftaway Coffee
For Driftaway, excellent tasting coffee is just as important as the process it goes through to make it into your cup. Founded in 2013 by Anu Menon and Suyog Mody, the brand takes quality to another level.
Driftaway uses only single-origin beans from Colombia, Ethiopia, Ecuador, and Peru. The company is dedicated to freshness, roasting its coffee every Sunday and Wednesday at its facility in Brooklyn, New York to ensure it makes it to you as fresh as possible.
Each bag of coffee comes with an attached luggage-like tag that tells the stories of those who produced it. A company that's truly concerned about the connection to its growers, it established the Driftaway Farmer Feedback program to help you express your gratitude to those who produced your favorite morning sip.
Nine different coffees are rotated every 4 weeks to ensure there's always something new and exciting. All 12 oz bags cost $19 and can be ground to your preference.
Highlights
Compostable packaging
Carbon neutral
Roasted twice per week
Rotating coffee options
#10: Onyx Coffee Lab
If you love great-tasting coffee with gorgeous packaging, you'll find both at Onyx Coffee Lab. Offering an exciting variety of dependable go-to's and creative blends, the brand was started with the intent to "never settle for good enough."
This phrase is what pushed founders Jon and Andrea Allen to reach for the stars with their impeccable company, launching it in 2012 with incredibly high standards as to what's included in its selection. Using solar energy, Onyx coffee is roasted every weekday, cupped, and rated. Those scores are all available online.
Truly transparent, you'll find details about where it's grown, who they bought it from, and what the brand paid for it, along with what the market price currently is. More often than not, Onyx pays more.
You'll find a range of familiar 10 oz blends like Eclipse (bakers chocolate, burnt sugar, smoked vanilla) in its collection for $16, as well as exotic choices like Ethiopia Negusse Nare Low O2 (raspberry purée, honeysuckle, blackberry compote, black tea) for $30. Luxury options like Mexico La Ilusion Coe #4 are available as well for $75.
Highlights
Transparent about sourcing & prices
Awesome packaging
Sustainable practices
Great range of affordable and luxury blends
Offers classes
Coffee roasted every weekday
What Is the Most Popular Coffee Brand?
Some of the best coffee brands have been around 20+ years, while others are just getting their start. Considering both kinds made it on this list speaks volumes about the a.) popularity of the younger companies and b.) long-standing reputation of the older companies.
So which of the best coffee brands is the most popular? After consulting the masses, La Colombe is having a moment right now. With 30 cafes across the US, a fresh collaboration plan with grocery giant Whole Foods, and it's coffee served in the Four Seasons hotel, this company's popularity is only going up and up.
What is The #1 Rate Coffee Brand?
Popularity is one thing, but there's a difference between an accessible cup of joe and one you'll search high and low to get your hands on with scores that are always off the charts. When checking out each of our 10 best coffee brands, we found that Stumptown Roasters was talked about most in terms of quality.
From its admirable sourcing and trade processes to its smooth, craveable coffees, Stumptown is highly rated and praised for its unique blends.
You'll pay more for a bag of Holler Mountain or Hair Bender (the brand's most popular brew) than you would your tub of Folgers, but folks say it's definitely worth the splurge.
Choosing the Best Coffee Brand: What to Consider
For a lot of us, coffee is about the little moments. It makes life more enjoyable and, let's be honest, a day without is like being sucked into an interdimensional black hole without a spacesuit. Over exaggerating? We don't think so.
No matter who you are, if you like coffee, then you know what a bad one tastes like. At the end of the day, we all have our preferences, and what you know and love may taste like poison to someone else. It's a weird world but hey, that's why we've put together this list of best coffee brands so that everyone wins.
Now, we've given you the options so all you need to do is pick the coffee. A tricky feat, no doubt, especially when every single one of these companies is outstanding in its own right. To make the process a bit easier on you, we've put together a list of what you may want to consider while you browse.
Brand
A lot of folks like choosing a company they've heard of before. That's what a good reputation will do for you, it gets you a lot of business. There's a reason popular brands are popular, but there are still a ton of hidden gems that rival better-known options.
All of the best coffee brands listed here offer quality products. They're all well-loved and quite popular. Your choice may come down to what their ethics and unique missions are.
Want coffee that was made to give back? How about one that's designed for the blue-collar worker? Depending on who you are, one of the best coffee brands may be more appealing than another.
Quality
No matter what kind of item you're buying, there will always be different levels of quality. And you better believe that quality makes a big difference in the smell, taste, and sip of your favorite cup of joe.
When looking at quality, what you'll want to keep in mind is the practices that go into sourcing beans, the quality of the beans themselves, if they're organic, and how they're roasted. How often beans are roasted is critical in terms of freshness which in turn directly affects the quality.
Packaging
We don't know about you, but we're obsessed with packaging. The outside package of anything gives you a feel for what's inside and what a company is all about. It's something that you can identify with and makes it easy to make a choice.
A package doesn't need to have bright colors and a cool font to give you a good impression though. Sometimes, simple is best. Regardless of what kind of package you're drawn to, it's important to look at what they're made from and how well they work to keep freshness in.
Certain styles of packaging will be biodegradable. So if that's something you prioritize, it may be a good idea to go with a roaster that uses that kind of bag. If you love the convenience of a resealable pouch, then a company that offers those could be a big draw.
Sourcing
Where coffee beans are grown and sourced directly affects taste. You may have heard of a little concept called "single origin." This phrase denotes that the coffee in your bag is all sourced from the exact same location instead of from different plots around the world.
Single-origin beans are often more appealing than blends because of their robust flavor. They're said to be bolder than blends and remain true to the characteristics of one specific area.
That's not to say blends aren't appealing though. Blends are intentionally mixed to bring you a unique and eye-opening variety of flavors that single-source beans just can't. Whether you prefer single-origin or blends, you'll find both at the majority of best coffee brands included on this list.
Variety
Some of the best coffee brands focus on a simple selection of coffees. They know their niche and they stick to it. If you're looking for one coffee to fall in love with and enjoy day in and day out, a wide selection of brews may not be a priority.
If instead, you're someone who wants to switch up their coffee from time to time but loves the ethos and practices of a particular company, then choosing one with a large variety is a good idea.
A lot of the names on this list offer upwards of nine coffees and blends, but you will find some that carry under five.
Price
Coffee means different things to different people. Some want a high caffeine brew to chug as they run out the door.
Others are looking for something to savor as they stare out their window on a Sunday morning. Depending on how you like to enjoy your coffee or what kind of quality you're after, you may have a high or low budget set aside.
We'll be honest here and tell you that the best coffee brands often come with higher price tags than you may be used to paying for grocery store tubs, and that's because they have much higher quality and have better farming, sourcing, and trading practices. But even the names on this list vary in price.
Some carry coffees that range from $16 to over $70 for a 12 oz bag, while others keep their prices steady at $15. Though it may be fun to try an expensive bag of coffee now and again, the one you pick should fit into your budget if you plan on buying it long-term.
How Much Coffee Is Too Much Coffee?
According to Kolesa, our nutrition expert, anything over 3-4 8 oz cups of regular coffee might be too much. You want to avoid jitters at all costs!
How Do You Choose Good Quality Coffee?
Spoiler alert: all of the best coffee brands listed here are of good quality. That's why they're here. What we look out for when selecting good coffee companies boils down to a few key points:
Sourcing
Type of beans
How/when/where the beans are roasted
If you're combing through this list looking for the highest quality coffee out there, then you'll want to pay attention to those three things too. For starters, you should definitely know where the coffee was grown and where it's roasted. Next, look into if a brand uses organic beans or at least has some in its selection.
Then, when it comes to roasting, be sure to choose a company that roasts its beans frequently and ships them out fresh. Beans roasted past the 2-week mark start to lose their flavors. If a brand isn't transparent about any of these practices, it may mean they aren't too proud of them themselves.
What Coffee Brands Have The Best Reviews?
Both Stumptown and La Colombe have excellent reviews. They make the top of a lot of lists for being approachable and easy to drink, and that's something that the majority of coffee sippers are looking for in an everyday brew.
Here are the ratings for a few of each taken from around the web to give you an idea of how much people enjoy them.
La Colombe
Bleu: 4.7/5 stars from 202 reviews (LaColombe.com)
Corsica: 4.8/5 stars from 714 reviews (LaColombe.com)
Feedback for La Colombe coffee consists of comments about its freshness and balanced taste. Buyers say it gives them a coffee shop taste in their own home.
Stumptown Coffee
Holler Mountain: 4.4/5 stars from 1,435 reviews (Amazon.com)
Hair Bender: 4.2/5 stars from 2,007 reviews (Amazon.com)
A lot of folks say that Stumptown coffee is very flavorful, rich, and definitely worth the money. Arriving fresh and on time, customers really enjoy this brand's brews.
Death Wish Coffee has also received high ratings on Amazon, a 4.4/5 star score from a whopping 36k shoppers who love it for its high caffeine content. In terms of taste, this one doesn't quite compare to the other two mentioned here, but people love it for its power.
Final Thoughts
Whether you enjoy one or multiple brews per day, what you sip on matters regardless of if it's for taste, quality, or caffeine buzz. No matter why you drink coffee, the best coffee brands listed here have got you covered.
Pre-vetted for their reputations, niche options, or superior sourcing standards, there's something on this list for everyone. Since we've reached the end, we hope you're leaving with more knowledge about some of the best coffee brands out there and excitement about your new go-to brew.
---
Looking for other top brands? Check out these curated lists below:
10 Best American Made Boots Brands 
Get Access to Exclusive Deals
Subscribe for free to get exclusive deals in your inbox. 100% privacy