10 Best Hydration Drink Brands
How to Choose the Best Hydration Drink Brands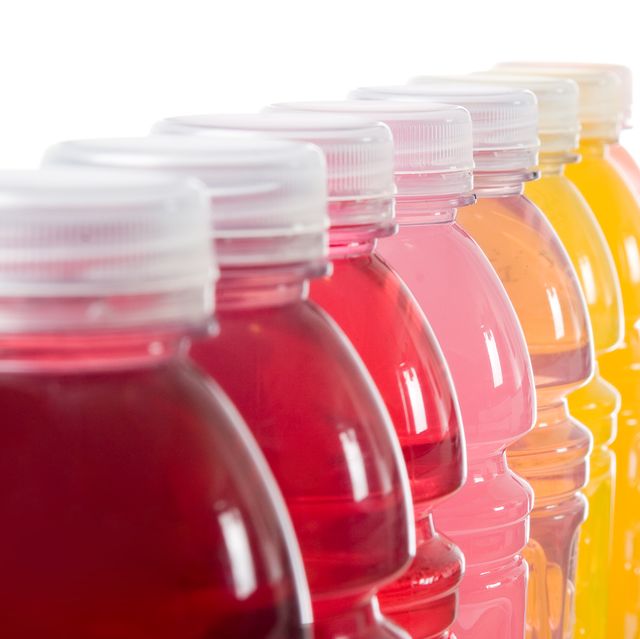 Summer is great for so many reasons. People are calmer, days are longer, and the weather is sunnier. That said, it's hard to enjoy the sunny season when it feels like you're trapped in a hot stove.
Even the most leisurely activities feel like trial by literal fire, nevermind competitive sports or workouts! When you're feeling like a sweaty mess, it's especially important to protect yourself from dehydration.
"When you drink water, it's the balance of sodium and potassium that helps your body maintain the proper amount of water inside your cells," said Dr. Steve Hruby.
"Water regulates the osmotic pressure in cells, which allows them to hold onto their contents. When you drink electrolyte-rich drinks, they can help restore this balance by making up for the loss of water from sweat or urine. However, too much sodium or potassium can be dangerous."
Meet the Expert: Dr. Steve Hruby, DC
Dr. Steve Hruby graduated with his doctorate from Palmer West College of Chiropractic in 2000 as a Doctor of Chiropractic and Physiotherapist. His practice focuses on pain relief, anti-aging, allergies and immunity, and energy.
As the founder of Kaizen Progressive Health, Dr. Steve and his practitioners take a personal approach by addressing patient's unique health and functional wellness needs. Treatments at his medically integrative clinic include IV vitamin therapy, stem cell (amniotic allograft) IV and injections, massage, PT, allergy treatments, chiropractic, and additional regenerative therapies.
It can be difficult to decide on a hydrating beverage when there are so many being sold, and all of them promise the same things. We are here to make the decision easier by providing you with our picks for the top 10 best hydration drink brands on the market.
Quench your curiosity and your thirst by reading on!
Overview of Hydration Drinks
Hydration beverages help replace water and electrolytes lost through sweat. Electrolytes are essential minerals, like sodium, calcium, and potassium, that balance bodily fluids and carry out vital functions.
Electrolytes control the functioning of your nervous system, regulate muscle contractions, and balance your pH levels. Hydration drinks may also contain carbohydrates or sugars, which will give you a little boost to power through the rest of your sweat session.
According to scientists and physicians, water is the best way to hydrate before, during,
and after a workout and throughout the day, but there are people who can benefit from the use of hydration drinks.
Athletes or individuals who spend long hours working up a sweat and undergoing intense physical work will benefit from the replenishment of electrolytes, intense hydration, and possibly calories, that hydration drinks provide.
On the other hand, if a sedentary or less active person regularly consumes drink options with higher carbohydrates, their bodies might experience more adverse effects from the excess sugar than benefits.
Since the first hydration drink, Lucozade, launched in 1927, hydration drinks have moved from nutritional supplement to fuel for athletes. Eventually, thanks in part to endorsements, the public caught on, turning to Gatorade to help them train, or just drink, like their sports idols.
Now, hydration drinks are common, available in endless brands, formulas, and flavours.
10 Best Hydration Drink Brands
Speaking of Gatorade, it takes first place on our list of the top 10 best hydration drinks. Let's dive right in:
1. Gatorade
Gatorade was founded in 1965 by Dr. Robert Cade. Gatorade was originally produced and manufactured by Stokely-Van Camp, but then it was purchased by the Quaker Oats Company in 1983, and subsequently PepsiCo in 2000. The hydration drink was created after the coach of the Florida Gators football team at the time, Ray Graves, requested a drink that would replenish the athlete's fluids and electrolytes.
Thanks to their use in the world of sports, Gatorade became a beloved brand, and is still considered one of the best hydration drinks for athletes. Gatorade now sells a range of different products, including energy drinks and protein supplements.
The original Gatorade Thirst Quencher was originally only available as a bottled drink. Now
you can find it as a concentrated pod and a mixable powder. It primarily contains sodium and potassium electrolytes, which are crucial to endurance and performance.
The original hydration cocktail is now available in a rainbow of colors and corresponding flavors, including fruit punch, orange, fierce grape, strawberry, and many more. Prices vary based on the size of the bottle, but a standard 20 oz bottle costs about $2.
Highlights
Affordable
Accessible – you can purchase it anywhere from gas stations to drugstores to vending machines
Among the first and most respected brands
2. Pedialyte
Pedialyte is an electrolyte solution manufactured by Abbott Labs and invented by Dr. Gary Cohen in Massachusetts in the 1960s. The drink was originally created for children (hence the Geek root of the name 'ped'), to improve hydration, help with illness, and support their nutrition.
Currently, Pedialyte is known for their original hydration drinks, in variations on the original formula containing additional supplements. Pedialyte is available in beverages, powder sticks, and even freezer pops.
The Pedialyte AdvancedCare Plus Litres contains 33% more electrolytes than the original mix. It also has other beneficial ingredients, such adextrose, galactooligosaccharides, sodium chloride, citric acid, potassium citrate, sodium citrate, and zinc gluconate.
This leading doctor and pharmacist-recommended hydration drink, which is good for both kids and adults, promises better hydration than you could get from other sports drinks, juices, or sodas.
Find it on the brand's site in 12oz bottles of berry frost or cherry pomegranate flavors. You can purchase Pedialyte at most department stores, drugstores, and grocery stores for about $5-$6.
Highlights
Doctor and physician recommended
Safe for children and adults
Affordable
Accessible
Boosted with extra vitamins and minerals
3. Harmless Harvest
Harmless Harvest was founded in 2009 and was recently acquired by Danone Manifesto Ventures. The brand has a positive reputation thanks to its unique and healthy approach to intense hydration, which harnesses the hydrating powers of the coconut.
Harmless Harvest products include original coconut water, flavored coconut water, coconut smoothies, dairy-free yogurt cups and drinks, coconut energy drinks, and protein smoothies. Many are certified organic and all are vegan.
Their Original Coconut Water is free of many of the additives found in similar products – so natural that it may turn pink due to its antioxidants interacting with light or air. The drink is made from coconuts grown in Thailand, and contains naturally occurring electrolytes and a healthy dose of potassium.
Harmless Harvest's website advertises their Original Coconut Water is sold in 32 oz, 16 oz, 12 oz, or 8.75 oz bottles. A 12 oz 12-pack sells for $48 and the company ships using FedEx to all states in the continental US.
Highlights
Healthy and natural
Large range of products available
Affordable, at an average of $4 per bottle
Available online and in stores, including Whole Foods, Healthy Planet, Amazon, and more
4. Ultima Replenisher
Ultima Health Products Inc. was founded in 1996 and is currently based in New York City. The company was acquired by private equity firm WM Partners LP 2019. The brand's mantra is "Live your ultimate life, every day."
Ultima Health's primary goal is to help people live that best life by providing them with serving stick packs and canisters of healthy electrolyte blends to support hydration and active lifestyles.
The formula for the brand's popular Ultima Replenisher Electrolyte Hydration Powder is totally natural and contains no sugar, calories or carbs, making it a real contender for the best hydration drink 2021 has to offer for consumers trying to keep it light.
It's also great for people with dietary limits. The Ultima Replenisher is naturally sweetened, vegan, non-GMO, gluten-free, caffeine-free, peanut-free, soy-free, and friendly for specialty diets like Keto and Paleo.
It is available on the Ultima Health Products site as a package of 20-serving stick packs, a 30-serving canister, or a 90-serving canister. The site sells their 4.7 out of 5 star-rated hydration drink in flavors like lemonade, raspberry, grape, orange, and many more, for the discounted price of $17/ 20-pack. The company currently offers free shipping within the US.
Highlights
0 calories, 0 g sugar, 0 g carbs
Lots of flavor options
Free shipping (US)
Highly-rated, positive reviews
Customizable powder form – dilute it or make it super concentrated
Available in Walmart, Whole Foods, Healthy Planet and more (the website has a helpful store locator tool)
5. Nuun
Tim Moxey is a triathlete, a father, and a successful businessman. He founded Nuun, a manufacturer of electrolyte-rich sports and hydration drinks sold in thousands of locations worldwide.
Moxey founded the company in 2004 with his business partner Laura Hughes. Nuun makes products tailored to individual nutritional needs, be it an energy boost for sports performance, or supports for vitamins, immunity, rest, energy, hydration, or recovery.
A 2020 study published by The National Center for Biotechnology Information looked at the impact of Nuun electrolyte tablets on fluid balance in active women and men. The study found that, "the consumption of Nuun electrolyte tablets with water can lead to improved fluid balance over the consumption of water alone in active individuals." It is awesome to know that the tablets have been researched and proven to have potential.
Related: Check out our Nuun Tablets Review to learn more.
Nuun Sport is rated 5 stars on the brand's website, with a total of 1,107 reviews. The hydration drink contains organic green tea extract, has only 15 calories per serving, and has 1 g of sugar, 300 mg of sodium, 150 mg of potassium, 25 mg of magnesium, and 13 mg of calcium. It's also vegan, kosher, non-GMO, and gluten-free.
Nuun Sport is available in both caffeinated and caffeine-free varieties. If you're looking for some extra kick, you can try these flavours:
Wild berry
Mango
Orange
Fresh lime
Cherry limeade
For caffeine-free options, try:
Citrus fruit
Fruit punch
Grape
Nuum comes in a tube containing 10 tablets, which costs $7 on their site. To use, just dissolve a tablet in 16 oz of water. Nuun ships within the US, where orders over $45 ship for free or for a $5 fee.
Highlights
Available in a variety of locations worldwide, including specialty stores (for instance, Red Pine Outdoor Equipment in Canada)
Free shipping over $45
Research says they tend to deliver on their promises
Vegan, non-GMO, gluten-free, etc.
Great price point – 10 drinks for $7
6. Propel
Propel, a product introduced to the American market in 2000, is a brand of flavoured water reinforced with electrolytes and vitamins. It's associated with Gatorade and manufactured by their parent company, PepsiCo. Propel sells flavored electrolyte water, powder packs, immune support supplements, and plastic reusable water bottles.
In 2011, Gatorade discontinued their original Propel drink, primarily sweetened with sucrose and contained a small amount of sugar, in favor of the artificially-sweetened Propel Zero. It has no sugars or calories, and contains more sodium, so it's among the best hydration drinks after workout burnout hits.
The Propel Flavored Electrolyte Water contains a cocktail of B vitamins (3, 5, and 6), along with antioxidant vitamins C and E. In a 12 oz bottle, Propel's contains 160 mg of sodium and 40 mg of potassium, which is several times the amount contained in regular tap water.
The flavored electrolyte blend is offered in several flavors, including grape, lemon, peach, watermelon, and many more. At Walmart, an 18-pack of 16.9 fl oz bottles retails for just under $10. You can purchase the drink at retailers such as Rite Aid, Target, and Walgreens, and from some Instacart online
Highlights
Available at major retail locations
Packed with vitamins in each bottle
Very affordable – 18 bottles for only $10
7. Hydrant
John and Jai are the co-founders of the US-based Hydrant, a product line based on science and lived experience. Through Hydrant's site, you can purchase products for hydration, sleep, immunity, or energy, and you can even buy bundles to customize your routine.
According to the site, Jai's favorite flavor is the Hydrate Lemonade pack, whereas John's is the Energy Raspberry Lemonade pack.
Their original electrolyte mix, Hydrate, has 4,277 reviews and a 4.8 out of 5 star rating on the site. It contains 25 calories per stick, 260 mg of sodium, 5 g of carbs, 4 g of sugars, 200 mg of potassium, 30 mg of magnesium, and 2 mg of zinc. Real fruit juice powder and cane sugar are used for flavour and sweetness.
Related: View our full Hydrant Drink Review for a deeper analysis.
Hydrate comes in a variety of flavors including lime, orange mango, and fruit punch. You can purchase it on the site one-time for $37 for 30 sticks, or subscribe and get 20% off.
Unfortunately, the site does not ship to too many countries, but shipping is free in the US. People outside of the shipping region can find their products at retailers like Whole Foods Walmart, and GNC.
Highlights
Accessible online and in stores
Reasonably priced – a serving of 1 stick per drink equates to ~$1 per drink
Awesome website layout
Free shipping
Lots of hydrating agents within the formula
Subscribe and save 20%
Rewards program and refer a friend discounts
30-day money back guarantee
8. NOOMA
Nooma is a Ohio-based brand founded in 2001 by the Nooma Brothers, Brandon and Jared. The brand aims to do better by its customers by providing organic, natural, healthy hydration drinks, and doing better by society by being a Certified B corporation and having many different activity programs.
On the site, you can purchase items like hydration drinks, sports drinks, recovery drinks, and energy drinks. Nooma has received attention from several media outlets, including Spoon University and Food Navigator.
The Nooma Organic Sport Hydration Mix comes in powder sachets you mix with water, and is organic, non-GMO, gluten-free, Keto-friendly, Paleo-friendly, and USDA Certified Organic. Its key ingredients are coconut water, Himalayan pink salt, adaptogens, and, optionally, caffeine.
It comes in a plethora of delicious flavors, and you can choose whether you would like a 30-pack ($38), 15-pack ($20), or 60-pack ($68). If you subscribe to a scheduled delivery program, you get an extra 10% off. The company only ships within the continental US, but does so for free.
Highlights
Organic, vegan, natural, keto and paleo-friendly, non-GMO
A healthier alternative to sugar-heavy brands
Awesome social initiatives taken by the brand
Free shipping
9. Liquid I.V.
California-based hydration beverage brand Liquid I.V was founded by Brandin Cohen, Hayden Fulstone, and Cameron Killeen in 2012. It has attracted a plethora of celebrity investors, including Demi Lovato, Kevin Hart, Kendall Jenner, Steve Aoki, and Maria Shriver.
The brand's mission is to optimize the body, while loving and caring for the planet. They aim to do this by offering the best hydration drinks with the best ingredients, giving back whenever they can, and doing their best to be a sustainable company.
On the site, you'll find products that help with hydration, immune support, energy, and sleep.
Their Hydration Multiplier is rated 5 stars with a staggering 38,354 reviews on their website. It is a non-GMO, artificial ingredient-free drink that contains 5 essential vitamins (B3, 5, 6, and 12, and vitamin C), and offers 3 times the electrolytes of other sports drinks.
Related: To learn more check out our Liquid Iv Drink Mix Review
The flavors offered on the site include lemon-lime, pina colada, strawberry, watermelon, guava, acai berry, apple pie, and passion fruit. You can purchase it in a pack of 16, 32, 64, or 96, in the price range of $24-$120 for a one-time purchase. Liquid I.V. only ships within the US via ground or priority options.
Highlights
Lots of celebrity and media support
Great flavors
Vitamin-rich and high in electrolytes
Great social initiatives
Subscribe and save program
10. Hi-Lyte
Hi-Lyte is a beverage produced by LivWell Enlightened Health, a Colorado company owned by CEO John Lord. Hi-Lyte has been featured in Men's Journal, PopSugar, USA Today, Women's Health, among others.
It purports to boost energy and aid recovery, provide strong immune support, help you feel better if you are under the weather, and pull you through a hangover.
Easily one of the best hydration drinks after alcohol flows a little too freely, Hi-Lyte Concentrate is a powder containing ingredients like potassium, magnesium, sodium, chloride, zinc, and 72 trace minerals from the sea. It does not contain sugar, fillers or artificial ingredients. Furthermore, it is gluten-free, non-GMO, and vegan.
Hi-Lyte Concentrate is unflavoured and can be purchased in a pack of 1, 2 or 3 bottles, from $20-$49. If you subscribe and save, you can get up to 20% off. Right now, it can't be delivered internationally, but shipping within the US is free.
Highlights
Positive media attention
High in beneficial ingredients
Subscribe and save program
Free shipping
What Are Common Ingredients In the Best Hydration Drinks?
The most common ingredients in the best hydration drinks are electrolytes, B vitamins, and carbs (often in the form of sugar). Electrolytes are minerals that carry electric charges after interacting with liquid.
Some common electrolytes are sodium, potassium, chloride, and bicarbonate, which help to regulate nerves and muscles, maintain pH balance, and regulate fluid balance. This is incredibly important for active individuals.
There are 8 types of B vitamins, each with a unique function:
Thiamin
Riboflavin
Niacin
B5
B6
Biotin
Folate
B12
Many of the products on our list of the 10 best hydration drinks contain vitamins B5, B6, or even sometimes niacin (B3). Vitamin B5 helps us to convert food into glucose, synthesize cholesterol, form sex and stress-related hormones, and form red blood cells.
One of the main roles of vitamin B6 is to help the body metabolize proteins, fats, and carbohydrates for energy.
Carbohydrates help the body to maintain stable glucose levels. They also provide a boost of energy to working muscles. Typically, the types of carbohydrates present in many hydration drinks are glucose, glucose polymers, sucrose, and fructose.
They can help sustain high levels of activity, but if over-consumed or used in a sedentary lifestyle, too many can be detrimental to health.
How Much Sugar Is Too Much Sugar In Hydration Drinks?
If you're trying to cut back on sugar, you'll want to know how much sugar is actually in your hydration drink, according to Dr. Hruby.
"Hydration drinks are often marketed as low-calorie, but the amount of calories they contain varies widely from brand to brand. The American Heart Association recommends that people consume at least 2 grams of sugar per day, with no more than 100 calories from added sugars per day," Dr. Hruby said.
"But it's important to note that the amount of sugar in a particular product will depend on many factors, including its ingredients and how quickly it dissolves. If you're trying to stay within these guidelines, it's best to look for products that meet them rather than ones with less or more sugars."
Can You Have Too Many Hydration Drinks?
There are two potential concerns about drinking too many of even the best hydration drinks, and they are not sudden onset – they take time to develop.
First, if the drink is high in calories or sugars that aren't being burned off, you run the risk of contributing to the development of conditions such as obesity, diabetes, or heart issues.
Then there's sodium. Our bodies need it, but if you are not losing sodium through exercise or illness, the amount in some drinks can be excessive and lead to kidney and blood pressure issues over time.
According to Dr. Hruby, it's possible to overdo it on the drink front.
"The Institute of Medicine recommends no more than 2 liters (about 64 ounces) of water a day, but if you're not sure how much your body needs or what kind of beverage is best for you, talk to your doctor or physician before consuming any additional fluids," Dr. Hruby said.
"Once you're used to drinking your specific blend and know how much sodium is right for you, feel free to experiment with different brands or flavors! Just make sure that you're getting adequate amounts of both sodium and potassium from each source."
Are Hydration Drinks Safe For Everyone?
Generally, hydration drinks are safe for consumption provided you don't have a medical condition they could exacerbate. They aren't a medical supplement and aren't thought to have severe side effects or pose an immediate challenge to anyone's health.
However, physicians and nutritionists alike agree that they are best used if you are:
Exercising for longer than an hour
Sweating more than usual
Are naturally a heavy sweater
You're ill and you need to replenish lost fluids
The fact of the matter is, most people do not need hydration drinks. Hydration can be accomplished by drinking the recommended amount of water everyday and eating a healthy diet full of vitamins and minerals to naturally replenish electrolytes. Foods that contain many electrolytes are spinach, avocados, broccoli, kale, potatoes, beans, almonds, and peanuts.
Additionally, hydration drinks that contain caffeine like some on our top 10 best hydration drinks list are not recommended for children and teens. The effects of caffeine on developing bodies are still being researched.
A study associated with Johns Hopkins All Children's Hospital urges kids stick to the small recommended servings of caffeine until we know more: "Too much caffeine can cause issues such as increased anxiety, increased heart rate and blood pressure, acid reflux and sleep disturbance."
In sum, it is always best to read the ingredients on any of the best hydration drinks you choose to consume and buy the drink that best meets your individual goals. Generally, physicians say low-sugar, sugar-free, calorie-free, or wholly natural options may be the best hydration drinks for the average body.
With healthier options hitting the market all the time, there are hydration drinks for everyone. If they're used as intended, or even as an occasional treat, we can all experience the benefits – and none of the downsides – of the best hydration drinks.
---
Looking for other top brands? Check out these curated lists below:
20 Best Insulated Lunch Boxes for Hot Food
Get Access to Exclusive Deals
Subscribe for free to get exclusive deals in your inbox. 100% privacy