10 Best Puzzle Brands
Finding The Best Puzzle Brands
Age doesn't matter when testing and refining those problem-solving, perseverance, and short-term memory skills. Perfect for young kids or the oldest adult, the best puzzle brands can do much more for a person than pass the time.
Piecing together stunning imagery or further mysteries to solve, there's a wide world of puzzling to be explored—and in our opinion, it's gone overlooked for far too long.
While there are thousands of puzzles on the market from a number of sources, we're saying now that they're not all equal. Some offer a range of size and complexity, some offer more diverse images or custom creation – the most important piece we consider in making a brand the best comes from quality.
We've all struggled with pieces that bend too easily, aren't quite cut, or don't actually fit together as expected.
Creating more roadblocks than necessary to the puzzler's journey, these elements of poor quality can deter someone from completing the quest to reach that final moment of satisfaction. So, quality is a big thing for us in this list of the best puzzle brands. But we'll dive into so much more along the way.
10 Best Puzzle Brands
1. Cobble Hill
Looking for a taste of nostalgia to take over during free time? Cobble Hill has built themselves up around being a wholesome, nostalgic, and all-around lovely supplier of some of the best puzzles in the game. Even if the name doesn't sound familiar, we're pretty sure that anyone who spots one of these green boxes will be thrown back to a simpler time.
Despite being a top contender on this list of the best puzzle brands, Cobble Hill only entered the market in 2005. Born from Outset Media, a sister company founded in 1996, this Canadian company started out in the world of board games and educational card games, making a name for themselves amongst children and educators.
The move to puzzles in 2005 brought about a whole new wave of success as the company began the search for photos that warmed the heart and intrigued the mind.
Quality and choice are everything to this business. Taking pride in each piece of the puzzle, Cobble Hill uses top-tier inks and papers for a crisp image on every board.
Featuring puzzles from 70 to 2,000 pieces with pricing from $7 to $27 to match, this brand also offers a "Make Your Own" option where customers can submit photos to craft their own personalized puzzles for family and friends.
Highlights
Offers a wide variety of puzzles from 70 to 2,000 pieces
Custom creation options
International shipping
Random-cut pieces that stray away from the standard piece shape and size
Family puzzles available including a mixture of large and medium pieces to be completed by a range of ages
Vibrant images printed on quality material
2. Gailson
We'll admit, puzzles aren't the only thing that Gailson does well, but they do stand out for selections alone. This 1979 company started out in the art world, working closely with museums to craft paper products, books, and calendars that reflected some of the great masterpieces seen through the halls of each gallery.
Finding success in the world of art, Gailson took inspiration from their current stock and expanded to the worlds of games, stationary, cards, home décor, and puzzles.
Partnered with a number of known and upcoming artists, this brand's focus on puzzles strays away from the traditional notion of kids as the target market and instead redirects attention to the adult population.
Separating puzzles by difficulty, cut (random or ribbon), piece count, and special features, this business makes it easy to narrow down exactly what you're looking for and how to find it in no time at all.
In addition to their standard puzzles, Gailson makes their name for their special feature options. These included everything from double-sided and foil puzzles to shaped and wooden puzzles. How can anyone grow tired of piecing things together when there are so many ways to tackle the subject?
The best part – their whole collection spans $7 to $35, making each option more than a reasonable cost.
Highlights
Offers an expansive selection of puzzle styles, sizes, and shapes
Specialty puzzles
Rewards program to save points towards future purchases
Works with upcoming artists
Focuses work around art, culture, and pop culture
3. Clementoni
Fostering creativity, independence, and discovery in children, Clementoni gears all products towards the growth of children. Born in the 1960s from a single board game, the Clementoni family took their business to new heights with an international bestseller – the jigsaw puzzle.
Since then, this company has kept up with the latest developments. From infant toys in the '90s to online video content in the 2000s, this family-owned brand is all about helping children grow in every possible way.
Working through the core values of heritage, expertise, respect, passion, and teamwork, Clementoni continues to veer forward in their product creation. Their most recent venture surrounds sustainability through a program called Play for Future.
While not all products will reflect this (yet), the logo will appear on items crafted from 100% recycled materials. Aiming to reduce the impact on the earth without sacrificing mental stimulation and milestone markers, this brand wants kids today to have the best for tomorrow.
Alongside their endless early years' products, this brand offers selections of puzzles for both children and adults. Working with familiar characters like Batman, Harry Potter, and even faces from Game of Thrones for the adult products, this brand has piece sizes from 13 all the way up to 13,200. Unfortunately, prices aren't listed online, but the size selection alone has us astounded with this one.
Highlights
Incredible range in puzzle sizing, pieces, and images
Centralized around childhood growth and development
Family-owned
Quality Management System in Place
International shipping
4. Ravensburger
We're willing to bet that Ravensburger is a name known to most people reading this. Practically royalty in the world of jigsaw puzzles, this brand first popped up back in 1884 with the creation of a board game based on Jules Verne's classic Around the World in 80 Days.
Named for the town in which founder Otto Maier first launched the business (Ravensburg), this brand spent nearly 80 years in the world of board games before turning to puzzles.
Composed of three companies (The Blue Triangle, BRIO, and ThinkFun), the Ravensburger Group has become heavily linked to the world of puzzles and the wide range of complexity they can offer.
Starting in the realm of children's puzzles with 15-pieces, this brand offers up to 18,000-piece puzzles for those who really like a challenge. We do have to note, prices reflect the level of difficulty starting at the low mark of $7 and moving all the way up to $170 for the biggest challenges.
Not only does this brand focus on jigsaw and photo puzzles, but they've also made their way into the world of 3D imaging. Focused on global landmarks, these puzzles feature the Eiffel Tower, Neuschwanstein Castle, Disney Castle, and more.
They've even added the Knight Bus from Harry Potter for a touch of pop culture in the category. Puzzlers will never get bored once entering the realm of Ravensburger.
Highlights
Puzzles ranging from 15-pieces to 18,000
3D puzzles
Heritage brand dating back to the 1800s
Flat rate shipping ($5)
Points system to earn and save
5. Bits and Pieces
Capitalizing on the catalog system, Bits and Pieces has been flying through the mailroom since 1983. Seeing a gap in the puzzle world, this brand exists on the notion of creativity and constant challenges for themselves and those around them. We promise, they're good challenges.
Rather than remain solely focused on the standard jigsaw puzzle, Bits and Pieces saw the format as a way to get so many other aspects across. Solving the puzzle is really only the first step towards the solution.
Known for their Brain Teaser puzzles and Artist collection, this brand really makes customers work for that satisfaction of putting the final piece in place. Throw in their holiday, wooden, and glitter puzzles – kids and adults will be amused for days on end.
While this brand does offer a pretty standard price range from $15 to $100, they do have to get a shout-out for their free 1,000-piece puzzles. Customers can select from a selection of free puzzles to add to any order. Think of it as a bonus buy.
Have one product already in the cart and throw in another puzzle for free. No one can beat free products.
Highlights
A world of jigsaw and wooden puzzles from 50 to over 1,500 pieces
Themed puzzles with holiday, glitter, and Artist collections
Limited international orders
Select free jigsaw puzzles
60-day return policy
6. BetterCo.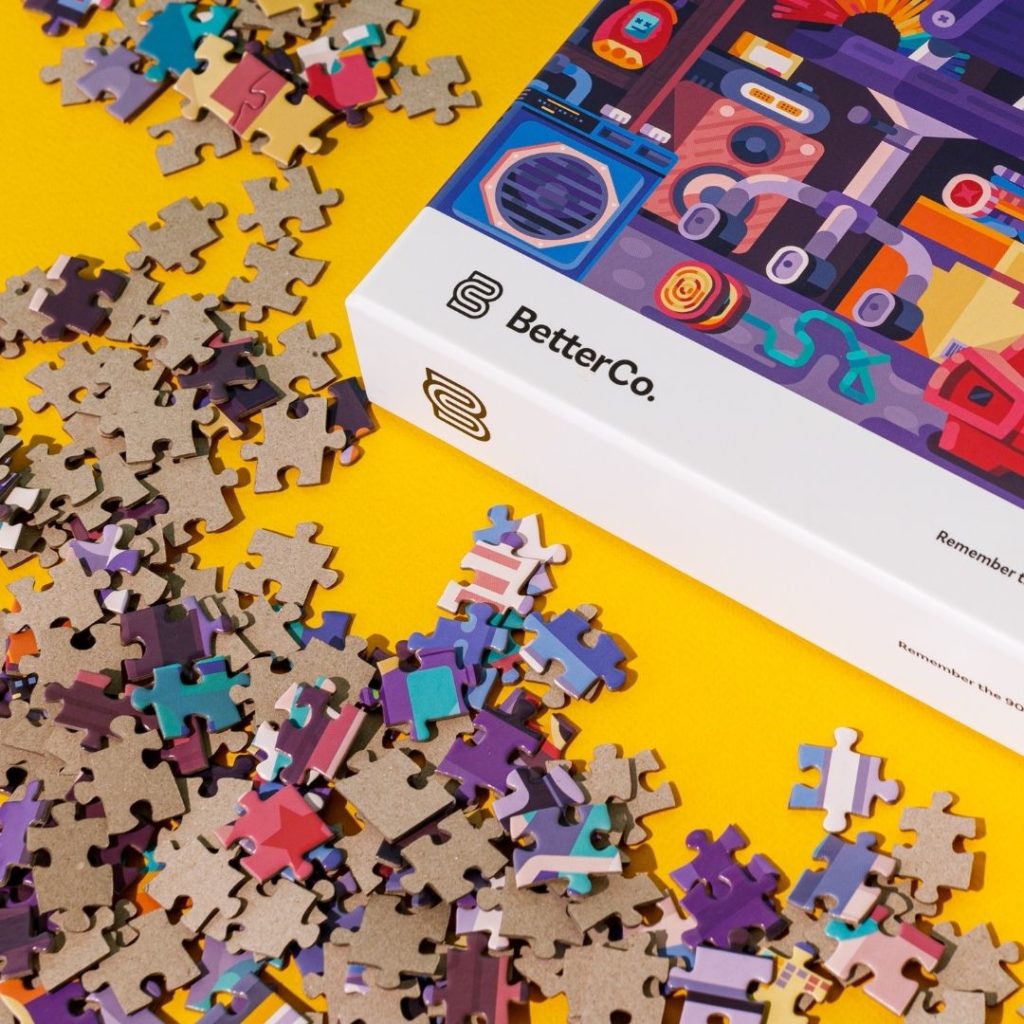 One of the newer names on this list of the best puzzle brands, BetterCo joined the scene in 2019 from the mind of Vin Thomas.
After working for years in the tech industry as a designer, Thomas decided to try a hand at a personal start up that combined love for design and aesthetics with the wonderful world of puzzling. Beginning with small-batch production to test the waters, Thomas was shocked to see numbers sold out in no time, leading to the first company success.
From that point, BetterCo never looked back. Working with photographers, artists, and designers to create an eclectic mix of styles, this business is all about providing stunning ways for people to unplug and just take a minute for themselves in a fast-paced and digital world. Featuring a minimalistic site to keep things all about the artwork, this business introduces simple meditation and better mindsets into this chaotic world.
Not only do they focus on escaping the digital clutches of society, but BetterCo also wants to take a step towards cleaner living. Operating through 100% recycled materials and eco-friendly inks, they want to minimize any footprints left on the world.
Calming minds doesn't have to equate to a wasteful world. All peaceful puzzles from this brand sit at the $25 mark for 1,000 pieces. They're not playing around with different sizing, shapes, or difficulty. It's all about a calming experience spent with loved ones.
Highlights
Selection of meditative puzzles for destressing
Made with 100% recycled materials
Environmentally friendly soy-based inks
Missing piece guarantee to replace any puzzles with missing parts
Set price of $25 for all puzzles
7. Eurographics
Range is everything for Canadian-company Eurographics. This business burst into the world of puzzling in 1987 after founder Ingrid Sinyor emigrated from Prague.
Beginning solely with posters, they quickly moved into the market of puzzling and have become one of the best puzzle brands in the industry based on quality alone.
Popular for their masterpiece collection, Eurographics offers an expansive selection of puzzles featuring some of the most revered artwork in the world. Alongside their "pretty" pieces, they've also ventured into advent calendar puzzles and coloring puzzles that customers can decorate upon completion. Safe to say this brand likes to mix things up.
They not only appreciate the beauty of art, but also the world around us. Partnered with One Tree Planet, Eurographics has created a Save the Planet line. Using recycled materials, this collection donates the money spent towards the planting of now over 1,000 new trees.
The best part about this collection (other than, you know, saving the planet) is their pricing. Rather than charging any extra, this collection sits firmly in the $14 to $30 range of all other products making this one of the cheapest options on the market.
Highlights
Wide selection of standard and more interactive puzzles for children and adults
Low price range
Works with recycled materials and One Tree Planet
Over 48 themed puzzle collections
Constantly adding products to the inventory
8. Buffalo Games
Extreme puzzlers, we're including Buffalo Games in this list of the best puzzle brands just for you. We'll get to the why in just a bit, but we promise it'll be worth it. Brought to the world in 1986, this puzzle and games brand makes their name by providing fun and family-friendly challenges to all customers.
Including products for customers of all ages, this business is all about massaging the mind through quick and clever twists and turns that not only break away from constant screen use but also encourage problem-solving skills and dedication.
As for the puzzles themselves (since this is a puzzle review), we're happy to say that steady quality is a value Buffalo Games doesn't sacrifice. Noted as the #1 jigsaw puzzle manufacturer in North America, this brand uses only the best material to avoid bending and breaking throughout the fun process of piecing things together.
Highlighting their precision cutting method, this company provides that perfect snap into place for the oh-so-satisfying completion of a puzzle.
Remember we said this was the extreme puzzler's dream? There's a reason for that. Other than the incredibly low pricing from $5 to $20, the real winner for this one actually comes through a subscription.
Those truly dedicated to the pastime can subscribe to 6-month or 12-month puzzle deliveries for 300/500-, 750/1,000-, or 2,500-piece puzzles. Never worry about running out of stock again. Just get excited about next month's delivery.
Highlights
Offers an expansive range of puzzles for both children and adults
Top-quality material for sturdy pieces and packaging
Low costs
Subscription options
Listed as #1 puzzle manufacturer in North America
9. MasterPieces
MasterPieces really gets to join this list for the name alone. They have great products too, but wow we love a pun-named company. But more on that later.
This wonderfully named brand joined the market in 1995 when retired pro-athlete David Rolls hit it out of the park with his move into the world of jigsaw puzzles.
Aiming for stunning styles in each puzzle, MasterPieces wants the joy to come not only from the journey but also the beauty of the final product. In order to meet that goal, they've partnered with top artists and evergreen brands to ensure beauty comes through every piece.
Working with names like Warner Bros, Hershey's, NFL, NHL, and more, this brand tries to keep culturally relevant options available as well. Why shouldn't a Red Sox fan be able to piece together an image of the stadium they love?
Offering 48-piece puzzles all the way up to 2,000 pieces, this brand tries to keep pricing simple in a range between $8 to $50. For those who want to look for more of a challenge, MasterPiece also sells combo packs of multiple puzzles in one pack.
One purchase, four to twelve puzzles right at your fingertips. It's a dream.
Highlights
A collection of challenging and culturally relevant puzzles
Wide market of sports puzzles
Multi-packs
Reasonable price range
International shipping
10. New York Puzzle Company
We're ending this list of the best puzzle brands by highlighting a straightforward business that gets the job done every time – the New York Puzzle Company. Newer than many others highlighted on this list, this brand joined the industry in only 2007 after coming to the minds of two New York best friends.
Based on the idea of creating a puzzle to mimic the chaos of the NYC subway map, they soon realized that the industry as a whole was limited in selection and style.
Rather than being solely for enjoyment, this duo was determined to make puzzles into an artwork of their own. Why spend hours working away when the subject just got boxed up again in the end?
The New York Puzzle Company took to creating designs that individuals would proudly display in their homes, later moving to include said designs on totes, mugs, and more.
Quality is everything to this brand and their content. Working with top materials to provide strong foundations for every puzzle and card sold, this brand still manages to keep costs between $9 and $35 from their 20-piece mini-puzzles all the way up to the 2,000-piece beasts.
Despite going with lower costs, they still dedicate 1% off every sale to non-profits in support of environmental issues. It may not seem like a lot, but it definitely adds up over time while allowing lower costs for customers.
Highlights
A wide assortment of puzzles with a range in sizes and themes
Linen-based pieces to reduce glare and provide comfortable matte grip and texture
Uses 100% recycled chipboard for printing puzzles
1% of each sale donated to environmental non-profits
Piece-by-Piece rewards program
What Are The Best Quality Puzzle Brands?
This list of the best puzzle brands may be biased, but we're pretty proud to say that any of the companies featured here provide good quality products.
In order to be in the puzzle game these days, quality really does mean everything. That means sturdy pieces, crisp images, and clean cuts all count towards that final product.
With that being said, we will say there are a few brands that stick out amongst the rest. The top three contenders for quality are as follows:
Ravensburger
Buffalo Games
Cobble Hill
These three have made their names in this industry and haven't budged from top positions in years. Known for a diverse selection and incredible quality, they only continue to find ways to improve, now turning to top-tier cutting methods and steady, sustainably sourced materials.
Why Are Puzzles So Expensive?
Fun fact – not all of them are. There are a number of puzzles (many of which are on this list) that offer up large sizes for limited costs. It all depends on individual perceptions of what expensive really means.
As for the big-ticket items (we're talking $50 and above), a lot of it comes down to size.
Puzzles have a huge scale in sizing, pieces, and design. Some cases require licensing or partnership fees (think Disney or Harry Potter) while other puzzles may take over the entire dining room table. In addition to paying for the cardstock, board, and ink, the overall cutting process needs to be taken into account as well.
Basically, the bigger the puzzle, the more it will cost due to materials, licensing, and manufacturing. We do have to note, puzzles aren't a short-term investment. The more expensive selections take hours, if not days to complete, meaning customers also pay for a good amount of entertainment that can be repeated at any time in the future.
How Are Puzzles Good for the Brain?
Oh man – how aren't puzzles good for the brain? There are so many benefits to this activity, it's a wonder more individuals aren't keeping up the practice for mental exercise alone. Forget the pretty picture, if we're willing to keep the body in shape, we need to start doing it for the brain too.
Really though, there are a number of benefits from this activity. We've thrown just a few of the endless list into this article to consider:
Visual-spatial reasoning – ever have a piece in hand and compare it to the picture on the box? This is the visual-spatial reasoning kicking in as the brain puts together how the individual piece slots into the bigger picture.

Though it may not seem like a lot, this ability actually comes into play a lot in life whether watching and learning a dance move, figuring out how to play Tetris with a suitcase, or even working out whether that parking spot is a viable option for the size of the car.

Short-term memory – Dory from Find Nemo definitely could've used some help with this one. We've all struggled to remember something we've just heard or witnessed, but doing puzzles can actually help with that.

The action of remembering certain pieces and fitting them into place helps strengthen connections in the brain, leading to faster mental speed and recollection.

Exercising left and right brains – most people claim to be a right brain or left brain person, but that doesn't mean one side needs to go untouched.

Doing a puzzle fires on all cylinders as the left brain's logical side keeps monitoring progression and helps identify how best to move forward while the right side thinks outside the box when piecing the unknown together. Start puzzling and that brain will be bulking up in no time.

Stress reduction – this doesn't technically work for everyone (some people really just don't have the time or patience and that's okay too), but puzzles have been known to prompt calming meditation.

Getting into a routine focused around one objective without a time restraint? It's all-consuming to a point when the stress of the world fades away and the puzzle becomes the only goal.

Dopamine – we all love a good rush of dopamine. It gets the heart and the head flying high in no time. Research has shown that the final moment of slotting the last piece into place releases a rush of dopamine into the system, leaving all puzzlers feeling great.
Honestly, we could go on as the science behind this one is sound. There are far more benefits than concerns surrounding puzzles. From the brain to the body, this one really helps out in a number of ways. Definitely worth a $30 price tag for endless mental exercise.
How Do I Choose a Good Puzzle?
Choosing a puzzle comes with a lot of considerations to it. It may seem like a straightforward process of going into a store and grabbing what's on the shelf, but that can actually lead to more frustration in the end. Take some time and consider the facts.
What facts, you ask? The ones we've listed in this list of the best puzzle brands – just for you.
Brand
Brand doesn't have as huge an influence here as it does with some other products on the market, but it's still something to consider. Every company has their own missions and values, so sometimes it's worth doing a bit of reputation to look into sourcing practices, charitable efforts, and more.
Some brands are known solely for their quality, others are known for their themes or style. Some delve into the world of sustainability and eco-friendly practices. Doing even a brief look online will tell customers all they need to know about a brand's practices and reputation amongst customers.
It's better to support a cause and business that aligns with your own than support another money-grabbing name.
Quality
Quality definitely pops up alongside a search into reputation and materials. With puzzling, no one wants to really sacrifice quality as it can ruin the experience. Imagine – bending and broken pieces, nothing fits tightly, ink smudges at every corner – it would be a nightmare.
That's why we have to emphasize quality as being key to a good puzzling journey. Sometimes it pays to go big.
Design
This one definitely comes down to personal choices. We know there are a lot of standard jigsaw puzzles out there, but that doesn't mean they're the only thing to exist in the world.
In fact, the market for puzzles seems to constantly be expanding beyond the original scope of a printed image. While the originals definitely still exist, the world has extended to all kinds of special editions and features.
From wood and metal 3D puzzles to double-sided to foil-based and coloring-book style, there are so many directions to go. Fit personal style by selecting whatever piques the interest.
Just have fun with it! Create custom puzzles with personalized pictures for loved ones. The options are endless.
Artistry
Also personal in choice, art is a big consideration. Many puzzle companies try to offer as wide a range as they possibly can to interest everyone, but we all know that we have preferences. From classic art to pop culture to photography, there are so many options in the world of puzzling that we have to argue there is something for everyone.
Most of the bigger puzzle brands tend to list their selections not only by size and difficulty but also by theme and artist. It's easy to find a puzzle style and artist to love – same as adoring the works of a specific painter.
Artistic choice can really alter the level of determination to complete the piece – who wouldn't want to see a Van Gogh in their living room?
Level of Difficulty
Don't get cocky, kid. The best way to find a puzzle that fits is to be honest. What's the experience level with puzzles? How quickly will interest wane? How many people are doing the puzzle and what skills are they coming in with?
Puzzles tend to come in different levels of difficulty, with piece sizing and the number of pieces making a huge difference in the experience. Those new to the game or who know they don't have the patience, don't go for a 2,000-piece puzzle.
Broad ranges of piece numbers allow for everyone to find their own spot in the spectrum. Whether completing a 250-piece work or an 18,000-piece picture, that same rush of dopamine still kicks in. Don't torture yourself by trying to impress others. Be honest and the enjoyment will come all the more easily.
Age
Similar to the level of difficulty, age needs to be taken into account. Puzzles are a great developmental tool for toddlers and children, but they definitely shouldn't be around the chaos of a 5,000-piece puzzle. Choking hazard aside, overwhelming kids with that many pieces doesn't end well.
There are a number of age-appropriate puzzles on the market that tend to pinpoint their exact age demographic.
Yes, some kids may be more or less advanced, so keep the specific child's skill set in mind when buying. It may be annoying to find the right fit, but the skills that puzzling support are foundational to childhood development and can only aid the kids in the long run.
Price
As always, price has to come into play. Luckily, we'll say that we managed to include a lot of cheaper options on our list of the best puzzle brands, but we know that's not always the case. Sometimes costs can fly pretty high for the more extravagant models on the market. We will say that customers should play into their own interest and level of difficulty.
There are a lot of great cheaper options available online and in-store, but for those who have an invested interest in puzzling or know that this will be a satisfying way for them to spend their time, the occasional splurge isn't a bad thing.
We'll admit, we've spent a bit more money on 3D puzzles and wooden puzzles from time to time – if you know the process will be enjoyed, then don't fear the bigger costs. It's all about the experience, so while we don't recommend breaking the bank, it's definitely okay to go big from time to time.
What Are The Most Popular Puzzle Brands?
Popularity tends to accompany quality, so we have to say that some of the bigger names on this list will typically be seen as the most popular. Which ones do we mean by that? Well, the top recognized names would likely be the following:

Ravensburger
Cobble Hill
Buffalo Games
Gailson
These names have really made their way in the market, standing out amongst others in the crowd. We're not saying the others aren't good – in fact, give those newer names a few more years and they could be up there too.
All we're saying is these four have really invested time into becoming popular puzzle names with a spectrum of choice that really offers something to everyone.
What Makes a Good Jigsaw Puzzle?
A good jigsaw puzzle can be defined in two ways: the physical puzzle and the experience. We'll give a quick breakdown for each.
The puzzle itself comes down to not only good quality construction but also design. Proper spacing of the artwork on a sturdy material makes a big difference. We don't want too much white space when the design should take center stage. All we want is an easy snap into place to create the artwork with no additional spacing or struggling to fit pieces in place.
As for the experience, we want to note that just because a puzzle has more pieces, that doesn't make it more difficult. Random vs ribbon-cutting can make a huge difference in the experience.
Those who love a challenge will thrive under the chaos of randomly shaped pieces that don't follow any logic. Match the level of difficulty correctly and the experience of a good jigsaw puzzle will be world-changing.
Final Thoughts
This best puzzle brand review has covered a lot of ground, but we really just want to wrap it all up into one final piece. Doing a puzzle isn't just a way to pass the time. Aiding the brain, reducing stress, bonding family and friends, the benefits reach far beyond piecing together an image.
It's all about understanding the bigger picture and how in everything we do, we get their piece-by-piece. Sometimes people help, sometimes we work alone, but in the end, it's all about the experience of completing something to see that full thought.
Maybe we're getting a bit deep there, but we stand by it. Puzzles deserve more respect than they've been given, so we're more than happy to prop them up and get them in the limelight for a minute. Find the right fit, take a breath, and settle in for a journey.
How We Chose the Best Puzzle Brands
Before choosing any brand, we scour the web and all the biggest e-tailers to ensure we know all the available options on the market. We look at customer reviews, star ratings, brand ethos, processes, materials, accessibility, and so much more. We weigh the pros and cons, so you don't have to, helping you make informed shopping decisions.
---
Check out other related brands and lists we've curated:
Get Access to Exclusive Deals
Subscribe for free to get exclusive deals in your inbox. 100% privacy