Fatty15 Review
About Fatty15
Fatty15 is an oral supplement designed to repair and restore the health of our cells to help users feel revitalized. By countering multiple symptoms of age-related cell breakdown, this supplement supports whole body health, including promoting skin, heart, immune, and metabolic health, and even deeper sleep and calmer mood.
Renowned for its effective results and science-backed beneficial ingredients, the fatty15 supplement has been featured in Byrdie, Forbes, Men's Journal, and other top media outlets. Though it launched in early 2021, the company's social media profiles are quickly growing, with 3.8k followers on Instagram and 2.5k likes on Facebook.
You're probably wondering if these supplements are worth all the hype. To find out, read this fatty15 review. We'll cover everything there is to know about the company and how its product works, as well as highlights from customer testimonials, answers to important FAQs, and more. Let's dive in.
Overview of Fatty15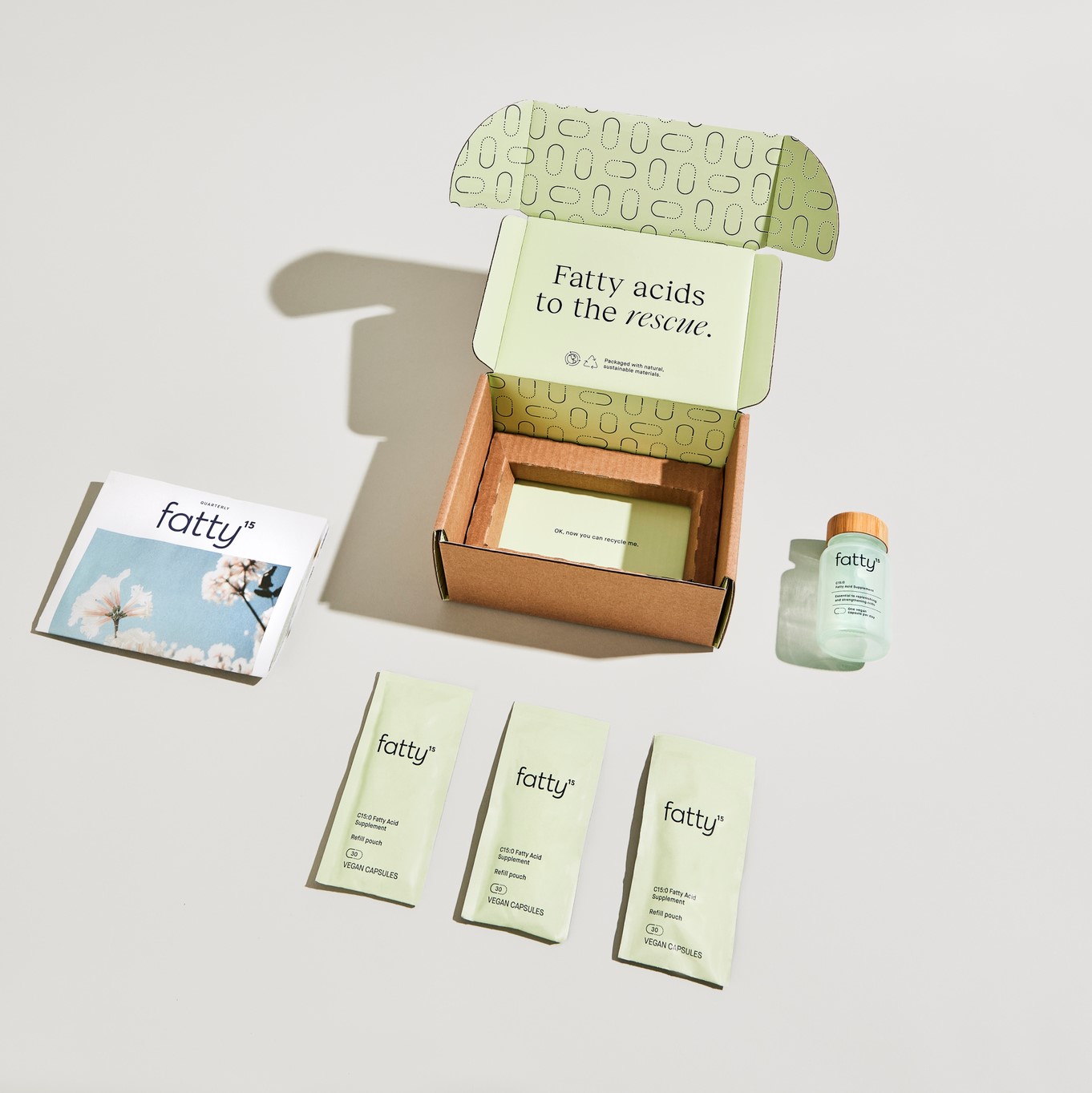 The story of fatty15 begins with one simple mission: to help bottlenose dolphins. Not what you were expecting? As it turns out, the founders didn't know where their journey would lead.
Founded by partners "in life and purpose," Stephanie Venn-Watson, DVM, MPH, and Eric Venn-Watson, MD, MBA, the duo originally set out to discover how to continually improve the health and welfare of dolphins, especially as they got older.
Focusing on the health of marine life, they looked at a population of dolphins and sought to determine which nutrients in an all-fish diet predicted the healthiest dolphins. Of all the good nutrients in fish, including omega-3s, they found that the healthiest dolphins had the highest levels of fatty acid C15:0 (aka FA15).
To further determine if C15:0 was beneficial less healthy dolphins were fed fish with higher levels of C15:0. Over time, their aging-related conditions stabilized and their cells did too.
With the knowledge that bottlenose dolphins age a lot like us, Stephanie and Eric were curious to see if C15:0 would be an effective supplement for humans.
By 2021, they had founded and established the company after testing and studying the product for years to ensure it's safe and effective for humans. The supplement is encapsulated in a vegan-friendly capsule, packaged, and shipped in the US.
While dietary supplements can't be approved by the FDA, fatty15 is made per the FDA's current Good Manufacturing Practices (cGMPs), which ensures that the product meets quality and safety standards.
With protecting marine life at its core, the company is also Earth health-conscious. So, all fatty15 supplements come in a refillable glass bottle for the first order and recyclable packaging thereafter to limit the amount of waste with every purchase.
Now that we know a little more about the company and where it started, this fatty15 review will take a look at a few key highlights.
Highlights
High-quality supplement packed with fatty acids
Ideal for maintaining health, deep sleep, and more
Delivered quarterly with a subscription
Vegan-friendly, dairy-free, and gluten-free
Free of any fillers, preservatives, and artificial flavors and coloring
Safe for pregnant women and nursing moms
Focused on sustainability
Made in and available in the US
Hassle-free cancellation
Free shipping for refills
At the time of this fatty15 review, the company currently carries one product: the fatty15 supplement. It is said to upport long-term health and wellness by countering undesirable symptoms of aging that result in poor health, but we'll delve into all the details below.
Fatty15 Review
The fatty15 supplement features C15:0, an essential fatty acid that helps your body stay healthy. The product is designed to support your long-term health and wellness, promoting healthy metabolism, balanced immunity, and heart health.
Fatty15 comes in a starter kit, which features everything you need to enjoy all the benefits. It comes with a 90-day supply that can be poured into the reusable glass bottle. After that, you'll receive deliveries quarterly if you choose to subscribe.
The fatty15 supplement comes in three options:
90-day starter kit with subscription: $120 (20% discount)
90-day starter kit: $150
30-day trial kit: $50
Who Is Fatty15 For?
Fatty15 contains pure C15:0 (also called pentadecanoic acid), which is an essential fatty acid that supports long-term health, including balancing metabolic and immune health. While this fatty acid is essential to our overall health, our bodies don't make them, making a supplement an accessible way to improve health.
If you're looking to age gracefully and maintain your health, fatty15 is for you. The product is essentially for anyone with cells, so if that's you, you're in for a treat.
It is currently safe for children over the age of four, men, women, pregnant women, nursing moms—pretty much everyone except for infants and toddlers.
What Are The Benefits Of Fatty15?
The fatty15 supplement boasts numerous benefits and is all about promoting stronger and healthier cells, so you can feel better and counter traditional symptoms of aging. Potential benefits include:
Healthier cells for more energy and healthier skin
Better metabolic, heart, liver, and immune health
Calmer mood, deeper sleep, and less snacking
How Does Fatty15 Work?
Fatty15 features one core ingredient: C15:0. This healthy saturated fatty acid can be found in whole-fat dairy products and some plants and fish. It is known to be an essential fatty acid, although our bodies don't normally produce it.
While it can be found in whole-fat dairy products, these foods also contain much higher levels of bad saturated fats and ingredients that are known to have negative effects. That's why fatty15 is a single ingredient, formulated to be pure, vegan-friendly, non-dairy, and lactose-free.
The supplement is a simple way to meet your body's needs, acting as a food and dietary supplement that maintains health. After numerous studies, fatty15 appears to start working in about 1-3 months with daily use, which is why the starter kit has a 90-day supply.
What Are The Ingredients In Fatty15?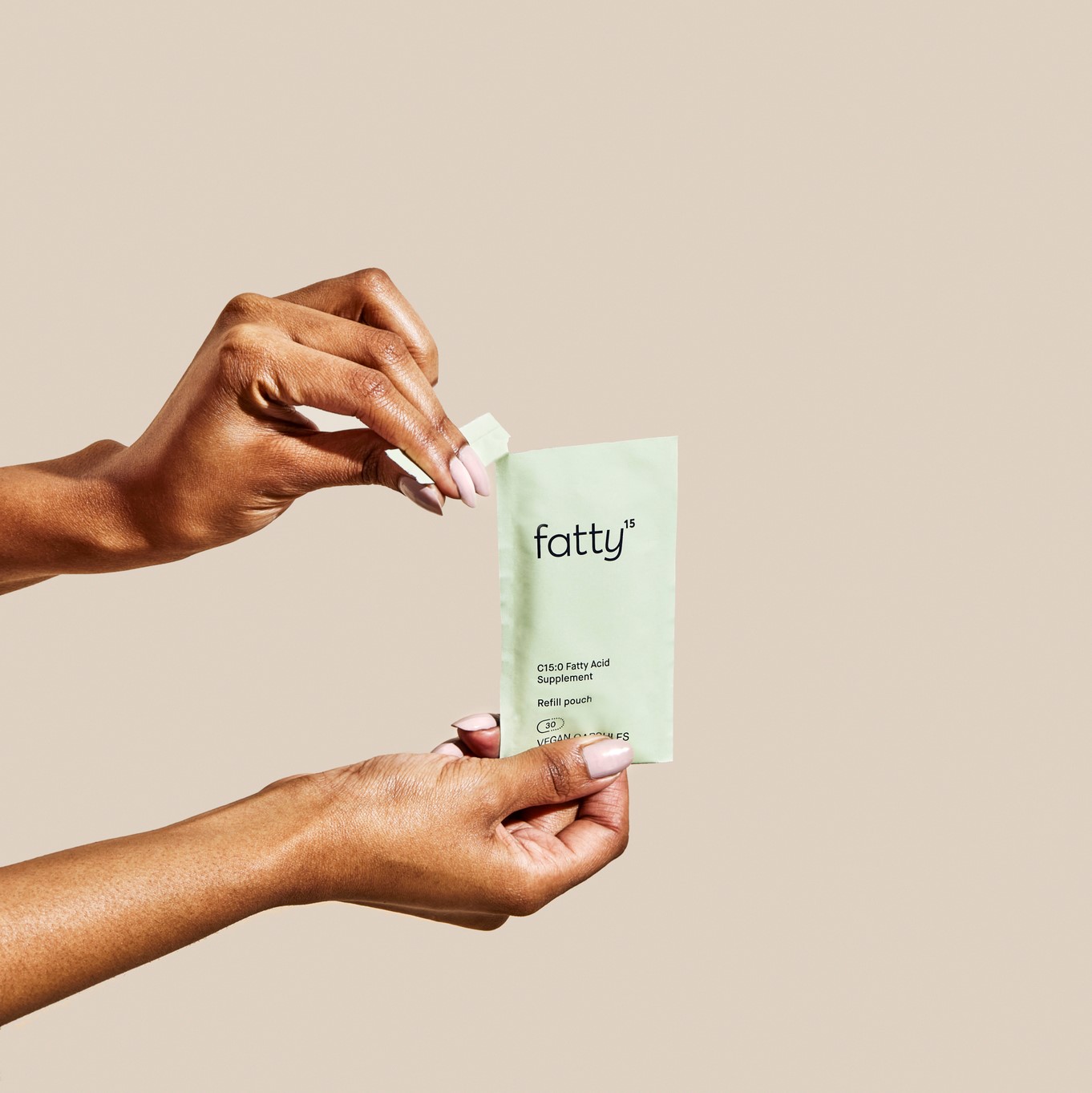 The fatty15 supplement is a true example of simple yet effective. So, there is one singular ingredient: pentadecanoic acid (C15:0). Fatty15's 99% pure C15:0 powder ingredient is called, FA15TM.
To ensure that the supplement comes with the purest vegan-friendly ingredient, it is made entirely from scratch. The powder ingredient exactly matches the form of C15:0 found in nature, so it is considered a natural ingredient.
How To Take Fatty15 And Dosage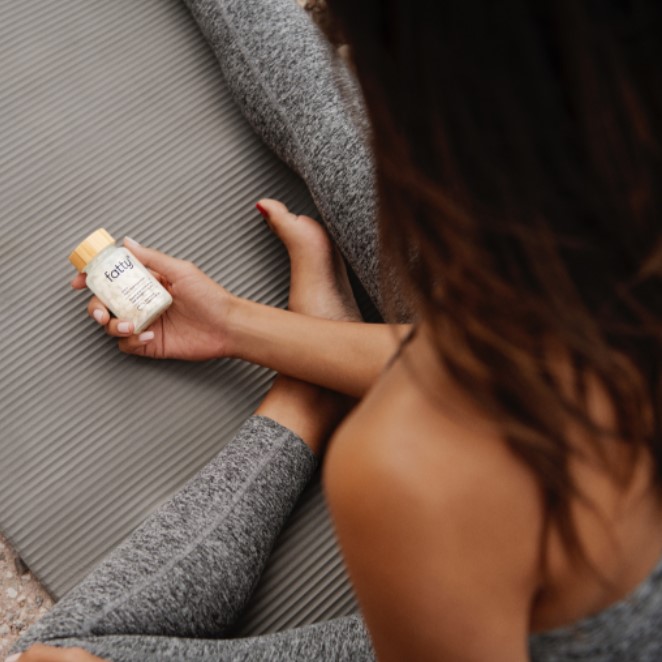 When it comes to taking the fatty15 supplement, the entire process is designed to be as simple as the ingredient list. Here's how it works for you first-timers:
Open the packaging
Pour the supplements into the reusable glass bottle (keep the bottle for the future)
For future orders, you will receive refill pouches delivered to your door and the capsules can then be poured into your reusable glass bottle
When it comes to ingesting the supplement, simply take 1. Good fats are best absorbed when ingested along with other foods, so you may want to take them with a meal. The company suggests taking your supplement in the morning to create a routine.
Fatty15 Side Effects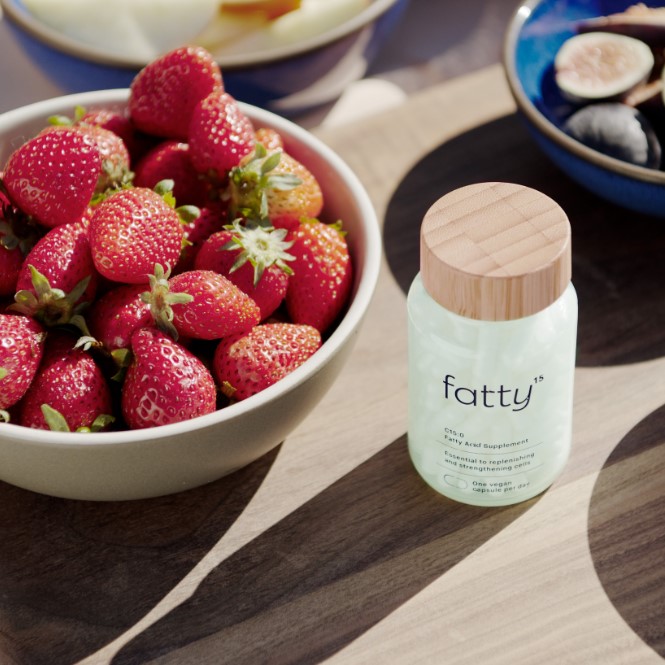 If you're considering adding a supplement to your diet, one of the most important things to consider is the potential side effects. Fortunately, this fatty15 review is happy to share that side effects are rarely reported. This makes sense, since C15:0 is a nutrient in milk (though it's dairy-free) and has thus been a natural addition to the human diet for centuries.
With over 12,000 customers, very few have reported side effects (less than 0.3%), which have included mild gastrointestinal symptoms, headache, or a temporary skin rash. Similar side effects have been reported with other essential fatty acid supplements.
The ingredient is also has official GRAS (generally recongnized as safe) status, which means fatty15 has been deemed safe for pregnant women and nursing moms.
The supplement is also not known to cause weight gain, which may be a concern for some. In fact, one fatty15 capsule is less than 1 calorie and the product is actually designed to help your cells work more efficiently, using more energy rather than storing it as fat.
If you're wondering about whether or not you can pair your fatty15 supplement with other vitamins and medications, you can rest easy. The product was designed to compliment your current diet and health regimen, and there have been no contradictions or issues reported with other medications or vitamins thus far.
With all that being said, it's always important to consult your healthcare provider before adding any supplement to your diet.
Fatty15 Reviews: What Do Customers Think?
While this fatty15 review has established what you'll find in the supplement and how it's supposed to work, it's time to delve deeper into what real customers have experienced.
Since the company was recently founded in 2021, there aren't too many fatty15 reviews floating around the internet. Regardless, we have sourced comments from the brand's website, The Quality Edit, and Thing Testing to paint an accurate picture of the effects of the supplement.
The company has 330 verified customer reviews and boasts 4.7 out of 5 reviews on its website. One customer reports feeling younger and looking better, and that the supplements also help them maintain a healthy diet. Take this excerpt:
"I am 57 years old. I was already looking good for my age, but I am looking even better and more importantly, feeling 10+ years younger! I sleep well, wake up refreshed, and am able to handle stress better. I'm not as interested in eating things that are not on my Keto plan and my joints aren't hurting anymore. What's not to love?! "
Another patron shared fast-acting results, writing, "After 45 days, I felt more calm and lost 10 lbs without much of an effort. I don't know if everyone will have the same outcome but for me it improved my life in noticeable ways. I have already recommended Fatty15 to my friends."
A reviewer on Thing Testing awards the company 5/5 stars, writing about their subtle yet noticeable results with an increase in energy and mood. Here's what they had to say:
"After taking it for about 2 months now, I can say that while the effects are very subtle I have noticed a definite increase in energy (especially in the morning). I felt like this has improved my mood throughout the day as well. I am going to continue to take these everyday and am excited to see more results!"
Another buyer shares similar sentiments, also awarding the brand 5/5 stars:
"After taking the product for 4 weeks, I have noticed that I don't snack as much, can last longer in my "intermittent fast" although I'm not always looking to do it, and my hunger pangs are much better controlled. They also tout that it improves your mood, increases your energy, and my help with aging/feeling younger. I can say that my energy levels are bit increased."
On The Quality Edit, the reviewer writes that the brand is worth checking out because it is "the world's first, and only, supplement with C15:0, fatty15 is transforming the game of preventative health and well-being."
The sustainable packaging also stands out: "Fatty15 ships with a reusable glass bottle, 100% recycled and recyclable packaging, and a bamboo top — so you can do well for both your body and the earth."
Overall, it looks like fatty15 offers nothing but good things. With very minimal side effects reported and plenty of benefits to show, the supplement truly seems to be an effective option to combat aging and maintain a healthy body and lifestyle.
My Fatty15 Review
Hi, I'm Paige and I'm a product tester at Honest Brand Reviews.
Fatty15 is a really unique supplement. It was super easy to add to my daily routine since it involves taking just one little capsule.
While I'm not vegan, I thought it was cool that the entire formula is vegan-friendly since regular omega-3 supplements usually come from fish.
The science behind the brand is pretty impressive too, and with time, I'm interested in seeing what the benefits are.
Is Fatty15 Worth It?
The fatty15 supplement has been carefully tested and studied to ensure effectiveness. It is known to be an essential fatty acid that can help regulate your immune system and metabolism and is a simple way to upgrade your diet and health.
In a recent peer-reviewed scientific publication, fatty15 was shown to be three times better, broader and safer than the purest, highest performing omega-3 fatty acid (EPA). This study showed over 36 cellular benefits among 83% of cell types that were relevant to immune, gut, heart, joint, lung, and metabolic health.
The company is also backed by many happy customers who claim that the products truly do live up to the hype. There are also very mild side effects in comparison to other supplements on the market and they contain no fillers or artificial flavors and are also vegan-friendly, dairy-free, and gluten-free.
With all that in mind, this fatty15 review concludes that this product is worth the try, especially considering the 30-day money-back guarantee.
Fatty15 Promotions & Discounts
On the hunt for a fatty15 discount code? Fortunately, we did some digging to find you all the best deals and promos. Here's what we found:
Save 20% with the subscription and you'll receive a starter kit and quarterly refills.
Successfully refer a friend and you'll receive a $20 off discount applied to your next fatty15 90-day refill and they will receive 50% off their first subscription
Where to Buy Fatty15
To purchase the brand's supplement, pay a visit to fatty15.com.
FAQ
How many fatty15 capsules should I take daily?
Wondering how often you should take this supplement? Take one fatty15 scapsule daily.
Should I take fatty15 with food?
If you're concerned about how you should take your supplement, the brand keeps things simple. It suggests taking Fatty15 with a meal or coffee in the morning.
Is fatty15 vegan?
Because fatty15 is available in its purest form originating from plant-based sources, the supplements are vegan-friendly.
Is fatty15 gluten-free?
In addition to being vegan-friendly, fatty15 is dairy-free, gluten-free, and free of preservatives, fillers, oil, animal by-products, corn, soy, and artificial colors.
What are the supplement facts of fatty15?
Serving size: 1 capsule daily
Number of servings per container: 30
Ingredients in the product, and amount of each nutrient that it contains: Pentadecanoic acid with 100 mg per capsule
What is Fatty15's Shipping Policy?
If you're anxiously awaiting your order from this fatty15 review, we're happy to share that the company offers speedy delivery.
Once inventory is in stock, the label ships orders within 1-3 business days. The products are available in all 50 US states and should arrive within 5-7 day business days.
Fatty15 ships all orders via USPS, or UPS. Shipping is free on for all supplement product orders. Shoppers can track their orders via the confirmation email or by viewing their profile.
If you choose to subscribe for recurring shipments, the auto-renewal dates are based on when you should need a refill and should be shipped before you run out. If you want to change your delivery date, simply log into your account, click the 'managed subscriptions' tab and edit the date.
What is fatty15's return policy?
If you're not happy with your first purchase, this fatty15 review found that the company offers a 30-day money-back guarantee for first-time orders. Simply contact the company to obtain details on how to return the product.
Mail all returns to: Seraphina Therapeutics Inc., 2907 Shelter Island Dr. Ste. 105-411, San Diego, CA 92106
Once the item has been received, it will be inspected and you will be notified of the status of your return. If your return is approved, the company will initiate a refund to your original method of payment.
Outside of the first 30 days, no refunds will be issued for partially used products or products that appear to be handled, opened, or tampered with.
How to contact fatty15
We hope you enjoyed this fatty15 review! If you have any further questions about the brand or its products, you can contact its team using the following methods:
---
Interested in supplements and wanna read more? Look no further! Here are some brands we've reviewed recently:
Heart and Soil Supplements Review
Onnit New Mood Supplement Review
Get Access to Exclusive Deals
Subscribe for free to get exclusive deals in your inbox. 100% privacy