Huusk Knives Review 
About Huusk Knives
A sharp knife is actually safer than a dull knife, believe it or not. Dull knives can jam into food and shoot outwards instead of chopping downwards. This can turn your romantic dinner into a less-than-romantic night in the emergency room.
That's why you need a sharp knife and why you should look at Huusk Knives. The company makes a knife that should be as sharp as a katana and as easy to wield as if it was your own arm. They have a modest 1.1k likes on Facebook.
In this Huusk Knives review, I'll look at the brand's background, product, design, what customers say about them, whether they're trustworthy, and more so that you can find out whether they're worthy of your money.
Overview of Huusk Knives
Huusk Knives is an e-commerce brand that wants to revolutionize how the average customer prepares their food. They want to pave the way to the future of home cooking by studying the past.
Specifically, Huusk Knives takes from the traditions of the Japanese samurai through century-old manufacturing practices. They fuse their insights with modern technology to create one of the sharpest knives on the market.
The brand specializes in exactly one product: its namesake knife. They bring forth the spirits of Japanese blacksmiths from generations past into the modern day.
While you won't be chopping down enemy samurai with a Huusk knife, you may be chopping through enough food to feed a shogun's army.
Now that you understand the company's vision, I'm going to head into the highlights section of this Huusk Knives review so that you can get an idea of what has attracted so many people to the brand.
Highlights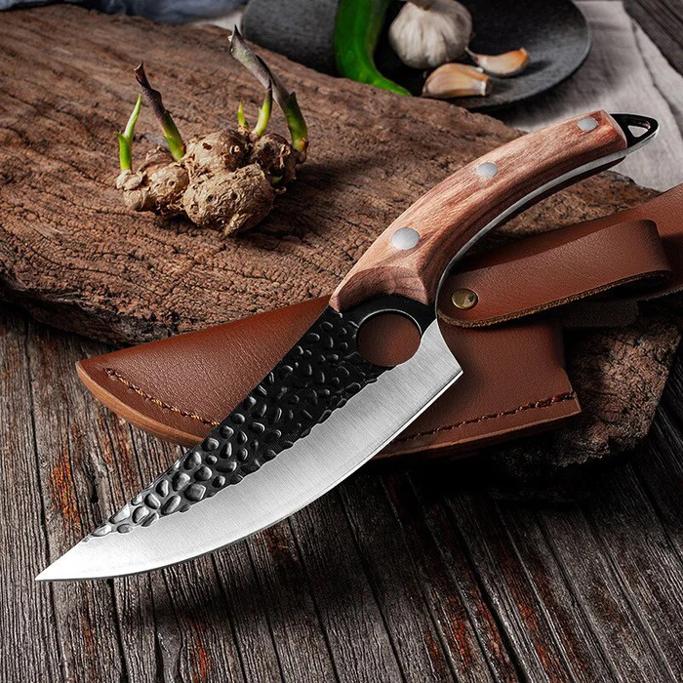 Ergonomically brilliant kitchen knives
Mix of traditional manufacturing with modern technology
High customer scores on multiple review websites
Knives combine well-honed philosophies with today's best manufacturing
30-day money-back guarantee
Free recipe book with most orders
This company only makes one product, so I will be dedicating the majority of this Huusk Knives review to covering what that item is all about.
What are Huusk Knives?
Huusk Knives are some of the most appealing kitchen knives on the market today. The knives draw plenty of inspiration from Japanese samurai. They emulate the look and feel of samurai swords with a modern twist.
I know that everyone wanted to be a real-life Fruit Ninja at some point in their lives, but Huusk Knives proves that the reality of that fantasy is much tamer. Thankfully, these knives make it much safer too.
Huusk Knives are made from some of the most essential components necessary for a world-class knife:
A stainless steel blade
A fine oak handle
Centuries-old knife fabrication processes
The stainless steel blade should provide a smooth cut. It's designed to slide through any type of food whether it be meat, vegetables, or seafood. The stainless steel is forged through the company's 138-step design process.
It's a rigorous test that should ensure that every knife comes out with top-of-the-line quality. The company maintains a tight grip on quality control so that each knife is nearly flawless.
This measured focus extends beyond the blade of the Huusk knife. It also lends to the instrument's ergonomic shape. The blade is curved to follow the natural pressure pathways of your hand. They should feel natural to use.
Huusk Knives further their users' comfort by adding a hole for the index finger at the base of the blade. This should allow you to chop more precisely since you can distribute your weight more evenly.
That's not the only part about these knives that are designed for maximum comfort. Huusk decided to use fine oak as a base for the handle.
This material gives every knife a firm grip that's easy to control. It has a fine texture that runs along the grooves in your hands. These grooves should make it extremely easy to wield.
As a whole, Huusk Knives should withstand the common factors that cause most knives to deteriorate over time. It's not uncommon for knives to succumb to oxidation or chipping.
Both of these usually come from routine usage and cleaning but they can be avoided if the knives are made with a little more care.
Huusk Knives' laborious manufacturing process should deliver a knife that can last for years to come.
As I mentioned earlier in this Huusk Knives review, the company implements a detailed step-by-step plan to tackle problems like water damage that can lead to chipping and oxidization.
Don't just listen to my opinion. Many professional chefs have praised the knife for a multitude of reasons, as seen on their website.
Some have said that the handle is shaped in a way that it won't press against your palm uncomfortably. This should allow you to apply more pressure without hurting your hand or potentially developing any blisters.
Another chef said that the Huusk Knife has the best shape for a back-and-forth chopping motion that's ideal for dicing vegetables or herbs.
This skill can be incredibly useful for home chefs too since it can decrease the amount of time it could take for you to chop up your food.
A single Huusk Knife costs $98. Here are the prices if you want to purchase more than one at a time:
Two knives: regularly $166
Three knives: regularly $218
Four knives cost $260
Who Is Huusk Knives For?
Huusk Knives are for people for don't want to have a billion different knives that each cut different food. These are versatile knives that can slice through nearly any substance, eliminating the need for a large knife collection.
They're also for people who want to feel a deeper connection to their cutting and cooking process.
Huusk Knives Reviews: What Do Customers Think?
Any product that requires hands-on experience to be judged needs to have strong customer reviews.
When it comes to products that rely on feel, I think that it's necessary to consult with people who have gotten their hands on the product in real life. Let's check out the brand's average scores:
Huusk Knives: 5/5 stars
Trustpilot: 3.7/5 stars from over 3k reviews
Sitejabber: 4.1/5 stars after 66 reviews
The majority of positive reviews on the brand's website touched upon the feel of the Huusk Knife.
People said that the knife felt like it belonged in their hands. The knife was praised for its weight and functionality.
This is how one customer described it: "This a great product, the design is very ergonomic, a good knife in your hand feels strong and robust. It promotes good grip and rests in your palm securely. It is light enough to cut the vegetables and heavy enough for meat. It has a good weight."
Other people said that the knife is so easy to use that it encouraged them to cook more than they ever had in their lives.
Another aspect of the Huusk Knives that customers loved was the brand's shipping and ordering process. People said that it was simple to navigate the company's website, simple to order exactly how many knives they wanted, and even that the delivery was speedy.
One review on Trustpilot talked about how well the knife held up after months of use:
"Here's my 2 cents after a month of almost daily use. The weight is extremely well-balanced and the handle goes well with the blade, so it doesn't tire your hands. It doesn't dull easily, which means it's made from quality metal. Do yourself a favor and get this."
Another aspect that was heralded by buyers was how much of a steal the Huusk knife was considering its price. This feeling grew even more when customers saw how much money they could potentially save on their purchases thanks to the discounts available.
Many of the Huusk Knives reviews on SiteJabber echoed what other people said about Huusk Knives elsewhere.
But I wanted to include this review because it touched on an aspect of the brand that I hadn't seen much of: the company's customer service and problem-solving abilities.
"I encountered some problems like wrong quantity in the final order and delay in the shipment. I called up their customer service and I was assisted by Maria. She assured she'd help me and she'll make the necessary adjustments. The knife arrived after 2 weeks though, but once you see it, you will be amazed with its shape and appearance."
As you can see, most customers were satisfied with their Huusk Knife and had nothing but praise for the brand and its product.
Is Huusk Knives Legit?
In my research, I came across a few Huusk Knives reviews that mentioned delivery problems. Some customers did not receive their products until months after they placed their orders while others never received their products at all.
I would be more worried about these critiques if I hadn't found even more customer reports that said that the company quickly delivered its products.
That doesn't mean that you should ignore the negative reviews, just that I advise you to have patience when shopping with Huusk Knives.
Is Huusk Knives Worth It?
The most enticing reason to purchase a Huusk Knife is its relatively low cost. That cost gets even more affordable if you purchase more than one knife at a time, and it dips even lower if you can get a deal through the brand's current promotion.
That comes with the risk of your knife delivery potentially being delayed. The customer reviews that said that Huusk Knives took a long time to deliver the knives add a bit of caution to my recommendation, but it's nothing major.
If they appeal to you then I support your decision to buy from them, as I believe this brand to be very worthy of a purchase.
Huusk Knives Promotions & Discounts
You're going to want to save this information somewhere you won't lose it.
Remember how I said that Huusk Knives usually cost $99 each? Well, hold onto your 10-gallon hat, cowboy, because I have got a deal that might knock you off your horse.
If you act quickly, you can save 70% on every knife that you buy. That bumps the prices down to:
One knife: $30
Two knives: $50
Three knives: $66
Four knives: $78
On top of all of that, Huusk Knives will also send you a free recipe book with your order.
Where to Buy Huusk Knives
The only place where you can purchase Huusk Knives is through the brand's website, get-huusk.com.
FAQ
Who owns Huusk Knives?
Despite putting on my best detective hat for this review, I wasn't able to find out who actually owns Huusk Knives.
Does Huusk Knives ship internationally?
Huusk Knives reports that they can ship to most countries.
Are Huusk Knives made in China?
Based on what I learned while researching the company, I believe that the company sources most of its knife production in China.
Can Huusk knives be sharpened?
These knives can be sharpened. In fact, many Huusk Knives reviews mentioned that you should sharpen them.
Knowing when and how often to sharpen a kitchen knife is a skill in and of itself that you can ask your dad to teach you, but people recommend that you sharpen knives to preserve their quality and so that you can safely cut your food.
Where are Huusk Knives located?
Although the company claims to be a Japanese-based brand, it seems that Huusk Knives are actually a Lithuanian company based on my research.
What is Huusk Knives' Shipping Policy?
It takes 1-2 business days for Huusk Knives to process each order before they send it out for delivery. The shipping fee for most orders is $10.
It takes orders 7-12 business days to reach customers in the United States and 12-18 days for orders to arrive in Canadian locations.
What is Huusk Knives' Return Policy?
The company offers customers up to 30 days to return any unused, unopened, or contaminated products.
How to Contact Huusk Knives
I am going to conclude my Huusk Knives review by telling you all the ways that you can contact the brand if you have any questions or concerns.
You can either call them at +1 (205) 782-8186 or fill out a customer contact form on their website.
Their customer support team is available to speak with you from 7:00 am to 9:00 pm GMT on Mondays to Fridays, and 7:00 am to 6:00 pm on weekends.
---
Check out similar brands you might like:
Get Access to Exclusive Deals
Subscribe for free to get exclusive deals in your inbox. 100% privacy