IBgard Review
About IBgard
Are you a part of the 10-15%[1] of the US population that is affected by Irritable Bowel Syndrome (IBS)? Then you will want to keep reading this IBgard review. An over-the-counter, gastroenterologist recommended herbal supplement, IBgard was invented to manage the symptoms of IBS.
Did you know that IBS is the second leading cause of absenteeism after a common cold, as this study[2] found? This fact alone requires action to be taken by those who suffer from IBS day in, and day out!
Containing ultra purified peppermint oil as its main ingredient, this supplement was developed to manage chronic abdominal pain, bloating, pain during bowel movements, episodes of diarrhea, and constipation for adults wanting to try a natural option.
So let's dig deeper into IBgard, its ingredients, unique scientific technology, benefits, possible downsides, customer ratings, promotions, and all other details you are looking to decide if this is the right product for you.
Overview of IBgard
Based out of Boca Raton, Florida, IM Health Science was developed by a highly experienced team of pharmaceutical research and development executives founded in 2013. However, in 2020, Nestlé Health Science acquired the private company and its brands.
Along with IBgard, they have developed other products for conditions like Ulcerative Colitis and Crohn's Disease. What makes IBgard so special is its patented Site Specific Technology that delivers substances directly to the troubled area, which can provide more effective relief.
It is manufactured in the United States under Good Manufacturing practices but is not FDA approved. Before this review goes into further detail on how this product exactly works, let's discuss some key features of IBgard.
Highlights
Capsules are easy to consume
Strong scientific and clinical evidence[3] that star ingredient peppermint oil provides effective short-term relief from IBS related symptoms
One peer-reviewed study[4] on IBgard
Sugar-free, dairy-free, and gluten-free
IBgard Review
IBgard was discovered for those silent sufferers of IBS who want to try a natural option first. Why not try something that is available in nature as opposed to manufactured in a facility?
What's even better for customers is that a peer-reviewed study on IBgard exists. This IBgard review would like to inform its readers that a peer-reviewed study is top-rated since it's evaluated by other experts in the same field.
In this study[4], there was a 40% reduction in IBS symptoms compared to 24% in the control group. This is significant if you're at all familiar with the symptoms of IBS. 
Before I go into further details about this product, this IBgard review would like to take some time to discuss what IBS really is.
With IBS, the gut lining of the small intestine is compromised. It's this lining that is responsible for absorbing nutrients after digesting food.
Triggers such as food, stress, environment, infections, and genetic predispositions can lead to this disruption, which can lead to reversible, low-grade inflammation. In turn, the inflammation can disrupt how fast food moves through your body leading to constipation or diarrhea.
Also, trapped gas due to malabsorption or irritated nerve endings[5] in the gut can lead to abdominal pain. And yes, there are nerve endings in our gut. In fact, the gut is called our second brain!
Suffice to say, IBS is complicated and should not be taken lightly. A diagnosis by a physician should be made first. Now that you know a little bit about IBS, this IBgard review will return to this product.
IBgard is sold in a green box with white capsules, available in two versions:
IBgard: the first and original version
IBgard with Added Vitamin D: helps with immune function and bone health, with an added 1000 IU of Vitamin D. There is some evidence that individuals with GI symptoms may benefit from additional Vitamin D[6]
You can buy IBgard from several retail stores such as Nestlé Health Science, Amazon, Walmart, Target, and CVS Pharmacy. On Nestlé Health Science website their costs are as follows:
1 box of 48 capsules costs $28
2 boxes costs $52
IBgard with Vitamin D costs $32
You can also save 10% on all of these if you sign up for their auto-delivery service
Who Is IBgard For?
IBgard is for adults suffering from IBS-related symptoms. Either way, please consult your physician prior to starting IBgard. This product is not intended for kids or for people suffering from serious medical conditions.
What Are the Benefits Of IBgard?
The main ingredient in IBgard is ultra-purified peppermint oil which contains methanol as its active ingredient. Peppermint oil is also known to relax smooth muscles in the digestive tract and help with digestion, according to this study[7].
Methanol is a cooling agent as we all know and has anti-inflammatory benefits, thereby helping[8] with abdominal pain. There are some other notable ingredients which will be discussed later in this IBgard review.
To summarize:
Helps with digestion
Helps relieve IBS symptoms such as abdominal pain, bloating, constipation, or diarrhea
It may help balance bacteria in the gut microbiome but the evidence for this is not very strong
This IBgard review found studies that have shown that peppermint oil is a safe and effective short-term treatment of IBS. However, further studies[3] are needed to prove the long term effect of using peppermint oil for IBS, especially compared to other treatments of IBS such as antispasmodic drugs and anti-inflammatory drugs.
It is important to note that only taking IBgard will not produce effective results. In addition to taking this product, dietary and lifestyle interventions are necessary. Dietary changes such as eating a low FODMAP[9] diet has clinically shown to be beneficial in reducing gas production for people with IBS.
Along with diet, one study[10] has shown that lowering your stress can also help with IBS symptoms through calming activities such as yoga, meditation, and mindful eating.
How Does IBgard Work?
The peppermint oil inside IBgard is "ultra purified" which makes it unique because it is encapsulated inside a slow-release enteric coating. IBgard uses their trademarked SST in order to let the peppermint oil reach the small intestine, where it is needed most! SST has the added benefit of minimizing side-effects such as heartburn.
The delayed-release[11] coating allows about 70% of the peppermint oil to reach the small intestine. Once the peppermint oil reaches it, it is shown[7] to slow down the muscle contractions which helps in the digestive process, thereby relieving IBS symptoms.
According to one study[8], the methanol in peppermint oil also has anti-inflammatory benefits which can help with abdominal pain. There is also some evidence that peppermint is anti-microbial[12] and prevents the invasion of harmful bacteria such as E.Coli.
What Are the Other Ingredients In the IBgard?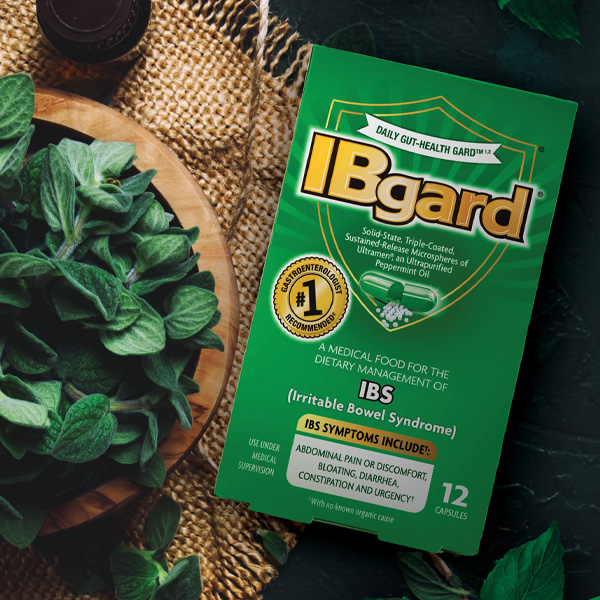 As discussed before, one of the main IBgard ingredients is ultra-purified peppermint oil, with each capsule containing 90mg of peppermint oil.
Apart from peppermint and methanol, there are other ingredients which are used to encapsulate the oil and stabilize the capsule. These are microcrystalline cellulose, gelatin, methacrylic acid copolymer, hypromellose, methylcellulose, triethyl citrate, polysorbate 80, FD&C Yellow #5, and FD&C Green #3, which are all additives.
These additives are Generally Recognized as Safe[13] but buyers should be aware that side effects are possible from these synthetic additives, which we will cover later in this IBgard review.
How to Take IBgard and Dosage
Once again, I want to remind you to talk to your doctor before you start using this product. However, according to the official website, you should be taking two IBgard capsules once a day to maintain your gut health. This should be taken with water, 30-90 minutes before a meal.
If you have a flare-up, they recommend taking two capsules three times a day for four weeks. This should also be taken 30-90 minutes before meals with water.
Make sure not to chew the capsule as that will prevent the SST technology from working its magic.
IBgard Side Effects
Possible side effects[14] of peppermint oil include heartburn and perianal burning although the SST technology claims to reduce these side effects.
Rarely, an allergic reaction can occur after taking IBgard, due to the peppermint oil or an additive such as Polysorbate 80[15]. Also, other possible side effects include blurred vision, nausea and vomiting, as covered in this study[16]. 
Also, don't take IBgard if you suffer from reflux issues since peppermint oil can aggravate those issues. People with a hiatal hernia or gallbladder issues, or pregnant and lactating women should also avoid this product.
Either way, you should contact your doctor as soon as you notice any of these side effects.
IBgard Reviews: What Do Customers Think?
The first place this IBgard review looked for customer opinions is the official website, where there are a bunch of success stories written by several people suffering from IBS.
It is inspirational to read about their IBgard before and after experience, and how the product has helped manage their symptoms.
Customers have a lot of positive things to say about the product, such as, "My digestive symptoms made my life incredibly uncomfortable and unpleasant. It was difficult to concentrate on my daily activities. IBgard® seems to have a calming effect on my gut. It feels great to be normal again."
Another happy customer wrote, "After taking IBgard® on a regular basis for 2 to 3 times a day for several weeks, it changed my life for the better and gave me peace of mind"
If you look on other websites that sell IBgard, you can find high customer ratings as well. Amazon.com features over 11,000 reviews with an average rating of 4.5/5 stars.
The rating snapshot on amazon is outlined below:
5 star: 76%
4 star: 12%
3 star: 6%
2 star: 3%
1 star: 4%
Amazon shoppers seem to be just as impressed with their results, and one 5-star reviewer has experienced no more IBS-related problems since starting to take the product:
"I have suffered since the 80's with IBS—before doctors (mine, anyway) ever had a name for it. I was always told I had a Type-A personality and that it was just stress. I've tried many things. Nothing helped. Finally, a couple of years ago, my gastroenterologist recommended IBGard. I have had NO problems since. I repeat NO problems since."
All that said, most of the 2-3 star reviews on Amazon mention that it should not be taken if you have reflux issues since peppermint can aggravate it. Also, some customers mention that IBgard is slightly expensive.
Is IBgard Worth It?
There is sufficient clinical and scientific evidence on the effectiveness of peppermint oil to help with symptoms of IBS. Add this to the widespread positive feedback, and this IBgard review has found that this is more than enough reason to believe this product will work for people in need of relief from IBS symptoms.
So should you try IBgard? Since the herbal ingredient, peppermint oil, is backed by science, a peer-reviewed study, and positive customer reviews, it is definitely worth a try. However, make sure you talk to your doctor first.
IBgard Promotions & Discounts
On the Nestlé Health Science website, you can get 10% off if you sign up for auto-delivery. Promotions and discounts vary with the individual retail websites.
Where to Buy IBgard
You can buy IBgard on the Nestlé Health Sciences' website or from Amazon, Walmart, Target, and CVS Pharmacy. It cannot be directly purchased from the brand website.
FAQ
How Many IBgard should I take daily?
For gut health maintenance, take two capsules once daily. When having a flare-up, take two capsules, three times a day, for four weeks. Always take IBgard with water, 30-90 minutes before a meal.
Should I take IBgard with food?
IBgard should be taken 30-90 minutes before meals with water.
Is IBgard vegan?
No, as the capsules are made with gelatin.
Is IBgard gluten-free?
Yes, IBgard contains no gluten, starch, yeast, or wheat.
What are the supplement facts of IBgard?
Two capsules of IBgard contain 180mg of peppermint oil, 640mg of fiber, and 400mg of amino acids from gelatin protein.
What is IBgard's Shipping Policy?
Since you cannot purchase it from the website, the shipping policy varies depending on the retailer you choose.
What is IBgard's Return Policy?
The return policy also depends on the retailer you choose.
How to Contact IBgard
You can contact IBgard using the following methods:
Phone: 1-855-488-4273, from Monday to Friday between 8:00 am and 8:00 pm EST
Mail: Nestlé Health Care Nutrition Consumer & Product Support at 445 State Street, Fremont, MI 49412
Fill out their online contact form.
---
For more IBS solutions, check out these brands:
Get Access to Exclusive Deals
Subscribe for free to get exclusive deals in your inbox. 100% privacy