Kiierr Laser Cap Review
About Kiierr Laser Cap
A bald head commands respect. It takes courage to commit to a clean-shaven head that's as smooth as a baby's bottom. Equally worthy of pedigree is a luxurious head of hair that blows in the wind and sparkles in the moonlight.
What does that mean for people who sit somewhere in the middle of those two extremes? What about the guys who are in the early stages of male pattern baldness or the women whose crown hairs are thinning at an alarming rate? Are they doomed to expensive hair replacement therapy procedures?
Thankfully, there's an alternative. Let's talk about the Kiierr Laser Cap. It's a hair treatment product that can bring your scalp roaring back to its former lion's mane status in 7 months, or the company will send you a refund.
Kiierr has appeared on CNN, Forum, Today, The Doctors, and Dateline. They've earned FDA certification, over 1,000 likes on Facebook, and 2k followers on Instagram.
Our Kiierr Laser Cap review will look at the company's history, their practices, their products, how their products work, what results you can expect from them, what customers say about their products, and a few ways that you can save some money on their items.
Overview of Kiierr Laser Cap
The power couple that founded Kiierr already had a background in low-level laser therapy (don't worry, we'll touch on this more later in this Kierrr Laser Cap review).
Mike and Jolene Anderson are the married duo who steer the Kiierr ship. They both came to low-level laser therapy on their own, but once Mike started losing his hair, they started Kiierr as a way to help him and others who suffered from hair loss.
That was all the way back in 2008. Nowadays, they're an FDA-certified company who have helped customers across the United States.
Kiierr operates with a healing focus first and foremost. They want to provide their customers with care so that people can feel comfortable in their own skin.
They've expanded their business to countries across the globe in the name of hair rejuvenation. They believe in their products so much that Mike continues to use the Kiierr Laser Cap to this day.
It's usually a green flag if a brand's founder personally uses their products. Let's look at a few more green flags in the next section of our Kiierr Laser Cap review.
Highlights
Injection-free and painless hair loss treatment
Free 2-day shipping on US orders
2-year product warranty
FDA approved hair growth solution
Financing payment plans are offered through Affirm
Risk-free trial period
The brand's output is centered around their laser cap hats. That being said, they also distribute hair rejuvenation products like shampoos, conditioners, supplements, DHT-blocking vitamins, and biotin gummies.
Kiierr Laser Cap Review
There are more than a few different serums that this company distributes, meaning that we can't just talk about one and then send you on your way.
Therefore, we'll spend this section of our Kierr Laser Cap review covering the brand's best-selling and most valuable options.
Kiierr Laser Cap System FDA-Cleared Kiierr for Hair Growth Review
This is the product that makes the Kierr Laser Cap a singularity amongst other male hair products. It's the item that's all the rage among verified Kierr reviews. Heck, it even has our writing staff wishing we were bald just so we could test this bad boy out for ourselves.
The Kiierr Laser Cap System FDA-Cleared Kiierr for Hair Growth is a hair loss treatment unlike any other.
It uses 650nm wavelength diodes to stimulate hair follicles and force those suckers to grow. It can treat male pattern baldness, receding hairlines, thicken and strengthen withering hairs, and repair damaged hairs.
The item has gained approval from the FDA, which is a huge feather in its cap (apologies about the pun). It's a safer – and less expensive – alternative to hair replacement lab treatments that usually use similar technologies anyways.
It normally takes the Kiierr Laser Cap System FDA-Cleared Kiierr for Hair Growth around 180 to return a person's hair back to normal.
This process is divided into three distinct stages. It takes anywhere from 30 to 60 days for hair loss to stop. After that, hair may begin to regrow over the next 90 to 180 days. By the 180th day, you should expect to have a fuller head of hair.
Each purchase of the Kiierr Laser Cap System FDA-Cleared Kiierr for Hair Growth includes all these items:
A 148 or 272 diode helmet
An all-black baseball cap that you can wear over the helmet
A stretch fit headband
A wall-charger
A USB cord
A portable battery pack
There are four different options that you can pay for with the Kiierr Laser Cap System FDA-Cleared Kiierr for Hair Growth:
The Kiierr148Pro Complete System: $695
The Kiierr148Pro Laser Cap: $645
The Kiierr272Premier Complete System: $955
The Kiierr272Premier Laser Cap: $875
Kiierr Laser Cap 272Premier-MD Max Growth Bundle Review
This bundle is more than just a complete package of everything you need to reinstate your hair atop your crown. It has the Kiierr 272 Premier MD Laser Hair Cap, which has roughly double the diodes of the 148 cap variant.
Kiierr also retooled the hat's battery so that it's easier to charge, lasts longer (it can provide 3 more treatment sessions on each charge now), and has a longer overall life. The battery should deliver you 19,000 hours of total treatment over its lifespan.
This hat is also larger. It can cover more of your head and serve those with above-average head sizes. The Kiierr 272 Premier MD Laser Hair Cap in an XL size can fit heads up to 24".
Along with everything that the previous item in this Kiierr Laser Cap review included, this product also comes with the following items:
A Kiierr hair care bundle of shampoo, conditioner, and vitamins
A carrying case for the cap
An extended warranty that can cover the purchase for up to 3 years
A jar of Kiierr Biotin Gummies for Health Growth
You can purchase the standard Kiierr Laser Cap 272Premier-MD Max Growth Bundle or the XL variant for $1,445. That's a reduction on its normal price of $1,845.
Kiierr Laser Cap Certified Refurbished 272Premier Review
Maybe the previous item caught your eye but you really didn't want to pay full price for a new Kiierr 272 Premier MD Laser Hair Cap. Thankfully, we've got you covered, and so does Kiierr. They sell refurbished versions of that cap.
Just because it's refurbished and less expensive doesn't mean that this item is any less worthy of your attention.
The Kiierr Laser Cap Certified Refurbished 272Premier includes everything that a standard order from this brand does but at a much more affordable price. They repair the hat so that it's as good as brand new.
You can purchase the basic Kiierr Laser Cap Certified Refurbished 272Premier for $699 (which is less than the regular $1,225 price).
Or you can pay $799 (normally $1,375) for a bundle that includes the Kiierr Hair Growth Shampoo, Kiierr Hair Growth Conditioner, DHT blocking vitamins, and biotin gummies.
How Does Kiierr Laser Cap Work?
Knowing what Kiierr sells is only half of what makes them worthwhile. You should also know how their products help stimulate hair growth, which is what we'll explain in this section of our Kiierr Laser Cap review.
The product uses a hair growth therapy discovered by Endre Mester in the 1960s. It's called low-level laser therapy, or LLLT for short. LLLT uses laser caps that shine pain-free lasers onto the skin. Since the lasers aren't heated, the Kiierr Laser Cap shouldn't irritate or hurt you.
LLLT promotes three processes that can spur hair growth. It can increase blood flow to damaged areas, meaning that hair follicles can receive the nutrients and care they need.
The lasers penetrate the skin through the weakest cells. These cells absorb the light and can be rejuvenated by it. Finally, hair follicles can repair themselves because they have more nutrients and the weakest cells are in a healthier state.
You're probably wondering how you actually use the Kiierr Laser Cap. Thankfully, the application is simple and painless. You only need to wear it for half an hour every other day for a minimum of 7 months.
The cap automatically shuts off at the end of every session, so hair care is as easy as remembering to wear your cap every other day.
Who Is Kiierr Laser Cap For?
Kiierr Laser Cap isn't just for men who suffer from male pattern baldness. The cap is capable of combating common issues like receding hairlines, thinning hair, or for people who find themselves in the early stages of baldness.
The good news is that the cap can help both men and women. It's designed to be unisex. However, the cap cannot help people who have already lost the majority of their hair or who are completely bald.
Kiierr Laser Cap Reviews: What Do Customers Think?
We assembled the customer Kiierr Laser Cap review scores on the brand's website and put them into a list so that you can get a good idea about what people think about them:
Kiierr Laser Cap System FDA-Cleared Kiierr for Hair Growth: 4.5/5 stars based on more than 600 ratings
Kiierr Laser Cap 272Premier-MD Max Growth Bundle: 5/5 stars based on more than 40 ratings
Kiierr Dermal Restorative Hair Growth Cream: 4.5/5 stars based on 13 ratings
Kiierr Hair Growth Products – Ultimate Supplements Bundle: 4.5/5 stars based on more than 10 ratings
Customer reviews were filled with Kiierr Laser Cap before and after photos that spoke to the treatment's success. We found hairlines reasserting themselves, bald heads slowly being repopulated by hair, and thin hair strands regaining their bodies.
This is how one customer described their experience with the treatment: "8 months after using the laser cap, I am happy to say that my hair has been almost restored, so as my self-esteem and confidence. I do not have baldness, my hair seems healthy and I do not notice any more hair loss when I take a shower."
Of course, that wasn't the only positive Kiierr Laser Cap review. Other testimonials echoed what that buyer reported, mentioning that they felt more confident after wearing the cap for a few months. Here's another positive review that highlights the cap's effectiveness:
"I decided to invest in the Kiierr Laser Cap: 272 Premier Model; not only is the battery life incredible (providing multiple treatments with ONE charge) but after only SIX months of continuous use there has been a remarkable improvement in the strength, structure, and integrity of my existing hair with noticeable growth in those previous 'problem areas'."
Even the less-than-ecstatic customer reviews still said that they saw some progress. This is a buyer testimonial that reveals that progress may not be lightning quick for everyone, but that it's a possibility nonetheless.
"After less than 4 months I am seeing some improvement. 1st, hair loss seems to have abated. 2nd, I see new growth at the bottom of the crown of my head."
We were also delighted to read that Kiierr Laser Cap held an A rating on Better Business Bureau.
By and large, though, we found only positive praise for the brand across the internet.
Is Kiierr Laser Cap Legit?
The company claims that their technology has a 93% success rate in clinical trials.
We'd normally be skeptical of that number, but the overwhelming number of positive Kierr reviews, as well as the relative lack of reported Kiierr Laser Cap side effects, lead us to believe that this company is legit.
Is Kiierr Laser Cap Worth It?
Traditional hair replacement therapy can be extremely expensive to the point that the costs often outweigh the benefits.
Seeing as how Kiierr is more wallet-friendly than other hair growth serums, and that the process is relatively easy and non-invasive, we think that this company is worth looking into if you're interested in them.
Kiierr Laser Cap Promotions & Discounts
This may be slightly behind the times, but Kiierr Laser Cap is offering savings on two of their biggest products as part of their Easter sale.
You can use the Kiierr coupon code EGG to save $90 on the Kiierr Laser Cap 272Premier Cap. Alternatively, you can save $140 on the Kiierr Laser Cap 272MD if you input the code EGGMD.
You've also probably recognized that some of the items we featured in this Kiierr Laser Cap review are available for sale. We're not sure if that's part of the Easter sale or not, but we don't think it matters so much as you end up saving money.
Speaking of which, there's another way that you can save a few bucks on your first Kiierr purchase. The brand will send you an $80 coupon if you complete a hair loss evaluation quiz. You can use this discount for either a Kiierr Hair Growth Cap or for a whole bundle.
Where to Buy Kiierr Laser Cap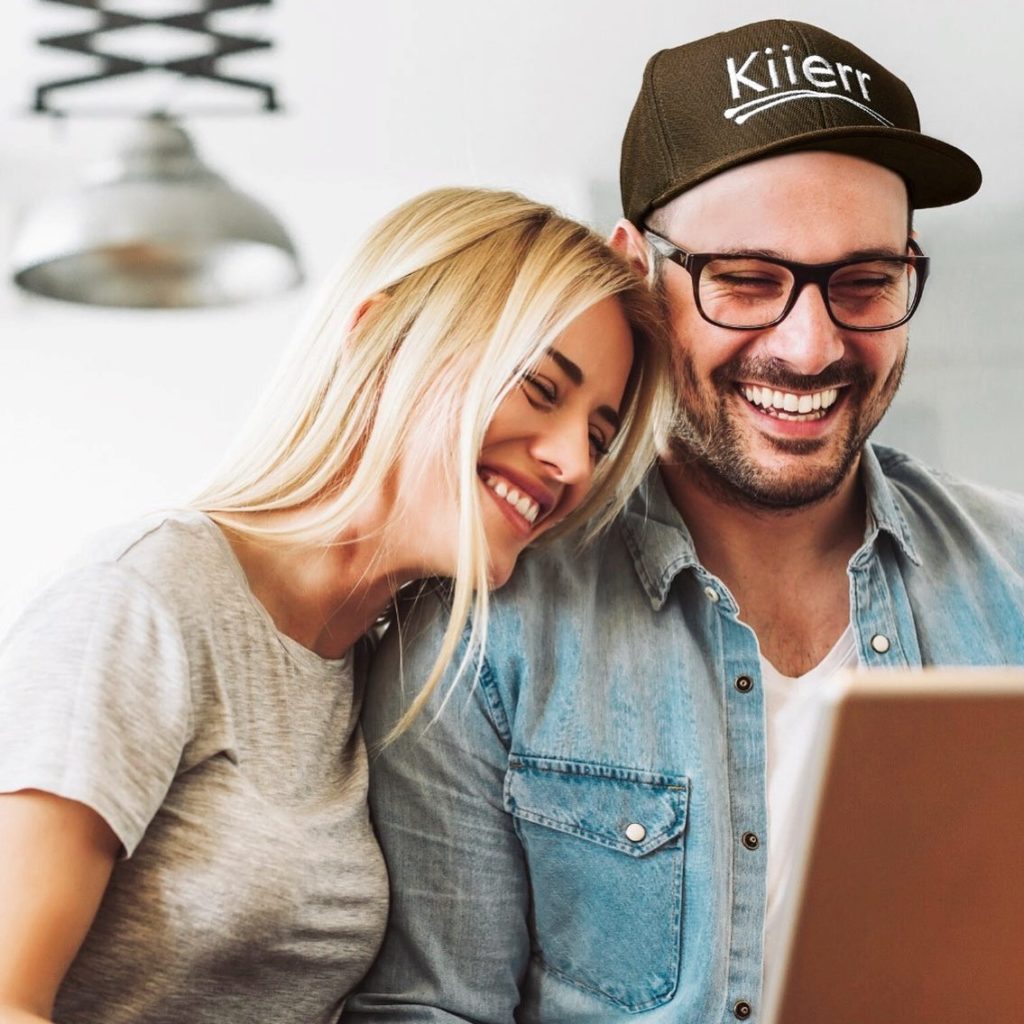 It seems that the best way to buy a Kiierr Laser Cap is through the company's website, kiierr.com.
FAQ
Who owns Kiierr Laser Cap?
Co-founders Mike and Jolene Anderson own Kiierr Laser Cap to this day.
Does Kiierr Laser Cap ship internationally?
Yes, our Kiierr Laser Cap Review is happy to report that the company ships internationally. International shipping is subject to a $55 shipping fee. You can find a full list of countries that Kiierr Laser Cap delivers to on their website.
What is Kiierr Laser Cap's Shipping Policy?
The company requires 2 to 3 business days to process all orders. Once they've processed your purchase, they will mail it to you using USPS priority shipping. All US orders have their shipping fees waived.
They will email you a tracking number once your item has left their warehouse.
What is Kiierr Laser Cap's Return Policy?
The brand offers a 100% money-back guarantee if their products don't help your hair regrow.
This isn't just a typical 30-day trial period either. You'll have a full 7 months to see if the Kiierr Laser Cap can remedy your issue. If not then you can contact the company and request a full refund.
How to Contact Kiierr Laser Cap
We'll conclude our Kiierr Laser Cap review by mentioning all the ways that you can contact them if you have any burning questions that we didn't answer:
Call them at 1-801-834-4970
Fill out a Customer Service Form on their website
Email them at

[email protected]
Kiierr Laser Cap's customer service representatives are available to speak with you from 9:00 am to 5:00 pm MT from Mondays to Fridays.
---
If you're not set on Keeps hair loss, check out these brands
Get Access to Exclusive Deals
Subscribe for free to get exclusive deals in your inbox. 100% privacy