Logistimatics Review
In partnership with Logistimatics.
About Logistimatics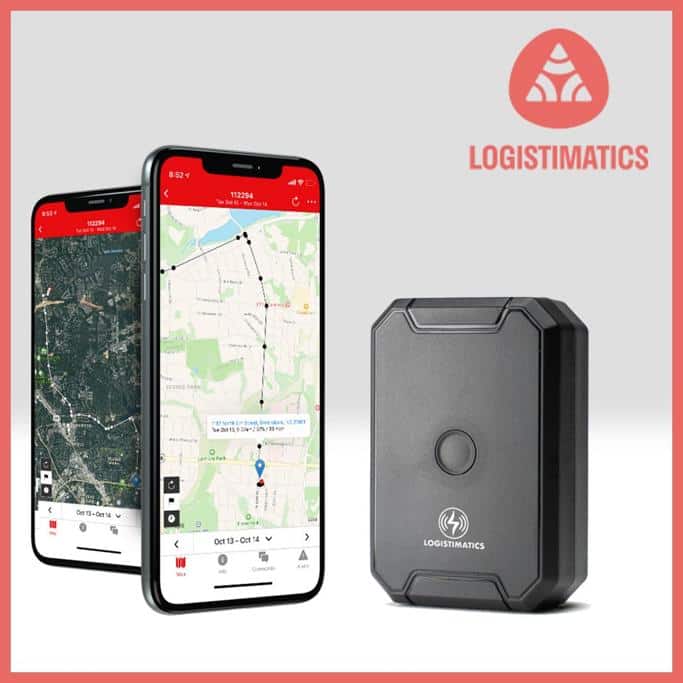 Keeping an eye on the people you love and the personal belongings you need is tough when you're not physically there. Logistimatics makes it so you can always see where they are with their line of discreet, reliable tracking devices.
With advanced features like live audio monitoring and real-time updates every 30 seconds, you can feel at peace knowing your favorite people and things are right where they should be. Their high-quality devices and affordable price tags have drawn a lot of attention, garnering a strong following and features in popular publications like Gadget Flow.
Need to know more STAT? It's all coming up in this Logistimatics review. Ahead, I'll tell you everything you need to know about the brand and its trackers, along with feedback, promotions, and more.
Overview of Logistimatics
I'll start this section of my Logistimatics review off with a scary fact: nightmares happen every day. Cars get stolen, loved ones don't arrive home on time, and important or valuable items get misplaced. Logistimatics was founded in 2015 as a way to relieve some of the stress around situations like these.
Logistimatics is on a mission to help you locate what you care about most. Based in Greensboro, North Carolina their high-caliber trackers are used by herds of individuals and businesses in the US and abroad.
Now that you know a bit more about the brand and the folks behind it, let's move this Logistimatics review right along. The highlights are up next.
Highlights
Range of reliable trackers for personal & professional use
Ideal for vehicle, asset & equipment tracking
4G coverage
Live audio monitoring
Discreet design
Free shipping
30-day, no-fuss returns
Ready to kick this Logistimatics review up a notch? I'm with you. In the next section, you'll read more about the types of trackers the brand offers and what they can do.
Logistimatics Tracker Review
Logistimatics makes personal, vehicle, asset, and shipment trackers. Certain models offer live audio monitoring, while others strictly guarantee you'll know where your property is at all times.
With long battery life, a discreet design, and real-time updates, these trackers will become your best-kept secret. I'll tell you all about the brand's top sellers next.
Logistimatics Car Charger GPS Tracker with Live Audio Monitoring Review
Car theft is a real problem. Imagine that, instead of blowing a gasket and wondering where your vehicle is, you pick up your phone and know in an instant. The charger plugs into the Auxiliary Power Outlet (cigarette lighter) and provides USB-A and USB-C charging for your personal devices. This essential Logistimatics tracker even lets you tune into noises inside when you dial in.
Don't worry, whoever's inside your car will never know you can hear them—that's just one of the cool parts about Logistimatics. Another includes real-time tracking with updates every 400 meters and the ability to see where the tracker has been the past 120 days.
Tap into a new level of confidence with the Car Charger GPS Tracker with Live Audio Monitoring for $45.
What customers say: Slick device that stays in my car from now on. Live audio when I need it and I always know where my vehicle is. Nobody knows it's a tracker! – Justin Chambers, logistimatics.com
Logistimatics Mobile-200 | 4G GPS Tracker with Live Audio Monitoring Review
As a business owner, you know that sometimes, expensive tools like to go walking. You also know that time is money, and not every employee likes to stick to that motto.
But whether you're a business owner or not, you'll find the Mobile-20 | 4G GPS Tracker with Live Audio Monitoring an asset. It promises up to 10 days of battery life and even lets you listen in to what's going on at the tracker's location. Equipped with a magnet, you can stick it under your vehicles for safety and security.
This handy little device delivers real-time tracking around the world and comes with a global SIM card. Keep tabs on what you value most with the Mobile-200 for $30.
What customers say: I have used the Mobile-200 for about two months now. I have to say Thank you Logistimatics! You guys have an awesome product you can be proud of! I love the live audio, I only wish it was a tad more clear! Looking forward to my next purchase – jwalk4017, logistimatics.com
Logistimatics Micro-431 Pocket Tracker | Small GPS Tracker | 4G Personal Tracking Device Review
The Micro-431 Pocket Tracker | Small GPS Tracker | 4G Personal Tracking Device is ideal for tracking your personal property, vehicles, and family. With up to 10 days of battery life, you'll need to charge it less than other comparable models.
Enjoy the perks of choosing Logistimatics like real-time updates every 30 sections with corner correction and seamless 4G coverage for reliable, all-day tracking. Of course, you'll love how discreet this tracker is as well—it literally fits in your hand or pocket. Meaning, it'll either be out of the way or out of sight always. Start tracking for just $25.
What customers say: My daughter has this tracker. I can see everywhere she goes and if she presses the button, I get an instant alert with her location on my phone. – SarahShelley, logistimatics.com
Logistimatics App Review
Without the Logistimatics App, your device will still track, but you won't be able to see it, rendering it pointless. In other words, you need the app to use the trackers.
You'll notice that when you buy one, you'll be prompted to sign up for the subscription. Doing so gives you full access to the app, and covers all data and SMS fees used by the trackers. If you purchased your tracker from one of the brand's retail partners, activate it online and sign up for the app.
Choosing a monthly subscription will run you $24.95/month, and doing so means you can cancel any time. If you choose to save some serious cash and sign up for an annual subscription, you'll pay $14.95/month (or $179.40 upfront, a 40% savings).
Both options will give you 30-second location updates, instant location alerts via SMS, and let you start tracking right away. Use on any Android, iOS, or browser.
Who Is Logistimatics For?
Logistimatics' trackers are ideal for personal, business, and industry use. They've been used to track equipment, vehicles, and shipments, as well as loved ones and personal belongings. If you're interested in tracking any of the above, this brand is for you.
Logistimatics Reviews: What Do Customers Think?
Considering this Logistimatics review pretty much hangs on how well its devices work, this section is perhaps the most important. To give you an accurate depiction of the brand, I've collected ratings and reviews from around the web to paint a picture of their products and overall service.
The first source we'll check out is Logistimatics.com. Below, you'll find a few ratings for their best-sellers.
Micro-431 Pocket Tracker: 4.9/5 stars, 6 reviews
Mobile-200 4G GPS Tracker: 4.9/5 stars, 83 reviews
Car Charger GPS Tracker: 5/5 stars, 1 review
The Mobile-200 4G GPS Tracker looks to be their most popular product. According to users, it's discreet and has excellent battery life. This one Logistimatics review sums up common customer feedback well:
"We bought a Mobile-200 for our business to put on heavy equipment. This is a good one for hiding. Battery lasts a really long time."
I also think this one proves useful: "The last tracker I had showed its position every 5 mins. This one is better because it is every 30 seconds. and the battery lasts longer."
From both of these reviews, and the many others on the brand's site, we can learn that the Mobile-200 4G GPS Tracker is a cut above other similar models. It's also super affordable. Let's look into another source for backup.
On Amazon, the 4G Pocket Tracker is rated 4.2/5 stars by 32 shoppers. The score breaks down like this:
5 stars: 57%
4 stars: 24%
3 stars: 8%
2 stars: 5%
1 star: 5%
The comments here are short and sweet, and honestly, all we really need to know is if people like it and why. One customer wrote the following in their Logistimatics review: "One thing I like so far is how lightweight it is!" Another said that it's "Perfect for my needs," and the final one I'll mention said it "Worked as advertised."
Those three comments pretty much sum up the fact that the 4G Pocket Tracker pulls its weight. How about the brand overall? A Logistimatics review on EldDevices.net rated the brand like this:
Customer support: 8/10
Ease of use: 7.1/10
Installation: 8.5/0
Suitable for fleets: 7.5/10
Features & technology: 6/10
From these numbers, it looks like the above reviewer believes that the brand is a solid one to shop with and its trackers are easy enough to use and install. The final Logistimatics review we'll look at is from Trustpilot. It reads:
"Great price! Simple to operate. Does an excellent job safeguarding my motorcycle. Notifications if it moves is great insurance."
So what can we learn overall? Logistimatics makes reliable, easy to use, and affordable trackers its no wonder businesses have found them valuable tools.
Is Logistimatics Legit?
Throughout my research for this Logistimatics review, I've learned that this company is as legit as they come. Some customers report issues with their trackers not holding a charge, but the very few that do look to have come to resolutions with the brand.
Is Logistimatics Worth It?
Logistimatics creates useful, affordable, and easy to operate devices. They're discreet and have certainly proved their worth in all kinds of situations. For all of those reasons, and more, if you're looking for a solid, reliable tracker, I definitely recommend checking them out.
Logistimatics Promotions & Discounts
Considering how useful Logistimatics trackers are, they're sold for incredibly affordable prices. That's not the only way the brand helps its customers save though—here are the deals I found while scoping out their site for this Logistimatics review:
Commit to an annual subscription & save $95 per year
All US orders ship for free
Where to Buy Logistimatics
Logistimatics trackers can be purchased directly from their website Logistimatics.com. The brand also includes free shipping with your purchase.
FAQ
Who owns Logistimatics?
Logistimatics is owned by Saltwater Capital and former Uber CEO Ryan Graves
Does Logistimatics ship internationally?
Not at the moment. See the upcoming section of this Logistimatics review for more details on shipping.
What is Logistimatics's Privacy Policy?
To use Logistimatics' website and buy their trackers, the brand will need to collect certain types of information. This includes personal details like your name, shipping address, and credit card information, as well as your browsing habits while you're on their website by storing cookies on your device.
They collect all of this to provide you with their service and improve your experience while on their site. To purchase something from the brand, you must allow them to collect personal information, but if you want to disable cookies, you can do that in your browser settings.
What is Logistimatics's Shipping Policy?
Logistimatics orders will ship out the same day as long as you place yours before 1pm EST Monday to Friday. Orders placed after that time will be sent out the next business day. You'll have several shipping options:
Free Standard shipping: 3-14 business days

USPS First Class Mail
USPS Priority Mail

Expedited (UPS)

2nd-Day Air
Next Business Day Air
When your order is shipped, you'll receive a confirmation email with a tracking link. Use the link to keep an eye on your package's progress.
What is Logistimatics's Return Policy?
Logistimatics is a super flexible company. You can cancel your subscription any time and you can return your products within 30 days of purchase—no questions asked. Here's what else you should know about their policies:
To cancel your subscription to the app, you'll need to log into your account and go through the cancelation process – if you do not do this, it with automatically renew
To return hardware, it must be in good condition and have the original packaging – if you do not have the packaging, your return may be subject to a 10% restocking fee
Once Logistimatics receives your device, they will process your refund
There are no refunds after 30 days have passed, and to start a return, you'll need to submit an Orders/Shipping ticket through the 'Support' tab
How to Contact Logistimatics
Still have questions after reading this Logistimatics review? Use the contact form on the brand's site to get them answered. The link to the form can be found at the very bottom of the webpage.
---
Check out similar articles you might find useful:
Vivint Smart Home Security Review
Get Access to Exclusive Deals
Subscribe for free to get exclusive deals in your inbox. 100% privacy