MunchPak Review
About MunchPak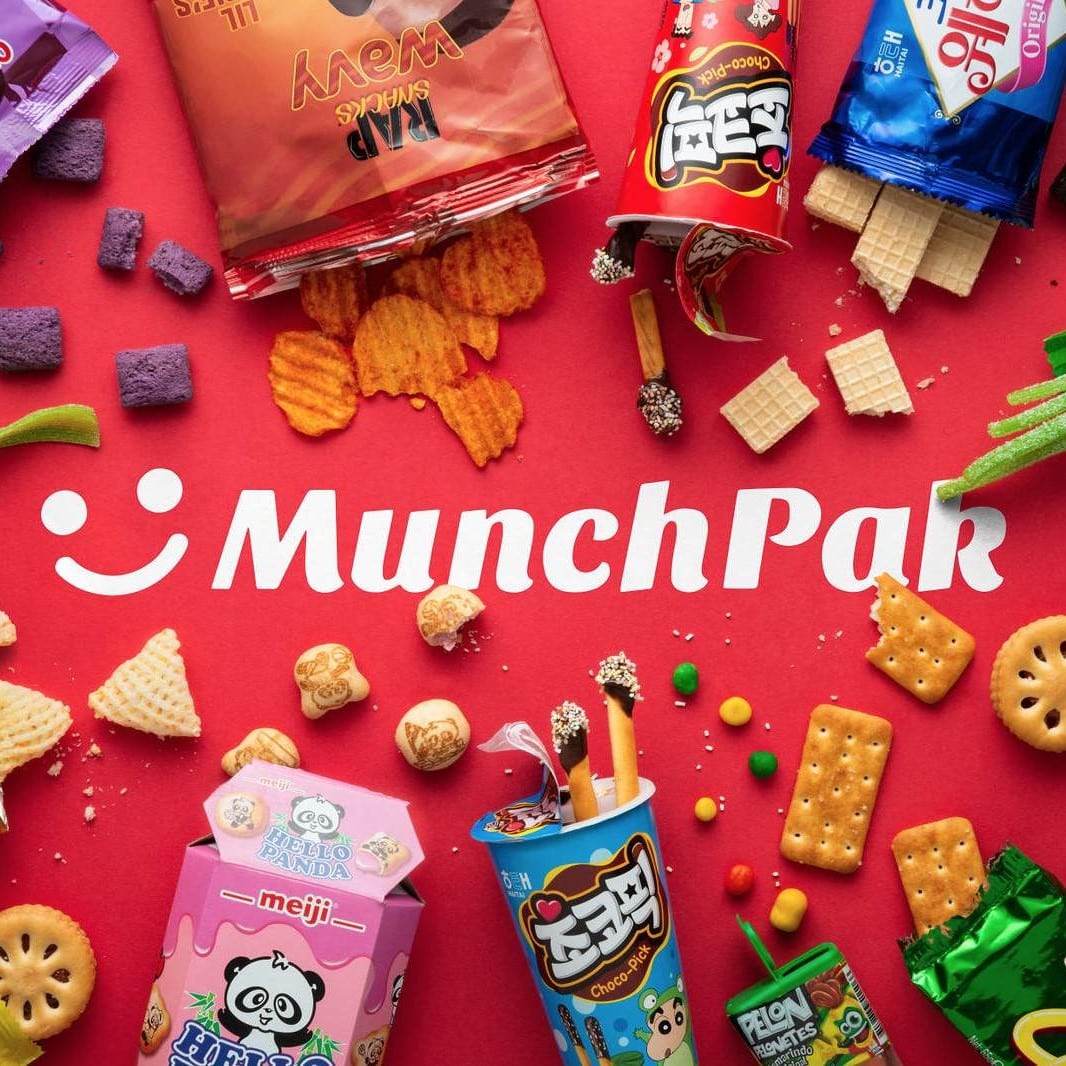 Craving some continental treats? Snack away with MunchPak. This monthly subscription service sources the best sweets and savory goods from around the globe, such as Hello Panda cookies from Japan and Sweet Corn niblets from the Philippines.
Garnering a sizable following of over 103k on Instagram, MunchPak has also been frequently headlined by the press, including Delish, Wired, Forbes, and InStyle.
Despite the hype, can customers expect a delicious surprise every month, or is it less than savory? Keep reading, as this MunchPak review will chow down on a few notable points, including its core mission, services offered, snacks sold, and customer ratings. In the end, we hope you'll be equipped to make an informed decision.
Overview of MunchPak
With every TV show binge, there should always be a good snack at hand. Founders Michael Beletz and Andrew Hawel thought the same as they envisioned a way to source the best treats from Asia to North America.
What started out as a couch potato dream quickly flourished into a full-time business after MunchPak made its internet debut in 2013. This snack subscription brand is passionate about exposing the world of international sweets and treats to others.
Indeed, customers are introduced to different foods from around the globe in each box. Offering a unique way to let your tastebuds travel during the wake of Covid-19, each parcel also comes with a travel guide so people can 'visit' the source location of each treat.
In an inspiring quote left by its founders, MunchPak is all about sharing the love of food: "At MunchPak we are just a bunch of devoted snackers! We love to share our passion for foreign and familiar snacks with you and therefore only ship out a MunchPak that we ourselves would enjoy."
The company operates from its headquarters in Glendale, Arizona. Now that you know more about the brand and its mission, this MunchPak review will cover some initial pros and cons:
Pros
Features a new theme of snacks each month
Three different boxes to choose from that include varying amounts of snacks
Customers have the freedom of choosing their taste preferences for each box, such as spicy or sweet
More convenient and cost-effective than sourcing the snacks by yourself
Provides some flexibility in terms of monthly plans
Free US shipping on all orders
Internationally shipping available
Cons
Customers cannot create their own box
MunchPak doesn't accept returns or exchanges for its products
No active MunchPak coupon codes
How Does MunchPak Work?
MunchPak is a monthly subscription service that takes customers on an imaginary tasting session from around the world. On a sugar high? A few cubes of Hi-Chews from Japan will quell that insatiable sweet tooth. In the mood for a savory treat? The Salt and Lemon Fritos from Mexico is just what the doctor ordered.
If you don't have the funds to fly overseas, MunchPak serves as a more cost-effective alternative than a plane ticket. When they sign up for a subscription plan, customers are promised a delicious pre-curated collection of snacks.
Each box contains a random selection of sweet and savory goods. For example, you might find a packet of Dutch Stroopwafels from the Netherlands and the Zazers Green Apple Sour Belts from Thailand in your crate.
Customers have three different-sized boxes to choose from, each of which includes a specific amount of treats: 5, 10, or 20. It's worth noting that customers cannot purchase a MunchPak snack box as a one-time deal. Users must sign up for a monthly subscription plan.
But, shoppers can send a MunchPak as a gift as a one-time purchase. Either send one box or choose from the 3, 6, or 12-month gift options.
You should also know that the brand doesn't offer customization when it comes to treats, as each chocolate bar and chip packet is already preselected. With that being said, subscribers can choose the preferred flavor of their snack crate, such as sour or sweet.
For more information about the MunchPak international snack box membership, we encourage you to visit the FAQ page on the brand's website. Moving forward, we'll highlight some of its fan favorites that may have you craving for more.
MunchPak Review
Got the munchies? Perhaps it's time to consider signing up for a snack subscription service. Offered in 5, 10, to 20 food bundles, customers can get a regular supply of sweet and savory goods for themselves or the entire family. From the MunchPak Jumex Juice from Mexico to the Nestle Lion Bar from Poland, members are in for a delicious monthly surprise.
If you're hooked on a specific snack, the company has an online store that customers can shop at. Consider it the Amazon haven of sweets and treats. Need a quick rundown of its menu? Be our guest, as this MunchPak review will gloss over a few of its offered goods that may warrant a second look.
Melona
If you're a sweet treat connoisseur, chances are that you're familiar with the classic Melona bar. This MunchPak Korean ice cream features a rich, fruity flavor coupled with a decadent, melting cream. It's considered the fridge necessity in every Asian household—and yes, I'm also chalking this up to red bean popsicles and Matcha daifuku from Japan.
Melona is designed as a low-calorie alternative to other leading ice creams, as it only provides 130 kcals. Best served chilled on a hot summer's day, this frozen cream bar can help refreshen those sweltering July afternoons. Unfortunately, this brand is not carried by MunchPak, but you can try the Lotte Milkis Melon Soda for a similar taste for $5.
Zombie Takis
Tired of the same old salty snacks? Bring your tastebuds back to life with the MunchPak Zombie Takis from Mexico. Flavored with cucumber, lime, and spicy habanero, these ghoulish chips are to die for.
They are definitely a game-changer when it comes to quelling those post-gaming munchies. Yeah, that's right—I'm taking a stance against the classic Dorito and Mountain Dew combo.
If you're planning to get more snacks for the next get-together, we recommend adding the MunchPak Mexican Hot Cheetos for an additional kick in spice. Sadly, the Zombie Takis are currently sold out on the company's website. But once they're available to purchase again, they cost $3 per bag.
Crujitos
Step aside, Cheetos. The MunchPak Crujitos wants to be the next snack craze. Flavored with funky cheese and spicy chili, these crunchy corn twists provide a satisfying bite every time. Plus, they certainly bring the heat—you'll probably find yourself reaching for another glass of milk or water.
As part of its Mexican snack collection, this MunchPak review recommends serving these up with a refreshing Peko Peach Squash Soda from Japan. I know, it's from a different country, but it's always a good idea to change things up in a while. In terms of price, one pack of Crujitos costs $3 at checkout.
Apple Pie Kit Kat
Curse you, Japan. It should come as no secret that Tokyo holds all the goods when it comes to interesting candies. With that in mind, the MunchPak Apple Pie Kit Kat fuses the best of both worlds when it comes to decadent chocolate and home-baked pastry.
Coated in flavored cream, this afternoon snack offers a bit of a crunch due to the wafers in the middle. It provides an interesting spin on your traditional slice of pie.
This MunchPak review recommends pairing this treat with a refreshing brew of tea, which helps to counterbalance the sweetness of the candy. Sadly, the brand no longer offers this type of snack anymore, but you can opt for the Mini Shinshu Apple Kit Kat for $18 instead.
When does MunchPak ship?
This MunchPak review learned that each box ships within 24 hours after you successfully place and pay for your order. Subsequent boxes are sent roughly one month after the previous ship date.
For international customers, processing sometimes takes longer. Expect to wait up to three days for your parcel to ship.
What is this month's MunchPak?
Psst, you're in for a surprise. Customers aren't given a heads up of what to expect on their next MunchPak delivery. After combing through the brand's social media pages, we've found no sneak peeks of what snacks are included in this month's crate. But, we can provide you with what was offered in the May bundle.
To keep things short, this MunchPak review will only provide the snacks from the 5-pack box down below:
Holiday BigFoot Cheese Snack from Jamaica
Limited Edition Hanuta Brownie from Germany
Millions Gum in Bubblegum flavor from the UK
Kriss Caramel Croissant from Poland
Lu Prince Chocolate Cookies from Pakistan
Is MunchPak vegetarian?
Sadly, MunchPak doesn't offer a vegetarian option when it comes to selecting its snacks. With that being said, customers may find treats on the brand's website that are free from animal products. Before you make that initial purchase, we recommend doing a bit of research on the ingredients list on your chosen item.
How Much is MunchPak?
Looking to cure your insatiable appetite? This MunchPak review will provide the available membership plans down below. Customers can also purchase an additional soda for $6.
The MunchPak Mini box:
Monthly plan: $14 per delivery
3-month plan: $13 per delivery (or $40 in total)
6-month plan: $12 per delivery (or $72 in total)
12-month plan: $10 per delivery (or $119 in total)
The MunchPak box:
Monthly plan: $24 per delivery
3-month plan: $23 per delivery (or $69 in total)
6-month plan: $22 per delivery (or $132 in total)
12-month plan: $20 per delivery (or $239 in total)
The FamilyPak box:
Monthly plan: $44 per delivery
3-month plan: $43 per delivery (or $129 in total)
6-month plan: $42 per delivery (or $252 in total)
12-month plan: $40 per delivery (or $479 in total)
Remote Employees box:
5 snacks: $17
10 snacks: $27
10 snacks plus a soda: $33
20 snacks plus a soda: $53
WorkPak box
Monthly plan: $279 per delivery
6-month plan: $259 per delivery (or $1,554 in total)
12-month plan: $249 per delivery (or $2,988 in total)
MunchPak Reviews: What Do Customers Think?
Put on your roomiest pair of sweatpants. This MunchPak review uncovered an overwhelmingly positive response towards this snack subscription service. Ahead, you'll find testimonials sourced from the brand's website, Boat Basin Cafe, AskMen, and My Subscription Addiction.
The company website holds an impressive total of 1,084 testimonials with an encouraging score of 4.9 stars out of 5. For a better estimate, we'll provide some ratings for a few of its best-selling treats:
Cosmos Zhang snack: 20 reviews with a 4.5/5 star rating
Toxic Waste Sour Smog Balls: 15 reviews with a 4/5 star rating
Abba-Zaba Sour Taffy Blue Wild Berry Flavor: 20 reviews with a 4/5 star rating
Agrokomerc Tops Orange Fill Biscuits: 10 reviews with a 4.3/5 star rating
A majority of customers found the monthly subscription boxes to be exciting and worth the money. Others loved the diverse collection of sweets and savory goods from all around the world, as they proved to be delicious, satisfying, and a favorite among children.
"Every single item in our box was eaten! I am obsessed and cannot wait for future boxes!! If you're wondering what makes this different, it's not just unique but incredibly yummy flavors from each snack from all over the world," one commenter wrote on their website.
This MunchPak review uncovered a wide community of independent bloggers that published favorable reviews towards this brand. For instance, the author for Boat Basin Cafepraised the company's wide selection of treats and its speedy shipping times.
Additionally, this author loved the surprise element of not knowing what you will receive: "As this MunchPak review shows, your subscription will connect you to lands you may never set foot on but will let you experience their flavors all the same. At the end of the day, it is a fun snack box that is exciting because you can never guess what you'll get."
The writers behind AskMen also gave this brand a favorable score of 4/5 stars. In particular, they were happy with the variety and combination of treats, as well as the value of the box:
"I really liked my MunchPak experience; the boxes were easy to order, the food came within five days of ordering it, and I felt like there was tons of variety in the snacks I received… If you're a foodie, someone who loves to travel, or someone who falls into one of these two categories and loves snacking above all else, giving MunchPak a try could be perfect for you."
With that being said, we did find a few less than savory reviews on other blogs. On My Subscription Addiction, some customers left negative remarks towards MunchPak. A couple of buyers noted issues with deliveries and managing their subscription plans. 
"The first box never showed up and when I contacted Munchbox customer service they mixed my address up with someone in Kansas so the replacement box never showed up. I finally received the box 3 weeks later," one user wrote.
Despite the negativity, this MunchPak review found an overwhelming wave of approval for this snack subscription service. This is thanks to its diverse collection of treats, its unique service, and its fast shipping times.
Is MunchPak Subscription Worth It?
Let's be honest. Grocery shopping is quite a hassle, even if you're just shopping for snacks. With dozens of aisles dedicated to different chocolate bars, crunchy goods, and savory crisps- you may find yourself overwhelmed with options. There's also the fact that it's always the same selection of brands.
For those looking for a less stressful way of finding foreign goods, MunchPak serves as a cost-effective (and streamlined) alternative to real-time shopping. We loved its collection of diverse snacks, as customers can buy rare finds ranging from Apple Pie Kit Kats to crunchy Zombie Takis.
Plus, offers a complete surprise to customers each month, allowing them to try something completely new. If you're in love with a certain candy or chip, members can then purchase items separately from the partnered store.
When it comes to the negative side of things, customers are unable to customize their own boxes. Each treat is preselected and is relatively unknown until you receive the bundle. Overall, if you're into surprises and snacks, this MunchPak review recommends this online subscription service.
MunchPak Promotions & Discounts
We found out that customers can get a MunchPak free trial of snacks. Customers can receive two sample packs from around the world at no cost (except for the price of shipping). In terms of its refer-a-friend program, members can receive $5 for every successful referral by using their affiliate link.
As of lately, we were unable to find a MunchPak promo code that readers can use on their website.
Sign up for MunchPak Subscription
This MunchPak review learned that signing up for a subscription is easy. Here's a step-by-step guide:
Click the "Get MunchPak" link on the brand's landing page
Choose your plan
Hit continue to checkout
Fill out the required boxes in order to create a MunchPak login
That's it! Your box should ship within one day if you are in the US, or within three days if you're an international customer.
FAQ
Where is MunchPak located?
This MunchPak review found out that the company's headquarters are located in Glendale, Arizona.
How do I cancel my MunchPak subscription?
Customers can cancel their MunchPak snack subscription box plan by logging in to their accounts. It's best that you end your membership before it renews again so that you do not get charged for the next month.
Who does MunchPak ship with?
This MunchPak review was unable to find a list of the brand's main couriers on its website. Customers can view the selection of mailing services for their specific location during the checkout process.
What is MunchPak's Shipping Policy?
This MunchPak review is happy to report that the brand offers free US shipping on all orders. It also provides other delivery options such as expedited and international.
In terms of duration, it usually takes 4 to 8 business days for boxes to arrive. To monitor the status of your shipment, the brand will issue a tracking number via a confirmation email.
According to the brand, MunchPak ships to the United States, Australia, Sweden, the Netherlands, Israel, and France. For those that live in a different country, the company recommends that you give its team a call to see if they can make an exception.
What is MunchPak's Return Policy?
Due to the nature of its products, MunchPak is unable to issue returns or refunds for its items. If you have any concerns or questions about your order, it's best to reach out to the brand for further specifics.
How to Contact MunchPak
For inquiries unrelated to this MunchPak review, you can contact the company through:
Email:

[email protected]

Using the live chat function on the brand's website
Filling out the message form online
---
Explore your options for snacks with these top subscriptions:
Get Access to Exclusive Deals
Subscribe for free to get exclusive deals in your inbox. 100% privacy