OneSkin Review
About OneSkin
Whether you're approaching your late twenties or have already seen those early signs of aging turn into something more, you may be seeking a product that offers smoother, firmer, and stronger skin.
Stop testing every product under the sun and consider trading them in for OneSkin. Designed to target signs of aging and help delicate skin produce healthy cells for a firmer, brighter, more even complexion, this brand offers two innovative products – one peptide moisturizer for the face and one for the body.
OneSkin has quickly gained popularity in the world of beauty, amassing a following of 10.4k on Instagram and 1.9k likes on Facebook, as well as mentions in popular media outlets such as Forbes, Lifespan, and Glossy.
Interested in the skin benefits this brand promises? Before you click add to cart, check out this OneSkin review.
We'll guide you through the company and their innovative product formulation, as well as highlights from customer testimonials and answers to important FAQs, to help you decide if OneSkin is worth adding to your daily regimen.
Overview of OneSkin
The story behind many anti-aging products in the industry focuses on improving appearances, but that is only one half of OneSkin's story.
OneSkin was launched in 2016 by a group of four scientists, on a mission "to create technologies that help people age in a healthy and vibrant way, so that they can live their best lives, every day."
The brand strives to improve both the appearance of your skin and its long-term health, treating the underlying source of skin aging using effective ingredients backed by data and professional expertise.
While OneSkin's main focus is on providing a healthy complexion, it is also committed to sustainability in partnership with Zero Carbon. The company additionally donates 1% of all sales to the Shepherd's Centers of America to develop healthy and connected communities.
Now that we know a little more about the brand's origins and goals, this OneSkin review will delve into some of the key highlights to keep in mind.
Highlights
Topical supplement/daily peptide moisturizer to promote healthy skin aging
Developed by scientists with expertise in longevity, skin regeneration, genetics, and more.
Designed for all skin types
Vegan and cruelty-free
Fragrance-free
Recommended by 97% of users
Committed to sustainability
Subscribe and save option
30-day money-back guarantee
OneSkin carries two products: a topical daily supplement for the face, and one for use on the whole body. The two options are formulated differently, to target the delicate skin on your face and neck versus the tougher skin on your body.
These topical supplements feature a blend of ingredients intended to improve cell turnover and are applied to specific areas of the skin to deliver targeted, visible results.
In this OneSkin review, we'll focus on the brand's top-selling product: the OS-01 FACE Topical Supplement.
Ready to find out more about the formulation and how it works? Check out the details down below!
OneSkin Review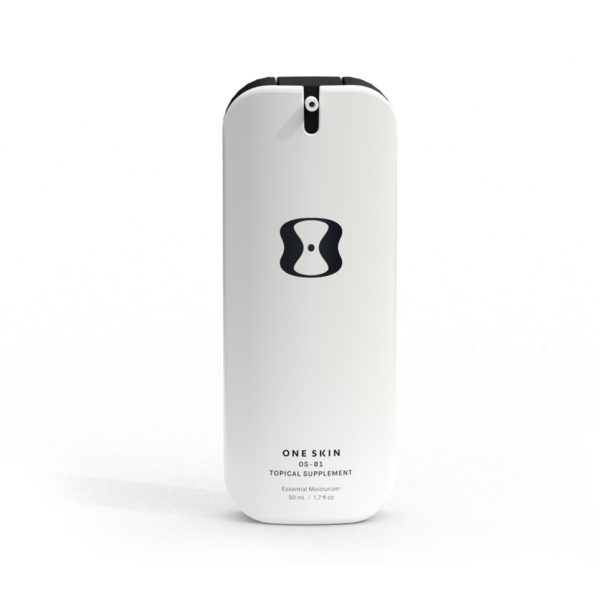 The OS-01 FACE Topical Supplement is a pioneering daily skin treatment designed to target molecular health and improve aging from within.
It is specifically formulated to deliver healing moisture and protection to skin that experiences the most environmental damage: your face, neck, and even your hands.
This moisturizer is formulated with 6 key ingredients:
OS-01 Peptide
Pracaxi oil
Andiroba oil
Niacinamide
Oleic pau mulato extract
Allantoin
Hyaluronic acid.
These ingredients are known for strengthening the skin barrier, hydrating the skin, and working as antioxidants.
OS-01 FACE Topical Supplement targets proper cell function and repair, increases epidermal thickness, collagen and elastin production, as well as hyaluronic acid production, while minimizing redness and wrinkles, to give you skin that is firm, smooth, hydrated, and strong.
Since the product is designed to penetrate the deepest layer of the skin to stimulate change, OneSkin says many users start seeing improvements in their complexion in 4-8 weeks with daily use.
To use, follow these simple steps:
Apply 1-2 pumps onto the face, neck, and hands
Apply every morning and evening
Use after cleansing as a daily moisturizer
Made for all skin types, the OS-01 FACE Topical Supplement retails for $120.
Shoppers can also subscribe for a recurring delivery (every 30, 60, or 90 days) and save 17.5% for a total of $99.
Interested in a similar product designed for your body? Check out the OS-01 BODY Topical Supplement.
Who Is OneSkin For?
OneSkin is designed for anyone looking to prevent or repair the effects of aging. Epidermal thickness, which makes the skin appear firm and tight, as well as bright and glowy, thins out as we age. But, it's never too early (or too late) to start treating our skin as it deserves.
OneSkin's products are designed for all skin types, and are easy and convenient to use, especially with the subscription option. This makes them ideal for anyone looking to add a little life back into their skin with one effective hydrating, repairing, and firming product.
Does OneSkin Work?
During a 12-week clinical study conducted by OneSkin, 100% of users noted an improvement in their skin's smoothness and appearance, while 95% reported an improvement in skin evenness, radiance, firmness, and the look of their pores.
Also, 90% of users saw improved skin elasticity and 87% noticed a reduction in the appearance of fine lines and wrinkles.
On top of that, the product is recommended by 97% of users, according to customer feedback from the brand's official website.
And if you're wondering how OneSkin works, it comes down to the formulation. The company's innovative OS-O1 FACE, a proprietary peptide, is a safer, topical skincare supplement that works as an alternative to retinol.
The formula targets the root cause of skin aging, preventing the accumulation of damaged cells and increasing cell turnover. It also works to improve collagen and hyaluronic acid production. Plus, it doesn't have any of the irritating side effects retinol is known for, so it's both effective and gentle enough for twice-daily use.
OneSkin Reviews: What Do Customers Think?
Collected after 4 weeks of use from the brand's beta testers, the OneSkin before and after results on their website are impeccable. But just making that claim isn't enough – so, this OneSkin review sourced real customer testimonials from the brand's website, Reddit, and US Weekly to get a better sense of how well these products work.
On the brand's official site, there are plenty of glowing OneSkin reviews from users thanking OS-01 FACE Topical Supplement for their glowing skin! Out of 198 reviews, 94% of customers would recommend it to a friend, rating the products 4.7/5 stars.
One shopper shares that their skin underwent a big change (for the better): "I noticed a REMARKABLE improvement in my pores and congestion, and the flaking is gone under my eyes and bumps are less noticeable. My face isn't an oil slick with this product. It's lightweight, not at all greasy, and feels good."
Another buyer shares that they noticed the anti-aging benefits fairly quickly, writing, "I can feel a definite difference in my skin's texture, which was almost immediate. And the rest of my face is getting the clock turned back, all lines are plumping up and jowls are already lifted back up, I look like myself again!"
On Reddit's skincare forums, one OneSkin user noted that their "skin was smoother" and their fine lines and wrinkles were "less pronounced."
Reddit OneSkin reviewers also noticed that acne seemed to heal more quickly or never appear at all, speaking to the fact that this product is ideal for all skin types.
A OneSkin review on US Weekly also mentioned how straightforward the products are to use, writing, "Oh, and here's the best part about it: It's remarkably easy to use. All you have to do is apply a layer onto the skin after cleansing in the AM and PM in lieu of your everyday moisturizer — that's it!"
As it turns out, OneSkin is backed both by the brand's data and customer testimonials, both of which suggest the product's expert formulation is helping users to achieve the glowy, firm, and hydrated complexion of their dreams.
Is OneSkin Legit?
OneSkin promises a lot and it almost seems too good to be true. Fortunately, we're here to say that this brand is the real deal.
Their products were developed by a team of expert scientists and informed by data, and their effectiveness is backed by hundreds of happy customers. The brand also has an established social media presence, and our OneSkin review did not pick up on any red flags in terms of customer service and order fulfillment.
Is OneSkin Worth It?
OneSkin is designed to be the answer to many complexion issues for all different skin types, from refining pores and wrinkles, to boosting hydration and brightness. It is reported to be highly effective, with many customers expressing satisfaction with how the brand's OS-01 FACE Topical Supplement made their skin look and feel.
On top of that, the products are thoughtfully developed, using an innovative and gentle formulation to benefit the skin without any of the harsh side effects of retinol and other aging-focused products. It's also easy to use – forget multiple steps and a counter full of products. With just two products, OneSkin simplifies your whole body skincare routine.
With all that in mind, it's easy for this OneSkin review to say that this brand is worth the try.
OneSkin Promotions & Discounts
If you're looking to save a little moolah on the products in this OneSkin review, we're happy to share that there are a few different options:
Subscribe at checkout and save 17.5% on the OS-01 FACE Topical Supplement
Subscribe at checkout and save 10% on the OS-01 BODY Topical Supplement
Successfully refer a friend and you'll both earn $20 off
Where to Buy OneSkin
Does the topical treatment in our OneSkin review sound right for you? At this time, the brand's products are only available on the official OneSkin website.
FAQ
Who owns OneSkin?
At the time of this OneSkin review, the company is privately held.
Does OneSkin ship internationally?
This OneSkin review found that the company currently ships within the US and Canada. That being said, they are working on adding international shipping options, so sign up for their newsletter and follow them on social media for any policy updates.
What is OneSkin's Shipping Policy?
When it comes to shipping, OneSkin strives to keep things as simple as their skincare. All orders are processed within 30 minutes and delivery times take between 7-14 days, depending on your location and courier, for standard shipping.
Expedited shipping options are also available, with all costs calculated at checkout. All customers will receive a confirmation email and another with tracking information once the order has shipped.
What is OneSkin's Return Policy?
Not sure if OneSkin is the perfect fit? Fortunately, the company offers a 30-day money-back guarantee. Users can simply contact OneSkin for a full refund if the product doesn't work for them, though keep in mind that most shoppers report the best results after about 6 weeks of use.
Committed to sustainability, the OneSkin also offers free shipping labels so you can easily return empty packaging. Simply contact the brand to request a label.
How to Contact OneSkin
We hope you enjoyed our OneSkin review! If you have any further questions about the brand or its products, you can contact them by emailing [email protected] or by calling (415) 851-6677.
---
Explore your skincare options with these popular beauty brands:
Get Access to Exclusive Deals
Subscribe for free to get exclusive deals in your inbox. 100% privacy