PowerDot Review
About PowerDot
Too many people focus on the performance aspect of sports and not enough on recovery. Recovery is a lengthy part of the fitness process, but it should never be overlooked. The PowerDot aims to make this process easier.
It's a portable device that can help you recover and/or alleviate pain by using electrical muscle stimulation. This product has been covered in the media by Forbes, The Wall Street Journal, Men's Health, and more.
Today, I'll be looking at the science behind the product in my PowerDot review. I'll also look at what customers have to say about it, how much it costs, and where you can get one if you like what it has to offer.
Overview Of PowerDot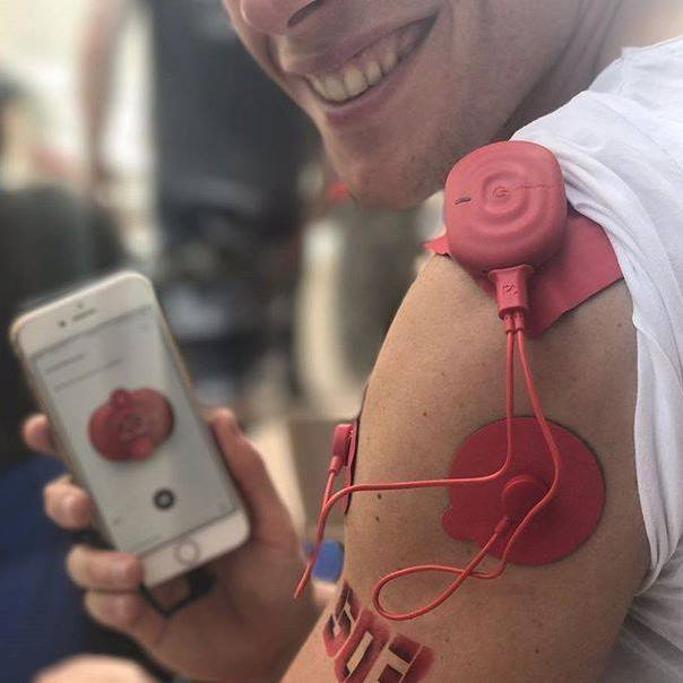 Electrical muscle stimulation has been around since the 1960s when Soviet scientists used it to help their athletes speed up their strength and performance progress.
Since then, more and more companies began looking into EMS and applying it to their own business.
Weight loss devices, 6-pack shredders, and other nebulous exercise devices that claimed to give you results without you having to do so much as leave your couch cropped up in the following years.
However, the majority of these products were considered junk because EMS doesn't work like that.
EMS is not a substitute for exercise and shouldn't be treated as such. That is what makes PowerDot a trustworthy product. The people behind the technology designed it as a recovery and warm-up tool that you can use to improve your athletic development.
As such, you shouldn't use PowerDot because you're too lazy to actually exercise. Instead, you should use it to make your workouts and recovery more effective.
EMS has been used by personal trainers, high-level athletes, and physical therapists since it became easier for them to access.
And, although this may be a personal anecdote rather than a whole-hearted endorsement, I've seen success thanks to EMS when I injured my shoulder while in university.
The problem with EMS is that it's tough to find a device capable of delivering powerful enough electrical impulses. That's another advantage that the PowerDot one holds over the competition. Their device can output a stronger impulse than most other similar tools.
It puts the power into the hands of users and, with an intuitive app and a wide selection of settings, allows people to find the perfect program for their bodies.
Another thing I should note is that PowerDot has been recently purchased by Therabody, a company that has risen to prominence over the past few years thanks to its Theragun.
They've built prestige and a trusted customer base with that product and they look to do the same with the PowerDot.
With all of that backstory out of the way, let's get my PowerDot review started by first looking at a few of the product's highlights.
Highlights
At-home EMS device
Stronger than other similar devices
FDA-cleared
Financing payment plans are available through Affirm
30-day money-back guarantee
Available in Canada, the US, and the UK
PowerDot Review
While I'll be focusing on the main technology at play in my PowerDot review, you should know that there are a few options you can choose from if you decide to purchase it. These variations and their prices are as follows:
PowerDot 2.0 Uno: $199
PowerDot 2.0 Duo: $349
PowerDot Pro Bundle: $452 (currently on sale for $424)
There are slight differences between each model but they all operate with the same goal: to speed up your recovery.
Whether your problem is muscle tightness, pain, soreness, or just overall muscular imbalances, the items in my PowerDot review might just help you out.
Many of PowerDot's functions are carried out by the app. From this app, you can control variables like pressure and speed as well as certain settings that can alter the effectiveness of the device.
These settings include comfy modes like massage and warm-up as well as directed active recovery protocols.
The full list of settings (and their purposes) are:
Muscle Endurance: best suited for improved performance in endurance-based sports
Strength Endurance: ideal for improving strength-based performance
Resistance: can help boost your ability to handle prolonged effort
Explosive Strength: can help improve your performance for speed and explosive movements
Active Recovery: best used within two hours of intense exercise to aid in muscle recovery
Extended Recovery: a longer version of the active recovery setting
Light Recovery: a more gentle way to aid in muscle recovery
Potentiation: can send blood to muscles by causing muscle contractions. Best used right before a workout
Massage: carries many of the same benefits as a real massage
Another feature I want to focus on in my PowerDot review is the device's raw power output. I'm not saying that it's as powerful as a car battery but I am saying that it's got a bit of kick. It can output as much as 115V at 120Hz.
Those numbers may be useless if you're not an electrician, so allow me to translate them into terms that PowerDot uses.
Only 10% of other EMS products on the mass market contain that same battery level. What's more, apparently the vast majority of PowerDot users never use the device at more than 60% power.
Its battery power also provides a healthy lifespan. You should be able to get a full 20 hours of battery life from the PowerDot before you need to charge it.
Unlike some appliances that take longer to charge than they operate, the PowerDot should return to full capacity within an hour and a half.
How Does PowerDot Work?
PowerDot uses neuromuscular electrical stimulation (NMES) and transcutaneous electrical nerve stimulation (TENS) to fix a variety of issues. These are the main benefits of PowerDot:
Improving your athletic performance
Providing all-natural pain relief
Helping you rehab your injuries
On their own, NMES and TENS serve different purposes because they are ultimately separate forms of therapy. That being said, there shouldn't be any negative repercussions to using them together. In fact, it can provide a compelling collection of benefits.
Let's begin with the first point. PowerDot can be a powerful tool in your arsenal to help you prepare for sports because it can stimulate your muscles before you begin exercising.
It can give you a headstart on your warm-up by targeting muscles that you'll use, which increases circulation and wakes them up.
Next up is the PowerDot's ability to protect your body from pain. The electrical impulses can trigger your body to release endorphins which are natural pain relievers. This can help you recover from injuries because it may reduce inflammation.
PowerDot reports that its technology can interrupt pain signals and stop them from traveling to the central nervous system. In a way, it's like they're temporarily shutting off the roads that lead to your central nervous system, meaning that the pain can't get there.
While this isn't a permanent solution to pain, some people may prefer it to painkillers or other medications.
Let's talk about how PowerDot can help you recover and rehabilitate your nagging injuries.
I just mentioned that these devices can help reduce inflammation, which can speed up the recovery process because the body's resources won't be dedicated to merely blunting the injury. Instead, they can focus on helping to repair tissues.
Additionally, PowerDot can help re-teach muscles that are coming back from injury and how to function again. This process can greatly shorten the time it takes for your muscles to readapt to specific stimuli. You should be able to get back to your regular exercise regimen in no time.
I mentioned earlier that the device's app is instrumental but didn't really explain how. I'll explain now. Rather than bombard you with jargon, the app takes a client-focused approach.
You'll tell the app how fatigued you are, your latest exercise, and how stiff your muscles are. The app will take that information and recommend you a plan for that day. Simple as that.
Who Is PowerDot For?
PowerDot is designed for athletes, but anybody who is active can take advantage of its benefits.
I also think that people who need a massage from the comfort of their home or who want to handle their pain without using painkillers will also appreciate PowerDot.
PowerDot Reviews: What Do Customers Think?
So, while the information I've shared so far in my PowerDot review is interesting, it won't be worth it if customer reports didn't share the same enthusiasm. I'm going to dedicate this section to summarizing what people think of the PowerDot after using it.
To start, here are the average review scores from the brand's website on my featured products:
PowerDot 2.0 Uno/Duo: 4.8/5 stars from over 1.1k reviews
PowerDot Pro Bundle: 4.8/5 stars after 408 reviews
I also looked on a few more websites to see other PowerDot review scores and, luckily for the list-lovers in today's audience, I've put those scores into another list:
Best Buy: 4.7/5 stars from 6 reviews
Amazon: 4.5/5 stars after 281 global ratings
SportCheck: 4.5/5 stars from over 1.3k reviews
Many of the positive PowerDot reviews I read included stories about all the interesting ways that people used the device.
Of course, there were regular cases like using them after a workout, but then there were more insightful reviews that explained where you could also use the PowerDot. I've included a snippet from one of those reviews below:
"I got the Duo. I use it mainly for pain management around my injury, but also to build muscle on that side since it's a tricky area. I travel a lot for work and pleasure, I discovered you could use it to avoid clogs and manage inflammation on long-haul flights…[the] battery behaved beautifully. I fully recommend it."
Words like that show how portable and versatile the PowerDot is, making it a great tool to keep around. It also implies that you can use the PowerDot to alleviate the stress that comes from sitting for long periods during travel.
Another common compliment in many PowerDot reviews was that the product does exactly what it says it will do. People said that the battery lasts long and that it helps people reduce inflammation while also stimulating their muscles.
Here's a 5-star review from Amazon to that effect:
"The product offers a wide variety of preset massage, workout, and pain relief programs within the app. They are amazing and offer highly targeted immediate relief. I've yet to try them all. In closing, this has performed way beyond my expectations."
Another aspect that people adored was the PowerDot's ability to relieve pain. Many customers felt that the device performed exceptionally well.
This was probably the most common point of praise among consumer reports simply because most people deal with some form of nagging pain.
As one customer said: "I've used it multiple times in different regions and had profound relief each time. Though the relief is not permanent, it is so much better than no relief at all… I especially love the magnetic connectors. This makes it exceptionally easy to attach the leads where I can't necessarily see them, on my own."
There were two pieces of criticism that I should note. Some people complained about frequently replacing the device's pads. While that's worth taking into consideration, you should only have to buy replacement pads rather than an entire device.
The pads are much less expensive than having to purchase a new PowerDot so I'm not too concerned with this piece of feedback.
Others felt that these products didn't provide a strong enough stimulation to their muscles EMS devices are notoriously finicky in how people perceive their impulses.
Some people can feel them right away while others (myself included) need to crank them up to their maximum levels just to feel something. Some people simply respond better to EMS than other people.
Overall, in light of all of the other positive words that customers shared about the PowerDot, I believe those complaints aren't too big of turn-offs. It seems that this device would become an invaluable tool for recovery in anyone's gym bag.
Is PowerDot Worth It?
At first, I was going to say that PowerDot was only worth it if you were a serious athlete.
However, after reading through customer reviews and seeing how many people use it as part of their everyday routine, I think that anyone who needs at-home care for their muscles or pain should check out PowerDot.
PowerDot Promotions & Discounts
I couldn't find any PowerDot discount codes at the time of writing my review, other than the bundle being discounted by $28. This bundle is great for anyone who wants the full luxury experience.
It includes a PowerDot 2.0 Duo, 6 months' worth of replacement PowerDot pads, the PowerDot Butterfly Back Pad, and a PowerDock charging station.
Be sure to check out Therabody's social media accounts for any future PowerDot coupon codes if you are looking for a deal.
Where To Buy PowerDot
Another thing that I love about the PowerDot muscle stimulator is that it's easy to find. Of course, you can purchase it from the brand's website, therabody.com, but you can also find it on Amazon, Best Buy, and sports stores like SportChek.
FAQ
Who owns PowerDot?
PowerDot is now owned by Therabody.
How Often Should I Use Powerdot? For How Long?
The PowerDot app can provide all the information you need about the frequency and duration of your uses. I cannot provide a solid answer because there are so many different settings that it's tough to provide a recommendation that satisfies all of them.
Can I Use Powerdot While Moving Around?
You shouldn't move around while using PowerDot because the adhesives are more likely to fall off. Your muscles will also contract during the PowerDot's activation which can affect whatever task you're doing.
How To Contact PowerDot
If you have any more questions about the Therabody PowerDot, you can call the brand's support team at 1-866-221-2185 or email them at [email protected].
---
Check out some other articles you might like:
Get Access to Exclusive Deals
Subscribe for free to get exclusive deals in your inbox. 100% privacy