Signos Review
About Signos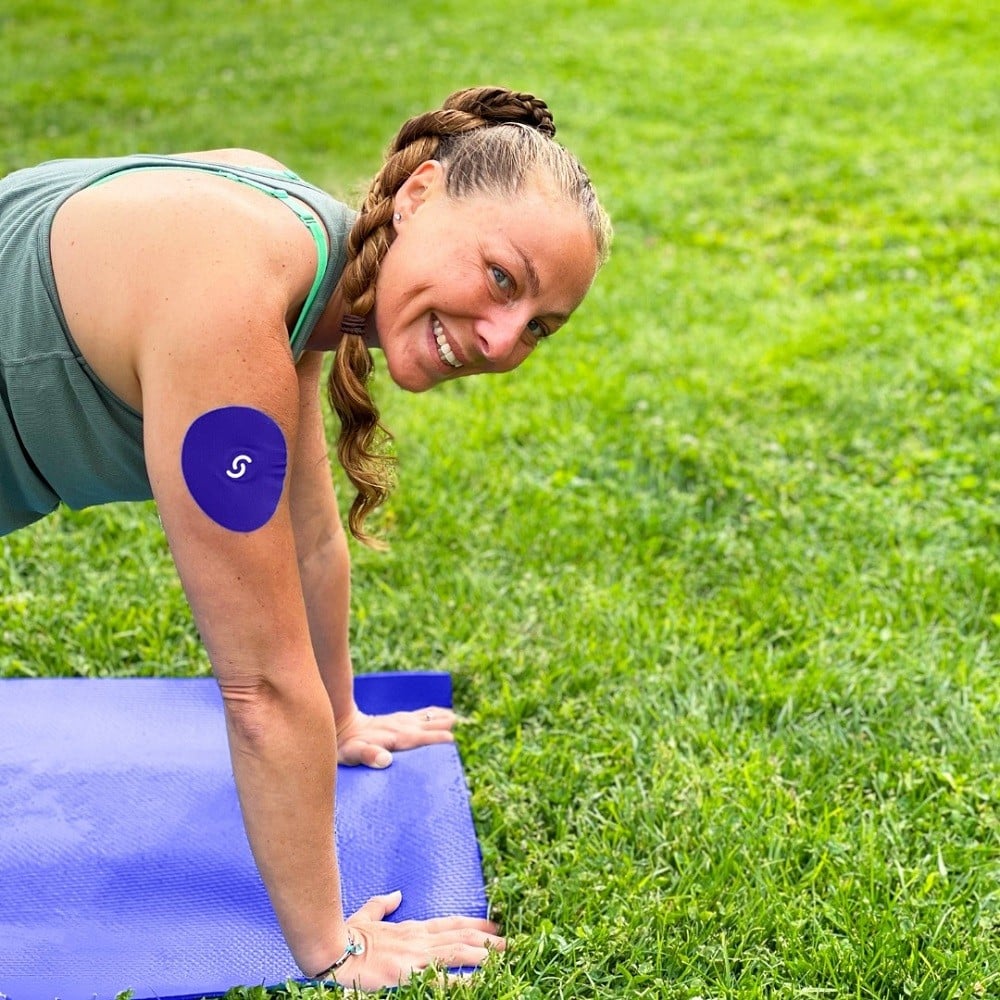 90% of Signos members lose weight within their first month of service. If that's not enough to pique your interest in this glucose-monitoring weight loss app, then I'm not sure what will be.
You can spend all the time you want searching for Google answers to questions like, "How long does it take to lower blood sugar?" or "Which low glycemic fruits are the best for weight loss?" Or, you can allow Signos data management tools to tell you how to structure your diet and exercise to reach your goals.
Signos' backbone comprises a continuous glucose monitor (CGM) and an AI-powered app that work in tandem to inform users of how they can change their behavior to improve their health.
In this Signos review, I will look at how the service works, what the plans are, what customers think about it, and more.
Why You Should Trust Us
Our mission is to help you make better, more informed purchase decisions.
Our team spends hours researching, consulting with medical experts, gathering insight from expert professionals, reviewing customer feedback, and analyzing products to provide you with the information you need.
Pros & Cons
Before we get into the features of Signos, let's take a look at their pros and cons:
Pros
Metabolic Signals: Signos aims to help users understand their body's metabolic signals through the use of a continuous glucose monitor (CGM). This can provide valuable insights into how different foods and activities affect blood sugar levels and help users make informed decisions about their diet and lifestyle choices.
Personalized Approach: The program offers personalized weight loss insights based on the user's CGM data. By analyzing the data and providing AI-powered recommendations, Signos strives to tailor the weight loss journey to individual needs and goals.
Medical Consultation: Signos includes a medical consultation with a physician for CGM approval. This ensures that the program is suitable for the individual and provides professional guidance throughout the weight loss journey.
Cons
Cost: The pricing plans for Signos CGM can be relatively expensive, ranging from $399 for one month to $1194 for six months. It's important to consider whether the cost aligns with your budget and long-term weight loss goals.
Features
So, what exactly sets Signos apart from their competitors? Here's the rundown:
CGM Technology: Signos utilizes continuous glucose monitoring (CGM) technology to track glucose levels over time. This technology provides valuable insights into an individual's metabolic health and can help them make data-driven choices for healthier living and sustainable lifestyle changes.
Signos App: The Signos program includes an app that serves as an all-in-one health tool. The app utilizes artificial intelligence (AI) to generate personalized recommendations about diet and exercise based on the data inputted by the user. It acts as a comprehensive weight loss tool, providing access to features and functionalities that support the user's health journey.
AI-Driven Recommendations: The Signos app's AI-driven system analyzes the user's data and generates personalized recommendations regarding diet and exercise. By leveraging the power of AI, Signos aims to provide tailored guidance to its members, helping them make informed choices and optimize their weight loss efforts.
Personalized Weight Loss Plan: Signos offers a comprehensive weight loss plan as part of its program. This plan takes into account the user's goals and needs, providing them with a structured approach to achieve sustainable weight loss. The program aims to tailor the weight loss journey to the individual, considering factors such as metabolic health and lifestyle choices.
Access to Registered Dietitian: Signos includes access to a registered dietitian as part of its program. Users can benefit from professional guidance and support in their weight loss journey without an additional fee. This feature adds an extra layer of personalized assistance to help users optimize their nutrition and achieve their goals.
Medical Consultation: Signos offers a medical consultation with a physician for CGM approval. This ensures that the program is suitable for the individual and provides a safe and medically supervised approach to weight loss. The consultation aims to address any potential concerns and provide professional guidance throughout the program.
Comprehensive Subscription: Signos offers subscription plans that include various components such as the Signos kit, the weight loss app, required equipment (such as the CGM device), and medical consultation. The pricing of the subscription plans varies depending on the duration, ranging from $99 to $299 per month.
Recent Studies On CGMs
Here's what the scientific community has to say about the efficacy of Continuous Glucose Monitors:
Signos Review
In this section of my Signos review, I'll break down the basic features that the service provides to help you lose weight.
Signos is a weight-loss program, but it works differently than other plans. Rather than estimating what you need based solely on information and numbers you feed an app, Signos adopts a more holistic approach.
Of course, you need to measure what you eat and provide info with data concerning:
Height
Weight
Fitness goals
Intended weight loss
Exercise regimen
Signos also reads your body as it functions using a CGM. It measures your blood glucose levels and tells you the optimal range you should keep them in, depending on your goal. As such, Signos isn't just for people who want to lose weight. You can also use the insight they provide you to:
Increase physical performance
Improve your overall health
Learn about your body and metabolism
Signos boasts several accountability features to help you reach your goals. These include:
Notifications whenever glucose spikes above its optimal range
Prompts reminding you to exercise and which type of exercise would be best given your current glucose levels
The predicted glucose spikes a meal will bring
Community features with other users
The Signos app has an array of trackers to help you keep tabs on other important facets of health and fitness. These include food, water, exercise, sleep, and weight. The more you input each, the more Signos will learn about you and thus better create plans designed just for you. 
The Signos cost varies depending on which plan you opt for. Each plan includes access to the Signos app, a CGM for the length of your membership, and a digital health assessment with one of the company's professionals.
A 1-month membership costs $399 per month, a 3-month membership is $199 per month, and a 6-month program costs $159 per month.
How Does Signos Work?
In general, Signos' process consists of three steps:
Apply the Signos continuous glucose monitor to your body
Earn live feedback from the monitor regarding particular foods
Implement changes to your diet based on the feedback you've gained
Of course, the process is more nuanced than that, but the purpose of this Signos review is to give you a broad overview.
Here's an example of how the app and CGM work together. Let's say you eat breakfast consisting of a bagel, cream cheese, and black coffee. You'll input that data in Signos, and the app will tell you how those foods affect your blood glucose levels.
If your glucose levels don't spike too much and remain within optimal levels, then you're good. However, if your blood glucose levels rise too much then Signos will tell you to exercise since you have the energy to bring the levels back down. You can log your exercise to see how much it decreases your blood glucose.
You'll repeat that process to learn more about how your food, behaviors, exercises, and blood sugar interact. With that information, you can start making smarter choices that push you further toward your goals.
Who Is Signos For?
Currently, Signos only operates in the United States. While there are some obvious demographics who could benefit from Signos (i.e., those who need to improve their diets), the service goes one step further; they have a questionnaire to identify whether or not their products are right for you.
Signos Reviews: What Do Customers Think?
The only aggregate Signos review score I could find online as of May 2023 was on Knoji where the company held an average of 3.8/5 stars based on more than 40 pieces of customer feedback.
For the most part, Signos reviews praised the service for its educational properties.
One customer wrote, "my personal experience with Signos is that the program was most beneficial as a a learning tool. I had a six month plan on a discounted rate (promotion?) that ran for about $900 or $950 for six months. (It does get cheaper the longer you subscribe). I did lose weight and kept up with the online Facebook and Instagram social communities Signos provided."
That buyer went on to add, "Taught me to add strength training and exercise such as walking and jogging so that I didn't lose so much muscle while losing weight. But as far as the benefit of using it but not for weight loss, again it was a learning tool for me.. some foods, in the right situations may not spike my blood glucose levels."
That's not to say that people didn't lose weight. Plenty of Signos reviews mentioned weight loss, saying that the service helped them lose fat and keep it off. 
"No diet has worked for me long term. The Signos program is different because it shows me how food, exercise, and hydration affect my body in real-time. This program is changing my life!" said one customer.
I've included one final Signos review from Reddit that explains the value of the app – its ability to teach people about how food, exercise, and behaviors are integral to our health.
"It's been just over a month. I have learnt so much. Not only have I lost 8 lbs but overall I feel better. I know when to eat, what not to eat. I think this has been the best investment I have made on myself."
Is Signos Legit?
There weren't many negative Signos reviews that raised concerns about the service's legitimacy. As such, Signos is safe to work with.
Is Signos Worth It?
While there are correlations between weight and blood glucose levels, it's not proven how much the latter matters with regard to weight loss. That's more an issue of energy intake and output.
Signos can teach you about that information, and knowing more about your food and your habits can help you lead a healthier life, but the app does so for a steep price.
Although the majority of Signos reviews enjoyed the product, they said that the price was too much to sustain. Take that as you want, but there are plenty of less expensive alternatives for measuring energy intake and output. That being said, they omit CGMs, which may distinguish Signos enough to make it worthwhile.
How To Choose The Best Continuous Glucose Monitor
Before looking up a CGM device, consider these factors:
Is the device covered by insurance?
What other features does the device provide?
What are your intentions with the device?
Are you, or is anyone in your family, diabetic?
How easy is the device to use?
Signos Promotions & Discounts
Unfortunately, there weren't any promotions or discounts running at the time of writing my Signos review.
Where To Buy Signos
You can get started with Signos on their website, signos.com.
Alternatives
Looking for more options? We've got you covered:
NutriSense: NutriSense is a metabolic health technology company that offers a platform combining continuous glucose monitoring technology with personalized one-on-one dietitian coaching. It allows members to personalize their nutrition based on data from CGM technology.
Grafana: Grafana is a free and open-source platform that provides monitoring and visualization of data from various sources. While not specifically focused on continuous glucose monitoring, it can be used for monitoring and analyzing data in different domains, including health and wellness.
Zabbix: Zabbix is an open-source network monitoring tool that provides a comprehensive solution for monitoring various aspects of IT infrastructure. While it is not designed specifically for continuous glucose monitoring, it can be utilized for monitoring and alerting in healthcare settings.
FAQ
Who owns Signos?
Sharam Fouladgar-Mercer is the co-founder and CEO of Signos.
What are Signos-compatible devices?
The services listed in this Signos review work on iPhone devices newer than the iPhone 6 as well as a multitude of Android products.
What can (and can't) I Do with my CGM?
You can do quite a lot with your Signos CGM as the device is waterproof in up to "8 feet of water and at altitudes of up to 13,800 feet."
Do Continuous Glucose Monitors (CGM) help with weight loss?
Yes, the Signos weight loss plan is designed around CGM insights to help people trim the fat off their bodies. The CGM can teach people how to make better choices, like adopting a high protein low glycemic diet.
What is Signos Refund & Return Policy?
At this time, Signos does not offer returns or refunds of any type.
How to contact Signos
You can contact Signos by sending an email to [email protected].
---
Check out some of our recently published articles:
Get Access to Exclusive Deals
Subscribe for free to get exclusive deals in your inbox. 100% privacy