About Simple Health Birth Control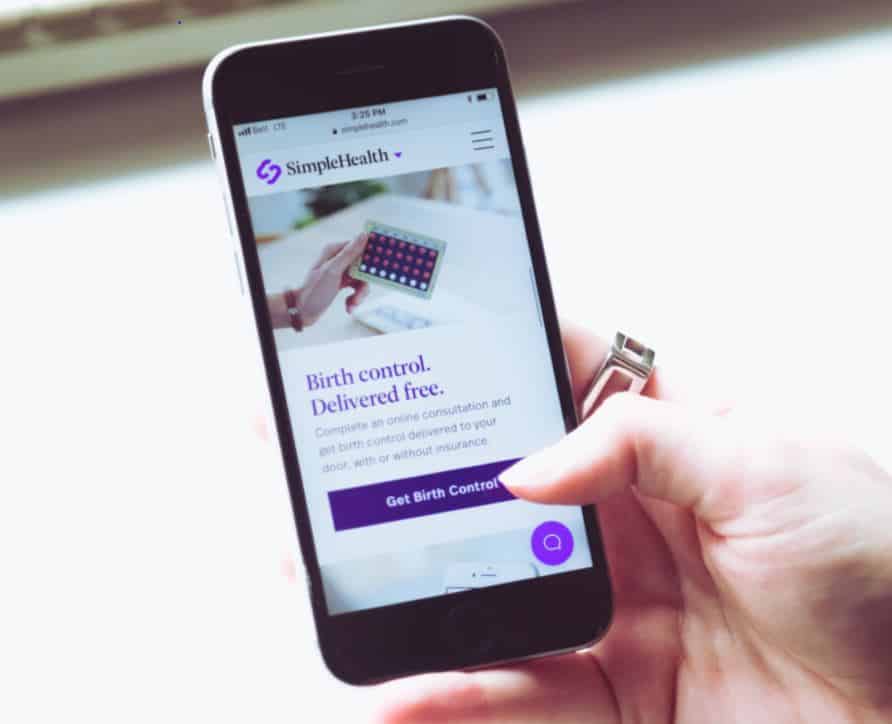 Simple Health is revolutionizing the way women access birth control, allowing for convenient prescription refills without having to leave the comfort of home.

The company has been picking up steam with their easy-to-use delivery service. The Simple Health Instagram has 12k followers and is only continuing to grow. The constant race to refill your prescription can be a source of anxiety for some, but a service like this remedies the issue.

This Simple Health birth control review will introduce you to the brand, its mission, and services. So keep reading to learn more.
Overview of Simple Health Birth Control
Simple Health was founded in 2015 by Joel Wishovsky and Ryan Quigley. Some of the company's top investors include Goodwater Capital, Notation Capital and Steven A. Cohen, a hedge fund manager. The company operates from headquarters in New York, NY.
The founders initially started with contact lenses. Ryan wanted to find a convenient way for people to order lenses without the hassle, but the company changed its model to what it currently is – making birth control more accessible.
Simple Health states that their services are available in: "Alabama, California, Colorado, Connecticut, Florida, Georgia, Idaho, Illinois, Iowa, Maine, Maryland, Massachusetts, Michigan, Minnesota, Montana, Nebraska, New York, North Carolina, Ohio, Pennsylvania, South Dakota, Tennessee, Texas, Virginia, Washington, Wisconsin, and Wyoming."
Next up in this Simple Health review, we have a list of the brand's pros and cons.
Pros
5000+ 5 star reviews
Simple Health offers free delivery
Affordable options
You can cancel your Simple Health online birth control subscription at any time
You can set up automatic refills
They accept insurance
There are over 120+ brands of birth control options on the website to choose from
Consultations with doctors and pharmacists offered to help find the right option for you
Once you are subscribed, you have ongoing care for a year, which means unlimited access to doctors via text and email
There is an in-depth blog section on the website that offers many educational resources and Simple Health tips
Cons
Only available in select states in the U.S., not all at the moment
How Does Simple Health Birth Control Work?
Simple Health birth control is operated as subscription service only. The cost of the monthly pills is just $15/box, but the subscription plan—The $20 Complete Care plan—which I will describe in detail below in this Simple Health review, comes with an additional annual fee.
Some of the birth control options include:
Simple Health Sprintec
Simple Health Errin birth control
Simple Health Annovera
Simple Health FC2 female condom (Simple Health FC2 a, Simple Health f c 2)
Simple Health Birth Control Subscription
A subscription to the Simple Health costs $15 a month (if you have insurance, this will more than likely be covered). You will also have to pay an additional $20 consultation fee, as well as an annual fee which gives you access to all of the following:
Unlimited contact with doctors, which allows you to ask Simple Health questions about your prescription or any side effects that you may be experiencing
On-call health care support via text or email whenever you require it
Free shipping on all refills
Zero commitments, so you can adjust your prescription or cancel whenever you so choose with no extra cost
Annual consultation with a doctor who will recommend and prescribe a birth control option that will work for you
A 45-day check-in to ensure that your prescription is working for you, or if they need to rectify any problems
Risk-free promise: if you don't find an option that works for you, you will not be charged
Your $20 Complete Care Simple Health kit includes extra emergency contraception and a female condom
How Much is Simple Health Birth Control?
Your membership begins with a one-time consultation fee for $20, and then each Simple Health pack is $15 per month. The additional Complete Care subscription program is an extra $20 a year, but it is a more premium option with added benefits.
Having the access to doctors year-round allows you to ask questions about your prescription or make changes, free of charge – this would be considered a real advantage to being a member.
Simple Health OTC Supplements Review
New to Simple Health are three products are available to purchase over the counter. The brand's team of doctors and clinical staff worked collaboratively to develop products beneficial to overall health. Available to new and returning patients, the process is simple.
For new patients, simply visit the website, fill out the online consultation form and add the desired supplements to your order. Current patients must log in to their subscription account and add the products using the dashboard function. The best part? All products ship for free!
Next in this Simple Health supplements review, we'll take a look at the brand's three new products: The Daily 5, Urinary Tract Support, and the Daily Probiotic.
Simple Health The Daily 5 Review
For some, taking birth control can affect certain aspects of the body. Common side effects include tenderness, headaches, and decreased energy. The Daily 5 supplement from Simple Health is a 5-in-1 multivitamin developed for reproductive health.
Specifically designed for those who are on birth control, the formula supports the immune system, cellular function, and energy supply. These added daily benefits are thanks to a combination of Magnesium, Zinc, Riboflavin, Folate, and vitamins D, B6, and B12.
It can be added to an existing subscription plan or as a one-time purchase. The recommended dose is one, easy-to-swallow capsule per day. Grab a bottle of the Daily 5 today for $20 and start regaining your energy.
Simple Health Urinary Tract Support Review
Let's be honest friends, we've all experienced a dreaded UTI at some point in our lives. Try the Urinary Tract Support from Simple Health and prevent having to chug cranberry juice for days.
Developed for those who are sexually active or regularly experience recurring UTIs, this supplement is a form of proactive prevention. It does not cure an existing urinary tract infection, so this Simple Health review recommends visiting your doctor for treatment.
This supplement is made from 500mg of powerful cranberry extract and each capsule provides 10mg of proanthocyanidins (PACs). This is a chemical compound found in cranberries that prevent bacteria from sticking to cells, which eliminates bacteria (like E-coli) from multiplying.
As part of a subscription plan, you'll receive one month's supply (30 capsules) on a recurring schedule. For a one-time purchase, the Urinary Tract Support costs $15.
Simple Health Probiotic Blend Review
Shockingly, there is such a thing as good bacteria that help keep your body healthy and functioning properly. Probiotics help to balance the friendly bacteria in our digestive systems and can help prevent a multitude of illnesses.
The Probiotic Blend from Simple Health includes 12 different strands of carefully selected probiotics that contain 30 billion CFUs (culinary-forming unit), which is the number of active and living microorganisms found in probiotic supplements.
Through extensive research, probiotics have been shown to reduce constipation and bloating, help to regulate the digestive system, and support healthy gut microbiomes. If you're interested in the benefits of what a probiotic can do for you, try the Probiotic Blend for $25 as a one-time purchase, or add it to your existing subscription plan for recurring delivery.
Simple Health Birth Control Reviews: What Do Customers Think?
Based on the research conducted by this Simple Health review, the brand is loved and praised by all of its users for its convenience factor…especially for when a doctor's office is the last place you want to be today.
At this time, the Simple Health website hosts the majority of customer feedback received online. The response is overwhelmingly positive, with the brand receiving an average of 4.59/ 5 stars out of 2846 reviews. This glowing review echoes a positive experience with the service, "Calling the pharmacy, calling back the doctor, calling back the pharmacy, doctor's appointments, insurance cards expiring, picking up the pills, the pharmacy closing early…all a nightmare! Simple Health has been an absolute game changer for me."
You can also be assured that you have backup options in case someone goes wrong with your birth control. An excited customer shared that she received a surprise in her delivery, "They send you a free Plan B which is like…GOLD. Let's be real, we've all forgotten a pill at some point and having that back up protection with you can make the difference to guard against an unplanned pregnancy." Truly a nice touch, something that sets them apart.

The brand scored slightly lower on Trustpilot, at 3.4/ 5 stars out of 27 reviews, not a large number relative to their size, however most customers were raving about their experience with the service, "I wanted to switch my brand of pill since I was having issues with my old one, and their team answered all the questions I had with expertise. They were super transparent with me on side effects, pricing, shipping, etc!"

Simple Health itself is a reliable service, as proven by the thousands of positive reviewers whose lives were made simpler.
Is Simple Health Birth Control Worth It?
Simple Health received significantly positive feedback for their service, with many people claiming that the convenience factor alone has melted their worries around acquiring birth control. There is also ample advice offered by healthcare professionals once you subscribe, so you feel supported every step of the way.
We couldn't find any Simple Health app reviews, and feedback in general is difficult to find outside of their website. The reviews that are found on Simple Health are prompted by an invitation, and not anyone can share their thoughts unless they're a subscriber.

The concept in itself is an amazing one and its efficacy is proven. You can interact with a knowledgeable doctor over text and email, and ask them anything you want about your prescription. Their 45-day check-in is a nice touch, which ensures that your prescription remains in sync with your needs.
Over 120+ options of birth control available means a greater chance that you'll find an option compatible with your body. If not, you'll get your money back, so there's no risk in trying it out.
In a nutshell, it's simple. Just like the name suggests. The process is easy, straightforward, and if you're like me when it comes to doctors and refilling prescriptions…anxiety relieving. So, this Simple Health review believes that yes, the price is right and the service is worth it.
Simple Health Birth Control Promotions & Discounts
Use the Simple Health promo code THANKSRBG for $20 off, and sign up for their newsletter to be informed of upcoming deals and updates. Also, enjoy free shipping on all refills.
Sign up for Simple Health Birth Control
As mentioned earlier in this Simple Health review, the process is quite straightforward. See below:

1. Complete an online consultation and provide your personal details and medical history to discover the options that are right for you
2. Input your payment details
3. Your information will be reviewed by a doctor, who will write you a prescription
4. Next, your birth control is shipped directly to your door, free of charge
FAQ
Is Simple Health safe?
Simple Health is guaranteed risk-free. Doctors will work with you to figure out an option that suits your reproductive health needs.
Is Simple Health trustworthy?
Simple Health works with reputable doctors and pharmacists who are well informed. You can trust the recommendations they provide to you.
How much is Simple Health?
Each pack is $15 per month, but you will also have to pay a one-time consultation fee of $20. The complete care subscription program is an additional $20 a year.
Is Simple Health packaging discreet?
Yes. This Simple Health review can confirm that the packaging is very subtle and discreet.
What insurance does Simple Health take?
According to the Simple Health accepted insurance resource on the website, "We accept almost all major insurance plans and birth control is free with most insurance plans. Whether your particular insurance covers your medication depends on the type of plan you have and the medication prescribed." It's best to run an insurance check before you put your order through.
How do I cancel my Simple Health subscription?
To cancel, simply email [email protected] 7 days before your next refill is due.
How long does it take to get birth control from Simple Health?
Simple Health only ships to select U.S. states. It will take up to 72 hours for your medical records to be reviewed and your order processed. Once the processing is complete, you can expect to receive your order within 4-7 days.
What is Simple Health's Return Policy?
If you would like to request a return, contact [email protected] or use the provided Simple Health phone number so they can assess to see whether your case merits a return.
How to Contact Simple Health Birth Control
If you have questions beyond what this Simple Health review covered, you can contact the customer service team via email, or call Simple Health with the phone number you received after placing your order.
Email: [email protected]
---
If you're looking for other health & wellness brands, check out Everywell, MyLab Box, and LetsGetChecked.
Get Access to Exclusive Deals
Subscribe for free to get exclusive deals in your inbox. 100% privacy