Tadashi Shoji Review
About Tadashi Shoji
Based on the idea that every woman, no matter her figure, should be able to find something that makes her feel fabulous, Tadashi Shoji dresses and gowns are for special occasions. Using design techniques that work to flatter any body type, the brand is popular with celebrities, gracing runways and red carpets in New York and LA.
Some notable names who wear Tadashi Shoji, including a range of body types that are all beautiful, are former First Lady Michelle Obama, Kaley Cuoco, and Octavia Spencer. Taylor Swift even wore a Tadashi Shoji wedding gown in her video for I Bet You Think About Me.
Since the designer is a regular at Fashion Week events, his brand gets regular, ongoing coverage in mainstream media like Brides, WWD, Reuters, Vogue, and Harper's Bazaar. This Tadashi Shoji review is here to help you to make an informed decision about the famous brand before you buy, looking at customer ratings, promotions, and everything you need to know.
Overview of Tadashi Shoji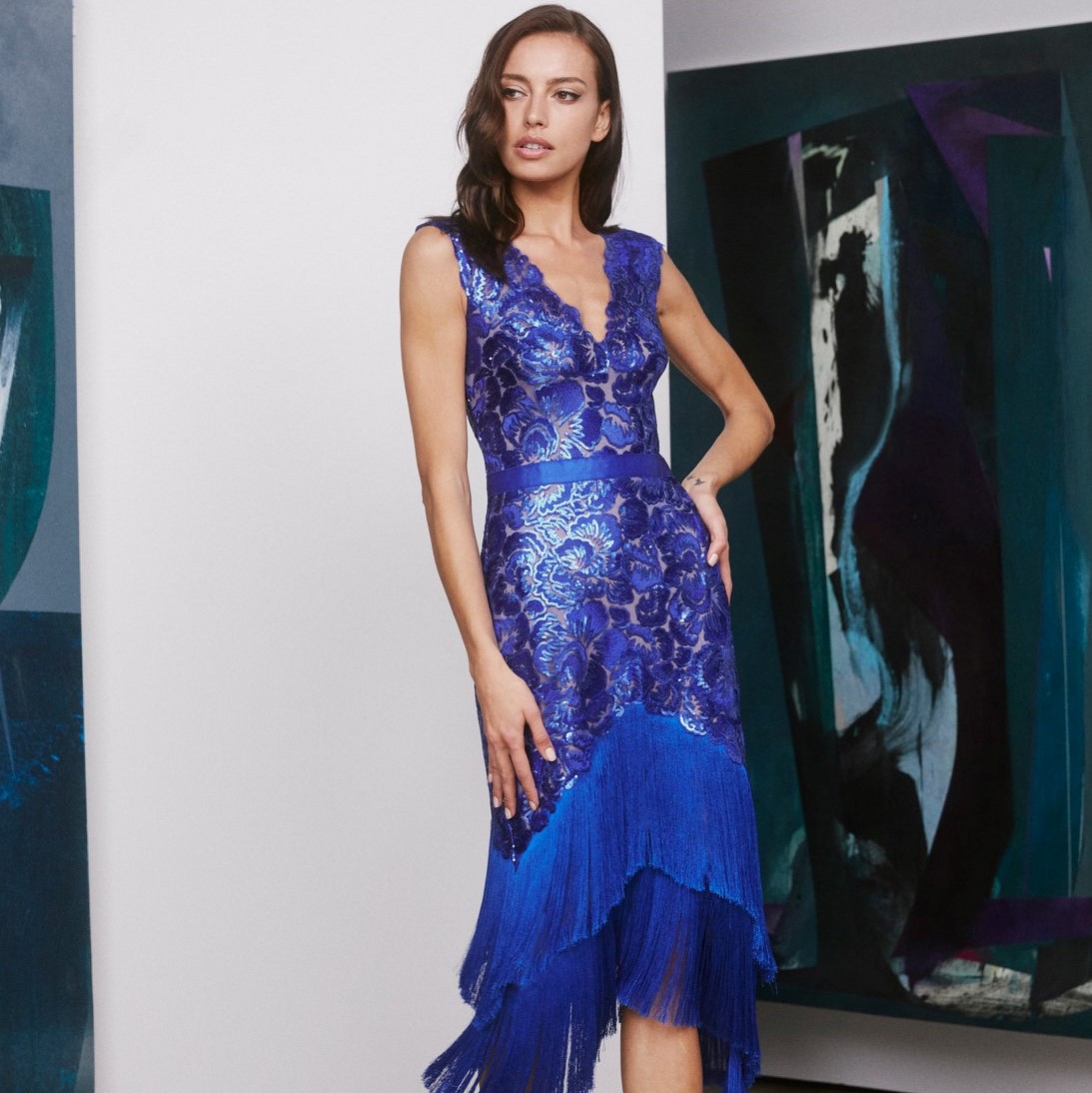 In 1982 designer Tadashi Shoji launched his self-named line of occasion dresses. Tadashi, a creator of conceptual art in Japan, moved to the US, where he discovered clothes designing.
He worked with costume designer Bill Whitten and fashion designer Richard Blackwell before starting his own label. He saw a lack of options for occasion dresses and decided to focus on remedying that.
With the belief that "every woman, regardless of size and shape, deserves to feel confident, comfortable and gorgeous," he set about designing and manufacturing gowns and dresses to fit every woman's body.
By combining couture dressmaking with skillful engineering, Tadashi pioneered a new category of eveningwear, able to be mass-produced and accessible. Using design techniques like draping, ruching, and shutter pleats the designs celebrate and flatter your body.
The Tadashi Shoji label now has two signature boutiques, one in the US and one in China, and is available in more than 700 major department and specialty stores globally.
Before getting further into this Tadashi Shoji review, let's take a look at some of the brand's highlights:
Highlights
Dresses to fit any and every woman
World-famous brand, known for making dresses for many celebrities
Complimentary hem alterations
Complimentary consultation
Free ground shipping in the US
Free return shipping in the US
Tadashi Shoji Gowns Review
The line of Tadashi Shoji Gowns has more than 50 options of evening gowns. You can browse the whole selection or use the filters to search by color, size, body shape, and many more. This Tadashi Shoji review focuses on three of the brand's latest in its line of best-selling gowns.
Tadashi Shoji Ensley Asymmetric Draped Gown Review
Available in black, the Tadashi Shoji Ensley Asymmetric Draped Gown makes you feel like a princess, with an edge. It has a sleeveless, velvet bodice with dramatic draping. Below the bodice is a high waist that leads into a floor-length, flowing tulle skirt. The design is flattering to many body types and is available in sizes 00 to 12.
So as to hit the floor, the length is 56". This means that shorter women may have to alter the hem, which is easy to do with Tadashi Shoji's complimentary hem alterations. This lovely dress, ideal for any dressed-up occasion, retails for $528.
Tadashi Shoji Sarai Embroidered Velvet Gown Review
With a bodice embellished with gold corded embroidery, the Tadashi Shoji Sarai Embroidered Velvet Gown helps you feel and look like a million bucks. The design of the asymmetrical embroidered waistline is meant to detract from your stomach, moving your eyes from the gold embroidery to the long, flowing skirt of the dress.
Transparent embroidered sleeves are the cherry on top of for elegant gown.
With a curve-hugging jersey lining, this velvet gown is even more flattering to curvy bodies than slender ones. It comes in sizes 4 to 18 and retails for $408.
Tadashi Shoji Florian Puff Sleeve Gown Review
Make a statement at your next party with the Tadashi Shoji Florian Puff Sleeve Gown. With the short puff sleeve, this full-length gown takes the single-sleeve design from mildly interesting to dramatic and eye-catching. The jacquard (woven) metallic fabric creates images of black flowers over the whole gown.
What helps this gown fit a variety of body sizes is the draping over the stomach and small (shutter) pleating beside one hip. It comes in sizes 00 to 18 and is on the Tadashi Shoji website for $668.
Tadashi Shoji Cocktail Dresses Review
The Tadashi Shoji Cocktail Dresses line is a bit more extensive than the gown selection, possibly, because we are much more likely to attend events that require a cocktail dress than a gown. Gowns are not commonly seen during daytime events, but cocktail dresses go from day to night events with ease.
Tadashi Shoji has 85 cocktail dresses to choose from. This Tadashi Shoji review features three new dresses in the line.
Tadashi Shoji Colet Draped Flounce Dress Review
Every woman needs a little black dress, but they can sometimes be a little boring, fulfilling a function, not focusing on style. The Tadashi Shoji Colet Draped Flounce Dress is anything but boring and helps you bring out your inner starlet.
This Tadashi Shoji review sees this dress as having the elegance and feel of the European stars of the 50s. This is done with a sweetheart neckline, nude lining, long sleeves, below-the-knee length, and draped black overlay, with a flounce of tulle.
This elegant dress's lining is a stretchy material to fit comfortably, without riding up. It comes in sizes 2 to 14 and retails for $408.
Tadashi Shoji Adriane Floral Embroidered Tea-Length Dress Review
With bold, raisin-colored flowers on a black background, the Tadashi Shoji Adriane Floral Embroidered Tea-Length Dress is subtle, yet eye-catching. The floral embroidery covers the whole of the off-shoulder bodice and in bands in the skirt.
It's offset by bands of pleated tulle and is tea-length (mid-calf). The tulle runs the whole dress but is not pleated under the embroidery.
The lining is jersey material for comfort so you feel great while looking like you chose form over function. The elastic belt breaks the line of the dress giving it a feminine silhouette, fitted on top and loose in the skirt. It is available in sizes 00 to 18 for $508.
Tadashi Shoji Binx Embroidery Tea-Length Dress Plus Size Review
Full-figured celebrities like Melissa McCarthy often complain of not enough flattering options for curvaceous body types for red carpet events and dress-up occasions. The Tadashi Shoji Binx Embroidery Tea-Length Dress is one of the designer's answers to that problem.
One that makes plus-sized women feel and look as beautiful as they are. The tulle silhouette is embroidered with a 3D applique for a delicate and feminine look.
The neckline (decolletage) and arms are sheer and the nude underlay helps emphasize the floral design. The high waistline is ideally placed to flatter a full-figured woman and the rosewood color suits most skin tones. This dress comes in sizes 14Q to 24Q and retails for $508.
Tadashi Shoji Mother of the Bride Review
When you think of mothers of the bride, or the groom, you may get visions of older, conservative women, but these days that's not often the reality. The Tadashi Shoji Mother of the Bride/Groom collection seems to imply that the MoB should be the second best-looking woman at the nuptials.
Whether a day or an evening event, one of the 72 Tadashi Shoji dresses will fit perfectly. This Tadashi Shoji review takes a look at two of the latest dresses in the brand's bestselling collection.
Tadashi Shoji Madlen Embroidered Tulle Gown Review
Reminiscent of a wedding dress in navy, the Tadashi Shoji Madlen Embroidered Tulle Gown is the perfect complement to the bride's dress, without upstaging her. Embroidered floral-designed tulle from wrist to the floor with transparent sleeves, a fitted waist, and a sweetheart topped lining make the dress elegant and subtly sexy.
The skirt is long enough to gracefully glide on the floor as you move. This dress comes in sizes 0 to 18 and is on the Tadashi Shoji website for $708.
Tadashi Shoji Evota Handkerchief Hem Dress Review
Also made from embroidered tulle, the Tadashi Shoji Evota Hem Dress is the daytime version of the Madlen Embroidered Tulle Gown. In an antique pink it is less subtle, but not too loud, so as to take attention away from the bride. It has transparent sleeves but is otherwise completely lined. The low v-neck and asymmetric, tea dress hem give it that extra pizzazz.
In sizes 00 to 10, this dress is meant for a more slender frame than many other Tadashi Shoji designs. It retails for $508.
Who Is Tadashi Shoji For?
The Tadashi Shoji brand is for any woman looking for a flattering dress for any occasion. That means that it covers certain women who are often overlooked in designer clothes. Instead of just catering to the model-type body, the brand designs dresses to make every body type look feminine and beautiful.
The brand also designs wedding dresses with the same principles, but this Tadashi Shoji review focused on dresses for everyone, so they weren't part of this article. This company celebrates a woman's body, no matter its type, size, or shape. All women can use that.
Tadashi Shoji Reviews: What Do Customers Think?
As the dresses we looked at are new, there were no Tadashi Shoji reviews on the brand's website, so this Tadashi review did some digging online to see what could be found. Let's start with the obvious, Trustpilot and the Better Business Bureau.
The BBB had 2 complaints about viewing and both were resolved, as both were about delays in refund processing. Although not an accredited BBB organization, the BBB rates it B-.
Trustpilot only had three reviews, two of which seemed similar to the BBB complaints. SInce Trustpilot doesn't moderate, we can't assume that they weren't cleared up the same way. Also, they were from years ago, whereas the third review from only a couple of months ago was glowing.
They wrote: "First off excellent quality on dresses. I did end up having to return one (regretfully) , it just ended up being too big on the sleeves. The next size down would be too small. Took a little longer than normal to get my refund but customer service was on it and contacted me right after I contacted them. Very good customer service! I will be ordering again."
A look at Tadashi Shoji clothes on Amazon shows that, with a few exceptions, the dresses rated between 4/5 and 5/5 stars. A look at a comparable dress (lace instead of embroidery) to the plus-sized one in this Tadashi Shoji review found this Amazon review from a customer about the quality and the fit on a full-figure:
"The dress is well made, and I consider myself very picky. My mom was a seamstress, so I can tell if a dress is made well or not. I don't usually buy dresses made out of mostly lace since they can look cheap, but this caught my attention, and decided to give it a try, thinking I can always send it back."
They added: "I am glad that I bought it since this is a classic that would look great on various occasions. The lace is soft and delicate, the stitching is top-notch, and I feel beautiful wearing it. The size eight was spot on, and the length was just like the model. For reference, I am 5'7", 140lbs, 32G, with a 30-inch waist and 39-inch hip circumference."
One last place to get an idea of what people think of Tadashi Shoji is in the media. WWD had this to say of the brand's latest collection, showing that it hasn't changed its mission of celebrating an occasion and your body:
"Shoji played up textures through lace insets and voluminous sleeves, such as on a soft pink pleated midi dress. The use of vibrant florals juxtaposed with lace created a more casual approach while tropical leafy motifs were embroidered throughout to evoke that spirit of celebration."
Is Tadashi Shoji Worth It?
So, is Tadashi Shoji worth your money? Keeping in mind that designer clothes are never the least expensive option, the Tadashi Shoji brand is really well-priced for a designer line. On top of that, the brand is for every woman, a rarity in fashion design in the US. The clothes are beautiful for all body types, using design techniques that are functional and flattering.
Instead of trying to hide a full figure, Tadashi Shoji uses a combination of form-fitting and loose in its designs to celebrate your shape, while deemphasizing the things that sap your confidence. This Tadashi Shoji review found that the brand is worth every dollar that you spend on it. Let's be honest, finding a dress that you can feel comfortable with is practically priceless.
Tadashi Shoji Promotions & Discounts
10% off your next order when you sign up for the newsletter
Loyalty points program
Free ground shipping in the US (on returns as well)
A sale item section on the brand's website
Where to Buy Tadashi Shoji
To buy Tadashi Shoji products online, the best place is on the brand's website, as there are many perks, including free shipping and hem alterations. Amazon also carries a collection of Tadashi Shoji dresses.
The Tadashi Shoji brand has two boutiques, one in the US and one in China, for those looking for an in-person experience. Tadashi Shoji can also be found at more than 700 department and specialty stores internationally and online.
FAQ
Who owns Tadashi Shoji?
Tadashi Shoji, the designer, owns the brand. He is the owner and head designer so he controls the brand's business and its image.
Does Tadashi Shoji ship internationally?
Yes, Tadashi Shoji ships to 155 countries globally.
What is Tadashi Shoji's Shipping Policy?
Orders are processed the next business day and then shipped out. The delivery times are dependent on the services that you choose. Don't forget that Tadashi Shoji offers free shipping on US orders if you aren't rushed to receive them.
Ground shipping – 3-6 business days
UPS 2 Day shipping – 2-3 business days
Overnight shipping – 1-2 business days
What is Tadashi Shoji's Return Policy?
Tadashi Shoji gives you 15 days from delivery to decide if you need to return or exchange your purchase. Items must be in new and unused condition with tags still attached. Final sales and special orders are not able to be returned or exchanged. For orders in the US, Tadashi Shoji supplies the UPS return shipping label, so it is free to you.
How to Contact Tadashi Shoji
Now that you've reached the end of our review, if you have any questions we weren't able to answer, you can contact Tadashi Shoji's customer service team using one of the following:
Phone: 1-855-272-6552
Email:

[email protected]
You can reach them during the week from 9:00 am to 4:30 pm PST. You can also schedule a virtual consultation using the form on their website to help you find the right dress for you.
---
Check out similar brands you might like:
Get Access to Exclusive Deals
Subscribe for free to get exclusive deals in your inbox. 100% privacy